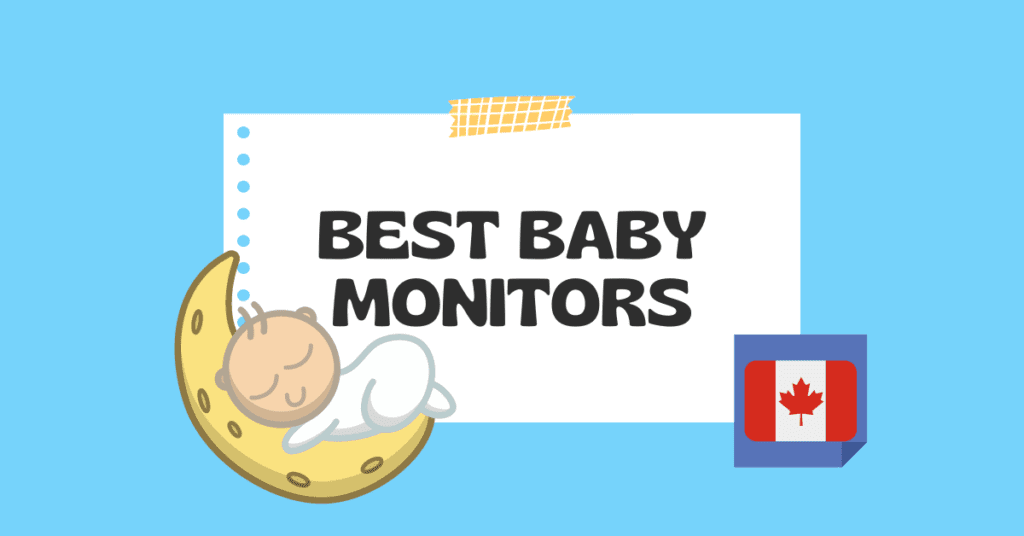 As a new parent, choosing the best baby monitor in Canada can be a daunting task. There are so many options available, from audio-only monitors to high-tech video monitors with all kinds of bells and whistles. With so many choices, it can be difficult to know which one is right for you and your baby.
That's why we've put together this guide to help you choose the best baby monitor for your needs. We'll start by going over our top picks for baby monitors to buy in Canada, and then we'll cover some things to avoid when making your purchase, as well as some additional features to look for.
If you're budgeting for your new addition – check out our baby cost calculator!
Best Baby Monitors to Buy in Canada
The eufy Security Spaceview is a video baby monitor with a large 5-inch 720p display and wide angle lens allowing you to see your baby clearly. The monitor has whole-room coverage – allowing you to pan 330 degrees and tilt 110 degrees to see your baby's whole room. The 460 ft range lets you stay connected wherever you are in your home as well.
5″ 720p display
Wide angle lens to see more of the room
Whole-room coverage
Pan 330 degrees and tilt 110 degrees
460-ft range
Instant alerts when your baby cries
The Infant Optics DXR-8 PRO is another excellent video baby monitor that also comes with a 720p display. The monitor also has active noise reduction letting you hear more of what you want – your baby – and less of what you don't – fans and air conditioning.
Active Noise Reduction: filter out background noise
5-inch, 720p high-resolution display
Hack-proof connection
Pan, tilt, and 6x zoom functionality
The VTech DM221 Baby Monitor is an audio-only monitor that uses DECT 6.0 technology for clear, interference-free sound. It has a range of up to 1000 feet to allow for an even greater range around your house. This monitor is a great choice for parents who want a reliable audio feed without the distraction of video.
Two-way talk-back intercom
1000-ft range
9 to 16-hour battery life
Night-light
Much cheaper than video monitors
The Nanit Pro Smart Baby Monitor is a Wi-Fi-enabled HD video monitor. The video feed is in 1080p HD and connects via an app so it is viewable from anywhere. Nanit's app also features split screen so if you have more than one baby you can keep tabs on both at the same time. The app even tracks your baby's sleep patterns and analyzes them each day. This monitor is a great choice for parents who want all the bells and whistles, including the ability to monitor temperature and humidity.
1080p High Definition video
Ability to view 2 cameras at one time for the multiple baby families
Monitor and improve your baby's sleep with the Nanit Insights app
Sensor-free breathing monitoring
Automatic milestone memories
Connects to your phone via an app
Highest-tech baby monitor on the list
While not specifically designed as a baby monitor, the Google Nest Cam Indoor can be used as one thanks to its clear video and two-way communication. It also has a range of up to 130 feet and can be connected to your phone or tablet for remote viewing. This monitor is a great choice for parents who already have a Nest ecosystem set up and want a versatile monitor that can be used for multiple purposes.
Check on the monitor from anywhere via an internet connection
Up to three hours of recording to go back and see what happened

Built-in stand for a wall or table

Can be connected with Echo Show or Google Home displays and controlled by voice
Things to Avoid When Buying a Baby Monitor:
1. Cheap, off-brand monitors
While these may be tempting due to their low price, they often have poor-quality video or audio and may have security vulnerabilities. You don't want to skimp on quality when it comes to something as important as monitoring your baby's safety.
2. Monitors with Wi-Fi connectivity
While these can be convenient for remote viewing, they can also be hacked, putting your privacy and your baby's safety at risk. Unless you're tech-savvy and know how to properly secure your network, it's best to avoid monitors with Wi-Fi connectivity.
3. Monitors with high levels of electromagnetic radiation
Some baby monitors emit high levels of electromagnetic radiation, which can potentially be harmful to your baby's health. It's best to choose a monitor with low levels of radiation, or even better, one that uses digital transmission.
4. Monitors with confusing or difficult-to-use controls
You want a monitor that is easy to use, especially in the middle of the night when you're tired and groggy. Avoid monitors with confusing controls or settings that are difficult to navigate.
Additional Features to Look For In A Baby Monitor
1. Multiple cameras
If you have more than one child or want to monitor multiple rooms, a monitor with multiple cameras is a great choice. You can switch between cameras to keep an eye on all of your children at once.
2. Movement tracking
Some monitors come with movement tracking features, which can detect when your baby moves or stops breathing. This can be a great added layer of security for parents who are concerned about SIDS (sudden infant death syndrome).
3. Smartphone connectivity
Many monitors can be connected to your smartphone or tablet, allowing you to keep an eye on your baby even when you're not at home. This can be especially useful for working parents or those who travel frequently.
Tips for Using Your Baby Monitor Effectively
1. Choose the right location for your monitor
Make sure your monitor is placed in a location where you can get a clear view of your baby and hear any noises or cries. Avoid placing the monitor too close to your baby's crib, as it can be a distraction and potentially harmful if your baby grabs onto it.
2. Adjust the volume and sensitivity settings
Make sure your monitor's volume and sensitivity settings are adjusted to your liking. You don't want the monitor to be too loud or too sensitive, as this can be disruptive to your sleep.
3. Keep your monitor secure
If your monitor comes with a password or security feature, make sure to use it to keep your monitor and network secure.
In conclusion, choosing the right baby monitor can be a daunting task, but it's an important decision that can give you peace of mind and help keep your baby safe. By following the tips and recommendations in this guide, you can find the perfect monitor for your needs and use it effectively to monitor your baby's safety and well-being.