Table of Contents
As new parents, you're likely capturing every coo, every smile, and every adorable moment on camera. A baby slideshow is a beautiful way to compile these memories. But what about the soundtrack to your baby's slideshow? Music has the power to elevate emotions and make moments more memorable. To help you out, we've curated a list of songs, each with its own special reason for being perfect for your baby's slideshow. Let's dive right in!
Top 10 Songs For A Baby Slideshow
1. "Isn't She Lovely" by Stevie Wonder
Why it's a good choice: Originally written for Stevie's daughter, this song captures the awe and wonder of seeing your baby for the first time. It's especially touching for little girls but works for boys too because every parent finds their child lovely!
2. "Beautiful Boy (Darling Boy)" by John Lennon
Why it's a good choice: John Lennon's heartfelt words for his son, Sean, touch on the hopes and dreams every parent has for their child. It's an ideal backdrop for slideshows of baby boys, painting every memory with an aura of love.
3. "A New Day Has Come" by Celine Dion
Why it's a good choice: Celine sings of a long-awaited dream coming true – a sentiment many parents can relate to. The song's uplifting tone makes it suitable for capturing the joys of new beginnings and the journey ahead.
4. "Forever Young" by Rod Stewart
Why it's a good choice: This timeless track is all about the wishes parents have for their children. It encompasses dreams, guidance, and the eternal bond of family. Its soothing melody fits snugly with the baby's first steps, baths, and other heartwarming moments.
5. "Lullaby" by The Dixie Chicks
Why it's a good choice: Beyond its serene melody, this song encapsulates a parent's promise to always be there for their child. Perfect for those quieter moments, like nap times or gentle cuddles.
6. "Blessed" by Elton John
Why it's a good choice: With a joyous tune, Elton John celebrates the sheer happiness a child brings into the world. This song is a lovely reminder of the blessings that come with parenthood.
7. "Golden Slumbers" by The Beatles
Why it's a good choice: Evoking feelings of warmth and safety, this classic lullaby can be a beautiful accompaniment to footage of your baby drifting off to sleep or resting peacefully.
8. "I Hope You Dance" by Lee Ann Womack
Why it's a good choice: As a heartfelt wish for her kids, Womack hopes they take the chances life offers them. For new parents, it's a gentle nudge towards dreaming big for their child's future.
9. "You Are My Sunshine" by Johnny Cash
Why it's a good choice: This timeless melody has been a beloved lullaby for generations. Its simple, heartwarming lyrics speak of undying love and the joy a child brings, making it a fitting choice for any baby slideshow.
10. "Godspeed (Sweet Dreams)" by The Dixie Chicks
Why it's a good choice: This tender lullaby is filled with wishes and blessings for a child. The lyrics speak of guardianship and the hope that the child will always be surrounded by love and comfort. It's especially poignant for moments that showcase the bond between parent and child.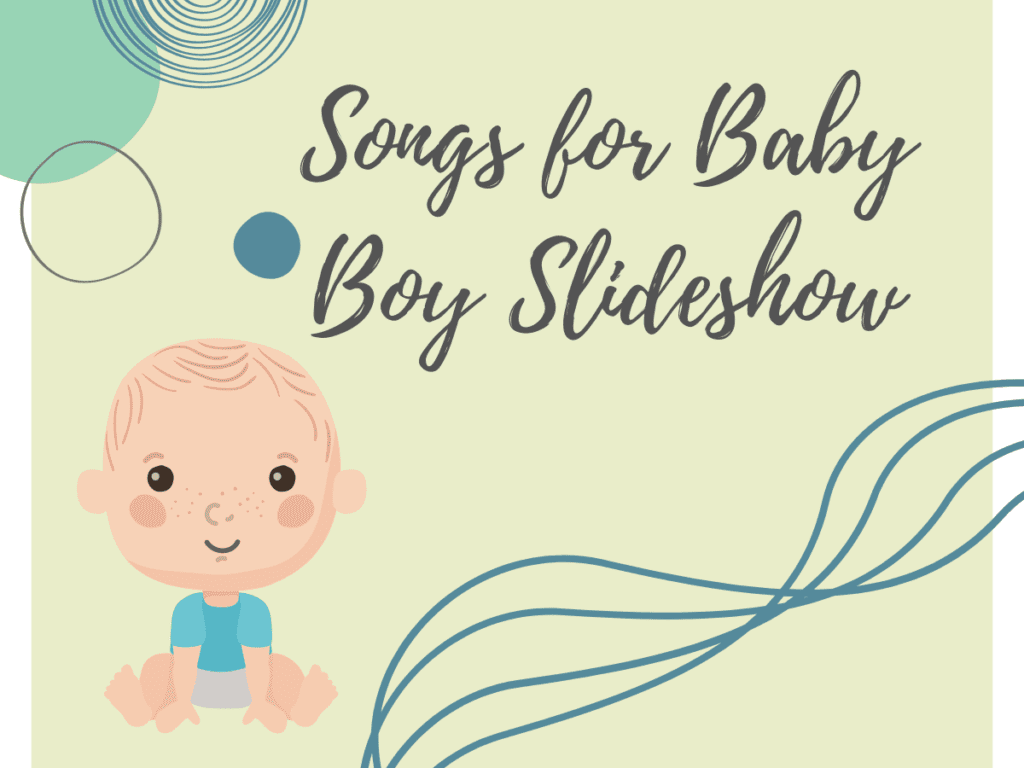 Songs for Baby Boy Slideshow
Every baby boy has a unique story to tell, and the right song can narrate those early chapters with emotion and depth. Here are some top tunes that speak volumes when it comes to celebrating your little prince's journey:
1. "Isn't She Lovely" by Stevie Wonder
2. "My Little Man" by Ozzy Osbourne
A touching ballad from a rock legend to his son. It beautifully encapsulates the hopes, dreams, and the fierce protective instinct a parent feels for their boy.
3. "You Are My Sunshine" – Traditional
This classic tune has been sung by parents for generations. Its simplicity and warmth make it a timeless choice for background music, reflecting the sunshine that a baby boy brings into our lives.
4. "Sweet Child O' Mine" by Guns N' Roses
An unexpected choice, but the iconic guitar intro followed by the lyrics about the mesmerizing wonders of a child can bring a rock-n-roll vibe to your slideshow.
5. "Godspeed (Sweet Dreams)" by the Dixie Chicks
This lullaby-like song is all about wishing sweet dreams to the little one. It's a soft, melodic background choice, perfect for capturing peaceful moments.
Choosing the right song for your baby boy's slideshow can add depth and emotion to the visual memories. Whether it's a classic lullaby, a rock ballad, or a joyous pop tune, let the song resonate with your family's unique journey. There's no right or wrong choice, only what feels right for you and your little one's story.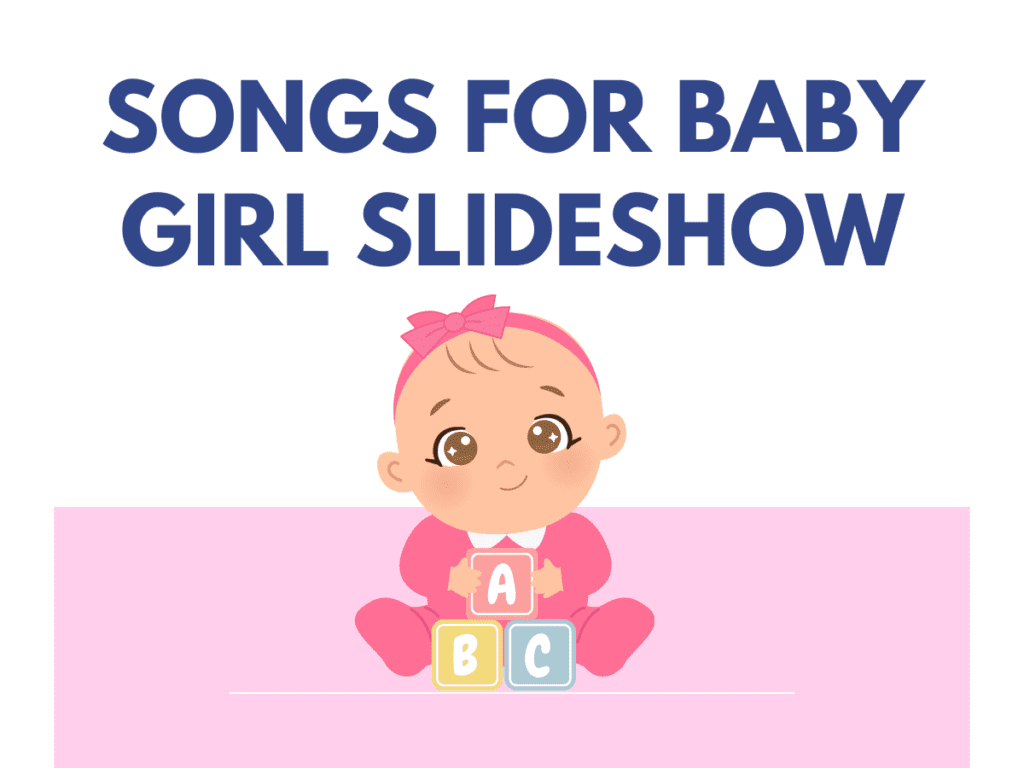 Songs for Baby Girl Slideshow
Little girls bring a unique blend of sugar, spice, and everything nice into our lives. Celebrating her journey from those first few giggles to those tentative steps deserves a melody that matches her spirit. Here's a list of songs that might just strike the right chord for your baby girl's slideshow:
1. "Girl on Fire" by Alicia Keys
This empowering anthem can be a fun way to highlight your baby girl's feistiest moments. It symbolizes the strength and spark every little girl carries within her.
2. "Isn't She Lovely" by Stevie Wonder
As previously mentioned for baby boys, this song's joyous tone makes it universally apt. Its lyrics beautifully describe the magic and love a new child brings into the world.
3. "Butterfly Kisses" by Bob Carlisle
This touching song is about a father's love and the special bond he shares with his daughter. It's perfect for those sentimental moments you've captured between dad and daughter.
4. "Wind Beneath My Wings" by Bette Midler
An ode to the unsung hero, this ballad can be a wonderful way to convey the emotions of a mother or father watching their little girl grow, always cheering her on from the sidelines.
5. "Dance with My Father" by Luther Vandross
An emotional melody that resonates with the love a father has for his daughter. While it carries a deeper story, snippets of this song can be beautifully poignant for certain slideshow moments.
Choosing songs for your baby girl's slideshow is all about capturing her essence. Whether she's the fiery little spirit or the gentle dreamer, there's a song out there that encapsulates her journey. Let your heart guide you, and you'll find the perfect tune for your princess's special moments.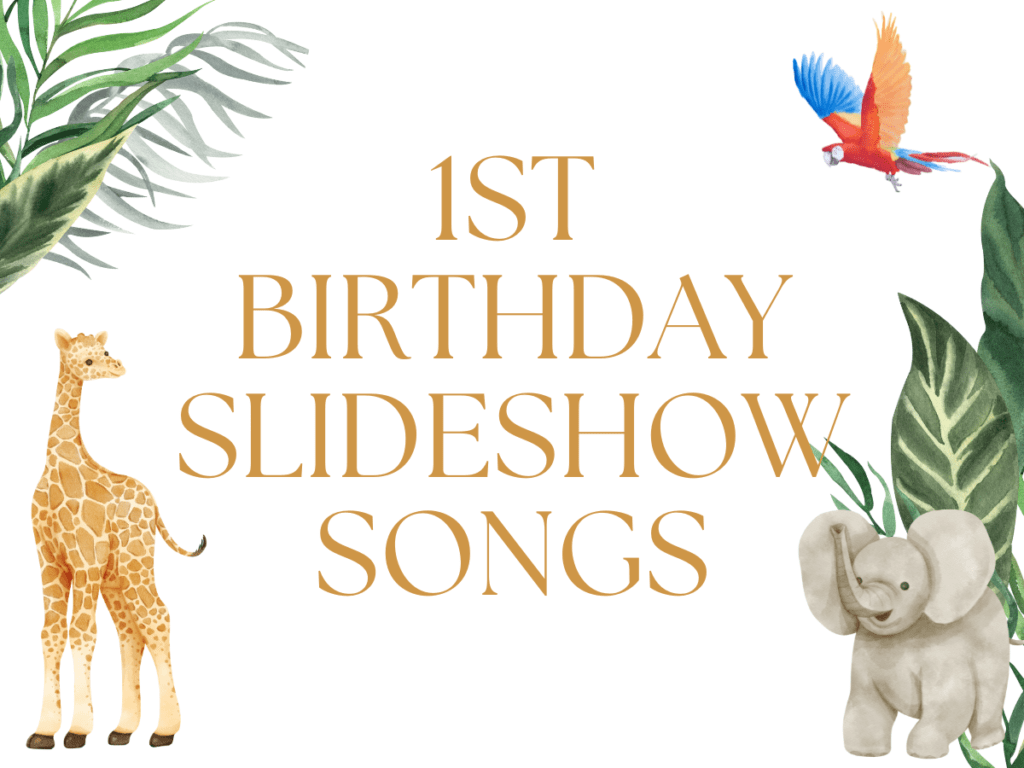 1st Birthday Slideshow Songs
Songs for 1st Birthday Slideshow Boy:
Ah, the big ONE! Your baby's first birthday is a landmark event, marking a year of giggles, milestones, and adorable adventures. The right song can encapsulate all those memories and give your slideshow that extra sprinkle of magic. Let's explore some musical gems for this special occasion:
1. "One" by U2
While the song's theme isn't directly about childhood, its title and iconic melody can give a modern touch to your boy's first birthday slideshow.
2. "You've Got a Friend in Me" from Toy Story
This timeless classic from Pixar's gem celebrates friendship and loyalty, making it a heartwarming addition, especially if your little champ has a beloved plushie or toy!
3. "Year of Firsts" by The Scott Family
A lesser-known but touching song that focuses on all the "firsts" experienced in a baby's inaugural year.
Songs for 1st Birthday Slideshow Girl:
1. "Baby Mine" from Dumbo
This Disney classic, with its soothing melody and tender lyrics, can make anyone reach for the tissues, especially when paired with visuals of your baby girl's firsts.
2. "Tiny Dancer" by Elton John
A soft rock classic that can beautifully accompany clips of your little girl's tentative first dance steps or joyful twirls.
3. "Bloom" by The Paper Kites
A song that speaks of growth and blooming in love. It subtly touches upon the journey of your baby girl's first year, surrounded by love and care.
The first year is packed with moments that are fleeting yet profoundly impactful. Be it your son's first mischievous grin or your daughter's twinkling eyes looking at the world with wonder, these song suggestions aim to complement and elevate those captured moments. Whichever tune you select, let it be a reflection of your family's journey and the joy that your little one has brought into your life.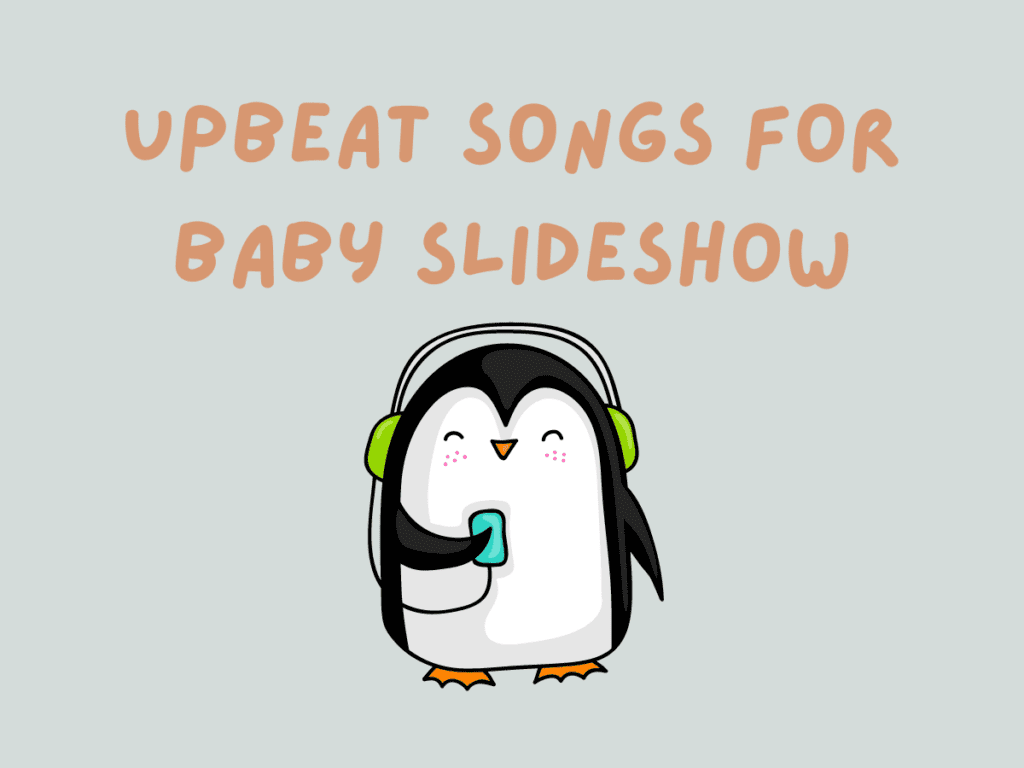 Upbeat Songs for Baby Slideshow
Energetic kicks, infectious laughter, those baby dance moves – sometimes, your little one's slideshow needs a burst of energy to match their boundless zest for life. Here are some upbeat songs that will make viewers tap their feet and bring out the infectious joy of babyhood:
1. "Happy" by Pharrell Williams
Why it's a good choice: This universally-loved track is synonymous with joy! It's bound to make anyone smile, perfectly mirroring those cheerful baby moments.
2. "Can't Stop the Feeling!" by Justin Timberlake
Why it's a good choice: This catchy tune from the movie "Trolls" is all about dancing like nobody's watching – just like babies do! It's great for showcasing playful antics.
3. "Walking on Sunshine" by Katrina and the Waves
Why it's a good choice: A classic that brings an instant sunny vibe, this song can highlight those outdoor moments, first steps, or just a sunny day in the park.
4. "Best Day of My Life" by American Authors
Why it's a good choice: This song encapsulates the spirit of adventure and making the most of every day – exactly what babyhood is all about.
5. "Here Comes the Sun" by The Beatles
Why it's a good choice: A timeless track that promises better days and joy, this Beatles classic can add warmth to any baby slideshow, especially sunrise shots or morning routines.
Babyhood is a time of exploration, excitement, and pure, unfiltered happiness. These upbeat song suggestions are all about capturing that essence. Let your baby's bubbly personality shine through with a track that's just as lively as they are. Whether you opt for modern beats or timeless classics, make sure the song you choose brings out the happiness in every slide!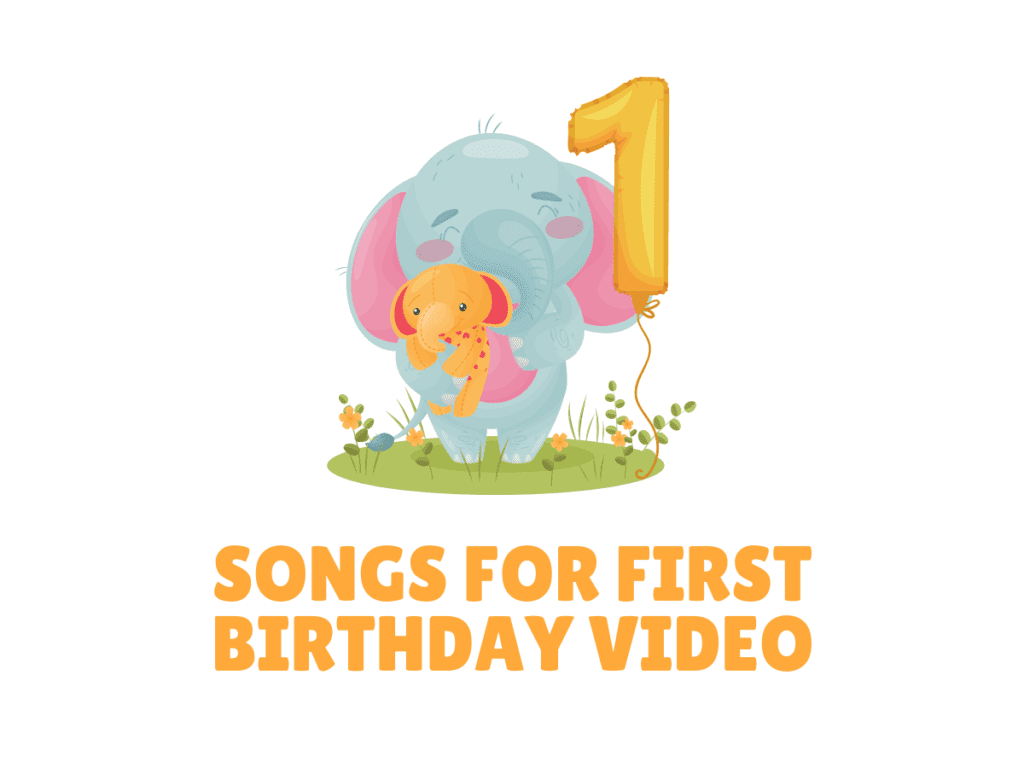 Songs for First Birthday Video
Crafting a video for your little one's first birthday is like weaving together a tapestry of memories, moments, and milestones. To give that video a heartbeat, the right song can play an instrumental role. Here's a compilation that could add some melody to your baby's big day:
1. "Birthday" by The Beatles
Why it's a good choice: A classic rock and roll vibe combined with the celebratory lyrics make this Beatles hit a great fit for birthday festivities.
2. "1, 2, 3, 4" by Plain White T's
Why it's a good choice: The soft, heartfelt melody and lyrics about unconditional love can beautifully accentuate a birthday video, highlighting your baby's journey so far.
3. "Grow Old With Me" by Tom Odell
Why it's a good choice: Even though the theme is about romantic love, the idea of growing old together and cherishing every moment aligns well with the sentiment of watching your baby grow.
4. "Young" by Kenny Chesney
Why it's a good choice: The song, though it speaks of youth's recklessness, captures the essence of cherishing young moments, making it apt for reminiscing about your baby's first year.
5. "A Million Dreams" from The Greatest Showman
Why it's a good choice: This song speaks of hopes, dreams, and a world of imagination – everything that lies ahead for your little one. It's a beautiful backdrop for showcasing aspirations for your child's future.
Selecting the right song for your baby's first birthday video is as much about looking back as it is about looking ahead. It's about cherishing the moments that were and dreaming of the ones yet to come. These song suggestions encompass those feelings, ensuring your video becomes an unforgettable walk down memory lane.
Personalizing Your Slideshow's Soundtrack
At the end of the day, the most important thing about choosing a song for your baby's slideshow or video is ensuring it resonates with you and your family. While the above suggestions are a great starting point, there are a few other things to consider.
Personal Favourites
Reflect on songs that have been significant to your family over the past year. Perhaps there's a lullaby you always sang or a pop song that always made your baby giggle. Your family's personal favourites can add a deeper layer of meaning to your slideshow.
Lyrics vs. Melody
Sometimes, a song might not have the most fitting lyrics, but its melody captures the mood you're aiming for. Don't be afraid to choose instrumentals or softer acoustic versions of popular songs.
Voiceover Magic
Consider blending in a short voiceover, perhaps a letter to your baby, a significant quote, or snippets of your baby's laughter and babble. It can be an emotional touchstone for viewers.
Diverse Playlist
Who says you need just one song? If you're feeling adventurous, craft a mini-playlist that takes viewers on a musical journey through your baby's milestones.
Every baby's story is unique, and while song suggestions can guide you, your heart will lead you to the perfect tune. Embrace the memories, feel the emotions, and pick a song that makes your heart dance every time you hear it. Your baby's slideshow is a piece of art, and the soundtrack you choose will forever echo the love and joy of that special time.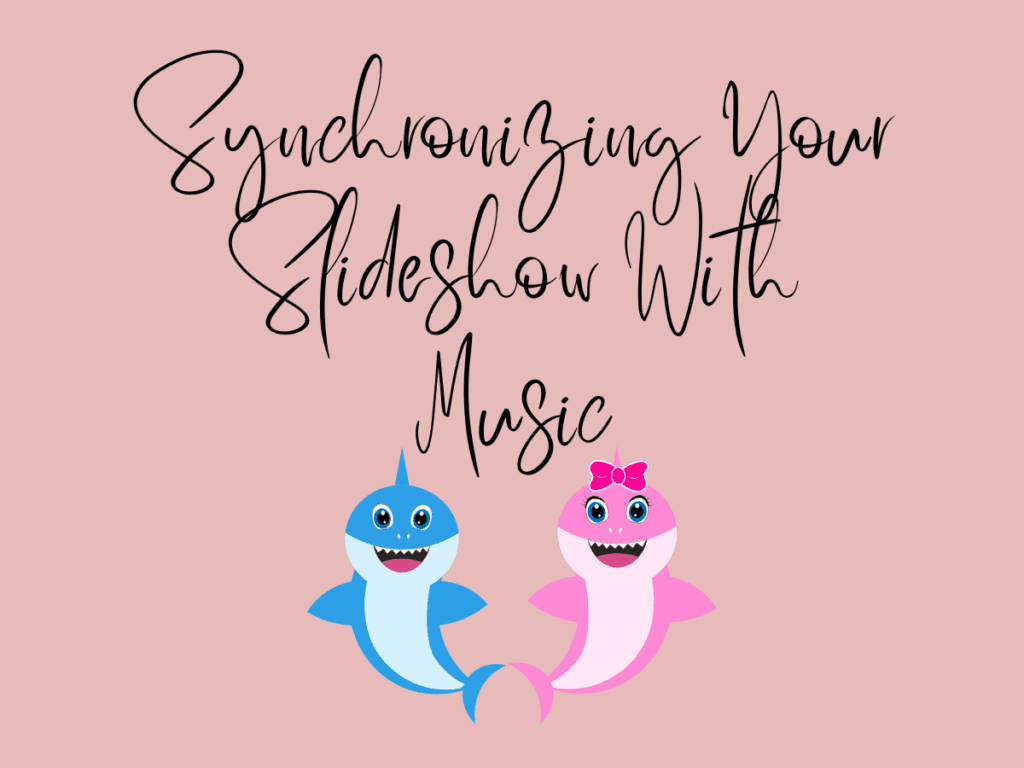 Tips on Synchronizing Your Baby Slideshow with Music
Getting the visuals and music to align just right can be the cherry on top of your baby slideshow. Here are some tips to ensure your images and tunes sync harmoniously:
Start Strong
Kick off your slideshow with a striking image as the first note hits. This could be the day your baby was born, their first smile, or any moment that holds deep significance.
Beat Matching
Tune into the rhythm of your chosen song. Transitioning photos or video clips with the beat can create a more immersive viewing experience. Tools like iMovie or Windows Movie Maker offer easy beat-matching features.
Highlight Key Moments
Got a powerful lyric coming up? Pair it with a poignant image. For instance, if the song says "shine bright," it might be perfect for that photo of your baby's first time at the beach.
Vary Transitions
Use a mix of fades, cuts, and slides to keep the slideshow engaging. Align faster transitions with upbeat sections of the song and slower fades with more emotive parts.
Preview and Adjust
Always watch the slideshow several times before finalizing it. You might find some sections feel rushed or too slow. Adjust the duration each photo is displayed to match the song's mood.
Layer Sounds
Consider softly layering in natural sounds, like your baby's laughter or coos, in the background. These can add depth and make your slideshow even more personal.
End on a High Note
Conclude your slideshow around the time the song ends. If there's a particular lyric or melody you love, time your slideshow's most heartfelt moment or image to coincide with it.
Synchronizing music with your baby's slideshow isn't just about matching beats; it's about weaving a narrative that moves hearts. With the right combination of images and music, you'll not only showcase memories but also evoke the feelings and emotions of those cherished moments. A little effort in synchronization can make your slideshow a piece to remember for years to come.
Wrapping Up The Best Baby Slideshow Songs
Creating a baby slideshow is more than just a compilation of pictures and videos; it's a heartfelt narrative of your baby's journey, where every frame sings a story and every melody brings a memory to life. The right song can elevate this experience, making it an emotional voyage for everyone who witnesses it.
The best soundtracks are those that resonate with your heart. Whether it's a chart-topping hit, a timeless classic, or a tune that holds personal significance, it's the love and emotion behind the slideshow that truly matters. So, let the music play, let the memories flow, and celebrate the beautiful symphony of your baby's unforgettable moments.