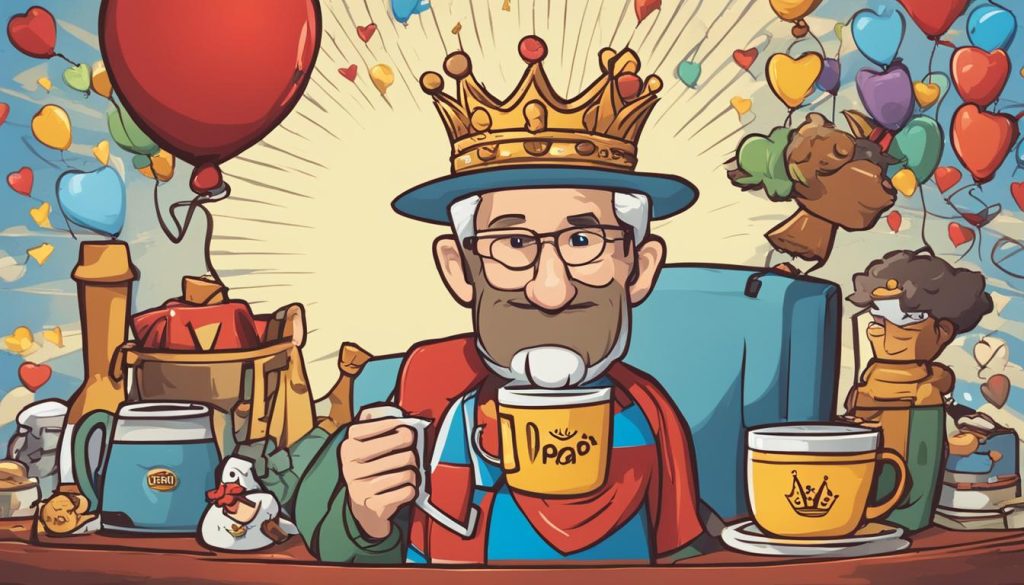 Table of Contents
In the world of parenting, choosing a nickname for our fathers is a fun and special way to express the loving bond we share with them. A creative name has the power to capture the essence of this special bond while reflecting dad's unique personality. In this article, we'll explore some sweet nicknames and endearing names that not only pay tribute to the fatherly figures in our lives but also celebrate the love and admiration we have for them.
Key Takeaways
The importance of selecting a creative and endearing nickname for your father.
How nicknames can strengthen the special bond between father and child.
Exploring different types of nicknames tailored to dads with various personalities and roles.
Cultural variations and embracing heritage with nicknames for fathers in different languages.
Alternative names for dad in the digital age, such as social media handles and texting nicknames.
---
Special Bond with Dad Through Nicknames
A father's love is cherished and often perfectly encapsulated by the nicknames children give their dads. These special names, whether simple or playful, are terms of endearment that showcase the intimate connection shared between father and child.
Our fathers are our first protectors, confidants, and teachers, forming an indelible bond that resonates throughout our lives. More than just nicknames, these pet names often represent the unique relationship we have with our father figures.
Moreover, psychologists have observed that these nicknames reveal different aspects of a father's role in his child's life, reinforcing their position as primary support systems and role models.
Pet names can reflect the various roles fathers play within their family dynamic. Some dads are gentle and tender, while others take on the position of disciplinarian or provider. Here are a few well-known pet names and roles that dads embody:
Big Bear – A strong, protective father who overflows with love for his family
Captain – The dad who instills discipline and order within the household
Superdad – The ideal father, who always goes above and beyond for his loved ones
Wise Owl – The sage-like father, whose wisdom and guidance shape the lives of his children
These names not only strengthen the special bond with dad but also help to create a lasting sense of belonging within the family unit. As children learn from their father figures and grow into adulthood, these nicknames persist, serving as a constant reminder of the unwavering love and support they receive from their father figures.
When selecting a nickname, be mindful of the traits that make your father special, whether it's his impressive strength, unmatched wisdom, or bottomless kindness. In the end, the right nickname will not only reflect the qualities of the father figure but also the values and memories that have shaped your relationship with them.
---
The Best Nicknames for Dads
When it comes to finding the perfect nickname to address our fathers, it's important to select one that reflects their unique personality and role in our lives. In this section, we will explore different types of nicknames tailored to various types of dad, whether they are the protective type, the mentor, or the comedian of the family.
Papa Bear
Coach
Captain
King of the Castle
Protector
Papa Smurf
Big Papa
Chief
SuperDad
The Boss
Wise Owl
Mr. Fix-It
Grill Master
Rockstar
Old Man
The General
Big Guy
Dadzilla
The Bank
The Mechanic
Hero
Mr. Reliable
The Jester
Papa Gourmet
Popstar
Tough Guy
Adventurer
The Professor
Daddy Cool
Storyteller
The Negotiator
Gentle Giant
Handyman
The Gardener
Big Daddy
The Enforcer
Papa Wheelie
Maestro
The Director
The Pilot
The Scholar
The Architect
Bear
The Artist
The Golfer
The Fisherman
The Hunter
The Builder
The Chef
The Thinker
Dadventurer
The Dreamer
The Explorer
The Magician
The Musician
The Philosopher
The Scientist
The Teacher
The Technician
The Runner
The Cyclist
The Coachman
The Driver
The Sailor
The Pilot
The Mountaineer
The Historian
The Economist
The Politician
The Strategist
The Diplomat
The Operator
The Engineer
The Inventor
The Innovator
The Visionary
The Planner
The Organizer
The Leader
The Captain
The Commander
The Admiral
The General
The Champion
The Hero
The Mentor
The Guide
The Guru
The Sage
The Oracle
The Genius
The Prodigy
The Master
The Wizard
The Ace
The Star
The Legend
The Giant
The Colossus
The Titan
Tailoring to His Personality
Nicknames hold a special place in our hearts. They can evoke fond memories, laughter, and a sense of comfort. When it comes to your dad, choosing a nickname that aligns with his character and the bond you share can only make it more special. Consider these options for father figures with different personalities:
Papa Bear: For the protective dad who is always there to offer a bear hug and a strong shoulder.
Coach: For the motivational figure, constantly providing guidance, advice, and cheering you on.
Tough Guy: For the disciplined father who is a stickler for rules, but always wants the best for you.
Wise Owl: For the dad who is a wise mentor, willing to share his knowledge and life lessons with you.
Big Guy: For the larger-than-life dad, who has an equally big heart and a strong presence.
Celebrating Father's Day with a Unique Nickname
Father's Day is the perfect occasion to express your love and gratitude to your dad. Why not add more meaning to this special day by bestowing upon him a unique nickname? A well-thought-out and creative nickname can become a lasting memory and a testament to your love and admiration.
When selecting a special nickname, keep in mind the values and traits that your dad holds dear, and combine them with your own creative twist. Here are some ideas to help get you started:
Popsicle
Doc Dad
Daddy-o
Mr. Adventure
Papa Genius
The Diplomat
Lord of the Lawn
Captain Courage
Papa Penguin
The Innovator
Daddy Long Legs
The Myth
The Oracle
Daddy Dynamo
Mr. Marvel
The Pathfinder
Big Kahuna
The Trailblazer
The Maverick
Daddy Strong
The Juggler
The Ringmaster
The Peacekeeper
Papa Paladin
The Sentinel
A well-chosen nickname can serve as a symbol of the relationship you share with your dad and make Father's Day that much more memorable. So, explore these options, tap into your creativity, and find the perfect nickname that encapsulates your admiration for the man who has played such a significant role in your life.
---
Cute and Sweet Nicknames That Melt Hearts
There is an undeniable power in a cute and sweet nickname that can make even the toughest dads melt like butter. These names evoke the tender and caring aspects of fatherhood, making every interaction with your father a heartwarming moment. In this section, I will share some adorable ideas that you can use to show your dad how much he means to you.
The magic of a cute nickname lies in its ability to truly capture the love and affection between father and child. When we choose a sweet nickname for our dads, we are also unconsciously nurturing that special bond we share with them. As I have navigated through life, I've come across some endearing names that other people have given their fathers, and I would like to share them with you as potential ideas for your own dad. Here are some examples:
Snuggle Papa
Honey Bear
Sweet Chief
Cuddle Captain
Gentle Guardian
Teddy Dad
Papa Peppermint
Sugar Pop
Dandy Daddy
Snickerdoodle
Bumble Bee
Cuddle Bug
Marshmallow Man
Sweetie Pie Papa
Puddin' Pop
Jolly Gentleman
Papa Pixie
Huggle Daddy
Velvet Viking
Smiley
Cuddle King
Buttercup Pop
Sweet Sparrow
Jellybean
Papa Panda
These sweet and playful names often evoke a sense of nostalgia, and they also tap into the unique qualities of our relationships with our dads. For example, Daddy Cool celebrates the chill, laid-back vibes a dad may have, while Papa Smurf is perfect for a father who's both wise and fun-loving.
"A sweet nickname for dad can bring a touch of warmth and tenderness to even the most difficult of days."
Finding the perfect sweet nickname for your father can be a fun and creative process. By trying out different affectionate names, you might just stumble upon the one that melts his heart and strengthens your bond. Remember, it's not just about choosing a cute name; it's about finding a name that represents your love and the beautiful relationship you share with your one-of-a-kind dad.
---
The Art of Picking the Perfect Nickname for Dad
Selecting the perfect nickname for your father can be a fun and meaningful experience, as it enhances your bond and adds a touch of personalization to your relationship. In doing so, several factors need to be considered in order to pick the perfect name that reflects your father's personality and your sentiment towards him.
What Makes a Good Nickname: The Criteria
When brainstorming for suitable nicknames, it is crucial to ensure the name is respectful and leaves a positive impact on your relationship. Consider the following criteria to create a memorable and endearing nickname:
Match with Dad's Personality: Choose a nickname that encapsulates your father's personality traits or hobbies, making it unique to him.
Special Connection: Aim for a name that represents shared experiences or inside jokes, as it can further strengthen your bond.
Easy to Remember and Pronounce: A nickname that is simple to say and recall makes it more likely for it to be used long-term.
Reflects Positivity: Ensure the chosen name conveys love, affection and respect, as these feelings contribute to a positive father-child relationship.
By following these guidelines, not only can you create a good nickname but also develop a deeper appreciation for your father's individuality.
Finding Inspiration for Dad's Contact Name
Finding inspiration for the perfect nickname can sometimes be challenging. However, there are various sources around you that can spark ideas:
"Look into your personal experiences with your father, trying to find a meaningful moment that can be transformed into a nickname."
Personal Experiences: Recall cherished memories, special adventures or your father's unique qualities. These moments can serve as the foundation for a creative nickname.
Popular Culture: Take cues from movies, television shows, books, or even songs that hold significance in your relationship or are simply your father's favorites.
Phone's Contact List: Modify the traditional "Dad" contact name according to your father's character, profession, or quirks, adding a personal touch to your digital communication.
With various sources of inspiration, you will soon find the perfect nickname that reflects your father's distinctive traits, building a stronger bond and taking your relationship to new heights.
---
Funny and Cool Names Fathers Love to Hear
When it comes to celebrating fatherhood, a good laugh can go a long way. Fathers who have a great sense of humor often appreciate being called by funny dad nicknames that highlight their jovial side. If your dad enjoys a witty and light-hearted approach to life, we've gathered some hilarious and cool names that he will love to hear and embrace as part of his parenthood journey.
Funky Papa
Dr. Dad
Papa Prez
Baron of BBQ
Captain Awesome
Daddy McFly
Papa Giggles
Disco Dad
Lord of the Laughs
Sir Chuckles
The Tickler
King of Cool
Daddylicious
Pops-a-Lot
Papa Polar Bear
Funkmaster Flex
Ninja Dad
Papa Pizzazz
Daddy-o-Saurus
Mr. Chill
Gadget Guru
The Mad Hatter
Captain Quirk
Professor Playful
Lord of the Dance
Master of Mirth
The Wise Cracker
Dad Bod God
Groovy Guy
The Prankster
Dad Joke Genie
The Juggernaut
Papa Popcorn
Mr. Mustachio
Zany Zeke
The Roaring Rocket
The Rolling Stone
Daddy Thunder
The Giggling Gladiator
The Bearded Baron
The Chuckling Czar
Daddy Cool Breeze
Pop Star
The Mirthful Maverick
The Comic Crusader
The Smiling Samurai
The Jolly Jester
The Rapping Wrangler
The Jovial Juggler
The Daring Duke
Dads who value the humorous side of life tend to make lasting memories with their children. These fun nicknames pay homage to their lively spirits and make for unforgettable inside jokes within families. Apart from the list above, you can also draw inspiration from your father's unique qualities, quirks, or character traits when coming up with a funny or cool name that resonates with him.
"Laughter is the best medicine, and a good sense of humor helps us navigate the ups and downs of life. As a father, I love being called 'Jolly Daddy,' as it reflects the bond I share with my children and the joy we derive from spending time together."
Incorporating a funny or cool name into your family dynamic is a great way to keep the laughter alive and build a strong connection with your father. Through playful banter and delightful inside jokes, these nicknames can further strengthen the parent-child bond and make family moments even more cherished and memorable. So go ahead and surprise your dad with a funny or cool name that best suits his personality – he'll surely appreciate the love and thoughtfulness behind it!
---
Cultural Variations: Father Nicknames from Different Languages
Fatherhood transcends geographical borders and cultural boundaries. As a result, we find fascinating cultural variations in how people across the globe refer to their dads. Let's explore various father nicknames from around the world, showcasing the beauty of how different languages shape the way we express affection.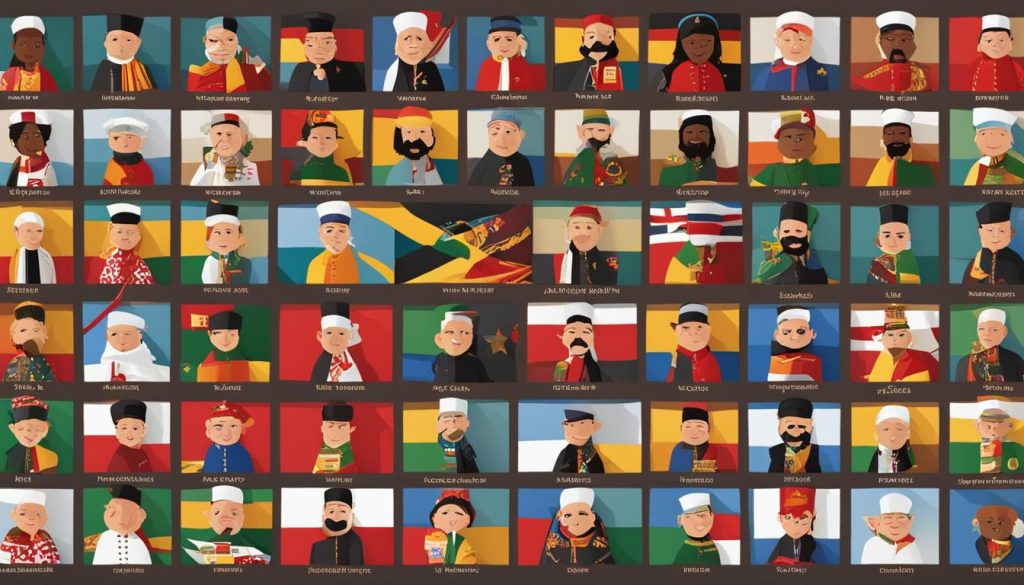 Embracing Heritage with Traditional Terms of Endearment
In an increasingly globalized world, it's essential to preserve and honor our cultural roots. One way to achieve this is by embracing the traditional terms of endearment from various cultures that have been passed down through generations. Here are some examples of respectful father nicknames from diverse cultures that you can use to pay homage to your family's heritage:
"Baba" – Arabic, Persian, and Swahili

"Vader" – Dutch

"Isä" – Finnish

"Père" – French

"Vati" – German

"Papá" – Spanish and Italian

"아버지 (Abeoji)" – Korean

"父 (Chichi)" – Japanese

"पिता (Pita)" – Hindi
Using these alternative names in your daily life, not only keeps the language and culture alive but also instills a sense of belonging and pride in being part of such diverse cultures.
In conclusion, the nicknames for fathers around the world are as diverse and rich as the cultures they belong to. Adopting these nicknames can forge a deeper connection with your roots and help preserve the unique heritage shared by families across the globe. So, why not give it a try and call your dad by one of these affectionate names?
---
When Dad is Also Your Best Friend: Best Buddy Nicknames
For some of us, our fathers hold a special place in our hearts not just as parents but also as our best friends. This unique relationship deserves a nickname that captures the essence of friendship beyond the typical fatherly role. Here are a few suggestions for buddy nicknames that celebrate this dual role, reinforcing the bond between you and your dad as both parent and friend.
"The greatest gift I ever had came from God; I call him Dad" – Anonymous
Bro-Dad
Papa Pal
Dadster
The Sidekick
Buddy Bear
Amigo Ace
Palski Papa
Chum Chum
BFF (Best Father Forever)
Compadre Captain
Partner-in-Crime
Homie Honey
Pal Papa
Daddy Dude
Papa Partner
Matey
The Confidant
Dad-Bro
Pally Pop
Wingman Wizard
Pappa Chum
Bestie Bear
Ally Pop
Padre Pal
Comrade Dad
In conclusion, the relationship between a parent and a child can take many forms, and when your dad is also your best friend, it creates a bond like no other. By choosing a fitting nickname that reflects the unique dynamics between you two, you strengthen the connection and enhance your family experience with love, warmth, and fun.
---
Social Media and Texting Nicknames for Dad
In today's digital age, communication has evolved significantly. With texting and social media dominating our daily interactions, it's important to find alternative names for dads that suit these platforms. These unique names will help keep your dad up-to-date with the latest trends, making him feel included and appreciated in the virtual world.
Adopting modern nicknames for texting and social media not only keeps our bonds with our dads strong but also helps them feel relevant and bridge the generation gap.
Here are some cool ideas to inspire you to create or choose the perfect digital-friendly name for your dad:
Dadmoji
LOLDad
PapaHashtag
DM Daddy
Emoji Pop
GIF Guru
SnapPapa
TextMaster
MemeDad
TikTok Pop
@Papa
InstaDadster
VlogPops
PapaPing
Hashtag Hero
SelfiePops
TweetDaddy
StreamKing
DadSwipe
PapaPost
BlogPapa
Chat Champ
DadTag
LinkDaddy
PixelPapa
Personalizing your dad's handle on platforms like Instagram or creating a unique contact name on your phone can make a huge difference. It shows that you value your relationship and want it to grow even in the era of social media and texting.
When choosing alternative names for your dad on these platforms, remember to not only make it fun, creative, and relevant to his personality, but also ensure that it remains respectful and something he will take pride in.
As we continue embracing the digital age, it is essential to adapt our ways of expressing love and affection to include social media and texting. With the right dad calls, you can effortlessly blend unconditional love, digital-savviness, and family bonds in a powerful and meaningful way.
---
Wrapping Up The Best Nicknames For Fathers
In summary, finding the perfect nickname for your dad can be an enjoyable and heartwarming process. The wide array of special nicknames shared throughout this article demonstrates the abundant creativity and thoughtfulness that goes into commemorating the unique bond we share with our fathers. Every name on the long list of nicknames offered here holds the potential to deeply resonate with someone and their own relationship with their dad.
As we've explored, nicknames can be inspired by many sources, from a dad's personality traits to cultural heritage and even our digital interactions. These original ideas serve as a starting point, encouraging you to personalize your dad's nickname even further, reflecting the unique connection you share.
Whatever nickname you ultimately choose, the key is to ensure it holds meaning and affection for both you and your dad. Embrace the sentiment behind the name, and allow it to strengthen the love and bond between you. After all, the perfect nickname for your father is one that makes both of you feel closer, and fondly brings a smile to your hearts.