Table of Contents
Best songs for family slideshows aren't just a backdrop; they're the heartbeat of every frame, turning fleeting moments into timeless narratives. As the first photo glides into view, it's the melody that draws smiles, kindles nostalgia and coaxes out the laughter of shared memories. Crafting a family slideshow is much like composing a symphony; each note, each visual, is carefully chosen to tell the story of your journey. Let's set the stage for a memorable experience, picking a soundtrack that not only accentuates but also celebrates the essence of your family's most cherished moments.
---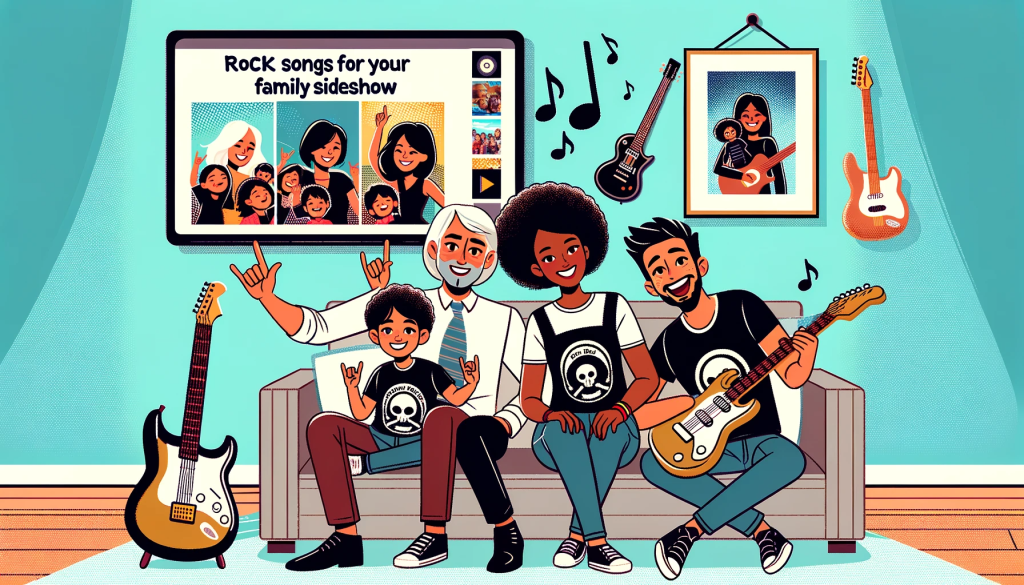 Rock Songs for Your Family Slideshow
"We Are the Champions" by Queen – An all-time classic that brings a sense of victory and unity to your family's achievements and gatherings.
"Beautiful Day" by U2 – Elevate your family photos with this anthem that's all about finding the beauty in every day.
"Best Day of My Life" by American Authors – Perfect for highlighting those joyous family moments with its upbeat tempo and positive message.
"Home" by Phillip Phillips – A modern classic with an emotional depth, great for slideshows focused on family reunions or the family home.
"Eye of the Tiger" by Survivor – For those family memories that are all about overcoming challenges and celebrating milestones.
"Livin' on a Prayer" by Bon Jovi – This song brings a sense of hope and togetherness, making it a heartfelt addition to any family slideshow.
"Sweet Child o' Mine" by Guns N' Roses – A rock ballad that's instantly recognizable and perfect for showcasing family bonds.
"You Make My Dreams" by Hall & Oates – With a feel-good vibe, it's a great way to add a bounce to your slideshow's step.
"Good Vibrations" by The Beach Boys – This classic brings a sunny and optimistic soundtrack to your family memories.
"Don't Stop Believin'" by Journey – An anthem about hope and perseverance, ideal for slideshows that celebrate life's journey.
"Born to Run" by Bruce Springsteen – Captures the spirit of adventure and freedom, perfect for family vacations and road trip highlights.
"Here Comes the Sun" by The Beatles – A timeless and uplifting song that can bring warmth to any collection of family moments.
"Times Like These" by Foo Fighters – This song's reflective and hopeful lyrics make it a meaningful background for looking back on family times.
"Wonderful World" by Louis Armstrong – While not a rock song, its inclusion is a nod to the beautiful moments spent with family, with lyrics that appreciate the simple things in life.
"The Middle" by Jimmy Eat World – Encouraging and energetic, it's a reminder that every family goes through ups and downs, but sticking together is what counts.
These songs are more than just good background music; they each carry a message that can resonate with the slideshow's theme, whether it's celebrating the best family songs or simply reflecting on the good times. When the right music plays, every slide becomes a story, every family member's face a character in a larger narrative, and every gathering a scene in your unique family affair.
---
Hip Hop Songs For A Family Slideshow
"Family Affair" by Mary J. Blige – This upbeat song is all about family unity and celebration, setting a joyful tone for your memories.
"Hey Ya!" by OutKast – A fun song that's sure to get family members of all ages nodding their heads and tapping their feet.
"Can't Stop the Feeling!" by Justin Timberlake – Perfect for adding a burst of energy and a positive message to your family photos.
"Happy" by Pharrell Williams – An infectious beat and cheerful lyrics make this a great choice for slideshows of memories filled with good times.
"I Gotta Feeling" by The Black Eyed Peas – This song's lyrics about anticipating a good night out can easily translate to looking forward to great family gatherings.
"U Can't Touch This" by MC Hammer – Bring some old-school flavor to your slideshow with this classic track that's still a hit at family functions.
"The Next Episode" by Dr. Dre featuring Snoop Dogg – For a cool, West Coast vibe that adds a bit of swagger to your family reunion highlights.
"Sunflower" by Post Malone and Swae Lee – A light-hearted and catchy tune that's been a hit with families and is a perfect background for fun moments.
"One Love" by Nas – A track that emphasizes unity and connection, echoing the sentiments of family bonds.
"It Was a Good Day" by Ice Cube – A laid-back track to reminisce over those perfect family days where everything went just right.
"Family Business" by Kanye West – A heartfelt song that reflects on family life, perfect for adding an emotional depth to your slideshow.
"The Show Goes On" by Lupe Fiasco – An upbeat tempo and encouraging lyrics that speak to the resilience and ongoing story of your family.
"All of Me" by John Legend – Although more R&B than hip hop, John Legend's ballad can underscore the sentimental moments with its beautiful song about love and dedication.
Each of these tracks can provide the perfect background music, enhancing the slideshow with a rhythm that matches the energy of your family's best moments. From songs that celebrate the fun times to those that have a heartfelt ballad feel, these hip hop tracks are a great way to convey the love, unity, and good life that family represents. Whether it's for a family video, a tribute video, or even a funeral slideshow, the right hip hop beat can make all the difference in creating a memorable experience.
---
R&B Songs For A Family Slideshow
"Isn't She Lovely" by Stevie Wonder – A father's tender tribute to his newborn daughter, perfect for celebrating the wonderful world of family.
"Stand By Me" by Ben E. King – A classic song that embodies loyalty and support, ideals at the core of every family.
"I'll Be There" by The Jackson 5 – This song assures that family members will always have each other's backs, making it a sentimental song for a reunion slideshow.
"Just the Two of Us" by Bill Withers – Ideal for showcasing the special bond between family members, reflecting on the simple things that matter most.
"Let's Stay Together" by Al Green – An ode to togetherness and resilience, perfect for slideshows highlighting anniversaries or family milestones.
"A Song for Mama" by Boyz II Men – A beautiful day is well-celebrated with this tribute to the matriarch of the family, suitable for Mother's Day slides or family tribute videos.
"Unforgettable" by Natalie Cole ft. Nat King Cole – A duet across time, this song adds a nostalgic feel and emotional connection to slideshows dedicated to remembering family members.
"My Girl" by The Temptations – This upbeat song is a great choice for slideshows featuring the wonderful women and girls in your family.
"Before I Let Go" by Frankie Beverly & Maze – A feel-good track that encourages dance and joy, ideal for capturing the good times with family.
"No One" by Alicia Keys – An anthem of dedication and love, perfect for highlighting those perfect moments spent with loved ones.
"All My Life" by K-Ci & JoJo – This heartfelt ballad is a popular choice for weddings and romantic moments within family slideshows.
"This Is How We Do It" by Montell Jordan – With a fun and lively beat, it's a great song for celebrating family achievements and joyous occasions.
"End of the Road" by Boyz II Men – For those bittersweet moments, this track can underscore the end of an era or the bittersweet feelings at a farewell.
"Dance with My Father" by Luther Vandross – An emotional song that can tug at heartstrings, especially for slideshows honoring or remembering a beloved family member.
These smooth R&B selections bring the perfect background music that ties together the shared experiences and cherished memories of family members. Whether it's the jubilant celebration of new life or the remembrance of a beautiful song from days gone by, R&B hits have a unique way of capturing the heart of family photos and adding an extra layer of warmth to your slideshow project.
---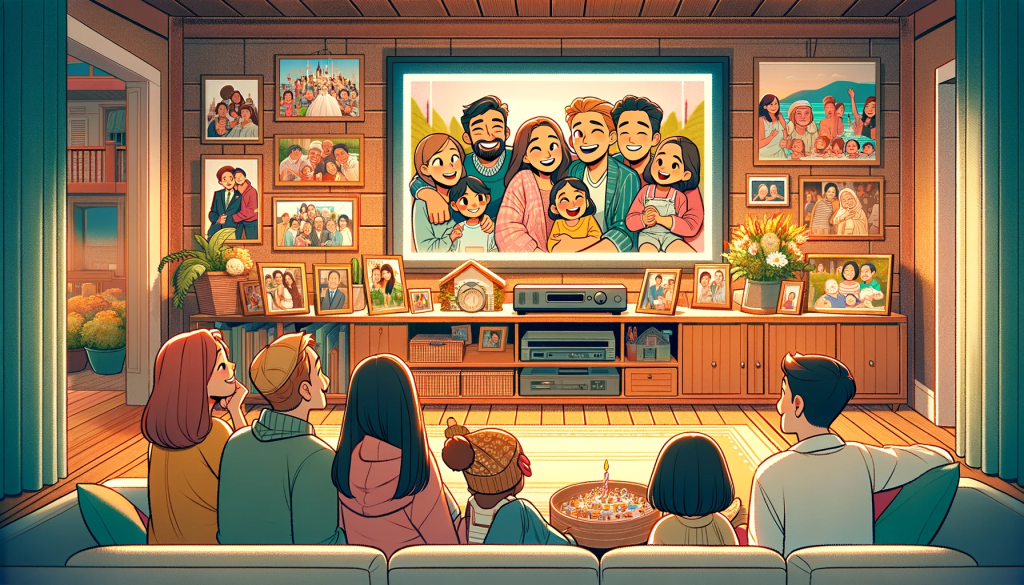 Sentimental Songs For A Family Slideshow
"In My Life" by The Beatles – A song that celebrates love and reminiscence, perfect for reflecting on family members and the times you've shared.
"Wind Beneath My Wings" by Bette Midler – This song is a soaring tribute to those who lift us up, ideal for honoring parents or mentors in your family.
"The House That Built Me" by Miranda Lambert – It evokes a sense of nostalgia for the home and family life that shaped you, a great choice for slideshows focused on family heritage.
"Landslide" by Fleetwood Mac – The bittersweet lyrics provide a backdrop for transitions and growth within the family, from graduations to moving days.
"You Raise Me Up" by Josh Groban – A powerful ballad that speaks to support and inspiration, often used in memorial slideshows.
"I Hope You Dance" by Lee Ann Womack – A mother's wish for her children, this song encapsulates hope and the best day of my life feelings for family members stepping into new chapters.
"My Wish" by Rascal Flatts – Conveys a message of love and best wishes, perfect for celebrating milestones like birthdays and graduations.
"Butterfly Kisses" by Bob Carlisle – A father's sentimental song for his daughter, it's a great way to spotlight the bond between fathers and daughters.
"What a Wonderful World" by Louis Armstrong – Its timeless melody and positive lyrics make it an ideal backdrop for any joyful family slideshow.
"Somewhere Over the Rainbow" by Israel Kamakawiwo'ole – A ukulele-driven tune that brings a touch of magic and whimsy to your family memories.
"Hero" by Mariah Carey – An inspirational song that can highlight the personal strengths and achievements of family members.
"Lean on Me" by Bill Withers – An anthem about support and togetherness, reinforcing the idea that family members are there for each other through thick and thin.
"I Will Remember You" by Sarah McLachlan – A poignant track that can accompany farewells or act as a gentle reminder of those who are no longer with us.
"Have I Told You Lately" by Rod Stewart – This romantic ballad can serve as a tribute to spouses or partners, celebrating the love that underpins the family unit.
These songs, rich with meaningful lyrics and heartfelt ballads, are the perfect sentimental songs for slideshows. They balance the emotional depth with an overarching positive message, capturing the essence of family life's journey. The emotional connection these tracks foster can turn a simple slideshow into a profound storytelling device, leaving a lasting impression and celebrating the great song that is family.
---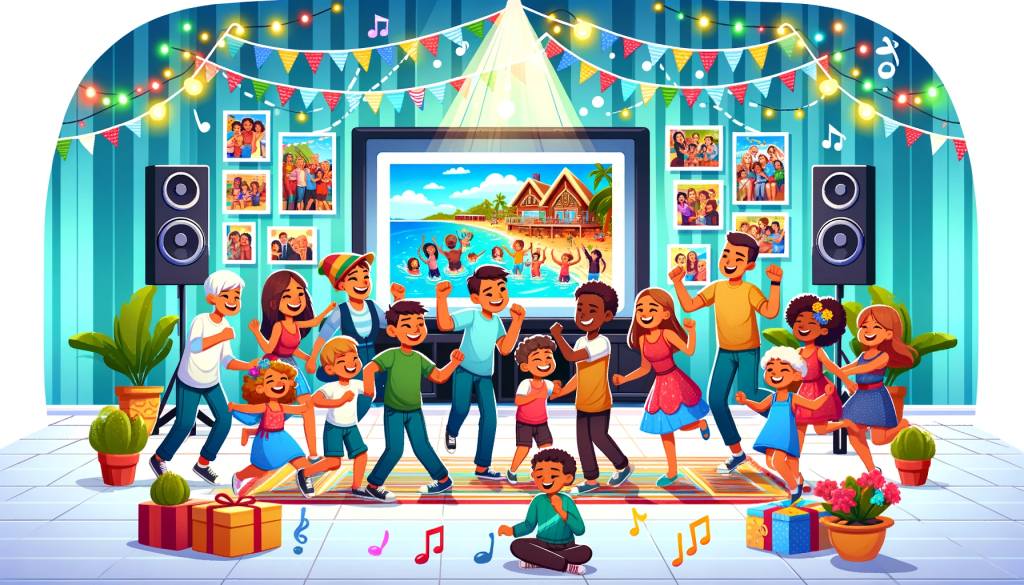 Upbeat Songs For A Family Slideshow
"Happy" by Pharrell Williams – This track is a no-brainer for injecting joy and a positive message into any family slideshow.
"Uptown Funk" by Mark Ronson ft. Bruno Mars – A high-energy hit that's sure to get heads nodding and feet tapping, ideal for showcasing fun family gatherings.
"Can't Stop the Feeling!" by Justin Timberlake – The perfect background music to celebrate those moments when your family felt like the stars of your own music video.
"I Gotta Feeling" by The Black Eyed Peas – Great for kicking off a family slideshow with a sense of anticipation and excitement for the good times.
"Best Day of My Life" by American Authors – This song encapsulates the feeling of unforgettable family outings and special occasions.
"Walking on Sunshine" by Katrina and The Waves – A quintessential feel-good track that matches well with vacation slides and sunny family memories.
"Shake It Off" by Taylor Swift – A fun song that encourages a carefree vibe, perfect for a family slide show filled with dance-offs and laughter.
"Good Life" by OneRepublic – Reflect on the beautiful day-to-day moments with family with this anthem about appreciating life's blessings.
"Celebration" by Kool & The Gang – A classic track that's almost synonymous with good times, making it a great choice for any celebratory family video.
"Waka Waka (This Time for Africa)" by Shakira – A global hit with an upbeat tempo that can accompany images of active, outdoor family fun.
"Good Time" by Owl City & Carly Rae Jepsen – This catchy tune is all about having a blast and making memories, perfect for slideshows of birthdays, holidays, and family adventures.
"I'm a Believer" by The Monkees – An oldie but a goodie that provides a cheerful backdrop for a look back at family moments.
"Don't Worry Be Happy" by Bobby McFerrin – A laid-back yet upbeat song that can bring a smile to everyone's face as they reminisce.
"We Are Family" by Sister Sledge – An obvious pick for a family reunion slideshow, embracing the theme of togetherness and family fun.
When you're putting together a slideshow, matching upbeat songs with the visual pace is key. These energetic songs should align with the tempo of your happiest memories. Sync faster-paced songs with quick transitions during exciting times or use them to punctuate the climax of your slideshow. With these great song selections, you'll set an exuberant tone that complements the laughter and joy evident in your family photos.
---
Tips For Making A Great Family Slideshow
Creating a great slideshow is an artful blend of technology, storytelling, and emotion. Here are some tips to ensure your slideshow resonates with your audience and becomes a memorable tribute to your family's journey.
Select the Right Photos: Choose high-quality images that reflect significant moments, showcasing the bonds between family members. The best slideshows tell a story, so select photos that contribute to the narrative you want to share.
Use a Consistent Theme: Keep a consistent style throughout your slideshow. Whether it's a colour scheme that complements your family photos or a specific frame that ties it all together, consistency is key.
Pick the Perfect Songs: The best family slideshow songs are those that reflect the mood you want to convey. Whether it's the emotional depth of a sentimental ballad or the infectious energy of an upbeat song, ensure the music underscores the slideshow's theme.
Pace Your Slideshow: The pace should match the energy of the content. Pair upbeat tunes with quick transitions for high-energy sections, and slow things down with sentimental melodies for more profound moments.
Incorporate Transitions and Effects: Use transitions sparingly and choose ones that add to the emotional impact without distracting from the images. Subtle effects can enhance the viewing experience without overwhelming it.
Include Text and Captions: Sometimes, a few well-chosen words can add context to a photo or express a sentiment that even the best songs can't capture. Use text to denote dates, locations, or a simple message that speaks to the heart.
Narration Can Add a Personal Touch: A voiceover from a family member can add a deeply personal element to the slideshow, creating a stronger emotional connection with viewers.
End Strong: The final images and songs in your slideshow should leave a lasting impression. Consider ending with a powerful image or a song that encapsulates the essence of the family's story.
Test Your Slideshow: Before presenting it, watch your slideshow several times to ensure the timing is right, the transitions are smooth, and the overall effect is what you envisioned.
Know Your Audience: Tailor the content to your audience. If it's for a family reunion, focus on images and songs that reflect the family's history and the good times shared.
Legal Considerations: If you're sharing the slideshow beyond personal use, ensure you have the rights to use the music and images included to avoid copyright issues.
Keep It Short and Sweet: A great slideshow should be long enough to tell the story but short enough to keep everyone engaged. Aim for a duration of 2-8 minutes as the sweet spot.
Backup Your Slideshow: Always have a backup copy of your slideshow. Technical issues can happen, and having a backup means your family memories are preserved.
Involve the Family: Get input from family members on song choices, photos, and stories that they think should be included. It's a great way to ensure the slideshow reflects the whole family's experiences.
Set the Scene: If presenting at an event, ensure the environment is conducive to viewing. Good seating, the right lighting, and proper audio setup can make all the difference.
These tips can help you create a family slideshow that's not just a sequence of images, but a tapestry of memories, enhanced by the perfect background music and a heartfelt narrative, capturing the beautiful song of family life.
---
Wrapping Up The Best Songs For Family Slideshows
When the last slide fades out and the final chord of a song lingers in the air, the impact of a well-chosen playlist on your family and friends is unmistakable. The right music can transform a simple slideshow into a profound shared experience, strengthening the emotional connection between your loved ones and the memories you cherish.
It's the perfect songs that underscore the smiles, the tears, and the laughter, binding the individual moments into a cohesive narrative. Whether it's the comforting strum of a classic by John Denver or the soulful ballad of Louis Armstrong, these are the sounds that resonate with the heartbeats of your kin.
So, as you put together the soundtrack for your family's story, let the music be as unique as the memories you're showcasing. Let "Country Roads" take you back to family vacations, or let the hopeful notes of "Best Day of My Life" by American Authors remind you of the great times yet to come. And when "Family Affair" by Sister Sledge comes on, it's more than just a song—it's an invitation to celebrate the beautiful tapestry of your family life.
Personalize your slideshow with songs that have danced through your living room, tunes that have been hummed in car rides, and melodies that have been the backdrop to your family's milestones. This isn't just about creating a slideshow; it's about composing the soundtrack of your lives together, a collection of the best family songs that will continue to tell your story for years to come.
So, go ahead and sift through your list of songs, find those perfect tunes, and craft a slideshow that'll be the heart of your next family gathering. After all, it's these moments, set to the perfect background music, that become the legacy of love and laughter we leave behind.