Table of Contents
Baby books for dads have become an invaluable resource for an expecting dad looking to deepen their understanding of the thrilling, sometimes daunting world of fatherhood. These great books serve as a practical guide, offering new dads an amalgam of expert advice, practical tips, and good dad anecdotes to prepare them for the beautiful chaos that accompanies a baby's arrival.
Whether you're a first-time father or a seasoned pro expecting another little one, the best books for new dads in 2023 offer a comprehensive guide that blends humour with wisdom, ensuring you're as ready as can be for the big day and your baby's first year.
As a dad of 3 young boys – who also loves to read – I found baby books to be incredibly helpful in setting my expectations of what life might look like after becoming a new dad. But don't just stop at books, talk to friends, talk to family members, talk to your dad. Everybody has a different perspective on fatherhood and you never know what might click or spark a way of thinking that will help you become the best dad you can be.
Let's dive into the list of books.
---
Best Books for New Dads in 2023
2023 has ushered in an array of essential reads for new dads, each book offering fresh insights and practical guidance to embrace the exhilarating journey of fatherhood. From comprehensive guides to heartfelt narratives, these books stand ready to equip every expectant dad with the tools for success.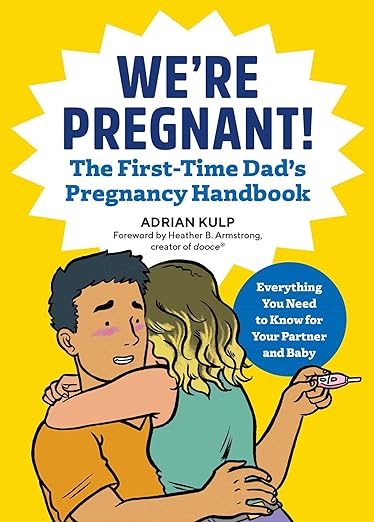 Adrian Kulp steps in with his guide first-time fathers through the maze of pregnancy. With a mix of humour and practical tips, Kulp covers the good, the bad, and the ugly, making it an essential guide for any expectant dad ready to take on the greatest role of his life. Kulp has an entire progressive series if you enjoy his writing, with books on surviving the first year, the toddler years, and potty training as well.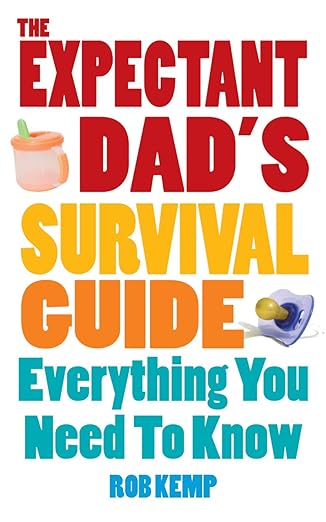 Rob Kemp provides an indispensable resource for soon-to-be fathers. This book is the ultimate survival guide, packed with everything a new dad needs to know about pregnancy, birth, and the first year of parenthood. It's filled with practical advice that can help any new dad navigate the overwhelming world of fatherhood.
Check out the guide on Amazon.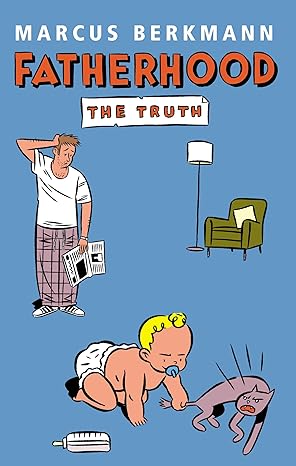 For a humourous yet realistic peek into the world of fatherhood, Marcus Berkmann's book is a must-read. "Fatherhood: The Truth" offers an unfiltered look at what it really means to be a dad. Berkmann's witty take on parenting will have new dads both laughing and learning from his candid stories and insights.
Buy Fatherhood: The Truth on Amazon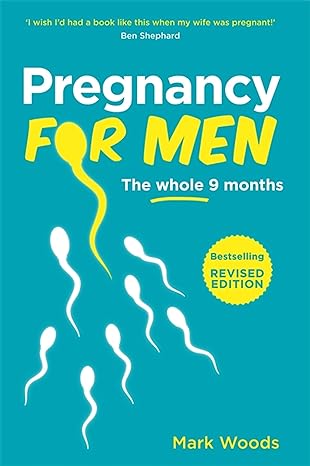 Mark Woods has crafted a month-by-month guide that walks fathers-to-be through the pregnancy journey alongside their partner. "Pregnancy for Men: The Whole Nine Months" lays out what to expect in each stage of pregnancy, providing helpful tips on how to be a supportive partner throughout the entire process.
John Nero's guide is a must-have for new dads looking to understand the ins and outs of pregnancy. "The Pregnancy Guide for Men" gives expectant fathers a comprehensive look at what their partner is going through and how they can be involved and supportive every step of the way.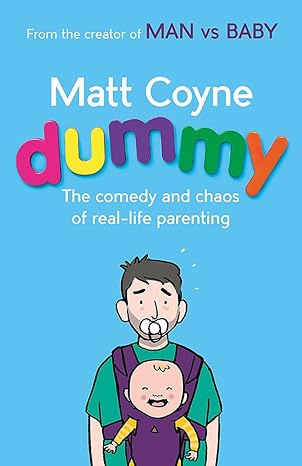 For an entertaining and relatable account of fatherhood, Matt Coyne's "Dummy" is the perfect pick. This book captures the comedy and chaos of parenting in a way that will resonate with new dads. Coyne's hilarious anecdotes and honest reflections make for an enjoyable read that also offers comfort and camaraderie to first-time fathers.
Each of these books serves as a fantastic tool, helping new dads prepare for the exciting and challenging adventures of fatherhood in 2023. Whether looking for practical advice, emotional support, or a good laugh, these top picks provide a wealth of information and entertainment for any new dad navigating the thrilling journey of raising a child.
---
Books for New Dads of Daughters
Celebrating the arrival of a little girl into your life means embracing a unique and incredible journey. The father-daughter relationship is a distinct bond, and luckily, there's a wealth of books out there crafted to guide new dads through the exhilarating adventure of raising a daughter. Here are some top picks:
For those special storytime moments that shape the father-daughter bond, "Why, Daddy? Why?" is a standout choice. It's a board book that encourages curiosity and interaction, making it a great tool for dads to connect with their little girls.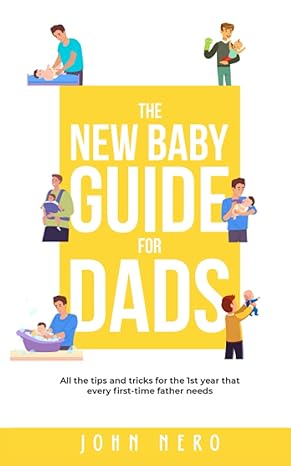 Part of the insightful "The New Dad and Baby Book Series," this guide offers a wealth of tips specifically for dads navigating the first year with their new daughter. It's a practical resource that covers a variety of topics, from daily care routines to fostering a strong emotional connection.
Check out John's guide on Amazon.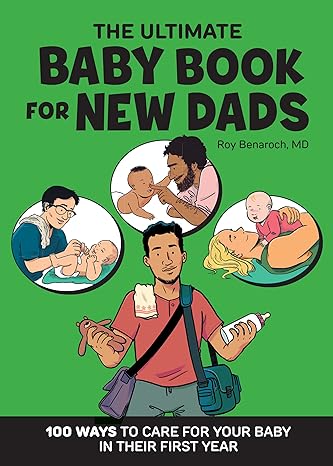 Crafted by an experienced pediatrician – Roy Benaroch – this book is a trove of over 100 tips on how new dads can support both their baby and partner. Its modern, evidence-based approach is invaluable for fathers looking to take an active and informed role in their daughter's early development.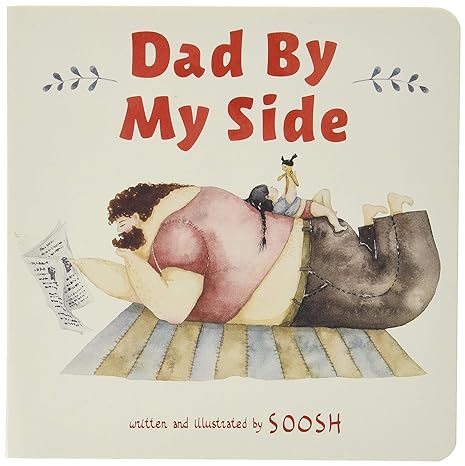 A touching portrayal of father-daughter relationships, "Dad By My Side" is a picture book that celebrates the nurturing and fun aspects of being a dad. The illustrations and scenarios will resonate deeply with any father looking to cherish and strengthen the bond with his daughter.
Julio Martinez's book is more than just a story; it's a powerful representation of the unique and empowering relationship a father has with his daughter. It provides both heartwarming anecdotes and valuable parenthood lessons, making it a dual-purpose read for dads committed to raising strong, confident girls.
Check out Julio's book on Amazon.
For dads blessed with daughters, these books are essential for navigating the joys and challenges of fatherhood. Each title brings a mix of practical advice, bonding activities, and celebrations of the father-daughter relationship, making them worthy additions to any new dad's library.
---
Books for New Dads of Sons
Raising sons comes with its own set of joys, challenges, and learning curves. Thankfully, there's no shortage of insightful literature tailored for new dads venturing into the world of boyhood. Here's a rundown of some top book recommendations that celebrate and guide the father-son relationship: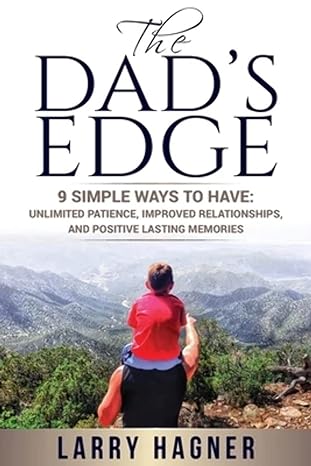 Larry Hagner's book is a standout, guiding new fathers through the complexities of raising emotionally strong and intelligent boys. It's a perfect mix of heartfelt advice and actionable strategies for the modern dad.
This compelling read by Gregory L. Jantz and Michael Gurian is a fusion of cutting-edge neuroscience and time-tested wisdom. It's a practical blueprint for fathers looking to understand and support their son's development from infancy to young adulthood.
Check out Raising Boys by Design on Amazon.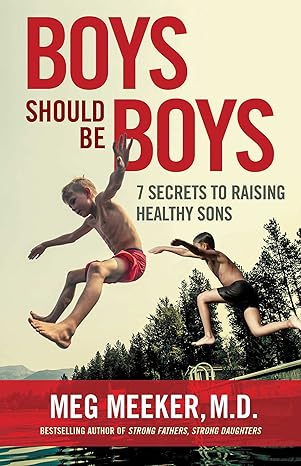 Meg Meeker's book is a vital source for any father raising a son. It sheds light on guiding sons through their unique journey and stresses the impact of a father's involvement on a boy's life.
Check out Meg's book on Amazon.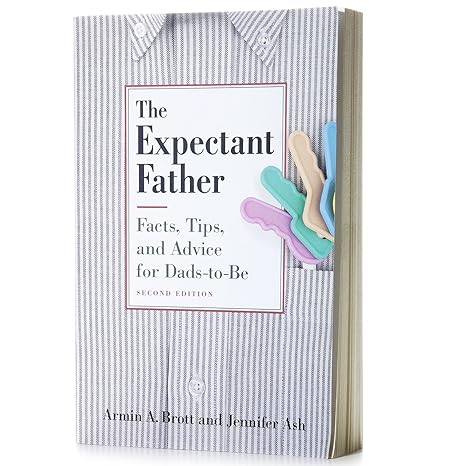 Armin A. Brott and Jennifer Ash's guide is an essential read for expectant fathers. It's a comprehensive manual that covers every aspect of boyhood, from understanding psychological growth to preparing for the active, energy-filled days of raising boys.
Buy the Expectant Father on Amazon.
This is the next book in the series by Armin A. Brott and is the go-to resource for navigating the crucial early years of your son's life. It's filled with valuable insights into the developmental milestones and the unique ways dads can foster growth and bonding.
Check out Armin's book on Amazon.
Each of these books is a rich resource, packed with wisdom for dads eager to make the most of their role. They serve as a coach, a mentor, and a companion to fathers, empowering them with the tools to raise their sons into compassionate, confident men. Whether it's through understanding the psychology of boys or learning how to engage with them at every stage, these books offer a robust foundation for building a strong father-son relationship.
---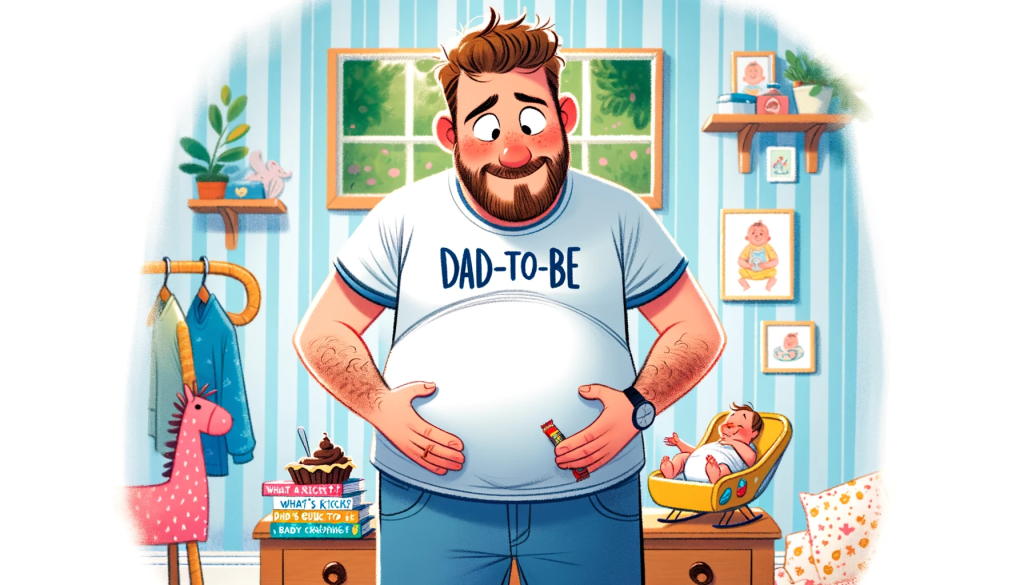 Best Books About Pregnancy for Men
Pregnancy can be a mysterious and daunting time for soon-to-be dads, but fortunately, there's a wealth of books designed to demystify the process and help men become supportive partners. If you're an expectant father looking to get up to speed on what to expect when your partner's expecting, here are some top picks: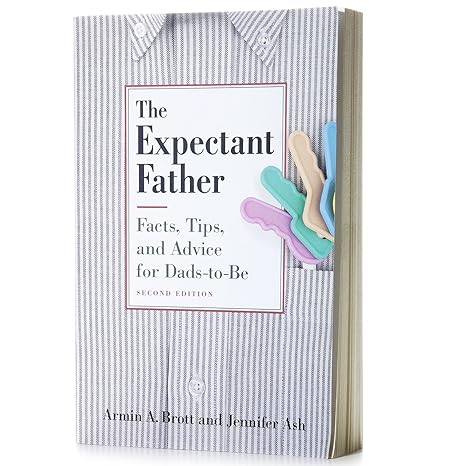 This book is a favourite among new dads for good reason. It's a month-by-month breakdown of pregnancy, offering a deep dive into the physical and emotional changes you can expect—both in your partner and yourself. It's the go-to manual for those seeking to understand the ins and outs of pregnancy from a dad's perspective.
Buy the Expectant Father on Amazon.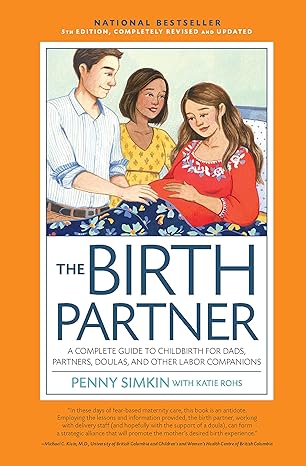 Perfect for the dad who wants to be a pillar of support, "The Birth Partner" is an indispensable guide. It covers the practical aspects of support during pregnancy and labour and also emphasizes the importance of emotional backing. This book is a comprehensive resource for understanding your partner's journey through pregnancy and how you can be actively involved every step of the way.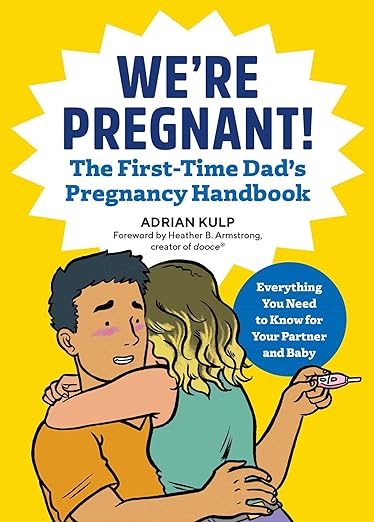 As the title suggests, this one's all about that first-time dad experience. It's a mix of humour and heart, packed with actionable advice that'll take you from the positive pregnancy test to the delivery room. The illustrations are fantastic in Adrian's books as well.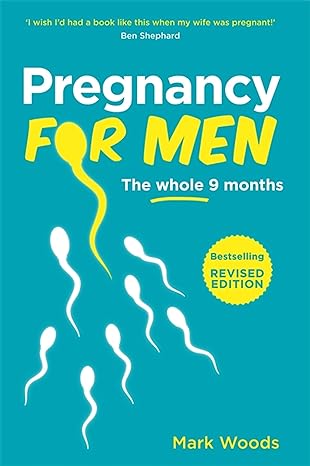 Offering a month-by-month guide to pregnancy, this book provides expectant dads with a humorous yet informative look at what's to come. It's a great blend of entertainment and essential knowledge.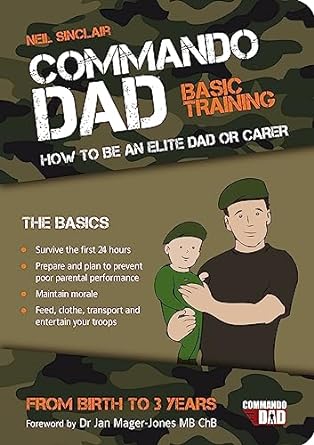 This one's written by a former Royal Engineer Commando, designed to get you combat-ready for the adventure of fatherhood. It's a no-nonsense, straightforward guide that approaches parenting with military precision.
Check out the Commando Dad on Amazon.
Each of these books is a valuable ally in the journey toward fatherhood, offering the knowledge and confidence needed to support your partner through the twists and turns of pregnancy. With these resources, expectant dads can move beyond feeling like a bystander to becoming a central figure in the beautiful and complex pregnancy experience.
---
What to Read Before Becoming a Father
Embarking on fatherhood is a monumental step, and equipping yourself with the right knowledge can make all the difference. Here's a list of insightful reads that serve as a comprehensive guide for men about to embrace this transformative life phase:
For the sports enthusiast stepping into fatherhood, "Dad's Playbook" offers guidance with a side of sportsmanship. Featuring a foreword by NFL legend Steve Young, this book is a clever take on parenting, filled with sports analogies that translate the world of games into the realm of dad duties.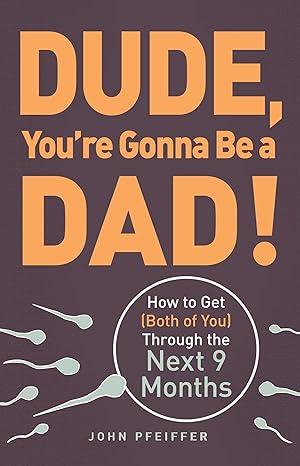 John Pfeiffer takes a light-hearted approach to the often-overwhelming experience of pregnancy and the transition to fatherhood. "Dude, You're Gonna Be a Dad!" is the perfect pick for those who prefer a more laid-back, humorous guide to the dad role without getting bogged down by the gravity of it all.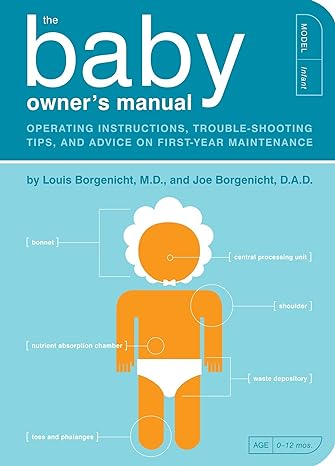 This book, penned by a father-and-son duo, is a straightforward, no-frills approach to baby care. Modeled after a user manual, "The Baby Owner's Manual" breaks down the first year of parenthood into simple, easy-to-follow instructions – ideal for dads who appreciate clarity and a bit of technical humor.
Check out the Baby Owner's Manual here.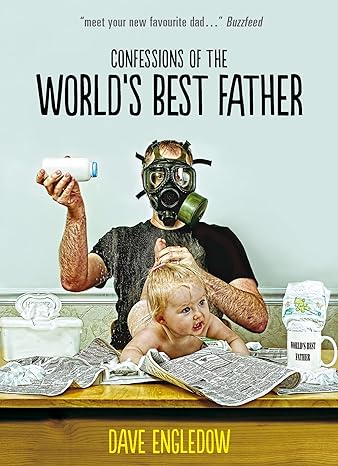 Engledow delivers a hilarious and candid look at fatherhood with "Confessions of the World's Best Father," where he documents his journey with wit and plenty of self-deprecating humor. It's a great way to lighten the mood while reflecting on the realities of becoming a new dad.
See more about Dave's book here.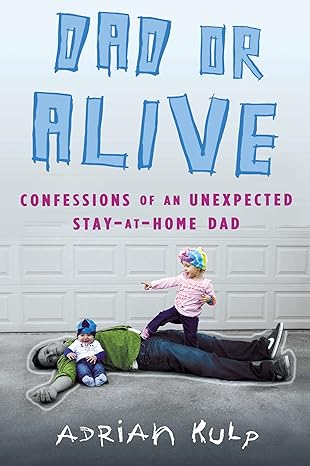 In "Dad or Alive," Adrian Kulp shares his unexpected foray into becoming the primary caregiver. This book resonates with modern dads who might find themselves in a stay-at-home role, offering laughs, solidarity, and a realistic portrayal of day-to-day parenting chaos.
Each book provides a different angle on the impending life changes, whether you're looking for sports-themed inspiration, a relaxed and funny narrative, or a practical guidebook. They're perfect for any expectant father eager to tackle the thrilling world of parenting head-on.
---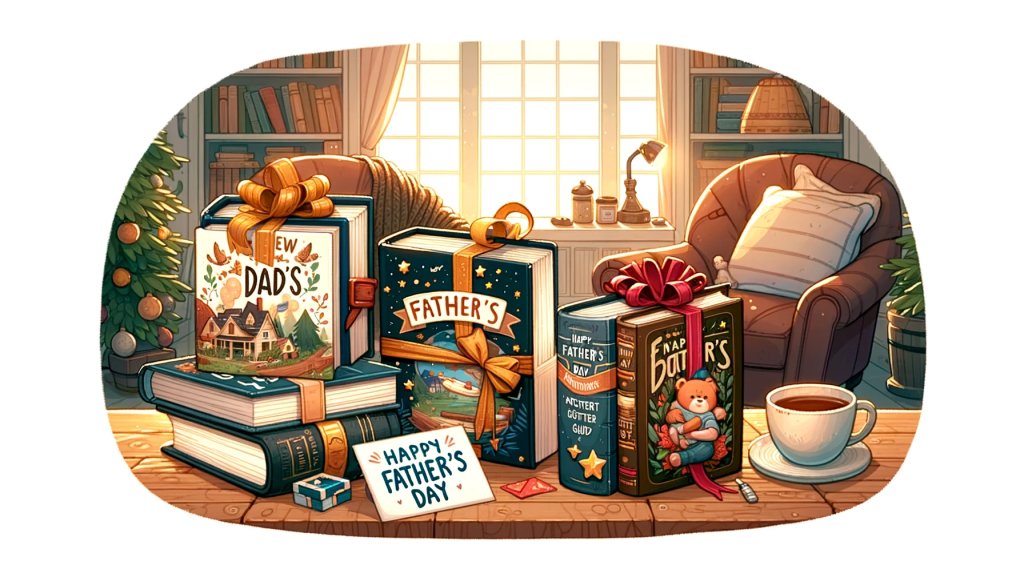 A Father's Day Gift Guide: Books for New Dads
Welcoming a new baby into the world is a momentous occasion that marks the beginning of countless sleepless nights, an array of physical changes, and the joyous task of figuring out the ins and outs of parenting. For new parents, and especially for those stepping into the role for the first time, celebrating the upcoming Father's Day with the right book can be both a thoughtful gift and a practical guide.
1. "The New Father: A Dad's Guide to the First Year" by Armin A. Brott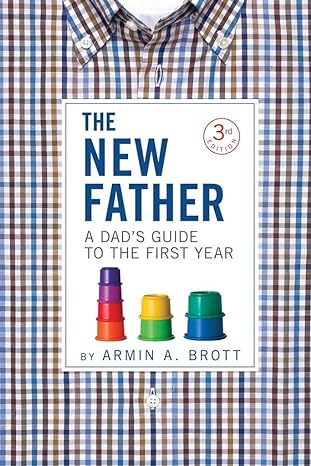 Brott's guide is often lauded as the best overall book for new dads. It's an expectant dad's survival guide that offers more than just useful information—it provides a roadmap for the first year of your baby's life, ensuring that you become the best dad and the best partner you can be.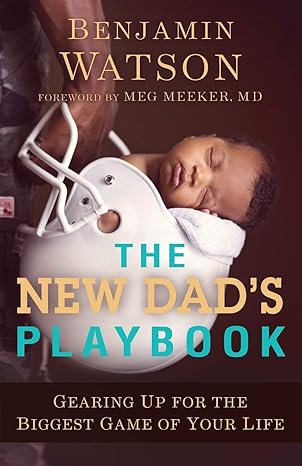 For those with a sports bent, "The New Dad's Playbook" by Benjamin Watson, former Super Bowl Champion, is an excellent choice. Watson shares his own experiences and provides man-to-man advice, equating preparation for fatherhood to training for the biggest game of your life.
Buy Benjamin Watson's book here.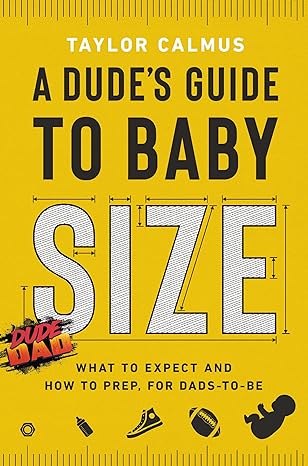 Taylor Calmus has written an engaging book that combines a quirky sense of humour with practical advice. Each chapter compares the baby's size to different objects, making it a fun read while keeping track of the baby's development.
Read more about Taylor's book here.
For fathers interested in exploring different cultural perspectives, "Fatherhood: Rising to the Ultimate Challenge" by Etan Thomas with a foreword by Tony Dungy, and contributions from the likes of Taye Diggs and Ice Cube offers a deep dive into black fatherhood and the unique challenges and joys it brings.
Romesh Ranganathan's book can help new dads navigate not only the baby's first year but also the often-overlooked aspects of work-life balance and mental health in a way that's both insightful and irreverent.
Buy As Good As It Gets on Amazon.
Lastly, every new dad will appreciate "Your Baby's First Word Will Be DADA" by Jimmy Fallon, a delightful board book to read to the little one, ensuring good news and laughter for both baby and dad. This was actually the book I received on my first father's day and it's adorable.
Buy Jimmy Fallon's book on Amazon.
Choosing the Right Book for Expecting and New Fathers
Selecting the right book as a Father's Day gift for new or expectant dads can have a positive impact on their journey through fatherhood. It's not just about giving them a helpful book; it's about providing them with a resource that matches their parenting style, equips them with specific ways to support their partner's pregnancy, and prepares them for the home game that is raising a young child. It's about making that little bit of difference that adds up to a whole lot as they navigate the biggest role of their lives. From children's books to first-time dad's guides, each book offers a way to celebrate the new baby's arrival while also celebrating the new dad's role in the family.
---
Wrapping Up The Best Baby Books For Dads
The transition to fatherhood is a profound journey – especially for first time dads. The books listed provide an invaluable resource for expectant fathers, offering guidance, support, and a wealth of knowledge to help navigate the complexities of parenting. From fostering strong relationships to mastering the essentials of baby care, these reads serve as an essential part of a new dad's toolkit. They are more than just books; they are companions on the path to becoming a supportive partner, a confident caregiver, and a role model for the newest addition to the family.
For the man about to embark on this incredible chapter of life, these guides are a beacon, illuminating the way forward with wisdom, humour, and insight. With these resources at your fingertips, you're well-prepared to embrace the joys, challenges, and rewarding experiences of fatherhood.