Table of Contents
For parents, there's nothing quite like the gentle sway of a baby swing to offer moments of relief while keeping their precious one safe and content. Especially for those with bigger babies, finding the right swing can be difficult. Baby swings don't just provide a momentary hand-off solution; they offer a safe place where infants can relax, listen to soothing tunes, and even drift off to dreamland.
But not all swings are made equal, especially when it comes to accommodating big babies. Ensuring that the swing can support your baby's weight and provide ultimate comfort without compromising safety is vital. So let's dive into the best baby swing for big babies.
Factors to Consider When Choosing a Swing for Big Babies
Weight Limit
The weight limit of a baby swing is perhaps the most crucial factor for parents with larger babies. An adequate weight capacity ensures that the swing can support the baby safely without any risks. Exceeding the weight limit can lead to swing malfunctions, which can compromise your child's safety.
Safety Features
Every parent's top priority is the safety of their child. Look for swings with a 5-point harness or a five-point harness system that secures the baby from the shoulders to the waist, preventing any slipping. Additionally, shoulder straps are indispensable for added security, making sure the baby remains in place even during vigorous swinging motions. Equally important is ensuring that the swing adheres to safety standards set by renowned bodies like the American Academy of Pediatrics and the Consumer Product Safety Commission.
Swing Speeds and Motion
Different babies have different preferences. While some may enjoy a gentle swaying motion, others might prefer a more pronounced swing. Opting for a swing that offers various speeds and different speeds can cater to these individual preferences. Moreover, swings with diverse swinging motions, from side-to-side to different directions, can provide varied experiences for the baby, ensuring they don't grow weary of one repetitive motion.
Additional Features
Beyond the basic functionality, there's a world of features designed to provide comfort and entertainment. Nature sounds and white noise can be incredibly calming for a fussy baby, offering familiar sounds reminiscent of their time in the womb. Swings equipped with remote controls allow parents to adjust settings without disturbing their little one, and adjustable recline positions ensure that the baby remains comfortable as they grow. Furthermore, plush seats provide a cozy environment, while machine-washable seat pads make cleaning a breeze. For the tech-savvy parent, high-tech features like vibration settings, touchscreen controls, and the convenience of the Moms App can elevate the baby swing experience.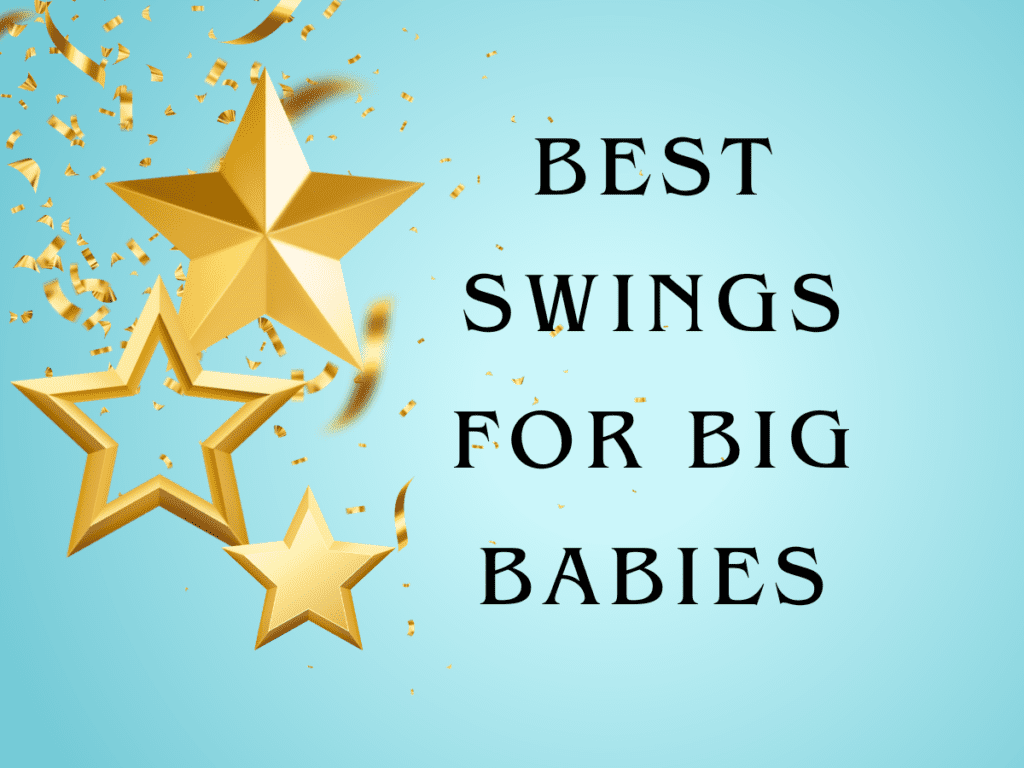 Our Picks For The Best Swings for Big Babies
Graco Soothe My Way Swing with Removable Rocker
The Graco Soothe My Way Swing with Removable Rocker is a versatile and cozy option for parents and babies. It features a plush seat that can be detached and used as a portable rocker, giving you more flexibility and convenience. The swing has six soothing motions that mimic the natural movements of parents, as well as 15 songs and sounds to calm and entertain your baby. The swing also has a vibration setting that can be adjusted to your baby's preference. The swing's weight limit of 25 pounds and 5-point harness ensures that your baby is safe and comfortable, while the toy bar and soft toys add some fun and stimulation.
Features
Swing weight limit of 25 pounds
2-in-1 swing seat doubles as a removable rocker to use elsewhere in your home
8 soothing motions including bounce, swing, figure-8, wave and others
The multi-directional seat allows baby to swing facing forwards, left, or right
15 songs and sounds
6 swinging speeds
3 recline positions
Buy The Graco Soothe My Way Baby Swing on Amazon.
4Moms MamaRoo Multi-Motion Baby Swing
Innovation meets comfort with the 4Moms MamaRoo Multi-Motion Baby Swing. This swing mimics the natural motions parents use, from a gentle car ride motion to a more animated tree swing experience. With its unique weight capacity designed for big babies, safety remains a top priority, evident from its 5-point harness system. Its high-tech features are not to be missed: from Bluetooth connectivity, allowing parents to control motion and sound via the Moms App, to adjustable seat reclines for optimum comfort. The addition of a toy bar ensures your baby remains engaged and entertained. The MamaRoo swing has a weight limit of 25 pounds.
Features
25-pound weight limit
Bluetooth enabled
Works with Amazon Alexa and Google Home
5-point and 3-point harness options
5-motions
5 speeds
4 built-in sounds
Toy Mobile
Buy The 4Moms MamaRoo Multi-Motion Baby Swing on Amazon.
Graco Simple Sway Swing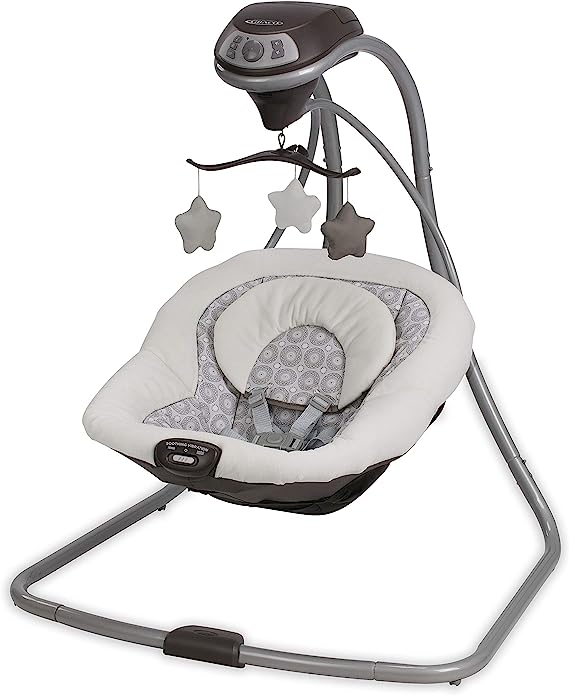 Simplicity and efficiency define the Graco Simple Sway Swing. Designed keeping in mind the needs of larger babies, its 30-pound weight limit and safety features, like the secure harness system, make it a top pick for many parents. The swing offers diverse swing speeds, catering to the individual needs of babies. The added bonus of nature sounds and the plug-in option, combined with its compact design, makes it an excellent choice for parents looking for efficiency without compromising on the essential features.
Features
30-pound weight limit
Gentle side-to-side swing
6 swinging speeds
2 vibration settings
10 melodies and 5 soothing sounds
Buy the Graco Simple Sway Swing on Amazon
Graco DuetConnect Swing and Bouncer
The Graco DuetConnect Swing and Bouncer is a two-in-one product that offers both a swing and a bouncer for your baby. The seat can be easily removed from the swing and used as a bouncer, giving you more flexibility and convenience. The swing has six swinging speeds, 10 melodies, and five nature sounds to soothe and entertain your baby. The bouncer has two vibration settings that can be controlled by a switch on the seat. The swing's weight limit and 5-point harness ensure that your baby is safe and comfortable, while the toy bar and soft toys add some fun and stimulation.
Features
30-pound weight limit
6 swing speeds
Reclining head support
2-in-1 seat doubles as a bouncer as well
10 melodies and 5 sounds
2-speed vibration
Buy the Graco DuetConnect LX Swing and Bouncer on Amazon.
Benefits of Using Baby Swings for Larger Babies
For many parents, baby swings are more than just a luxury; they're a necessity. They offer several benefits, especially for parents of larger babies. Here's why investing in one is a wise decision.
Offering a Safe Place for Relaxation
Baby swings are specifically designed to cradle your baby in a secure environment. For bigger babies, having a swing that understands and caters to their weight and size ensures they have a comfortable place to relax. With features like the 5-point harness and shoulder straps, swings provide a safe haven where parents can place their babies with confidence.
Assisting in Calming a Fussy Baby
Every parent has been there – trying everything in the book to soothe a crying baby. Swings can often be the answer. The gentle rocking motion, combined with added features like nature sounds and white noise, can work wonders in calming a fussy baby. These sounds often replicate the comforting noises babies heard in the womb, providing them with a familiar and soothing environment.
Providing Various Swing Speeds Tailored for Comfort
Bigger babies might have different comfort needs than smaller infants. Swings that offer adjustable swing speeds and different motions allow parents to find the perfect setting that their baby enjoys the most. Whether it's a gentle sway or a more pronounced swing, having options means that the baby's comfort is always prioritized.
Entertainment and Stimulation
Beyond just comfort, many modern baby swings come equipped with features designed to entertain and stimulate the baby. Toy bars, different songs, and even touchscreen controls can provide interactive experiences. This not only keeps the baby engaged but also contributes to their sensory development.
Giving Parents a Momentary Respite
Let's not forget the parents! Baby swings give caregivers a chance to take a breather, attend to chores, or simply enjoy a moment's peace. Knowing that their larger baby is safely and comfortably nestled in the swing allows parents to recharge, even if it's just for a few minutes.
Tips for Using Baby Swings Safely
Ensuring your baby's safety is paramount, especially when using swings. While these products are designed with safety in mind, certain precautions and best practices can further enhance your baby's security and comfort. Here are some crucial safety tips for parents.
Adhere to the Weight Limit
Always ensure you're aware of the weight limit of the swing and that your baby's weight falls within this limit. This is particularly essential for bigger babies to ensure the swing can safely support them. Regularly check to ensure your baby hasn't outgrown the swing's weight capacity.
Always Use the Harness
Regardless of the baby's size or the swing's stability, always make use of the provided safety harness, be it a 5-point harness or any other secure mechanism. This ensures that even if the baby tries to move, they remain safely in place.
Monitor Swing Time
While baby swings are a great way to soothe and entertain, it's vital to limit the amount of continuous time your baby spends in them. Extended periods in the swing can affect your baby's physical development. It's recommended to use the swing in short intervals.
Place on a Flat Surface
Always ensure the swing is on a flat, stable surface to prevent any tipping or imbalance. Avoid placing the swing on elevated surfaces like tables or beds.
Regularly Check for Wear and Tear
Given the regular use and the weight of a bigger baby, wear and tear can occur over time. Regularly inspect the swing for any signs of damage, loose parts, or malfunction. If found, stop using the swing until it's properly repaired or replaced.
Stay Close
While baby swings are a handy tool to give parents a short break, it's essential always to be in the same room as the swing when in use. This allows for immediate intervention if the baby becomes distressed or if there's a malfunction.
Follow the Manufacturer's Guidelines
Always adhere to the manufacturer's guidelines regarding assembly, usage, and maintenance. If the swing comes with additional safety features, such as shoulder straps or adjustable seat reclines, ensure they are used correctly.
Wrapping Up The Best Baby Swing For Big Babies
Parenting comes with its fair share of challenges. However, with the right tools, like the ideal baby swing tailored for larger infants, household tasks and showers can be made significantly smoother. From offering a safe haven for relaxation and play to providing parents with some well-deserved moments of respite, baby swings have proven to be invaluable for many families.
By prioritizing features like weight limits, adjustable speeds, safety harnesses, and additional entertainment options, parents can find the perfect swing that meets their unique needs. Pairing this with a commitment to safety, from always using the harness to regularly checking the swing for wear and tear, ensures that these moments of comfort come without compromise.
In the end, whether it's the gentle lull of nature sounds, the rhythmic sway tailored to soothe, or the advanced technological features, there's a baby swing out there for every family. With research, awareness, and a touch of love, finding the best baby swing for your big baby is not just a possibility—it's a promise. Happy swinging!