Table of Contents
Ah, soccer season! As a mom of three energetic boys, two of whom have recently laced up their cleats and taken to the soccer field, I know just how crucial it is to be comfortably seated during those thrilling (and, let's admit, sometimes nail-biting) matches.
I've certainly had my fair share of hits and misses with outdoor chairs. This article aims to share some of the best options available for fellow soccer moms, because let's face it, our comfort directly impacts our cheer game! Let's dive into the best chairs for your child's soccer game.
To the husbands out there, a nice new chair for your wife is a great gift idea. Improve the soccer mom life and as the saying goes, happy wife, happy life.
---
Why Soccer Moms Need Special Chairs
When you're juggling snacks, drinks, toddler tantrums, and enthusiastic cheering, the chair you're seated on becomes more than just a chair; it's practically your game-day throne! It's easy to underestimate the demands of a soccer match until you find yourself shifting uncomfortably just 20 minutes into the game, realizing that the simple lawn chair you grabbed on a whim isn't cutting it. Trust me, I've been there.
Weather is another game-changer. Soccer doesn't always conveniently happen on mild, sunny days. We have all watched games with scorching suns, unexpected rain showers, and chilly winds—all of which can make or break your sideline experience.
The right chair can be a game-changer (pun intended!). It offers support for those long matches and protects you from unpredictable weather elements, ensuring that you can give close attention to your budding soccer stars. So, whether you're a seasoned soccer mom or just starting out in the soccer-parent journey, choosing the right chair is not just about comfort; it's about ensuring you're in the best shape to support your little champions.
---
Best Portable Chairs for Sporting Events
Navigating through the myriad of chair options for sporting events can be daunting. The ideal chair should offer a balance of comfort, convenience, and durability. Based on extensive research and reviews, here are some of the top collapsible chairs that stand out in the world of outdoor sporting events: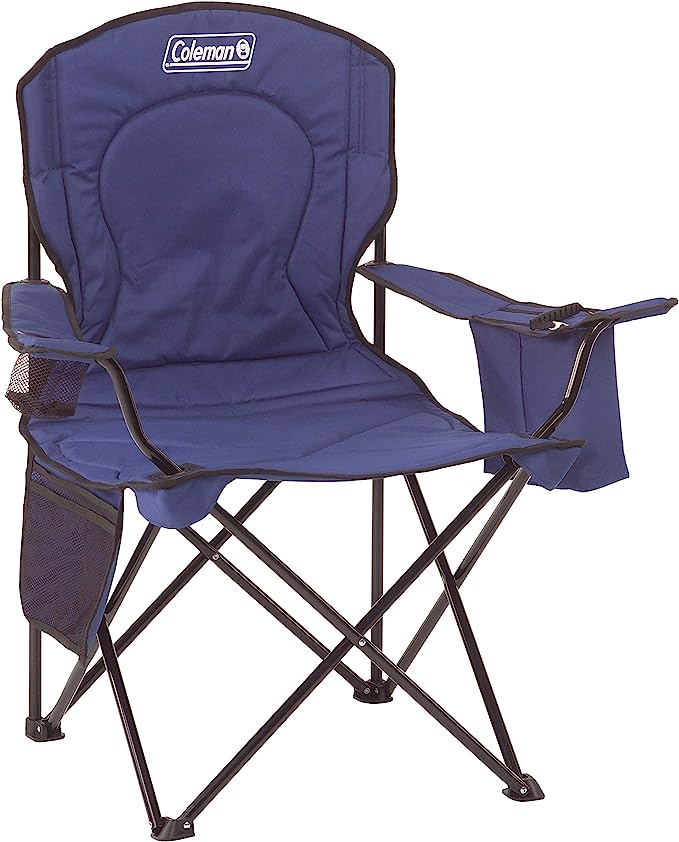 Key Features: Built-in 4-can cooler pouch, side pocket for storage, sturdy frame.
Pros: Allows for beverages to stay cool, reducing the need for frequent cooler visits. Durable build.
Cons: Slightly bulkier than some other portable chair options due to the cooler feature.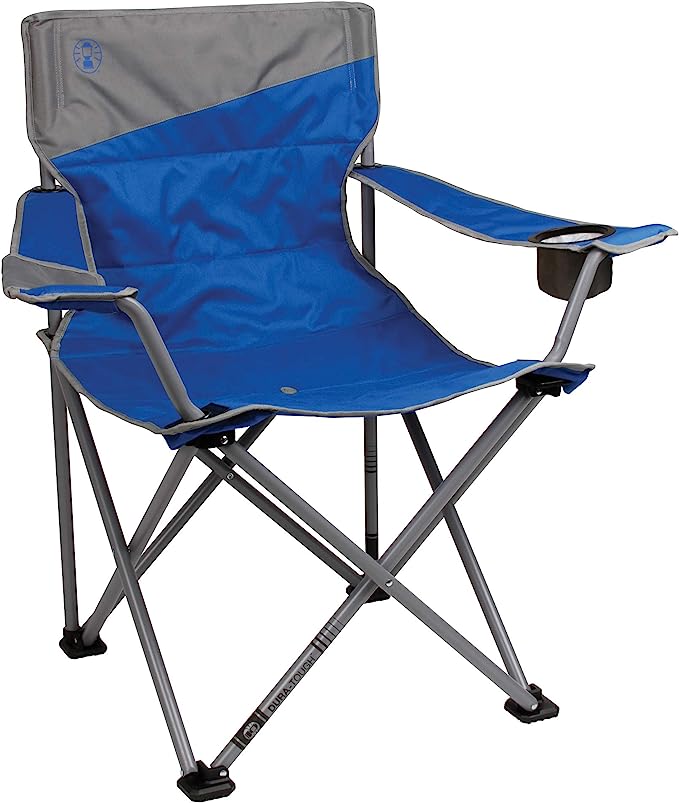 Key Features: Oversized design, robust build supporting up to 600 lbs.
Pros: Spacious seating, highly durable, suitable for various body types.
Cons: Due to its size, it is less compact when folded compared to other chairs.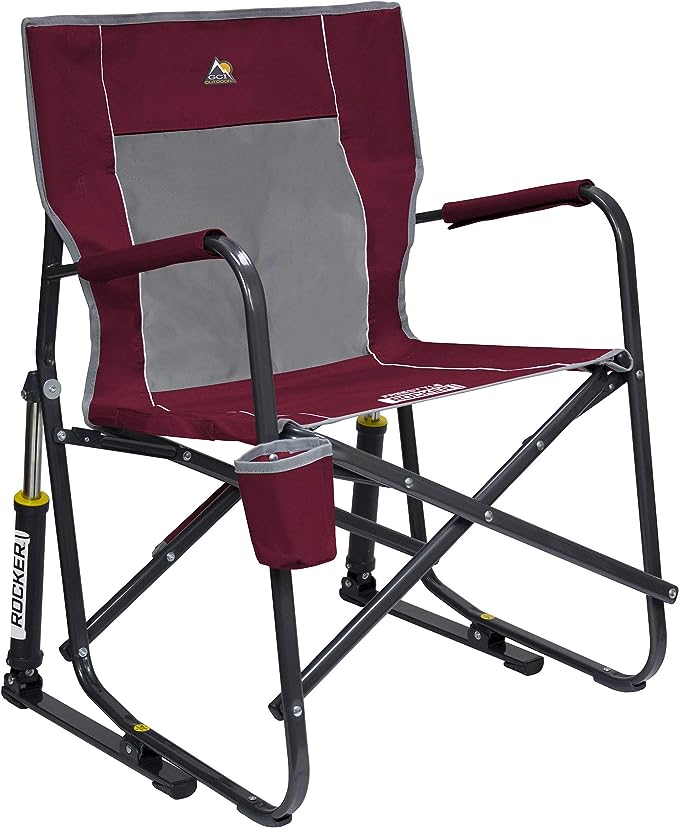 Key Features: Foldable rocking chair, easy-fold technology for quick setup and breakdown.
Pros: The unique rocking feature adds an element of relaxation, sturdy build ensures durability.
Cons: Slightly heavier due to the added rocking mechanism.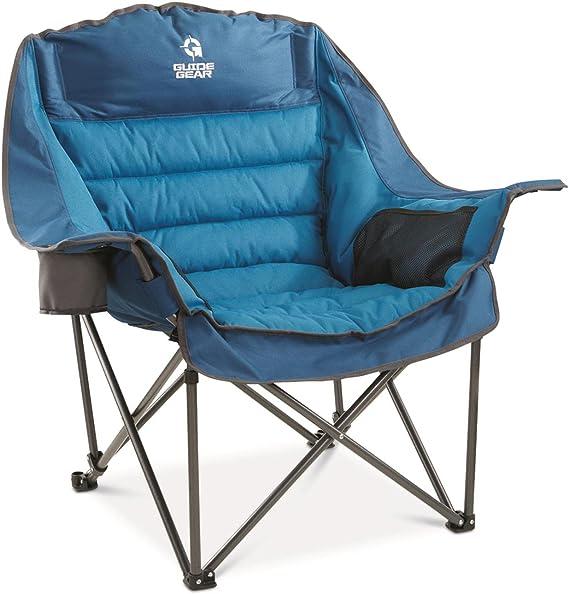 Key Features: Plush cushioning, sturdy build, spacious seating.
Pros: Offers unparalleled comfort, especially suitable for longer events or multiple games.
Cons: Its plush design might make it bulkier to transport compared to more minimalistic chairs.
In the realm of outdoor soccer games, selecting the right chair can significantly enhance your experience. This lineup offers a chair for various preferences, ensuring spectators can enjoy the game with maximum comfort and convenience.
---
---
Best Soccer Chairs with Shade
Sunny days on the soccer field can quickly turn from enjoyable to blistering. Having a portable folding chair equipped with its shade not only adds to the comfort but also offers protection from the sun's harsh rays. While umbrellas have their place, chairs with built-in shades offer unparalleled convenience. Here are top-rated chairs tailored for sun-drenched match days: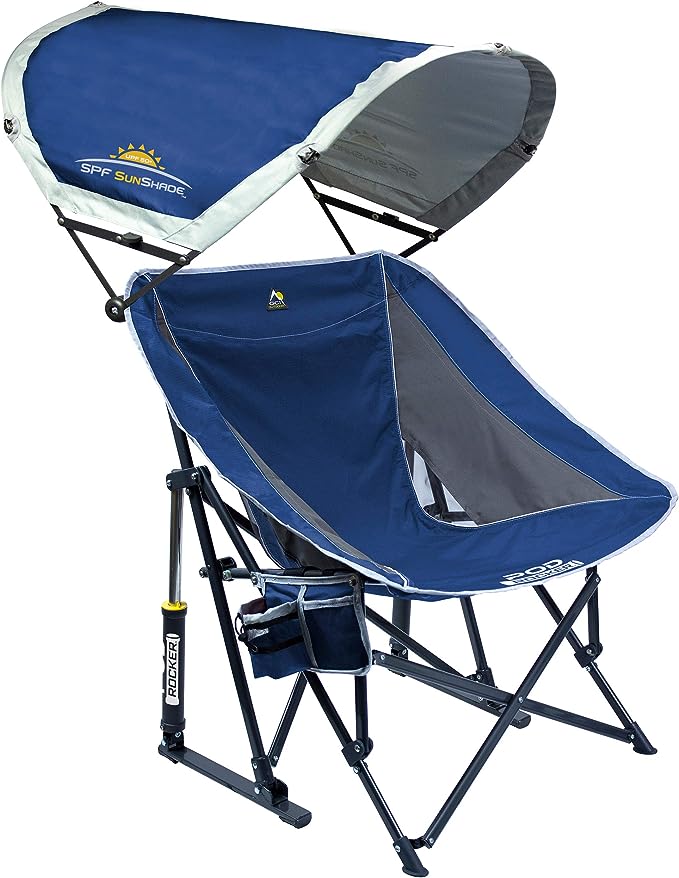 Key Features: This chair provides a unique combination of a rocking feature and a sunshade, designed for relaxation and protection.
Pros: The rocking offers a soothing experience, while the adjustable shade ensures optimal sun protection. Suitable for prolonged use.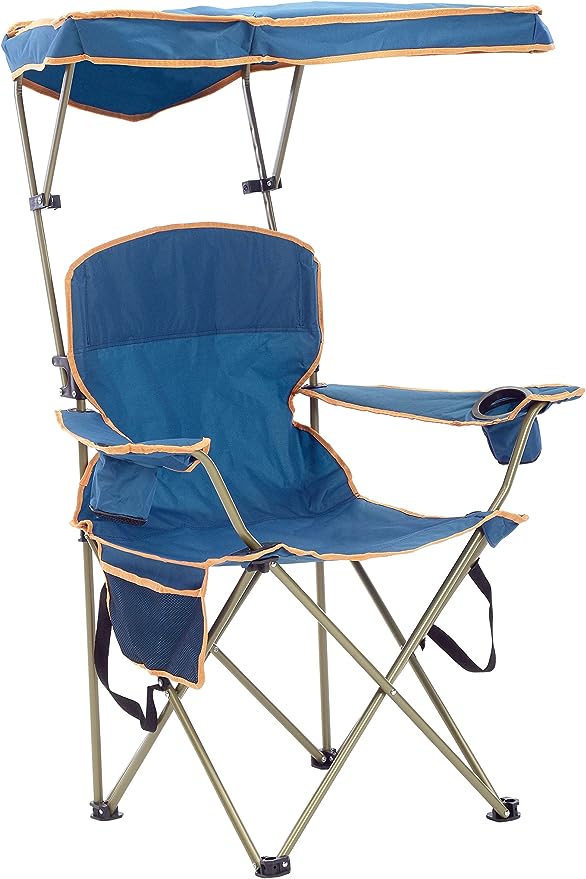 Key Features: Features a high arched shade and includes two fabric and cup holders.
Pros: Comprehensive sun protection without obstructing views. The added drink holders are convenient for staying hydrated.
Cons: The chair might be heavier due to the added shade feature.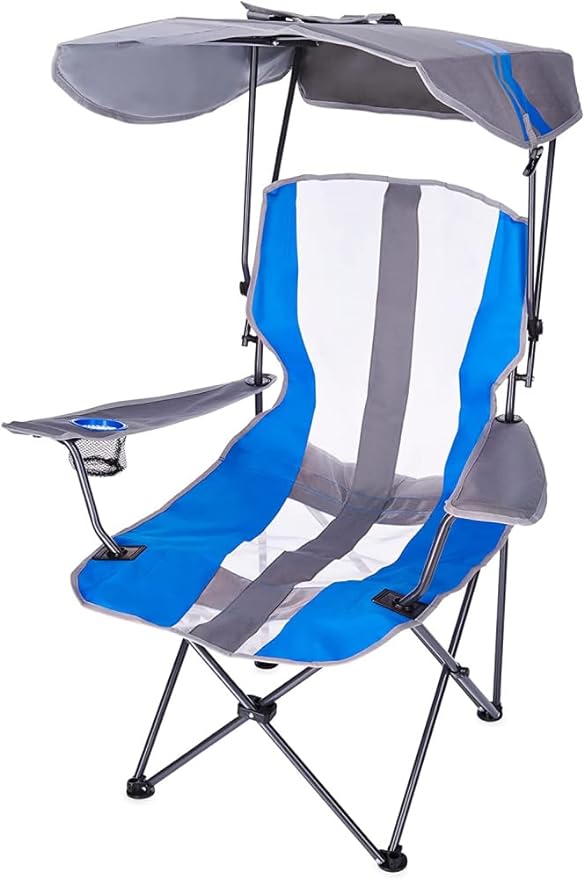 Key Features: Features an extended canopy that can be transformed into a carry bag and breathable mesh cup holder.
Pros: Dual functionality of shade and bag. Provides good coverage against the sun.
Cons: Some might find the design bulkier due to the extended canopy.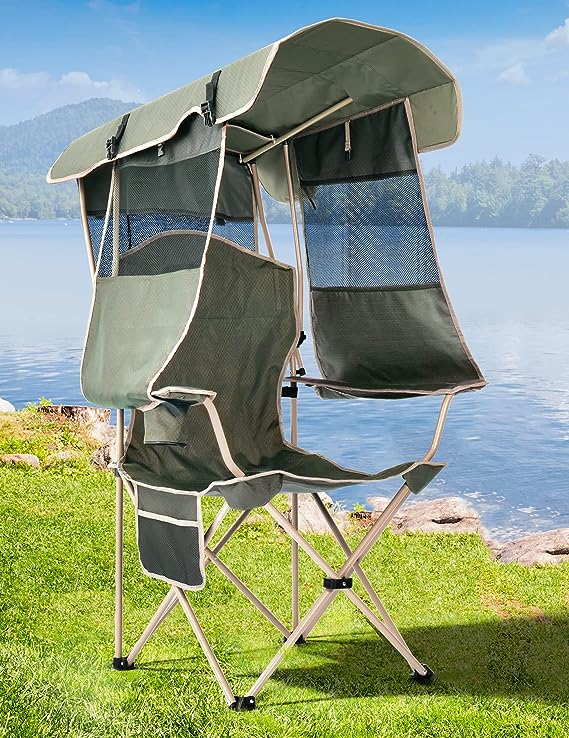 Key Features: Features a retractable shade, allowing adjustments based on the sun's position.
Pros: Offers flexibility with shade positioning. Suitable for various times of the day.
Cons: The retractable feature might require extra care to ensure durability.
Protection from direct sunlight is paramount during outdoor events. These chairs are designed to offer that protection while ensuring attendees can enjoy the game in comfort.
---
---
The Best Soccer Mom Chair Enclosures
Weather unpredictability is a constant challenge during outdoor soccer matches. Chair enclosures have emerged as a viable solution, offering protection from the elements and ensuring an uninterrupted viewing experience. Here's a breakdown of some top-rated chair enclosures: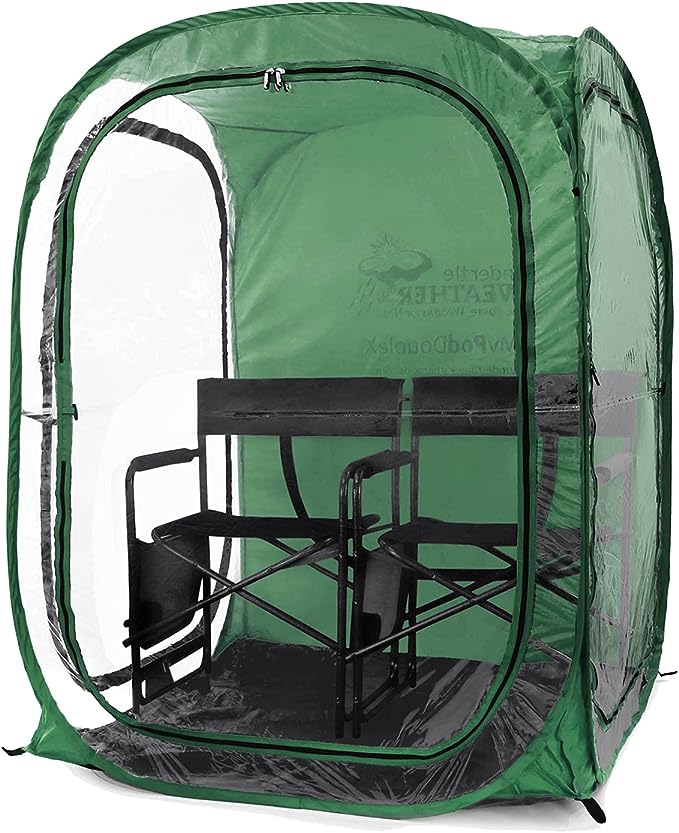 Key Features: Accommodates two individuals, clear panels for an unobstructed view, and protection from rain and wind.
Pros: Ideal for couples or a parent-child duo, clear panels ensure the game remains visible.
Cons: Larger size may make it slightly cumbersome to transport and set up.
Key Features: All-season protection, including rain, wind, and snow. Mesh windows for ventilation and UPF 50+ sun protection.
Pros: Comprehensive protection against diverse weather conditions, mesh windows ensure adequate ventilation.
Cons: The all-weather protection might add to the weight, making it slightly heavier.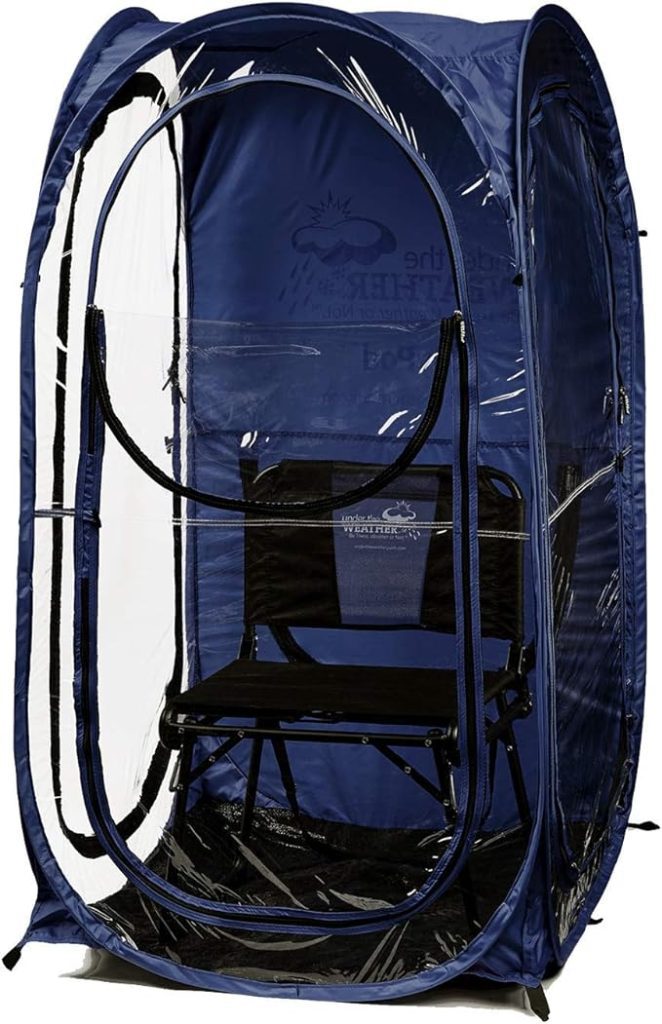 Key Features: Single-seater with 270-degree views, spacious design.
Pros: Offers an expansive view of the game, streamlined design ensures easy setup.
Cons: Single-seat accommodation might not be ideal for those attending games in pairs.
Chair enclosures, while seeming unconventional, provide immense value during adverse weather conditions. They strike a balance between comfort and functionality, ensuring the game remains enjoyable irrespective of the weather.
---
---
How to Pick a Folding Chair
Every soccer mom knows the drill: pack the snacks, grab the water bottles, remember the sunscreen, and, of course, don't forget the folding chair. But with a myriad of options out there, how does one pick the perfect throne to rule the sidelines? As a mom who's seen her fair share of games, I've got some insights to share.
1. Material Matters
Why It's Important: The chair's material determines its durability and longevity.
Tip: Opt for chairs made with strong fabrics like polyester or nylon. For the frame, aluminum is lightweight and rust-resistant, while steel offers robust support. A sturdy steel frame makes for a heavy-duty soccer mom chair that will last a long time.
2. How Easily It Folds
Why It's Important: You need a chair that's easy to fold and set up, especially when you're juggling multiple tasks.
Tip: Look for chairs with a simple folding mechanism. Test it out before buying if possible. Trust me, you don't want a chair that turns into a wrestling match!
3. Weight Capacity and Stability
Why It's Important: Safety first! You want a chair that can comfortably support you without any wobbles.
Tip: Check the weight capacity of the chair. And, while larger feet on a chair might seem odd, they offer better stability on soft grounds like grass.
4. Comfort is Key
Why It's Important: Matches can go on for quite some time, so comfort is paramount.
Tip: Look for chairs with a padded seat and back of the chair. Adjustable armrests and a high backrest can make a significant difference in your seating experience.
5. Kid-Friendly Features
Why It's Important: If you're like me, with a toddler in tow, you want to ensure they're safe around your chair.
Tip: Be wary of chairs with pinching hazards, especially while folding and unfolding. Some chairs also come with locks to ensure they stay open or closed, which can be a bonus when you have curious little ones.
6. Additional Features
Why It's Important: Extra features can enhance your game-watching experience.
Tip: Cup holders, side pockets, or even a side table can be handy. A canopy or shade can also be invaluable on sunny days.
7. Price Point
Why It's Important: While we want the best for our sideline adventures, it's essential to find a chair that offers value for money.
Tip: Balance features with budget. Sometimes, investing a bit more upfront can save money in the long run if it means the chair will last multiple seasons.
In conclusion, picking the right folding chair is a combination of understanding your needs and knowing what to look for. With the right chair, you're set to enjoy countless games, cheering on your little champions in comfort and style!
---
---
Additional Features to Enhance Comfort
While the basic structure and stability of a chair are vital, sometimes it's the little added touches that can elevate your sideline experience from good to great. Over the years, as I've sat through countless games, practices, and tournaments, I've come to truly appreciate these additional features, but they all come down to personal preference. Here's a breakdown of some comforts you might consider when choosing your next soccer-watching throne:
1. Built-In Cup Holder and Storage Pockets
Why They Matter: Between sipping your water bottle, checking your cell phone, or reaching for that sunscreen, having a designated storage pocket to place items can be incredibly convenient.
Pro Tip: Look for chairs with insulated cup holders if you want to keep your drinks cooler for longer. They'll keep your drinks at a better temperature over mesh cup holders. Multiple pockets can be a boon for organizing snacks, keys, and other small items.
2. Padding and Cushioning
Why They Matter: While some chairs come with basic fabric seating, a bit of cushioning can make your sitting experience much more comfortable, especially during longer matches or tournaments.
Pro Tip: If your chosen chair lacks cushioning, consider getting a seat pad. It's a small investment that can make a world of difference in making a comfortable chair.
3. Footrests
Why They Matter: Elevating your feet can reduce fatigue and enhance relaxation, especially when the games go into overtime!
Pro Tip: Ensure that the footrest is sturdy and adjustable. Remember, it should enhance your comfort, not become a tripping hazard.
4. Adjustable Armrests
Why They Matter: We all have our preferences when it comes to armrest height. Adjustable armrests let you customize your comfort level.
Pro Tip: If you tend to lean or sit on one side more frequently, ensure the armrests can handle the added pressure without buckling or bending.
5. Head and Neck Support
Why They Matter: Especially in chairs with a higher back, having added support for your head and neck can make watching the game a more relaxed experience.
Pro Tip: Look for chairs with a padded headrest or even a pillow attachment. Your neck will thank you!
6. Breathable Material
Why It Matters: On hot days, a chair that allows for airflow can prevent the uncomfortable stickiness that comes with sweating.
Pro Tip: Mesh panels or chairs made with breathable fabrics can be a lifesaver during those sweltering summer games.
7. UV Protection
Why It Matters: If your chair comes with a shade or canopy, having UV protection can provide an added layer of sun safety.
Pro Tip: Look for chairs with canopies that have a UPF (Ultraviolet Protection Factor) rating, ensuring you're shielded from harmful rays.
In the end, the small conveniences and comforts can significantly influence your overall experience on the soccer sidelines. Investing in these additional features ensures you get the best seat in the house (or on the field!), letting you focus on cheering for your stars.
---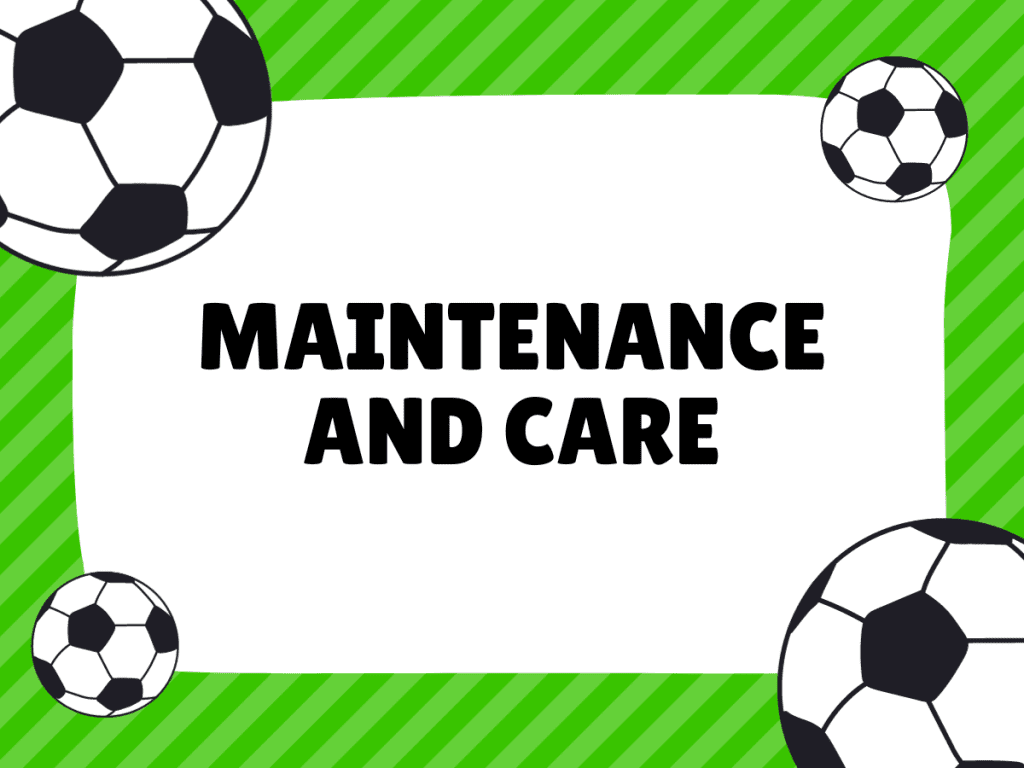 Maintenance and Care
Having found the perfect chair for those soccer matches, the next step is ensuring its longevity. The elements can be harsh, from the blazing sun to unexpected rain showers, not to mention the usual wear and tear of constant folding, transporting, and setting up. Drawing from my adventures and, yes, a few mishaps with chairs, here are some tips to keep that beloved seat in tip-top shape:
Cleaning Your Chair
Why It Matters: Regular cleaning prevents the build-up of dirt, ensures the chair remains comfortable, and extends its life.
Pro Tip: Use a mild detergent and warm water for fabric parts. For metal frames, a damp cloth usually does the trick. Avoid abrasive materials that might scratch or damage the chair.
Storing Away
Why It Matters: Proper storage protects the chair from unnecessary exposure to elements and potential damage.
Pro Tip: Always store your chair in a dry place. If it comes with a carrying bag, even better. The bag protects against dust and accidental spills in the garage or car trunk.
Spot-treating Stains
Why It Matters: Accidents happen. Treating stains immediately can prevent them from becoming permanent eyesores.
Pro Tip: Carry some wet wipes or a small stain remover pen during games. Quick action can save the chair's fabric from stubborn stains.
Checking for Wear and Tear
Why It Matters: Regularly inspecting your chair ensures safety. Identifying potential weak spots can prevent accidents.
Pro Tip: Before each game, give your chair a quick once-over, checking for loose screws, weakened joints, or fraying fabric.
Weather Protection
Why It Matters: While many chairs are designed for outdoor use, prolonged exposure to harsh weather can degrade materials over time.
Pro Tip: If you're caught in unexpected rain, ensure the chair dries completely before storing it away to prevent mold or mildew.
Keeping the Moving Parts Lubricated
Why It Matters: Chairs with several adjustable parts or folding mechanisms benefit from regular lubrication, ensuring smooth operation.
Pro Tip: Use a silicone-based lubricant for best results. A small spritz every few months, especially on the joints, can work wonders.
UV Protection
Why It Matters: Prolonged exposure to direct sunlight can fade and weaken the fabric of your chair over time.
Pro Tip: If possible, store your chair out of direct sunlight when not in use. For chairs with UV-protected fabric, this ensures the protective properties last longer.
A bit of regular care can go a long way in ensuring your chair remains a reliable companion through countless games, cheers, and memorable moments on the soccer sidelines. After all, a well-maintained chair is one less thing to worry about, letting you focus on the joys of the game and the budding soccer stars you're there to support!
---
Wrapping Up The Best Chairs For Soccer Moms
Having spent countless hours on the sidelines, I can confidently say that the chair you choose plays a pivotal role in your soccer-watching experience. From providing relief during intense matches to being a comforting space when the games don't go as hoped, your chair is like a silent companion throughout your child's soccer journey.
The best chair isn't just about luxury or the plethora of features; it's about finding one that aligns with your needs, values, and the ever-unpredictable weather. It's about the little moments—like sharing the seat with your toddler during a drizzle or huddling with another soccer parent during nail-biting penalty shootouts.
As our kids grow, evolve, and maybe even leave soccer behind, our chairs will have witnessed a myriad of emotions, victories, and growth. So, take your time, do your research, and pick a chair that not only offers comfort but also becomes an integral part of your soccer memories. Plus, if you find a really great chair, it doubles for your camping trip.
All the best with your new chair!