Table of Contents
Ah, the magic of the holiday season! As a parent of three energetic boys, this time of year holds a special place in our hearts. Among our favourite Christmas traditions, one fun tradition that stands out is the advent calendar. This fun Christmas tradition originated from counting down the days of December leading up to the big day – Christmas Day. Having used advent calendars for years now, I can tell you it's such a great way to sprinkle a bit more Christmas magic into each day.
But what if you want to step it up from standard chocolates? What do you put in an advent calendar for toddlers?
When it comes to toddlers, the contents of an advent calendar should be picked carefully. After all, what works for older children might not be suitable for young kids. Small gifts that are perfect advent calendar fillers for an older child might have small parts, presenting a hazard for younger ones. Plus, toddlers have their unique interests and wonders!
We've given some suggestions for boys, girls, and gender-neutral fillers. But these are just based on traditional definitions. Our sons have started 'Bracelet Bros' recently, making and selling elastic bracelets to friends and family. So whatever you're son or daughter is into, these are in no way meant to be exclusionary.
---
What to Put in Advent Calendar for a Toddler Boy
Ah, having three boys, I can attest that the holiday season is a great time to get creative with advent calendar ideas, especially tailored for their interests. Over the last year, I discovered that curating an advent calendar based on their unique fascinations not only sparks their excitement but also encourages imaginative play. Here are some theme ideas and suggestions for your toddler boy's advent calendar:
Theme Ideas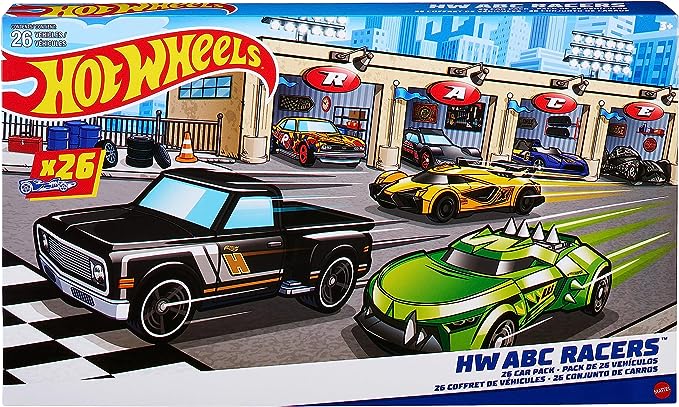 Cars: Many young boys are naturally drawn to anything with wheels. Whether it's racing cars, trucks, or tractors, the thrill of vroom-vroom is hard to beat. You can get a bulk pack of cars relatively cheap on Amazon. The pack even comes with 26 cars and letters. Nearly perfect for the leadup to Christmas and they have letters of the alphabet which could be used as a fun learning opportunity too.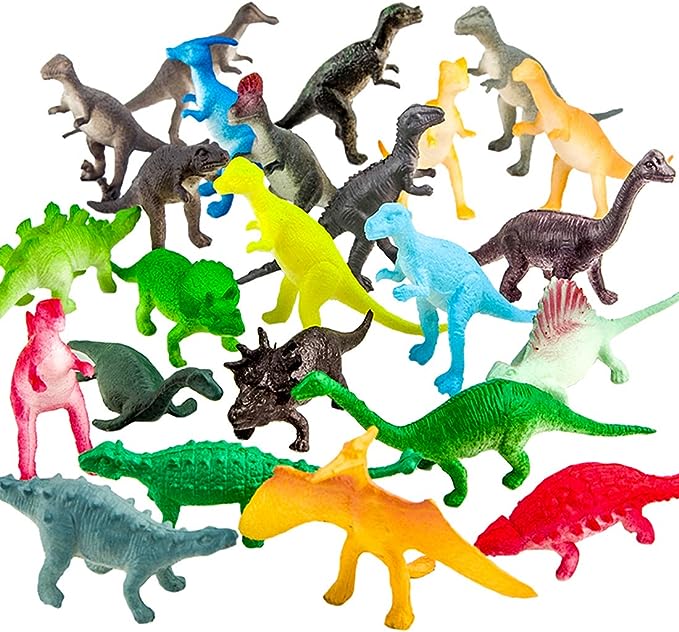 Dinosaurs: From the mighty T-Rex to the towering Brachiosaurus, dinosaurs have always been a big hit. It's a fun way to travel back in time and learn about these majestic creatures. You can get a bulk bin of 82 mini dinosaurs from Amazon for less than $10.
Space: The allure of the stars, planets, and astronauts can ignite a sense of wonder and curiosity, making space a fantastic theme for this time of year. There are a few options for bulk space-themed items that would be small enough to work for an advent calendar. Slap bracelets like those pictured above can be ordered from Amazon for about $10.
Toy Suggestions
Miniature Vehicles: These small gifts are perfect advent calendar fillers. Think Hot Wheels, miniature trucks, or even toy trains. Their compact size makes them ideal for advent calendars. Our kids have been big Thomas The Tank Engine fans so something like the 20-pack of mini trains from Amazon is great.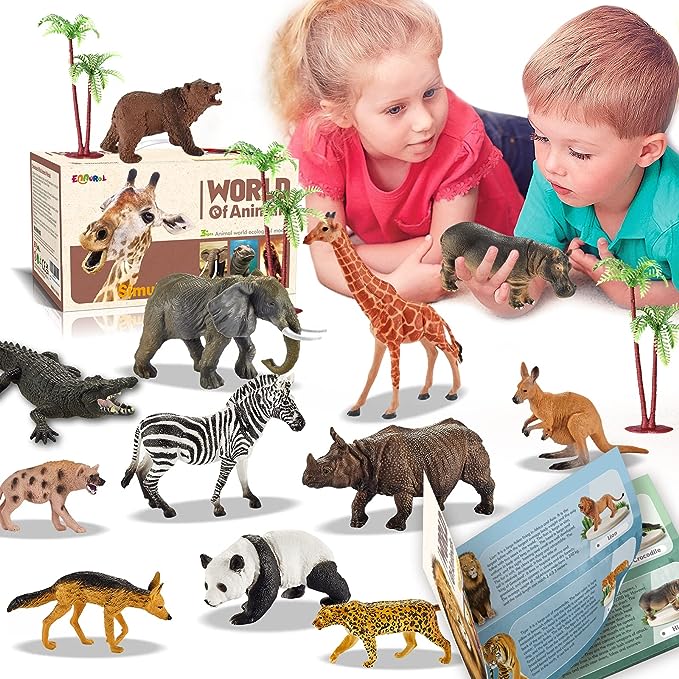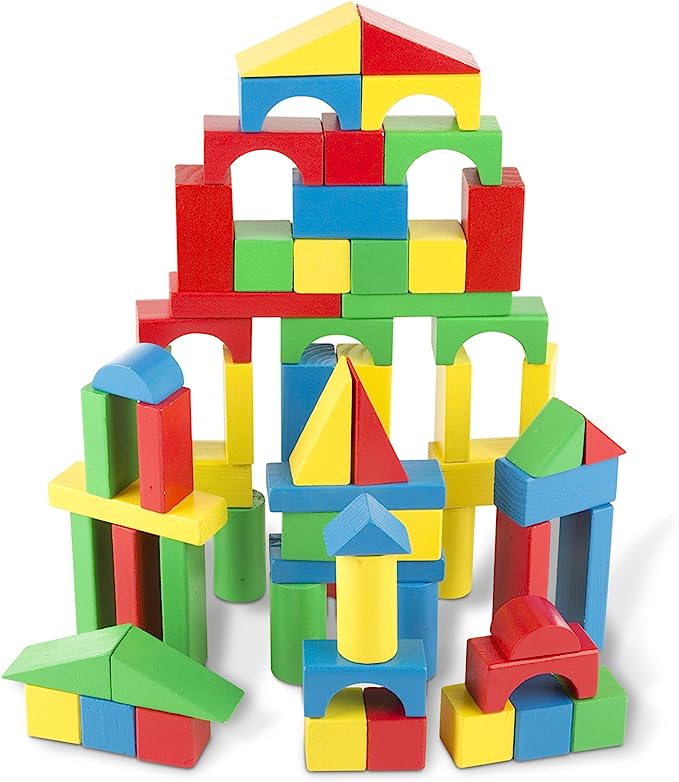 Building Blocks: These not only offer fun but also enhance motor skills and creativity. They can be incorporated as single pieces or mini sets. You could even get something like the Melissa & Doug set above and give a few pieces per day that could be added to a building or tower you do together.
Activity Ideas
DIY Craft Kits: From creating paper chains to simple washi tape crafts, these kits can provide much fun and creativity. Plus, they're a great way for the whole family to bond during the festive season. The pack above from Amazon would count for 16 of the days for you and is a wonderful daily way to interact with your kids.
Puzzles: Opt for puzzles that are tailored for young boys. These can range from vehicle-themed puzzles to those depicting adventurous scenes. Amazon sells a 40-pack of small wooden puzzles for less than $30 which is a fun and unique advent calendar filler.
Learning Tools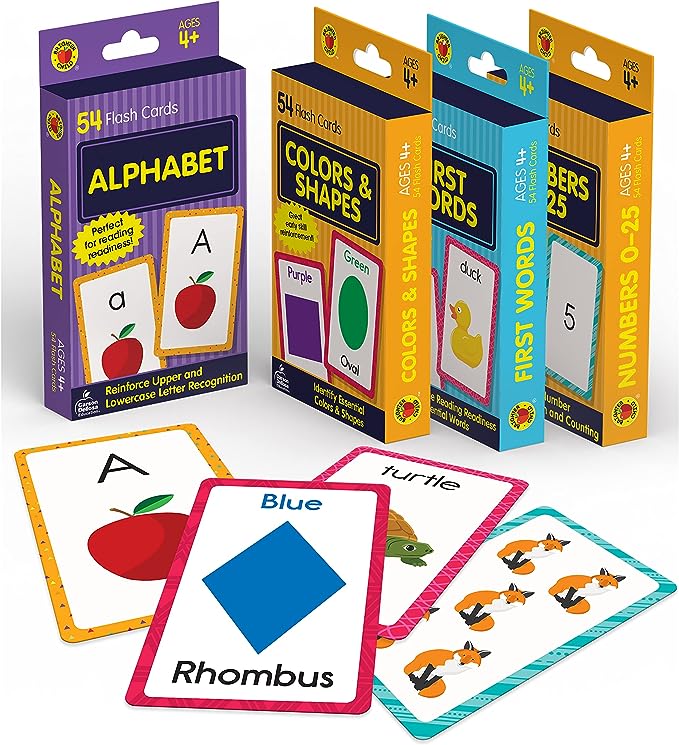 Flashcards with Boy-centric Themes: Flashcards can be both a learning tool and a fun activity. Consider themes like vehicles, space, or animals to keep it engaging. Or you can opt for a 4-pack with letters, colours, first words, and numbers for several options each day.
Simple STEM Kits: The Christmas season is an excellent time to introduce basic STEM concepts in a fun way. Simple kits can help foster a love for science, technology, engineering, and math. Our kids have played and built all kinds of things with Magformers for years now. This would be another fun one to do together with your toddler and build on each day as they get more and more pieces from the advent calendar.
Remember, the best part of the advent calendar is seeing the joy and wonder in your little one's eyes each day of December. These suggestions are merely a starting point; always consider what fascinates your child the most. After all, Christmas magic is all about personalized touches and warm memories.
---
What to Put in Advent Calendar for a Toddler Girl
Christmas time is just around the corner, and if you're looking to sprinkle some festive joy into your toddler girl's days leading up to the big day, an advent calendar is a wonderful idea. From my experiences with friends and family with little girls, I've gathered some theme ideas and suggestions that can make each day of December a delightful surprise:
Theme Ideas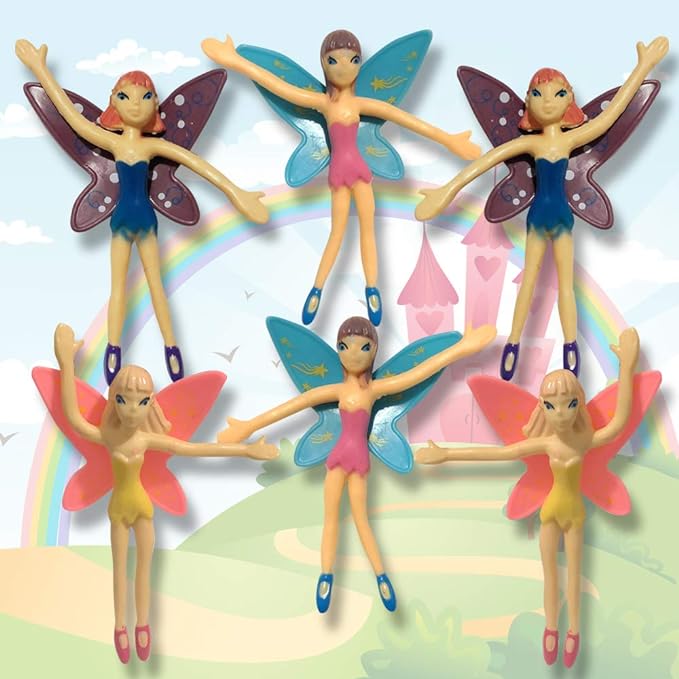 Fairies: The magical world of fairies, sprinkled with a dash of pixie dust, has always been enchanting. A theme that revolves around these whimsical creatures can spark a lot of imagination. Amazon has a pack of 12 fairies for a reasonable price of $15. Filling in the other days with fairy-related items would make a great themed advent calendar for your toddler.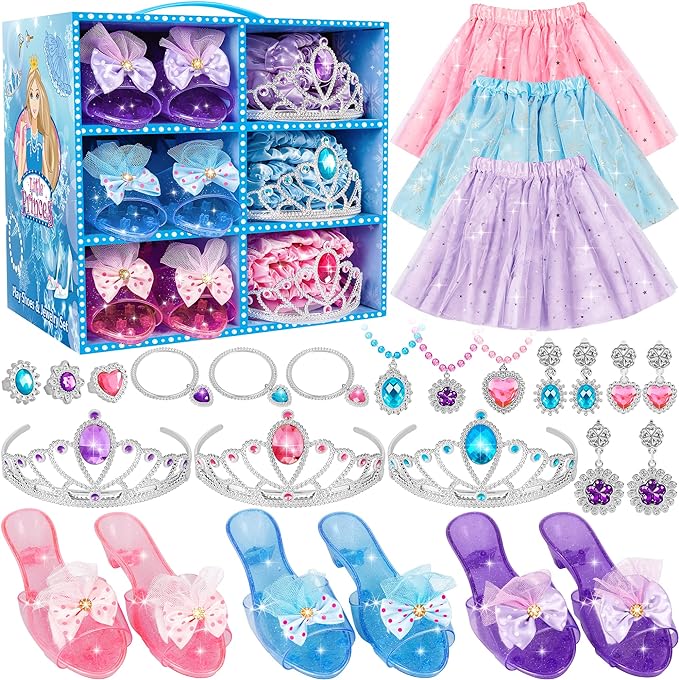 Princesses: The tales of brave and kind princesses are timeless. Whether it's Cinderella, Mulan, or a mermaid princess, these stories never fail to captivate. You could even get a princess dress-up set and give out a couple of items per day to add to the collection over the month.
Animals: Many little girls adore animals, from the majestic unicorns to cute kittens. An animal theme can be both playful and educational. Amazon has an awesome pack of 24 squishy unicorn toys which works great for an advent calendar filler.
Toy Suggestions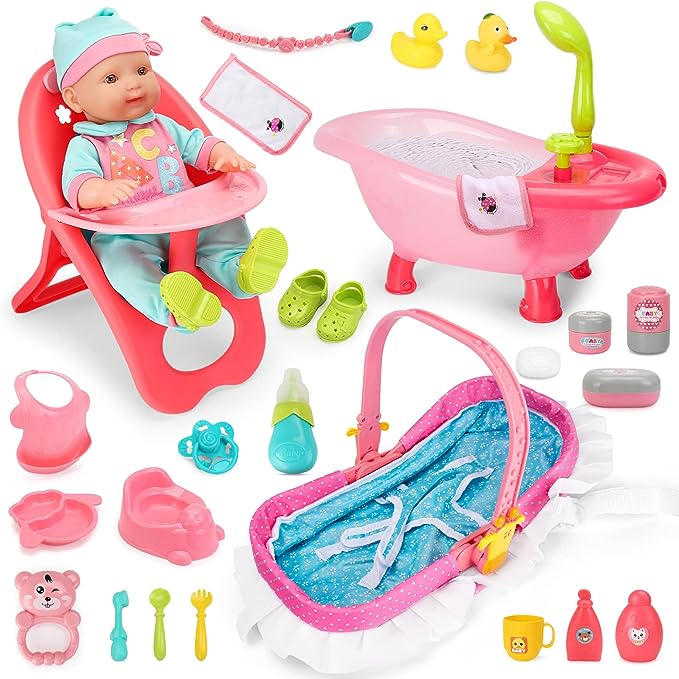 Dolls and Accessories: These can be little princesses, fairies, or even characters from her favourite tales. Mini dolls are perfect advent calendar fillers and can lead to hours of imaginative play. Alternatively, you could get a doll set. Start the month with the doll and each day she gets a new accessory or toy to play with. Amazon has a cool and detailed set for this idea.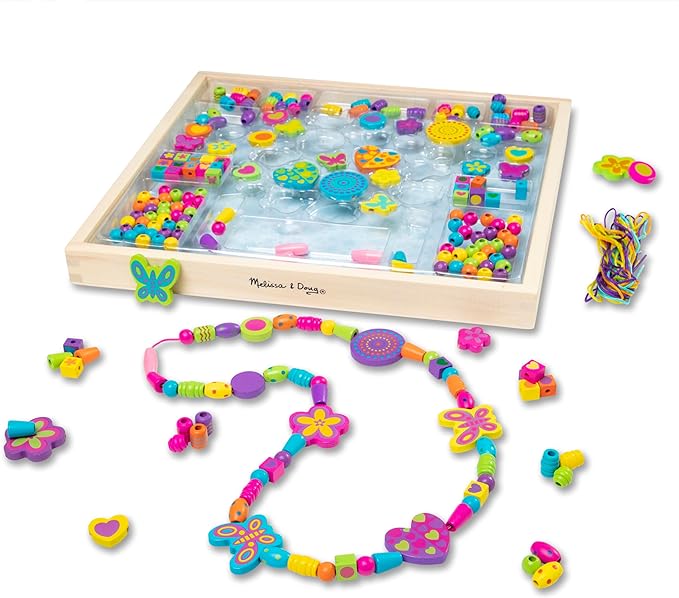 Jewelry-making Kits: Even at a young age, many girls love to adorn themselves. Simple bead kits or charm bracelets can offer a fun and creative outlet. Melissa & Doug have another great product with their bead set for making jewelry. You'll have to help your toddlers with this one but it would be a fun idea to make some jewelry over the month leading up to Christmas. You can check that set out on Amazon.
Play Sets: Think of sets like a miniature tea party, animal hospital, or fairy gardens. These sets can be a source of much fun during the holiday season. We had a Lego set for our oldest a couple of years ago, it was fun watching the set and scene grow with each day. A similar idea could be done with any of these as well. I quite like the tea set pictured above and linked here. Having the tea set grow over the month would be a fun advent calendar idea.
Activity Ideas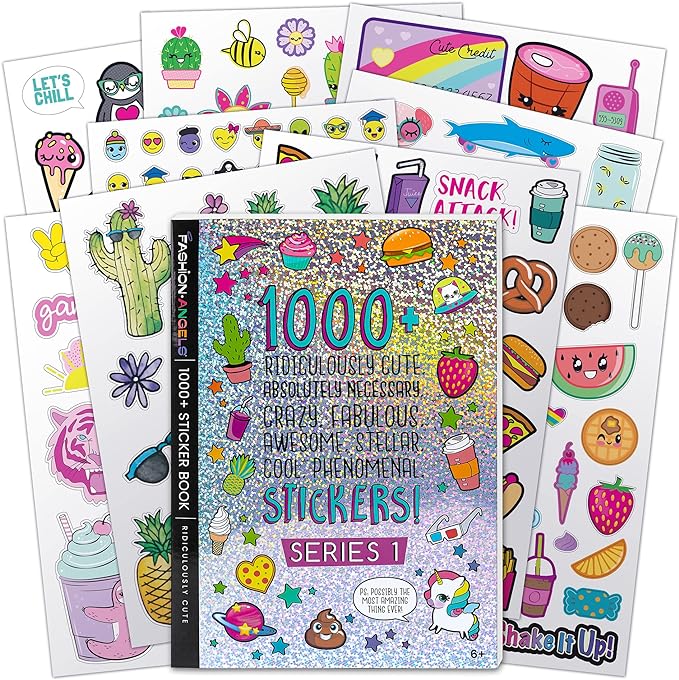 Stickers and Coloring Books: These are always a hit. Opt for themes that she adores, and you'll have a winning combination. Something like the picture above (see it on Amazon) would be great, with tons of stickers, each day could be added to a growing picture or scenes over the month.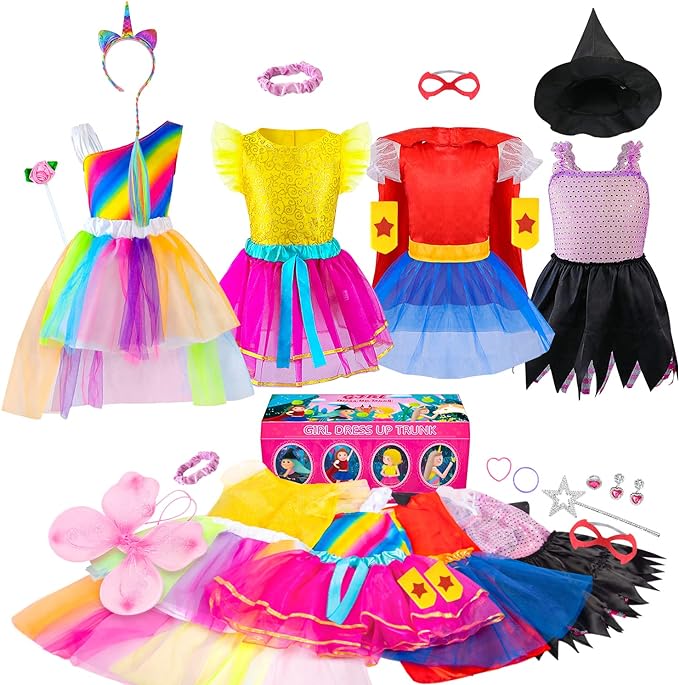 Dress-up Accessories: Little crowns, fairy wings, or even simple hair clips can make her day. Dressing up and role-playing is a great way for her to express herself. You can find the set pictured above here.
DIY Craft Kits for Jewelry or Décor: From making her own necklaces to decorating her room with festive ornaments, these kits can be both entertaining and fulfilling. Our kids loved their felt tree last year. We had our elf on a shelf bring theirs but doing it as an advent calendar with a new ornament to go on the tree each day would be a fun daily tradition. The felt tree above is less than $20 on Amazon too.
Learning Tools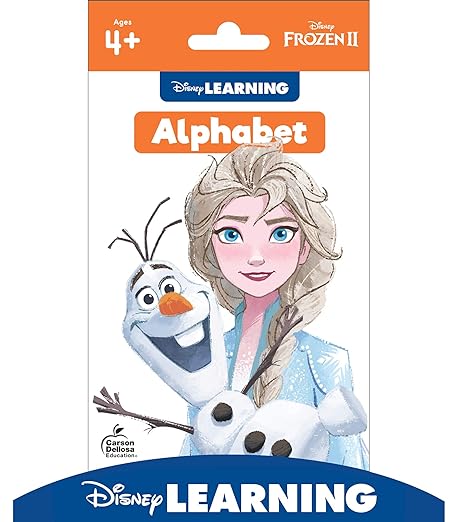 Flashcards with Girl-centric Themes: Flashcards aren't just educational – they can be fun too! Consider themes like fairy tales, flowers, or even basic shapes and colours. Because I mean really, what's better than learning the alphabet from Frozen? You can find those flash cards here.
Basic Reading and Counting Tools: The Christmas season can also be a time of learning. Simple books with large illustrations and basic counting tools tailored for her age group can be invaluable.
Filling an advent calendar for a toddler girl is all about finding that balance between fun, creativity, and learning. Remember to keep it personalized, and you're sure to create beautiful memories and moments of joy each day leading up to Christmas.
---
Gender-Neutral Ideas for Toddler Advent Calendars
As we dive into the festive season, it's essential to remember that the joy and wonder of an advent calendar shouldn't be confined by gendered expectations. After all, the best part of the holiday season is witnessing the pure excitement and curiosity in our young kids' eyes, regardless of whether they're boys or girls. Emphasizing the importance of not limiting choices based on gender ensures every child has an equal opportunity to explore, learn, and have fun.
Toy Suggestions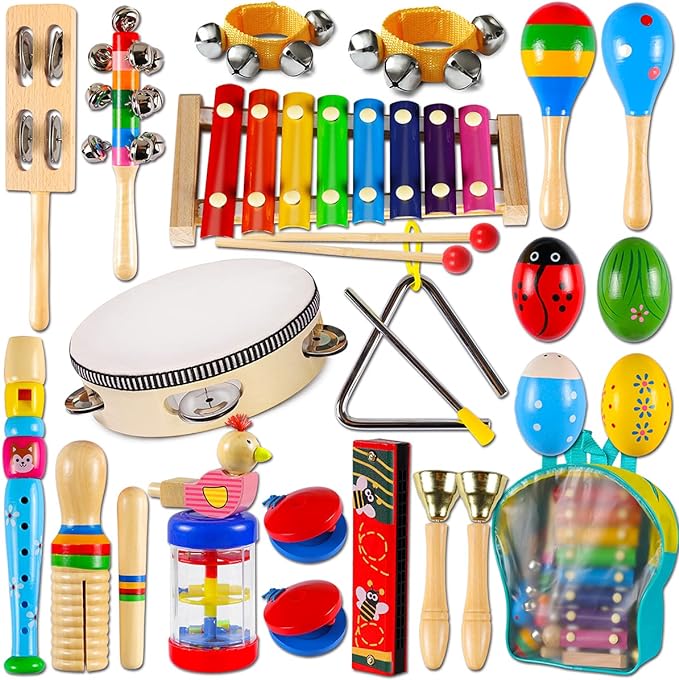 Musical Instruments: Whether it's a mini tambourine, a set of maracas, or even a tiny keyboard, musical toys can introduce toddlers to the magical world of sound and rhythm. The set pictured above is available for less than $40 on Amazon and for the musical family out there would be a great way to get your toddler introduced to playing with sounds.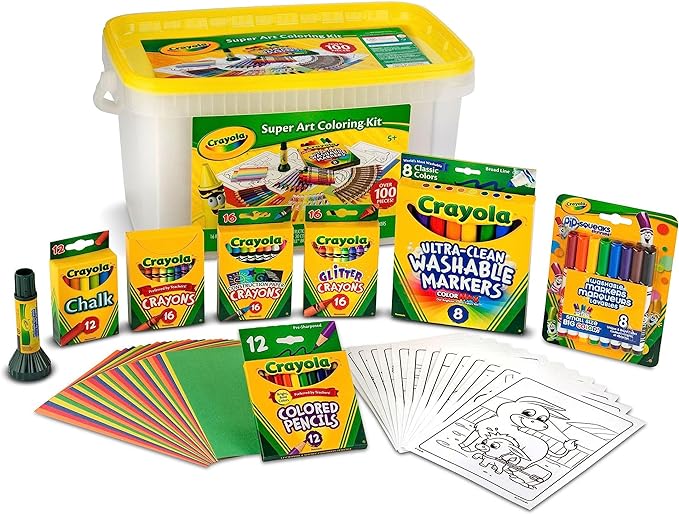 Art Supplies: Crayons, non-toxic watercolours, or even simple drawing pads can become the canvas for a toddler's vivid imagination during the Christmas season. Amazon has their own exclusive super colouring kit. This could be turned into a daily tradition, drawing a new Christmas picture each day.
Sensory Toys: These are fantastic for all toddlers. Think of squishy balls, texture boards, or even simple play dough sets. Sensory toys are not only much fun but also beneficial for a child's tactile development.
Activity Ideas
DIY Ornaments: Creating ornaments for the Christmas tree is a fun tradition many families cherish. Kits with simple materials can help toddlers make their unique decorations. Something like the kit pictured above would be a fun daily activity and seeing their work proudly displayed on the tree is a great sense of accomplishment. You can buy that kit on Amazon for $12 at the time of writing.
Baking Kits for Cookies or Cupcakes: Baking is a great way to bond and have fun. Simple kits, maybe with cookie cutters in the shape of Christmas lights or stars, can make for a delightful activity. We give a lot of baking out at Christmas time as gifts, giving away a new item for your toddler help in the process would include them in a favourite holiday tradition. You can get the set above on Amazon.
Finger Painting Sets: Let's face it, what toddler doesn't love to get their hands dirty? Finger painting is a simple way to let them express their creativity and hone their motor skills. Each picture could be a fun gift for close family members too! You can find the Crayola set pictured above here.
Learning Tools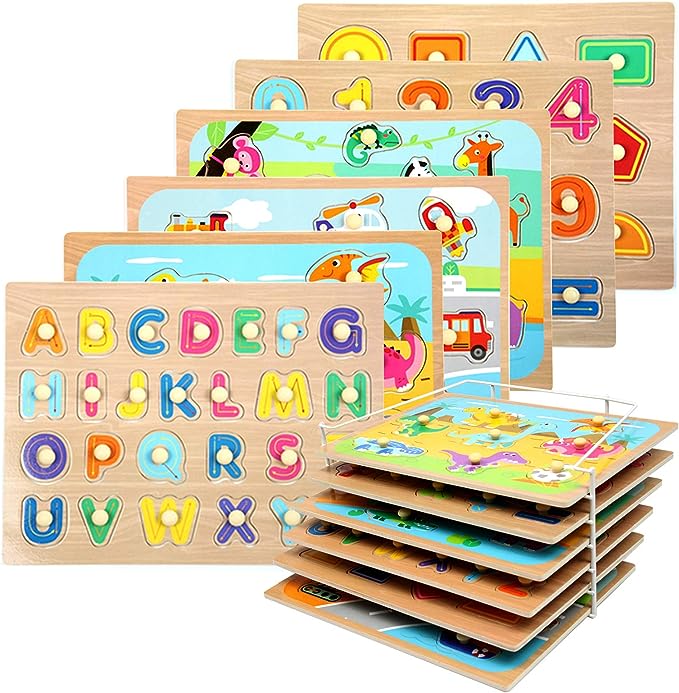 Basic Shape and Color Recognition Tools: From simple puzzle boards to colourful flashcards, these tools can be both fun and educational for toddlers, helping them recognize different shapes and colours. Something like the puzzle boards pictured above would be a nice change from chocolates throughout the month – maybe a special item for weekends so you can do the puzzle with your toddler.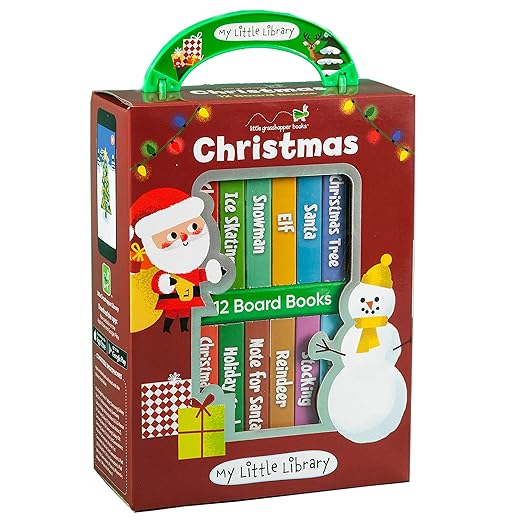 Books with Universal Themes: Stories about friendship, love, and the magic of Christmas are universal. Have a set of 12 Christmas books would be a fun way to use an advent calendar for an activity to do with your toddler and build excitement leading up to Christmas. That set can be purchased here.
---
DIY Advent Calendar Ideas for Toddlers
The magic of the Christmas season often lies in the personal touches and heartfelt efforts we put into our celebrations. Crafting your own advent calendar can be a great way to infuse that personal touch, making the holiday season even more memorable for your toddler. Plus, going the DIY route can be both an eco-friendly option and a delightful activity for the whole family. Let's explore some DIY advent calendar ideas that are perfect for young children:
Crafting Your Own Advent Calendar
Paper Cups: An easy way to make compartments for each day of December is by using paper cups. Attach them in a festive design on a board or wall, and voila! Each cup can house a little gift, message, or activity.
Muslin Bags: These can be hung on a string or ribbon in a row or even as a part of your Christmas décor. You can decorate these bags with stamps, stickers, or even hand paintings.
Wooden Advent Calendar: For those who are a bit more crafty, creating a wooden advent calendar can be a fun project. It's not only durable but also a reusable advent calendar that can become a part of your Christmas traditions.
Using Reusable Materials
Fabric Pockets: Instead of disposable materials, consider sewing fabric pockets that can be filled and refilled each year. These are sustainable and can be customized to match your holiday décor.
Glass Jars: Small glass jars lined up on a shelf or hung on a Christmas tree can make for a charming and reusable advent calendar. Plus, they're perfect for holding small items or sweet treats.
Cardboard Boxes: Old cardboard boxes can be painted or wrapped in festive paper, serving as compartments for your child's advent calendar gifts.
Personalizing Each Day with Hand-Written Notes or Tasks
Activity Suggestions: Instead of just gifts, consider including fun activities. For instance, one day might suggest making salt dough ornaments, while another could be dedicated to baking Christmas cookies.
Heartfelt Messages: This is an especially nice way to count down to the big day. Simple notes like, "Today, let's read a Christmas story together," or "Remember, Santa is watching!" can make each day special.
Task Cards: Encourage little tasks like, "Find a toy you'd like to donate," or "Help mom hang the Christmas lights." It's a fun way to keep toddlers engaged and teach them about the festive season's spirit.
Taking the time to create a homemade advent calendar filled with personal touches not only heightens the anticipation for Christmas day but also offers a chance to bond and create lasting memories during this magical time of year.
---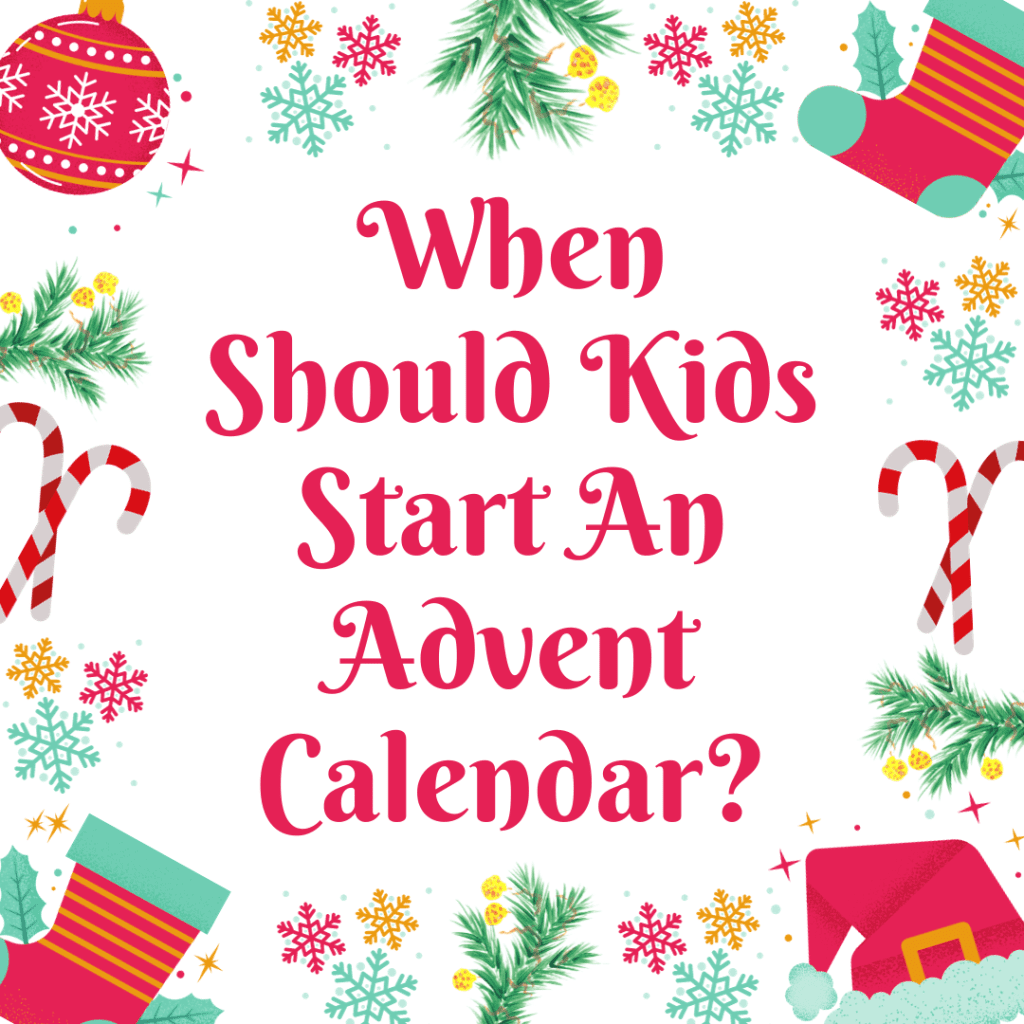 When Should Kids Start Advent Calendar?
The tradition of the advent calendar traces back to the 19th century, and while some of its representations have evolved, the core sentiment remains. It's a countdown, a way to mark each day of December until the much-anticipated Christmas day.
Now, if you're pondering about the right age to introduce this fun tradition to your kids, I'd say it varies. Based on my experience, young children, even toddlers, can find much joy in it. Last year, we started with our youngest, and the anticipation of finding little gifts or participating in Christmas activities added to his excitement for the festive season.
There are several benefits to starting early with toddlers. Firstly, it's a nice way to introduce them to the concept of Christmas and the holiday season. Every morning, as they open their own advent calendar and discover small items or fun ideas, they begin to grasp the essence of the Christmas season. It's not just about the Christmas tree, lights, or cookies, but the simple joys and surprises that every single day brings. Plus, it's a beautiful bonding activity; seeing their eyes light up each day is probably the best part. Trust me, it brings much fun to the whole family.
For parents looking to embark on this new tradition, there's a plethora of options out there, from wooden advent calendars to reusable advent calendar designs. And if you're feeling crafty, creating your own DIY advent calendar can be a rewarding project, something I hope to try someday!
Remember, it's not just about the gifts or the best advent calendars in the market. It's about creating memories, establishing a fun way to celebrate the season, and making every day leading up to Christmas special for our little ones. So, whether you go for toy advent calendars, craft supplies, or even a traditional chocolate advent calendar, the joy it brings to young hearts is what truly counts.
---
How Do You Fill an Advent Calendar for a Toddler?
The anticipation of opening a little door or pocket each day during the festive season and discovering a surprise inside is genuinely a great way to light up a toddler's eyes. But when it comes to filling up your child's advent calendar, it's essential to make wise and safe choices, especially given the age group. Here are some general guidelines to help you find the perfect advent calendar filler ideas for your little one:
1. Size and Safety Considerations:
The first things to consider are the size and safety of the items. With younger kids, especially toddlers, it's crucial to ensure that advent calendar fillers don't include small parts that can be easily swallowed or present a choking hazard. Last year, I learned to carefully check each item, even those labelled as suitable for young children.
2. Avoiding Choking Hazards:
While it might seem like a good idea to include sweet treats or small gifts, always be wary of potential choking hazards. Items that are too tiny or could break into smaller pieces should be avoided. This is especially true if you're considering traditional chocolate advent calendar pieces or other small edibles.
3. Opting for Non-Edible Treats:
A fun way to approach the advent calendar for toddlers is to think beyond edibles. Last year, we shifted our focus to non-edible items, like imaginative play toys, finger puppets, or temporary tattoos. These are not only safe but also add a layer of excitement as they can be used for playtime immediately.
4. Rotating Between Toys, Activities, and Learning Items:
The holiday season is a great time to combine fun with learning. Instead of limiting the calendar to just toys or little gifts, why not include a mix? For instance, one day could be a small toy, the next could be craft supplies for a fun activity, and another could introduce a learning element. This keeps the excitement alive and ensures a variety of experiences throughout December.
Ultimately, filling an advent calendar for a toddler is all about ensuring safety while maximizing joy. Keeping these guidelines in mind, you'll be well on your way to creating memorable moments each day of December for your little one.
---
Safety Tips When Choosing Items for a Toddler's Advent Calendar
Ensuring our little ones experience the joy and excitement of the Christmas season without any hiccups is paramount. When it comes to advent calendars, especially with young kids in the mix, safety can't be emphasized enough. Here are some crucial tips to remember while choosing and using items for a toddler's advent calendar:
How to Ensure Items are Age-Appropriate:
Check Labels: Manufacturers often indicate the appropriate age group for toys and craft supplies. Always check these recommendations to ensure that what you're placing inside the calendar is suitable for your toddler's age.
Research: Before buying, especially if it's an unfamiliar brand or item, do a quick online search. Reading reviews from other parents can give insights into any potential safety issues or age inappropriateness.
Use Your Judgment: Even if a toy says it's suitable for young children, use your own discretion. You know your child best, after all.
Avoiding Items with Small Parts or Potential Toxins:
Choking Hazards: Items with small parts can be a significant risk for toddlers. Ensure that anything you include in the calendar is large enough not to be a choking hazard.
Non-Toxic Materials: Always ensure that toys, especially those likely to end up in a toddler's mouth, like crayons or play dough, are non-toxic. Checking for reputable certifications or labels indicating non-toxicity is a great way to ensure safety.
Natural Ingredients: If including consumables like hot chocolate or other sweet treats, aim for those made from natural ingredients, avoiding artificial colors, preservatives, or flavors.
Keeping the Calendar Out of Reach When Not in Use:
High Shelves or Mounted Boards: Consider placing the calendar on a higher shelf or a mounted board, ensuring that it's out of a toddler's reach when you're not around. This will prevent unsupervised access to the calendar's contents.
Daily Supervision: Make it a fun activity to open each day's surprise together. This way, not only do you get to share in the excitement, but you also ensure that the items are used safely under adult supervision.
Reminder Notes: If you're using a reusable advent calendar, consider placing reminder notes inside for older children or other family members, emphasizing the importance of not leaving small items around where younger kids might find and swallow them.
Remember, the main goal of the advent calendar is to add a touch of magic and anticipation to each day leading up to Christmas. By following these safety tips, parents can ensure that the holiday season remains a time of joy and fun without any unforeseen incidents.
---
Wrapping Up What To Put In An Advent Calendar For Toddlers
The enchantment of the holiday season is amplified with delightful traditions like advent calendars. Tailored specifically for toddlers, these calendars not only provide them with daily surprises but also offer them learning opportunities and memorable moments. As parents, while we revel in our children's joy and anticipation, it's imperative to prioritize safety, ensuring that every little gift or activity brings only joy and no harm. With a sprinkle of creativity, a dash of caution, and a heart full of love, advent calendars can truly become a cherished holiday ritual for families, making every day of December a mini-celebration leading up to Christmas day.