Table of Contents
So, your beautiful daughter is about to hit a very special milestone: her 2nd birthday. I get it, time flies, right? One day they're taking their first steps, and the next they're blowing out two candles on their birthday cake. A 2nd birthday is pretty huge. Your little princess is not a baby anymore but stepping into the fantastic world of toddlerhood. This day deserves to be marked in the most memorable ways, and what could be better than adding some carefully chosen quotes to the celebration – that's besides all the presents of course?
This article is going to share some touching, funny, and downright adorable quotes perfect for your daughter's big day. Stick around, you might find the right happy 2nd birthday princess quotes for you and your little one.
---
Why Quotes Make Birthdays Special
Words have power. They can capture feelings and moments in a way that few other things can. Haven't you ever heard a song lyric or read a line from a book that just hit you right in the heart? Yep, that's the emotional impact of words for you.
Take the first time you held your daughter. Words like "precious gift" or "light of my life" might have instantly crossed your mind. These phrases encapsulate such raw, indescribable emotions that a simple "I love you" sometimes just can't cover.
Now, picture this: Your little girl is all dressed up, there's excitement in the air, and you pull out a birthday card with a quote that just melts your heart. Maybe it's something like, "You are my sunshine, my only sunshine," or "In you, I see the future, and it looks bright." You read it out loud, and there's not a dry eye in the room. That's the beauty of a well-chosen quote—it enriches the moment and lingers in the memory long after the birthday candles have been blown out.
So, you see, quotes aren't just words. They're little bundles of emotions, ready to make your daughter's happy second birthday even more special. Stay tuned for our curated list of quotes coming up next!
---
Quotes from Famous Personalities
Alright, so you've got the cake and the decorations, but how about adding some extra sparkle with princess-themed quotes from famous people? A well-placed quote can elevate the birthday vibe and make your little princess feel like royalty. Plus, words from renowned individuals can bring much joy and wisdom into her growing world. Here are some gems for you:
"Let us always meet each other with a smile, for the smile is the beginning of love." – Mother Teresa
How to Use It: This quote is all about the power of a beautiful smile. Perfect for a birthday banner to greet guests as they walk in!
"To be yourself in a world that is constantly trying to make you something else is the greatest accomplishment." – Ralph Waldo Emerson
How to Use It: Your beautiful daughter is unique, and this quote celebrates that. Consider putting this one in a pretty frame as a keepsake.
"You are never too old to set another goal or to dream a new dream." – C.S. Lewis
How to Use It: Okay, she's only two, but dreaming big starts young! This one would be great for a storybook-themed card.
"The future belongs to those who believe in the beauty of their dreams." – Eleanor Roosevelt
How to Use It: All parents hope for a bright future for their kids. Why not put this quote in a special place, like next to the birthday cake?
"The best way to make children good is to make them happy." – Oscar Wilde
How to Use It: This one speaks volumes and could go on a backdrop behind the main birthday table where everyone gathers for cake and goodies.
So, how do you make these quotes part of your daughter's very special day? You can write them in birthday cards, feature them in social media posts dedicated to your sweet girl, or even get creative with some DIY crafts to incorporate them into the party decor. You might also consider placing them on little signs that guests can see as they enjoy the festivities, spreading the love and good wishes around.
Remember, the right words can add that magical touch to make your daughter's 2nd birthday one for the memory books. A quote doesn't just say "Happy Birthday," it says, "you're cherished, you're valued, and you're the best thing that ever happened to us." Enjoy the celebration!
---
Cute and Whimsical Quotes
So you're looking for something a bit more whimsical and cute for your daughter's 2nd birthday? I've got you covered. Your little princess deserves all the fairy tale magic in the world on her big day. Here's a roundup of quotes that are as adorable as they are fitting for a royal celebration:
"Two-tti Fruity, Our Princess is a Cutie!"
How to Use It: This playful quote is perfect for a fruit-themed party. Imagine this line on top of the birthday cake or as a cute banner.
"On this day, a princess was born."
How to Use It: You could use this one for the entrance sign to set the princess vibe right from the start!
"A Dream is a Wish Your Heart Makes." – Cinderella
How to Use It: How about using this classic Cinderella quote for cake inscriptions? It's a great fit for your beautiful daughter's birthday.
"You sparkle from the inside out!"
How to Use It: This would make a cute tagline for goodie bags filled with, you guessed it, sparkly stuff.
"Twinkle, twinkle, little star. Do you know how loved you are?"
How to Use It: Consider this one for a night-time, star-themed party. It could go on little glow-in-the-dark stars scattered around the party area.
"Our Little Princess is Turning 2!"
How to Use It: This could be your main banner or part of your social media announcement.
"She leaves a little sparkle wherever she goes."
How to Use It: This quote encapsulates the essence of your precious gift. This could be printed on little cards and placed on each table as a centerpiece.
"Let your dreams lead the way."
How to Use It: As a parent, you wish nothing but the best things and a bright future for your child. This quote could be part of a keepsake your daughter holds onto as she grows up.
Alright, let's talk about how to actually use these quotes. Aside from the birthday cards and banners, you could use them as captions for the cute baby pictures you'll inevitably snap and share. These quotes can also be printed on little stickers to seal the goodie bags. Another creative idea is to use these quotes as tags on a "wishing tree" where guests can also hang their best wishes and lots of love for your sweet girl.
So go ahead, add that extra pinch of magic to your daughter's 2nd birthday celebration. These whimsical quotes are not just words; they're tiny messengers of joy, ready to make her day as special as she is to you. Happy planning!
---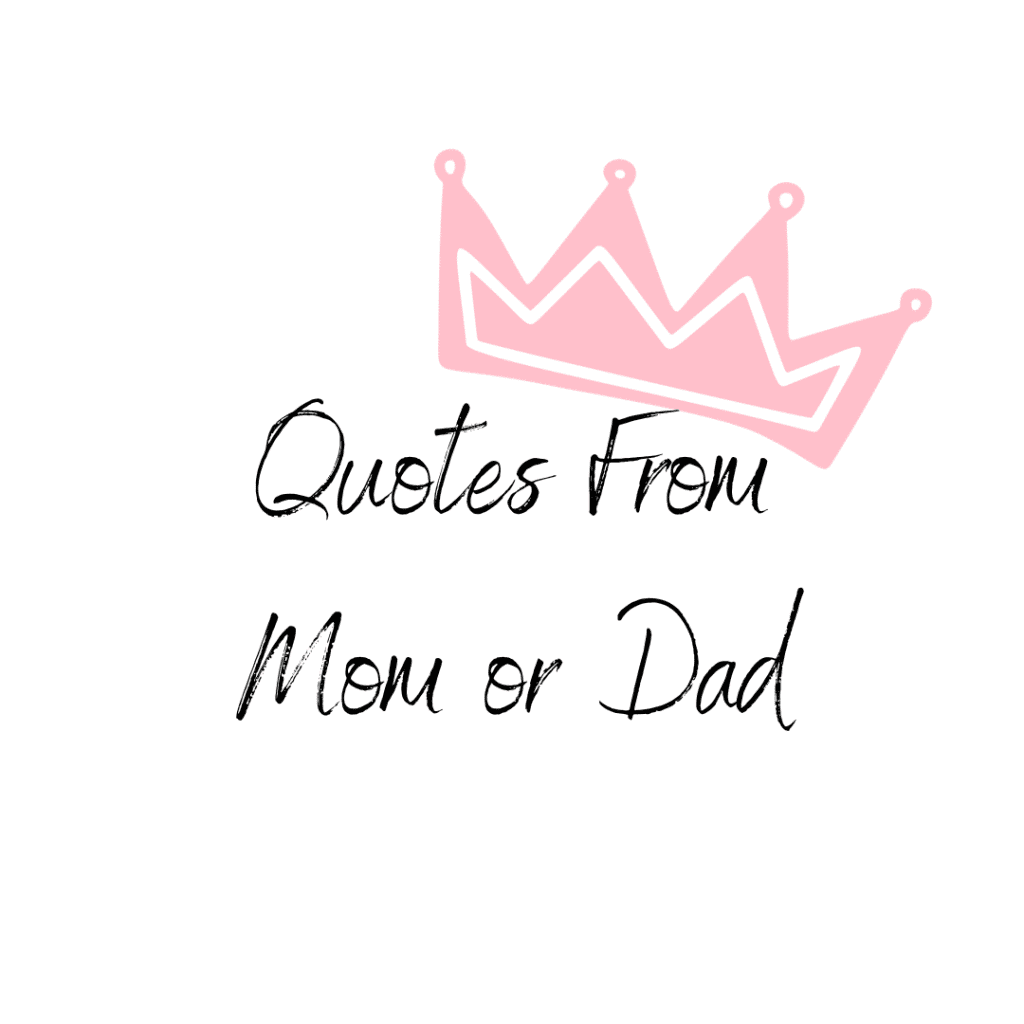 Quotes From Mom or Dad
If you're like me, you probably find that words often fall short when you're trying to express just how much your little princess means to you. Your beautiful daughter is the best thing that ever happened, right? Well, I've got some quotes that come pretty darn close to capturing the immense love and dreams we have for our little ones. Let's dive in.
"To my daughter, never forget that I love you. Life is filled with hard times and good times. Learn from everything. You are the woman of my dreams."
How to Use It: How about sharing this during a toast, so everyone can raise their glasses to your precious gift and wish her good health?
"You are my sun, my moon, and all my stars." – E.E. Cummings
How to Use It: This could go in a beautiful scrapbook right next to photos capturing her most beautiful smile and happiest moments.
"From the moment they placed you in my arms, you snuggled right into my heart."
How to Use It: A little slideshow of her growing up years could have this as its opening quote. This one perfectly sums up the first time you held her.
"You are the bows from which your children as living arrows are sent forth." – Khalil Gibran
How to Use It: Imagine sharing this quote just before she blows out her candles, symbolizing her bright future and the great things that lie ahead.
"Every good and perfect gift is from above." – James 1:17
How to Use It: If you're a family of faith, this could be an apt quote to put in a special birthday prayer moment.
"Wherever you go, so will my heart."
How to Use It: Could be used in a special birthday message or in a letter to be opened when she's older.
"For all the things my hands have held, the best by far is you."
How to Use It: This one's sweet for a bedtime story on her birthday night, coupled with lots of love and snuggles.
"May God bless you with all the joy and happiness that you bring into our lives."
How to Use It: If you're planning to make a toast, this one would be the perfect way to round it off, coupled with best wishes for a wonderful birthday and bright future.
So how can you share these heartwarming quotes? A toast is a classic way, of course. But consider also adding them to a special scrapbook filled with birthday memories, or even creating a short video that compiles pictures and these quotes. Heck, you could write one on the inside of her birthday card and tuck it into her memory box for when she's older.
These quotes don't just wish your daughter a happy 2nd birthday; they're lifelong keepsakes that put into words the deep love you feel for your very special girl. Now, go enjoy the birthday festivities, and may God bless you and your family on this magical day!
---
DIY Quote Ideas
Alright, let's get creative! There's something truly special about crafting your own quotes for your beautiful daughter's happy second birthday. It's like gifting a piece of your heart. Plus, DIY quotes give you the chance to zero in on all the things that make your little princess uniquely wonderful. So let's look at how you can create your own memorable sayings and showcase them in fun ways.
Create Your Own Quotes
Mix and Match: Take parts of your favourite quotes and mix them to create something new. "May God bless our little princess with a bright future," could be a mix of "May God bless you" and "bright future."
Add Her Name: Personalization always adds a special touch. "Sophia, you are the best thing that ever happened to us."
Inside Jokes or Family Sayings: These can be turned into birthday quotes. For example, if you always tell her she's your "sweet girl," a quote could be, "Our sweet girl is sprinkling happiness every single day."
DIY Display Ideas
Quote Banners: Craft a homemade banner featuring your DIY quote. Add some glitter for that extra sparkle befitting your little princess.
Photo Frame: Put your quote alongside a picture of your daughter in a pretty frame. Perfect for her room or for grandparents who pour so much love into her life.
Cake Inscription: Instead of the usual "Happy Birthday," why not use your custom quote on the cake? "Two years of being the light of our life" could be one to consider.
Custom Labels: If you're gifting her something special, a custom label with your quote can be attached. "To our precious gift, with much love."
Memory Jar: Fill a jar with handwritten quotes and happy 2nd birthday wishes from family members. She'll love reading these when she's older.
Embroidered Pillow or Quilt: If you're handy with a needle and thread, embroider your DIY quote on a pillow or quilt for her room.
Personalized Story Book: Create a short story featuring her as the main character, and pepper it with your DIY quotes. This would be a story she'd want to hear every night, filled with good wishes and much joy for your darling daughter.
There you go! Remember, the best gifts come from the heart. Your personal quotes will not only make her 2nd birthday special but also serve as cherished keepsakes that remind her how dearly she is loved. Happy crafting!
---
Using Quotes in Birthday Rituals
So, you've got your quotes, whether you found the perfect one or crafted your own heartwarming phrase for your little princess. Now, let's talk about how to weave these into birthday rituals and activities. After all, words have a way of becoming magical when they're part of a tradition.
Ideas for Incorporating Quotes into Activities
Candle Lighting Ceremony: As you light each candle on the birthday cake, recite a different quote or blessing. This could be a touching way to wish her good health, much happiness, and a bright future.
Time Capsule: Place your quote into a time capsule along with other special mementos. Imagine her reading your heartfelt wishes years down the line.
Balloon Wishes: Write quotes on tiny slips of paper and insert them into balloons before inflating. Have her pop them to reveal the special messages during the birthday party.
Treasure Hunt: Create a treasure map leading her to small treats or toys. At each spot, include a quote or a wish for her. It's a fun way to include sayings like, "You are the most beautiful girl in the world."
Pin the Tail on the Donkey: Yep, even this classic game can get a quote makeover! Attach a quote to the tail, and once pinned, read it aloud to shower her with best wishes.
Birthday Toast: A toast isn't just for adults. Let her have a sip of her favourite juice while you share a quote that encapsulates just how much she means to you.
Tips on Capturing These Moments
Video Clips: Record snippets of these activities, and you've got yourself precious keepsakes of your sweet baby girl's special day.
Photo Book: Snap pictures during each activity and compile them into a photo book. Add the quotes next to the photos to remember what was said and felt in that moment.
Scrapbooking: Include photographs, your quotes, and even some birthday cards she received in a scrapbook. This could be something she looks back on with much love.
Social Media Share: If you're the sharing type, these special moments could make for great social media posts. After all, a picture speaks a thousand words, but a picture with a quote? That's pure gold.
Integrating quotes into birthday activities adds an extra layer of emotional richness to the festivities. Plus, these treasured words will be captured for posterity, serving as lasting reminders of a wonderful birthday filled with love. So go ahead, make those moments count!
---
Wrapping Up Baby Girl Happy 2nd Birthday Princess Quotes
So, there you have it! Whether it's quotes from famous personalities or adorable, whimsical sayings, words have the power to add something incredibly special to your beautiful daughter's 2nd birthday. They elevate the emotional impact of the celebration, creating moments filled with much joy, love, and happy birthday wishes.
And let's not forget about crafting your own meaningful quotes. It adds a touch of uniqueness to the festivities, making your little princess feel like the center of your world, because let's face it, she is. From birthday toasts to keepsake scrapbooks, these quotes find their way into activities that will be remembered for years to come.
Remember, at the end of the day, the words you choose serve as a lasting gift, encapsulating your hopes and dreams for her bright future. They'll become part of the story you're creating for your sweet baby girl, adding layers of love and happiness to this very special day.
So go ahead, make her 2nd birthday one for the books with words that truly touch the heart.