One of the most important decisions that new parents face is choosing the right diaper brand for their little ones. Two of the most popular diaper brands on the market are Huggies and Pampers. As a new parent, it is important to understand the differences between these two brands to ensure you are providing the best care for your baby. In this article, we will explore the key differences between Huggies and Pampers diapers, as well as the pros and cons of each, to help you make an informed decision.
Huggies: An Overview
Huggies, a brand of Kimberly-Clark, has been providing diapers to parents since 1978. They offer a range of products to suit the needs of babies from the newborn stage up to toddlerhood. Huggies diapers come in various lines, including Little Snugglers, Little Movers, OverNites, and Snug & Dry. They also offer specialized products such as Pull-Ups for potty training and Little Swimmers for water activities.
Pampers: An Overview
Pampers, a brand of Procter & Gamble, has been in the diaper business since 1961. With a wide range of options, Pampers caters to the needs of babies from the newborn stage through toddlerhood. Their product lines include Swaddlers, Cruisers, Baby Dry, and Pure Protection. Pampers also offers Easy Ups for potty training and Splashers for swimming.
---
Free baby stuff for you to claim for your baby! Sign up to get the PDF with all the links.
---
Price
When comparing the prices of Huggies and Pampers diapers, it is essential to consider the cost per diaper rather than the overall package cost. Prices can vary depending on the diaper size, style, and the retailer from which they are purchased. Generally, Huggies and Pampers diapers fall within a similar price range, with Huggies being slightly less expensive in some cases. It is important to note that the cost of eco-friendly options like Huggies Special Delivery and Pampers Pure Protection may be higher than their traditional counterparts.
You can review our full breakdown of the cost of diapers in our article as well.
Fit and Comfort
Huggies diapers are known for their snug fit and contoured shape, which helps prevent leaks. Their Little Snugglers line, specifically designed for newborns, has a pocketed waistband that ensures a secure fit while keeping messes contained. Huggies Little Movers have double grip strips that adjust to your baby's movements, providing a comfortable fit during active play. Huggies diapers also have a wetness indicator that changes colour when it's time for a diaper change.
Pampers diapers are praised for their softness and comfort. Their Swaddlers line is popular among parents of newborns, as it features a wetness indicator, an umbilical cord notch, and a quilted, soft liner that pulls wetness away from the baby's skin. Pampers Cruisers, designed for active babies, have a 3-way fit that adapts to the waist, legs, and bottom for freedom of movement.
Absorbency and Leak Protection
Huggies diapers feature a Leak Lock System that ensures maximum absorbency for up to 12 hours, keeping your baby's skin dry and comfortable. The Snug & Dry line has a quick-absorbing layer that helps keep messes contained. Huggies OverNites are designed for overnight use and provide extra absorbency to keep your baby dry throughout the night.
Pampers diapers use their 3 Absorbing Channels technology to distribute wetness evenly and lock it away from your baby's skin. The Baby Dry line offers up to 12 hours of overnight protection with three layers of absorbency. Pampers Pure Protection diapers provide the same level of protection but are made with premium cotton and plant-based materials for a softer and more hypoallergenic option.
Environmental Impact
Both Huggies and Pampers have made efforts to address their environmental impact. Huggies has a program called Huggies Wipes & Diapers Recycling, which allows parents to
s recycle their used diapers and wipes at participating locations. Huggies also offers the Special Delivery line, which features diapers made from plant-based materials and are free of parabens, fragrance, and elemental chlorine.
Pampers Pure Protection diapers are made with responsibly sourced materials, including premium cotton and plant-based fibres. They are also free of chlorine bleaching, fragrance, and parabens. Pampers has partnered with TerraCycle to create a diaper recycling program, which allows parents to recycle their used diapers at designated drop-off locations.
Availability
Both Huggies and Pampers diapers are widely available at major retailers, both online and in-store. This makes it easy for parents to find the diapers they need, regardless of their location. Additionally, both brands offer a subscription service through retailers like Amazon, allowing parents to schedule regular diaper deliveries and save on costs.
Customer Reviews
Customer reviews can be helpful in determining the overall satisfaction of other parents who have used Huggies and Pampers diapers. It is crucial to remember that every baby is different, and what works for one may not work for another. That being said, both Huggies and Pampers have received generally positive reviews from parents. Some parents prefer the fit and leak protection of Huggies, while others appreciate the softness and comfort provided by Pampers.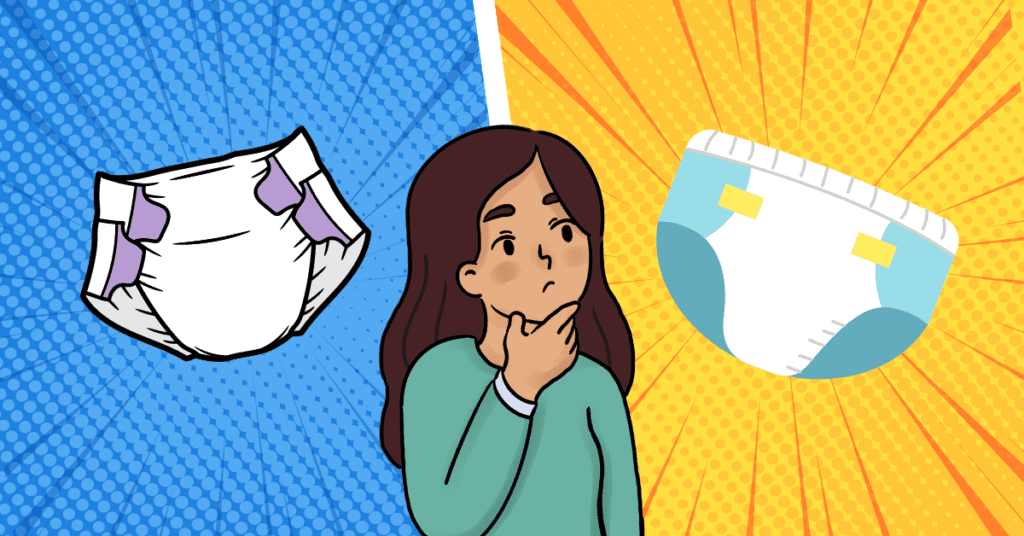 Conclusion
When deciding between Huggies and Pampers diapers, it is essential to consider your baby's individual needs and preferences. Factors like fit, comfort, absorbency, leak protection, environmental impact, price, and availability should all play a role in your decision-making process.
Both Huggies and Pampers offer high-quality diaper options that cater to the needs of babies at various stages of development. Ultimately, the best way to determine which brand is right for your baby is to try both and see which one performs best for your child's unique needs. You may find that certain features of one brand work better for your baby during different stages of growth and development. Remember to always consult with your paediatrician if you have concerns about diapering or your baby's skin health.