Have you ever found yourself midway through a long-haul flight, car trip, or even a ferry journey and you hear that infamous question – "Are we there yet?" As parents, we understand that travelling with children can be a joyous yet challenging experience. From restlessness on a plane to impatience in a car, every journey has its own trials and tribulations.
Children are little bundles of energy and curiosity, eager to explore, learn, and play. And that energy doesn't wind down just because they're on the move. This is where the challenge lies for us parents: how can we keep our children engaged and entertained during those hours on the road or in the sky?
This is where creativity comes to the rescue! In this article, we're about to dive into the exciting world of crafting. But we're not just talking about regular craft ideas. We're focusing on crafts that are perfectly tailored for travel – easy to pack, captivating for our little ones, and ideal for creating unforgettable memories.
You see, crafting isn't just about producing a product; it's also about the process. The process of creating sparks joy, curiosity, and learning. So buckle up and join us as we explore fabulous and inventive craft ideas for your kids that are designed to turn travel time into a fun-filled, educational adventure.
The Importance of Crafting While Travelling
There's something magical about crafts. They hold the power to transform an ordinary piece of paper into a soaring airplane, a handful of pebbles into a family of little rock creatures, or a simple notebook into a vibrant travel journal. Crafts ignite children's imaginations, foster their creativity, and at the same time, play a vital role in their cognitive development and the enhancement of fine motor skills.
However, beyond the developmental benefits, crafting while travelling offers another distinct advantage. It turns the often-unproductive 'downtime' during travel into an enriching, enjoyable experience for kids. It can turn a dreary rainy afternoon in a hotel room into a cozy craft session, or a long train ride into a bustling art studio.
Crafting allows children to engage with the journey in a meaningful way. It lets them express their impressions of the new places they visit, the new sights they see, and the unique experiences they encounter. Moreover, it offers them a sense of control and involvement in their surroundings, which can be incredibly valuable, especially in unfamiliar environments.
When choosing craft activities for travel, it's important to consider the practicalities. The materials should be lightweight, portable, and versatile. They should be easy to pack and able to withstand the rigours of travel. And most importantly, they should be capable of capturing your child's interest for more than a fleeting moment.
Whether it's creating a necklace from seashells collected on a beach, sketching a landscape viewed from a mountain peak, or personalizing a travel diary, crafting can add a new dimension to your child's travel experience. It allows them to not just see a place, but interact with it, imprint on it, and carry a piece of it with them in a very personal and memorable way.
Crafting Safety during Travel
Crafting on the go can be a fun-filled adventure for children, but as with all activities, safety comes first. While crafting, we're often dealing with various materials and tools, some of which can be potentially hazardous if not used appropriately. It's essential that parents take the necessary steps to ensure their little crafters are safe, no matter where the creative process takes them.
Firstly, age-appropriate crafts are key. A craft that's suitable for a ten-year-old may not be safe or engaging for a three-year-old. Always consider the child's age, interests, and abilities when selecting crafts for travel. If sharp tools are involved in the craft, ensure that an adult is always present and active in guiding the process.
Next, be mindful of the craft materials you're using. Avoid materials that are toxic or could present a choking hazard, particularly for younger children. Look for child-friendly materials and supplies that are non-toxic and large enough to prevent any risk of swallowing.
A crucial yet often overlooked aspect of crafting is cleanliness and respect for one's environment. Crafting during travel isn't an excuse for littering or leaving a mess behind. Teach your kids the importance of cleaning up after themselves once the crafting session is over. After all, a good traveller is one who respects their environment and leaves a place as they found it – or even better!
Remember, the goal is to have fun and learn, but it should never come at the cost of safety or respect for our surroundings. Happy and safe crafting, everyone!
Craft Ideas
Crafting on the go opens a world of possibilities, even with limited resources. Here are some travel-friendly craft ideas that are engaging, fun, and perfectly suited to making the journey as enjoyable as the destination.
1. Travel Journaling
Travel journals are more than just a log of events; they're a creative outlet where children can chronicle their journey in their own unique way. Encourage your kids to write about their experiences, sketch the places they visit, and even glue in mementoes like tickets or postcards. All they need is a sturdy notebook, pencils or pens, and a glue stick. The best part is that they'll have a personalized souvenir at the end of the trip!
Room for four adventures: Divided into four sections, each created to record one trip, this journal will keep kids entertained again and again.
Relive every memory: Guided prompts encourage kids to write about their hopes for the trip, their favourite moments, new discoveries, and so much more!
Games galore: Banish boredom with engaging activities like word searches, scavenger hunts, and crossword puzzles.
2. Wearable Art
Who said art has to be confined to paper? Bring along some fabric markers or patches, and let your kids personalize their own hats, t-shirts, or tote bags. Not only is it a fun activity, but it also gives them something special to wear during the trip.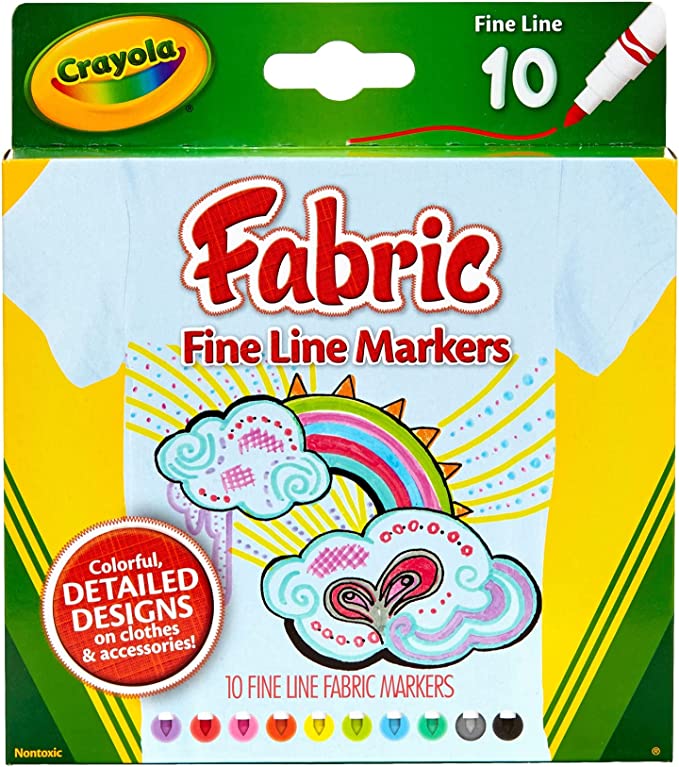 Creative Detail: Draw in detail on any colored fabric & watch the colors pop! These unique fabric markers are designed to work on dark AND light fabrics.
Custom Fashion: Personalize and decorate fabric clothing, accessories and more with these fine line markers. The bright, bold Crayola colors work on light & dark fabrics, and the fine tip allows for intricate details! Includes 10 fine line Fabric Markers.
3. Origami
Origami is a fantastic craft for travel – all you need is a pack of origami paper, and you're set. It's lightweight, versatile, and can keep kids engaged for hours. From simple paper boats to intricate animals, the possibilities are endless. And the bonus? Kids will love showing off their creations!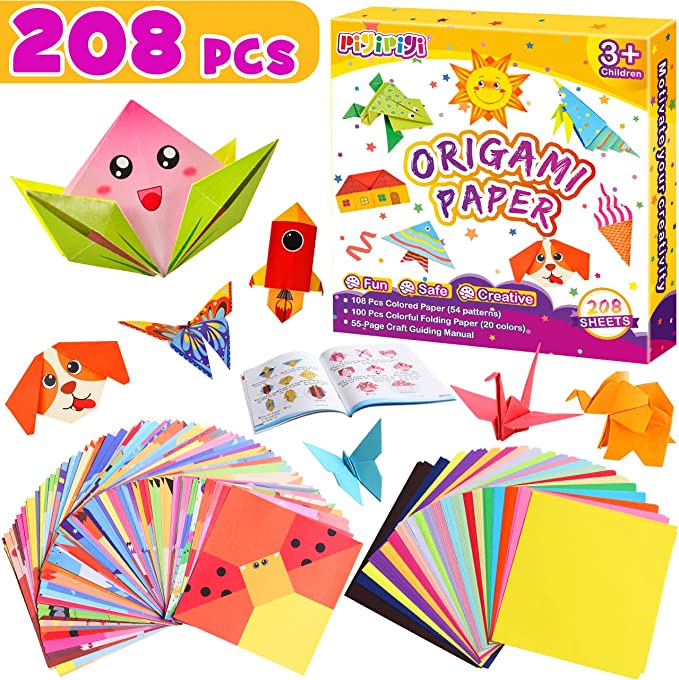 Colourful Origami Paper Kit: Our kid origami set comes with 108 pcs double-sided vivid folding sheets of 54 different patterns (2 sheets of each design) & 100 pcs practice colourful papers & a Guiding Book. Brightly coloured paper can be folded into colourful shapes, such as fruit, animals, car or any DIY art crafts.
4. Window Cling Art
This is a great craft for car or plane travel. Using static cling vinyl sheets, children can create their own designs and stick them to the window. They're easy to remove and reposition, making them perfect for on-the-go creativity.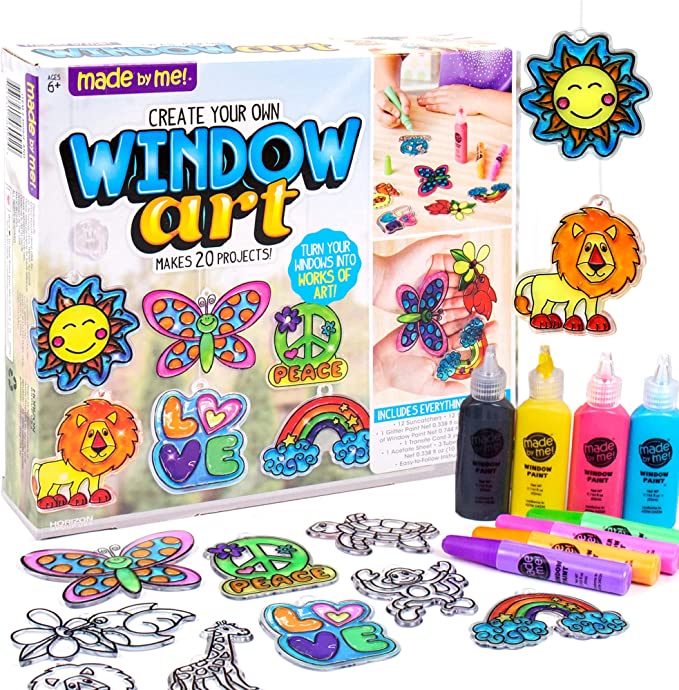 Design 20 Window Art Creations: Make your windows pop with 20 whimsical window art creations! Color 12 suncatcher shapes and create custom peel & press window clings with vibrant suncatcher paints that are large enough for the littlest hands to hold!
– 5 Easy-To-Use Paint Pens & Tubes: Trace illustrations from the included instructions or create custom creations with the acetate sheet and non-toxic window paint pens to make one-of-a-kind window cling
5. Scavenger Hunt Drawing
Before your journey, create a list of items for your kids to find along the way. However, instead of collecting the items, they have to draw them. This activity combines the excitement of a scavenger hunt with the creative fun of sketching.
6. Nature Crafts
This is an excellent option if you're travelling to a place with natural beauty. Encourage your children to gather safe and permissible items from nature – like leaves, flowers, or pebbles – and create something out of them. They could make a leaf collage, paint a pebble, or build a miniature fairy house. Always remind them to respect nature and take only what is permissible.
7. Story Stones
Story stones are a perfect travel craft. All you need is a collection of smooth stones, some paint, and imagination. Children can paint different images on each stone – it could be a person, an animal, a place, or an object. Once the stones are dry, they can be used to create endless stories, sparking creativity and enhancing narrative skills.
8. Pipe Cleaner Sculptures
Pipe cleaners are lightweight, easy to pack, and versatile. Encourage your children to create sculptures using pipe cleaners. They can make anything from animals to abstract designs. This craft is excellent for promoting fine motor skills and spatial awareness.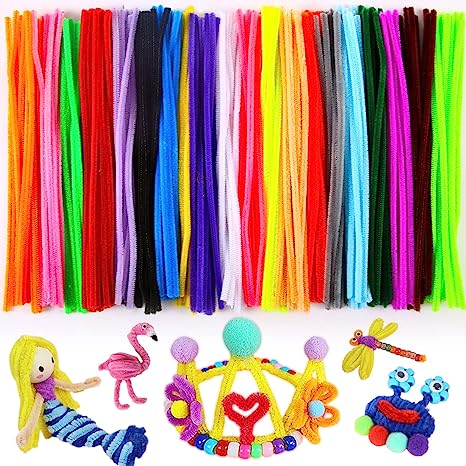 Great value for money: 200 pcs, 20 colors, color 10 pieces of each colour
– Premium Quality for all 20 colours: Manufactured with high standards, our pipe cleaners are flexible, easy to band and durable. They are made with fine fiber which is not easy to shed.
9. Travel Collage
Throughout your travels, encourage your child to collect safe, flat items like tickets, postcards, or leaves. Then, they can use these to create a collage on a piece of cardstock. This craft is easy to do on the go, and the end result is a beautiful, tangible memory of the journey.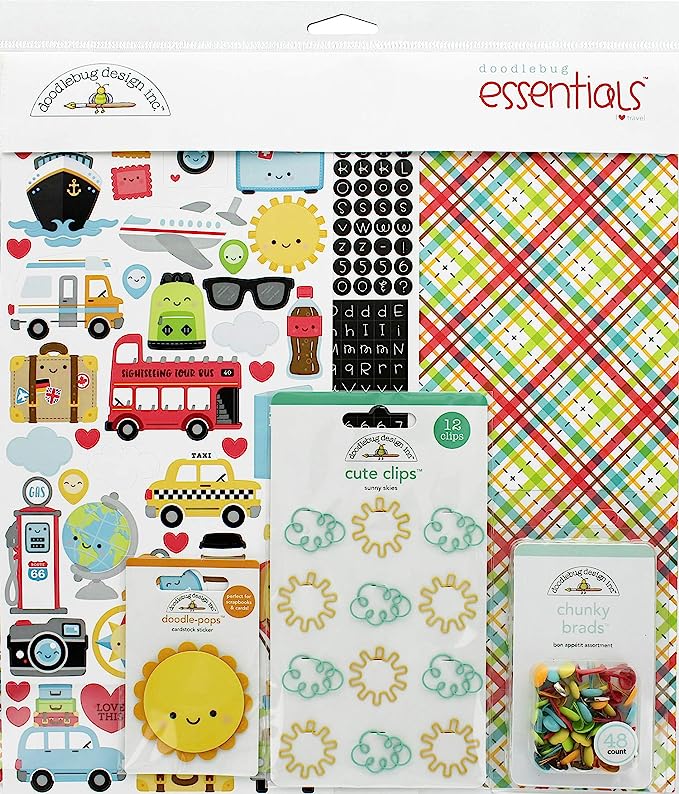 The perfect start to your next scrapbooking or kids collage project!
This package contains six 12×12 inch double-sided sheets with a different design on each, one 6×12 inch sticker sheet, one cardstock sticker, brads, and clips
10. Friendship Bracelets
Friendship bracelets are a classic craft that's easy to take on the road. All you need is some embroidery floss or yarn, and your kids can spend their travel time creating bracelets. This craft not only keeps kids engaged but also encourages patience and focus. Plus, the bracelets can serve as gifts for new friends they might make on the trip.
Great Variety Colors: The pony beads kit comes with vibrant colours and good pattern selections, providing you with a great assortment for making necklaces, bracelets, hair braids, keyrings, jazzing up backpacks as well as many other craft and jewellery projects
11. Paper Plate Masks
Paper plates are lightweight and easy to pack, making them perfect for travel crafts. Children can create masks of their favourite animals, characters, or even their own imaginary creatures. All you need are some paper plates, markers or paint, and some string. This craft is sure to spark creativity and provide a fun role-play tool.
Remember, each of these crafts can be adapted to suit your child's interests and the resources available. The key is to have fun and use these crafts as a way to enhance the travel experience.
These craft ideas are designed to entertain, educate, and inspire your children as they journey through new experiences. They're more than just time-fillers; they're tools for your children to connect with their surroundings, express their creativity, and create tangible memories of their travels.
Turning Crafts into Keepsakes
Crafting during travel isn't just a pastime; it's a creative way for children to document their journey. With a little effort, the crafts they create can become treasured keepsakes. Here's a guide to helping your child turn their crafts into cherished mementoes:
Travel Journal: A Personal Narrative
Encourage your child to fill a travel journal with sketches, mementoes, and notes about their experiences. This will serve as a personal narrative of their journey, a tangible memory they can revisit in the years to come. Once you're back home, dedicate a space on a bookshelf for these travel journals. They'll serve as a series of storybooks about your family's adventures.
Picture Frames: Capturing the Moments
Have your children create beautiful picture frames using materials like popsicle sticks, seashells, or even twigs. Print out their favourite pictures from the trip, and let them decorate their frames. This activity will keep them busy and also result in a personal piece of décor they can be proud of.
Treasures from Travels: From Souvenirs to Keepsakes
Don't forget about the treasures your children might collect during your travels, like seashells from a beach visit or pine cones from a hike. These can be transformed into creative keepsakes with a little imagination. For instance, seashells can be painted and turned into fridge magnets, and pine cones can be decorated and displayed in a beautiful bowl.
Turning crafts into keepsakes adds a layer of significance to the creative process. It allows your children to hold onto a piece of their journey, preserving their memories in a unique and personal way. It also provides them something to look back on and share with others, fostering a sense of pride in their creativity and experiences.
As you set out on your travels, let those creative juices flow, and watch as your children create not just crafts, but beautiful keepsakes that they'll cherish for years to come.
Conclusion
As we've journeyed through the world of travel crafts, we've seen the myriad ways in which this simple yet powerful activity can transform our children's travel experiences. From travel journaling to nature crafts, the possibilities are as boundless as your child's imagination.
Crafting during travel provides more than just a distraction. It offers an engaging, fun way for children to explore their creativity, connect with their surroundings, and enhance their developmental skills. Moreover, it turns their creations into personal mementoes, preserving the memories of their journey in a tangible form.
However, in all this creative hustle and bustle, let's remember one important thing: It's not about perfection. Crafting is about embracing the joy of creating, the thrill of turning an idea into reality, and the learning that happens along the way. So, let your children experiment, make a mess, and, most importantly, have fun.
Also, remember that the magic of crafting isn't confined to your travel days. These craft ideas can be carried over into everyday life, turning mundane weekends or holidays into creative escapades.
As we conclude, we encourage you to embrace these crafting adventures on your travels. Pack that extra set of markers, bring along that origami paper, and get ready to craft some unforgettable memories. After all, in the grand journey of parenthood, it's the shared experiences and happy moments that we treasure the most.
Happy crafting, and even happier travels!