Preparing for the arrival of a new baby is a thrilling journey for expecting couples, and it's essential to make the most of this special time together before your little one joins the family. With a mix of memorable outings, cozy nights in, and unique online experiences, we've curated a collection of 51 date night ideas tailored specifically for pregnant couples. These creative suggestions cater to a wide range of interests and preferences, ensuring that you can continue to nurture and strengthen your bond throughout the pregnancy. So, get ready to explore new adventures, indulge in relaxation, and create lasting memories as you embark on these unforgettable date nights.
Date Night Ideas at Home
Spending a cozy night at home can be just as romantic and fun as going out. Here are some ideas for memorable date nights in the comfort of your own home.
1. Cooking Night
Choose a new recipe or recreate a favourite dish together. Cooking can be a relaxing and enjoyable activity, allowing you to connect while preparing a delicious meal. Set the table with candles and soft music for a romantic atmosphere.
2. Movie Night
Transform your living room into a home theatre by dimming the lights, arranging comfortable seating, and preparing popcorn or other favourite movie snacks. Choose a film that you both enjoy or explore a new genre together.
3. Arts and Crafts Night
Engage in creative projects, such as painting, drawing, or crafting. You can work on individual projects or collaborate on something for the nursery.
4. Game Night
Break out your favourite board games, card games, or video games for a fun-filled evening. This is a great way to laugh and bond together while engaging in some friendly competition.
5. Indoor Picnic
Lay out a blanket on the living room floor, arrange some pillows, and prepare a picnic spread. This can be a fun and unique way to enjoy a meal together at home.
6. Puzzle Night
Work together on a jigsaw puzzle or 3D puzzle while listening to your favourite music or an engaging podcast.
7. Karaoke Night
Set up a karaoke night at home, singing along to your favourite tunes. You can use YouTube or a karaoke app to access a wide variety of songs.
8. Themed Movie Marathon
Choose a theme for your movie night, such as romantic comedies, action films, or classics, and enjoy a marathon of movies that fit the theme.
9. Meditation or Guided Relaxation
Spend an evening practising meditation or guided relaxation techniques together. This can help reduce stress and promote bonding.
10. Tasting Night
Arrange a tasting night, sampling a variety of cheeses, chocolates, or non-alcoholic beverages. Compare your preferences and discover new favourites.
11. Reading Night
Pick a book or a collection of short stories to read together. Take turns reading aloud, or listening to an audiobook while cuddling under a cozy blanket.
12. DIY Mocktail Night
Experiment with different recipes and ingredients to create delicious non-alcoholic mocktails. Enjoy your concoctions while watching a movie or playing a game.
13. Memory Box Creation
Spend an evening creating a memory box for your baby. Collect keepsakes, photos, and mementoes from your pregnancy journey and decorate the box together.
14. Home Planetarium
Set up a home planetarium using a star projector or a mobile app. Enjoy the beauty of the night sky from the comfort of your living room.
---
Free baby stuff for you to claim for your baby! Sign up to get the PDF with all the links.
---
Date Night Ideas Out and About
Sometimes it's nice to get out of the house and explore your surroundings. Here are some date night ideas for pregnant couples on the go.
15. Dinner at a Restaurant
Choose a restaurant that offers comfortable seating and menu options that cater to your wife's pregnancy cravings or dietary restrictions. Make a reservation to ensure you have a table waiting when you arrive.
16. Live Performances
Attend a local theatre, concert, or comedy show. Live performances can provide a memorable and entertaining experience for you and your pregnant wife.
17. Art Exhibitions
Visit an art gallery or museum to appreciate the creativity and beauty of various art forms. This can be a calming and inspirational date night experience.
18. Nature Walks
Take a leisurely stroll in a nearby park or nature reserve. Enjoy the fresh air, scenery, and each other's company while getting some gentle exercise.
19. Prenatal Classes
Sign up for a prenatal class, such as yoga, massage, or birthing techniques. These classes can provide valuable information and bonding opportunities for expectant couples.
20. Stargazing
Drive to a nearby location with minimal light pollution and enjoy a romantic evening stargazing. Bring a blanket and some warm drinks to stay cozy.
21. Pottery or Painting Class
Sign up for a pottery or painting class together, where you can learn a new skill and create something beautiful for your home or nursery.
22. Cooking Class
Take a cooking class together to learn new techniques and recipes. This can be a fun way to bond while preparing delicious dishes to enjoy later.
23. Aquarium or Zoo
Visit a local aquarium or zoo for a relaxing and educational experience. Enjoy the beauty of marine life or observe animals in their natural habitats.
24. Sunset Cruise or Boat Tour
Embark on a sunset cruise or boat tour to enjoy scenic views of your surroundings. This can be a serene and romantic experience for expecting couples.
25. Farmers Market or Food Festival
Spend an afternoon exploring a local farmers market or food festival. Sample fresh produce, local delicacies, and support small businesses in your community.
26. Botanical Gardens
Visit a local botanical garden to admire the beauty of nature and learn about various plant species. This can be a peaceful and picturesque outing.
27. Drive-In Movie Theater
Experience the nostalgia of a drive-in movie theatre. Bring your favourite snacks, pillows, and blankets to create a cozy and comfortable environment.
28. Escape Room
Test your problem-solving skills by participating in an escape room. Work together as a team to solve puzzles and escape within the given time.
29. Historical Tours
Explore the history of your city by taking a guided tour or visiting a local museum. Learn about the past while enjoying each other's company.
Themed Date Nights for Pregnant Couples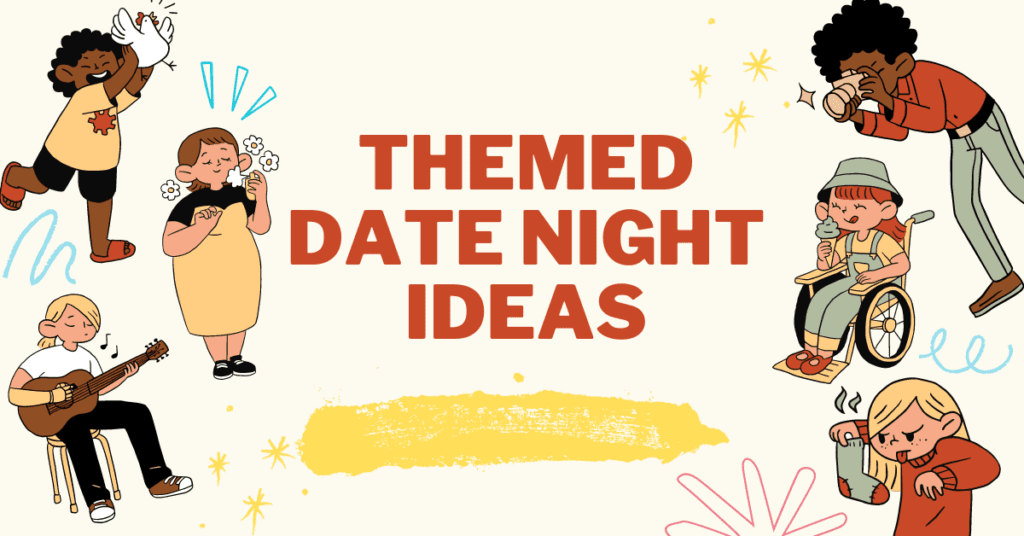 Themed date nights can add an extra element of fun and creativity to your evenings together. Here are a few ideas to inspire your themed date nights:
30. Around the World
Choose a different country or culture to explore each date night. Cook a traditional meal, watch a film, or learn about the customs and traditions of that culture.
31. Memory Lane
Take a trip down memory lane by revisiting your favourite memories together. Look through old photos, watch your wedding video, or return to the location of your first date.
32. Future Planning
Spend time discussing and planning for your future as a family. Create a vision board, set goals, and share your dreams for your life together.
33. Book or Movie Adaptation Night
Choose a book or movie series to enjoy together. Have themed nights where you cook a meal or dress up as characters from the book or movie.
34. DIY Spa Night
Transform your home into a spa by lighting candles, playing soft music, and pampering each other with massages, facials, or foot soaks.
Activities to Enjoy While Pregnant
Now let's dive into some activities that you can enjoy with your pregnant wife, whether you're at home or on a getaway.
35. Take A Babymoon
Before the baby arrives, get out of town on a babymoon and relax for a bit. A babymoon can be a great way to spend some quality, relaxing time together before the chaos of a new baby comes.
36. Spa Day
A spa day can provide much-needed relaxation for your wife. Many spas offer prenatal massages that are specifically designed to alleviate the discomforts of pregnancy.
37. Walking and Light Hiking
Regular walks or light hiking can keep your wife active and help her enjoy the outdoors. Choose flat, well-marked trails and remember to stay hydrated.
38. Art and Craft Workshops
Engaging in art and crafts can be therapeutic. Consider pottery, painting, or scrapbooking workshops where you can create keepsakes to remember this special time.
39. Photography
Document your journey by taking up photography as a hobby. Capture the beauty of your surroundings and the special moments shared during your wife's pregnancy.
40. Book Club
Create a book club for two, reading and discussing books related to pregnancy, parenthood, or any other topics of interest.
41. Picnics
Pack a picnic and head to a nearby park or beach for a relaxing afternoon. Make sure to bring comfortable seating and shade for your wife.
42. Cultural Events
Attend local concerts, theatre performances, or art exhibitions together. These events provide an opportunity to enjoy shared interests and appreciate the cultural richness of your community.
43. Nesting at Home
Spend time together preparing your home for the arrival of your baby. Organize the nursery, assemble furniture, and create a warm and welcoming environment.
---
Free baby stuff for you to claim for your baby! Sign up to get the PDF with all the links.
---
Online Experiences for Expecting Couples
If travel is not in the cards for you, there are numerous online experiences that you can enjoy from the comfort of your home.
44. Virtual Travel Tours
Embark on a virtual travel adventure from the comfort of your home by joining online tours of famous cities, landmarks, or natural wonders. Many travel companies and local guides offer live, interactive virtual tours, allowing you to explore new destinations and learn about different cultures together.
45. Online Prenatal Workshops
Sign up for online prenatal workshops or webinars covering topics such as childbirth preparation, newborn care, or breastfeeding. These educational experiences can help you feel more prepared and confident as you approach parenthood while also providing an opportunity to connect with other expecting couples.
46. Virtual Escape Room
Try a virtual escape room experience, where you and your partner can solve puzzles and complete challenges together using your computers or mobile devices. Virtual escape rooms often provide a live host to guide you through the adventure and assist with hints, ensuring an engaging and interactive experience for couples looking for a unique online activity.
47. Online Couples' Yoga or Fitness Classes
Participate in an online yoga or fitness class tailored specifically for expecting couples. Prenatal yoga or low-impact fitness classes can help you stay active, manage stress, and bond with your partner as you prepare for your baby's arrival.
48. Online Cooking Classes
Sign up for an online cooking class where you and your partner can learn new recipes and techniques together. Choose a cuisine or theme that appeals to you both, and enjoy preparing and savouring the delicious meals in the comfort of your home.
49. Virtual Art or Craft Workshops
Engage your creative side by joining an online art or craft workshop. Learn a new skill or explore different mediums, such as painting, drawing, or knitting. You can create artwork or crafts for your home or nursery or as a keepsake of your pregnancy journey.
50. Online Language Learning
Use your time together to learn a new language through online courses or language exchange platforms. This can be a fun and rewarding experience, allowing you to bond over a shared goal and potentially prepare for future travels or broaden your cultural horizons.
51. Virtual Trivia or Game Nights
Participate in online trivia nights or join virtual game rooms to compete against other couples or teams. This can be an entertaining and engaging way to spend an evening together while testing your knowledge and problem-solving skills.
Romantic Date Night Ideas for Pregnant Couples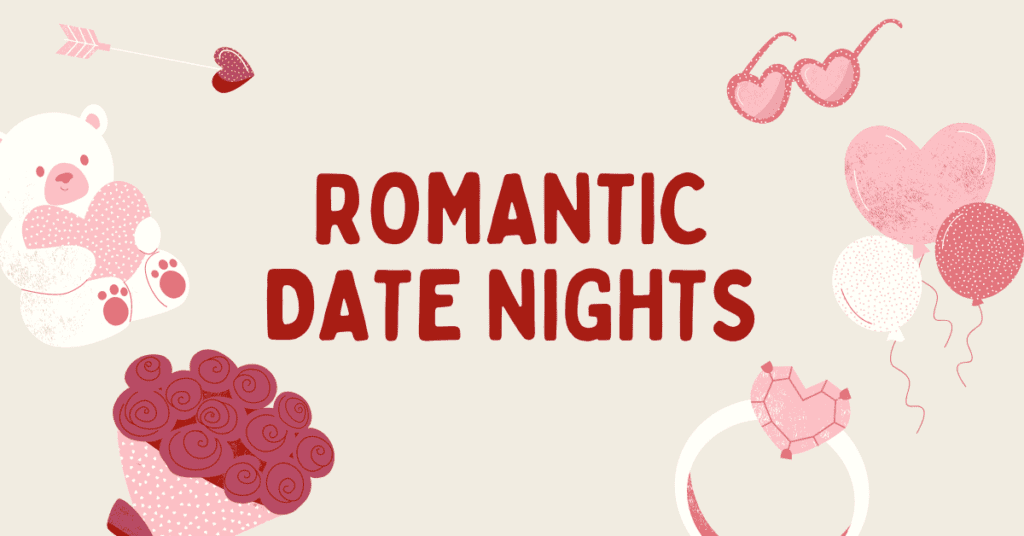 As expecting couples eagerly await the arrival of their little one, it's essential to prioritize romance and connection in their relationship. With comfort and relaxation in mind, here are ten romantic date night ideas for pregnant couples to enjoy
52. Candlelit Dinner
Whether at home or at a cozy restaurant, a candlelit dinner sets the mood for a romantic evening. Prepare your wife's favourite meal or choose a menu that caters to her pregnancy cravings.
53. Sunset Picnic
Find a scenic location to enjoy a sunset picnic. Pack a comfortable blanket, pillows, and a delicious assortment of finger foods, fruits, and non-alcoholic beverages.
54. Moonlit Stroll
Take a gentle moonlit stroll together, either along a beach, in a park, or through your neighbourhood. Hold hands, talk, and enjoy each other's company in a peaceful atmosphere.
55. Couple's Massage
Book a couple's massage session, ensuring that the therapist is experienced in prenatal massage. This shared experience can help both partners relax and reconnect.
56. Personalized Playlist
Create a personalized playlist for each other, featuring songs that hold special meaning or evoke fond memories. Spend an evening listening to the playlists and discussing the significance of each song in your relationship.
57. Love Letter Exchange
Spend an evening writing heartfelt love letters to each other, expressing your feelings, appreciation, and excitement for your growing family. Exchange and read them aloud.
58. Weekend Getaway
Plan a romantic weekend getaway to a nearby bed and breakfast or boutique hotel. Choose a destination that offers prenatal spa services, fine dining, and leisurely activities.
59. Dancing at Home
Transform your living room into a dance floor by dimming the lights and playing your favourite slow songs. Enjoy gentle dancing, and reminiscing about your love story.
60. Breakfast in Bed
Surprise your partner with breakfast in bed, complete with her favourite morning treats and a bouquet of flowers. Share the meal together, starting the day on a romantic note.
61. DIY Photoshoot
Arrange a DIY maternity photoshoot at home or a picturesque outdoor location. Capture this special time in your lives with beautiful, intimate photos to cherish forever.
Tips for Planning Date Nights During Pregnancy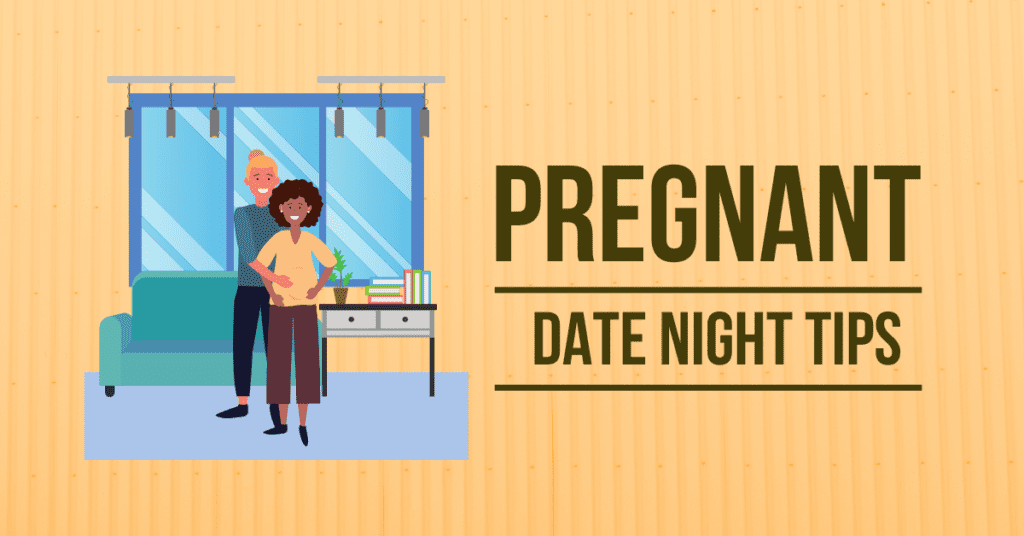 To ensure a comfortable and enjoyable date night experience for your pregnant wife, consider the following tips:
Timing is Key
Schedule date nights during times when your wife is likely to feel her best. Many pregnant women experience more energy during the second trimester, making it an ideal time for outings and activities.
Consider Comfort
When planning a date night, prioritize your wife's comfort. Choose activities and locations that offer ample seating, restrooms, and a relaxed atmosphere.
Be Flexible
Pregnancy can be unpredictable, and your wife may experience sudden changes in energy or mood. Be prepared to adapt your plans or reschedule if needed.
Stay Hydrated
Ensure that your wife stays hydrated throughout the date by carrying a water bottle or choosing a location with easy access to drinks.
Keep it Simple
While it's tempting to plan elaborate date nights, sometimes the simplest activities can be the most enjoyable. Focus on spending quality time together and creating a comfortable, stress-free environment.
Communicate
Discuss your date night plans with your wife, and make sure she's comfortable with the chosen activities. Encourage open communication about her needs and preferences throughout the date.
Surprise Elements
Add an element of surprise to your date nights by occasionally planning something unexpected, like a surprise dessert, a small gift, or a handwritten love note.
Capture the Memories
Document your date nights by taking photos, writing in a shared journal, or collecting mementoes. These keepsakes can be a wonderful reminder of the special moments shared during pregnancy.
Plan Regular Date Nights
Establish a routine for regular date nights, whether it's once a week or once a month. This can help ensure that you continue to prioritize your relationship during this transitional time.
Celebrate Milestones
Use date nights to celebrate milestones in your pregnancy journey, such as the completion of a trimester, hearing your baby's heartbeat for the first time, or finding out the gender of your baby.
Date nights for pregnant couples are an essential part of maintaining a strong bond and enjoying each other's company during this exciting time. Whether you choose to stay at home or venture out, focusing on your wife's comfort and needs will ensure a memorable experience. With a little creativity and planning, your date nights can provide relaxation, connection, and lasting memories as you prepare for the arrival of your little one.
Go Make Some Pregnancy Memories
Maintaining a strong and loving connection throughout pregnancy is vital for expecting couples. By exploring these 51 diverse and memorable date night ideas, you can continue to celebrate your relationship and cherish each moment together before the arrival of your little one. Whether you're indulging in romantic adventures, cozying up at home, or connecting through online experiences, these suggestions offer a variety of opportunities to nurture your bond and create unforgettable memories. Embrace this special time and enjoy the journey as you prepare to welcome a new member into your family.
With the right preparation and care, this special phase can indeed turn into a beautiful journey, creating lasting memories before the arrival of your little one.