If you're expecting a bundle of joy, congratulations! This is a truly magical time in your life. But let's be honest, it can also be a tad exhausting. That's where a babymoon comes in – a perfect opportunity for soon-to-be parents to relax, rejuvenate and celebrate the upcoming arrival of their little one. Imagine a vacation filled with pampering, romantic dinners, and serene moments connecting with your partner and your growing baby bump. Sounds heavenly, right? Let's explore everything you need to know about planning a babymoon, from ideal timing to choosing the best babymoon destinations.
Understanding Babymoons
A babymoon is a vacation that expecting parents take to relax and spend quality time together before their new baby arrives. It's a beautiful concept, similar to a honeymoon, but instead of celebrating marriage, you're celebrating the imminent expansion of your family. The term "babymoon" combines "baby" – the upcoming arrival you're excitedly anticipating, and "moon" – a shortened form of "honeymoon" representing a blissful and relaxing period.
Planning a babymoon isn't much different from planning any other vacation, but there are a few special considerations to keep in mind. The best time for a babymoon is usually in the second trimester, between 14 and 28 weeks. By this time, morning sickness is typically less severe, energy levels are higher, and it's still quite a while before your due date.
However, it's crucial to discuss your travel plans with your healthcare provider before booking anything. They can provide personalized advice based on your health and pregnancy progress.
In the next sections, we'll delve into tips for preparing for your babymoon, explore the top babymoon destinations in the US and Canada, as well as some fantastic international options.
Preparing for Your Babymoon: Essential Tips
As you plan your dream babymoon, it's essential to keep a few key things in mind. Ensuring your getaway is safe, comfortable, and enjoyable requires some thoughtful preparation. Here are some tips to help you get ready for your pre-baby vacation:
1. Medical Considerations and Safety Precautions:
Before planning your getaway, it's essential to consult with your healthcare provider. They can provide personalized advice based on your health and the progress of your pregnancy. Additionally, consider choosing a destination with easy access to medical facilities, just in case.
2. Choose the Perfect Babymoon Destination
When selecting a destination, think about what you and your partner enjoy. Do you prefer relaxing on a beach, exploring a new city, or hiking in nature? Also, consider the length of the flight or drive, the climate, and any potential health advisories.
3. Ideal Timing
The best time for a babymoon is typically during the second trimester. At this stage, morning sickness usually eases, and energy levels can be higher. Plus, it's generally safe to travel during this period. However, always consult with your healthcare provider before making any plans.
4. Packing Essentials
Pack with comfort in mind. Loose, comfortable clothing, supportive shoes, and your favourite pregnancy-safe snacks are must-haves. Don't forget to pack prenatal vitamins and any necessary medications. Also, consider packing a few items that make you feel pampered and special, like a favourite robe or a good book.
5. Travel Insurance
Consider getting travel insurance that covers pregnancy-related incidents. This can provide peace of mind knowing that you're covered should you need any medical attention during your trip.
6. Stay Hydrated and Take Breaks
Whether you're flying, driving, or exploring your destination, it's important to stay hydrated and take regular breaks. This can help to keep you comfortable and prevent fatigue.
Remember, a babymoon should be relaxing and enjoyable. Take the time to plan accordingly, prioritize your comfort and safety, and you'll be well on your way to creating beautiful memories before your baby's arrival. Happy planning!

Why Take a Babymoon?
A babymoon is a wonderful opportunity to pause, reflect, and relish in the anticipation of the life-changing journey of parenthood that lies ahead. In the whirlwind of preparing for a new baby, it's easy to forget the importance of taking time for oneself and for the relationship with your partner.
A babymoon allows expecting parents to focus on each other, strengthening their bond before the arrival of their little one. It's a chance to relax, recharge, and enjoy some well-deserved pampering. Moreover, it's an opportunity to create lasting memories as a couple before stepping into the exciting world of parenthood.
Whether it's a tropical beach getaway, a city escape, or a serene staycation, a babymoon is a beautiful tradition that celebrates the joy, anticipation, and love that come with expecting a baby.
Benefits of A Babymoon
Planning for the arrival of a new baby can be an exciting yet busy time. Amidst all the preparations, a babymoon serves as a breath of fresh air, providing a host of benefits for expecting parents:
Stress Relief
The months leading up to your baby's arrival can be filled with planning, doctor's appointments, and possibly some anxiety. A babymoon provides an essential break from these activities, allowing you to relax, unwind, and reduce stress levels.
Strengthening Your Relationship
A babymoon is a special time for couples to reconnect and strengthen their bond. It provides uninterrupted time to enjoy each other's company and communicate about the upcoming changes, hopes, and dreams for your growing family.
Rest and Rejuvenation
Pregnancy can be physically demanding. A babymoon is a chance to prioritize rest and self-care. Whether that means spending time at a spa, lounging by the pool, or simply getting extra sleep, it's a time to rejuvenate before the arrival of your baby.
Celebrating the Transition
A babymoon is a beautiful way to celebrate the transition into parenthood. It marks this special period in your life and allows you to honour the journey you're embarking on.
Creating Lasting Memories
Finally, a babymoon is an opportunity to create lasting memories as a couple before your family grows. These are moments you'll look back on fondly as you navigate the rewarding journey of parenthood.
So, while a babymoon is by no means a necessity, its benefits are undoubtedly appealing. It's an experience that can contribute to your overall well-being during pregnancy and prepare you for the exciting journey ahead.
---
Free baby stuff for you to claim for your baby! Sign up to get the PDF with all the links.
---
Top Babymoon Destinations in the U.S
Ready to start planning your dream babymoon? The U.S. is teeming with wonderful destinations that offer a mix of relaxation, adventure, and memorable experiences for expecting parents. Here are some of our top picks: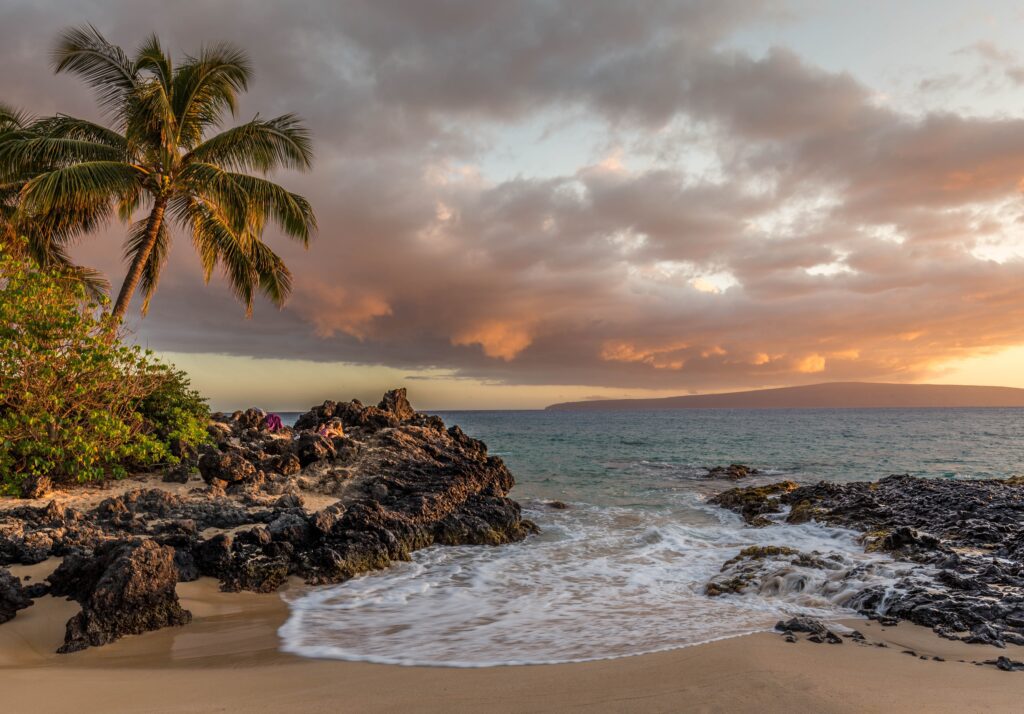 1. Tranquil Beach Retreats: Maui, Hawaii
Imagine lounging on pristine beaches, savouring the balmy tropical breeze, and treating yourself to a prenatal massage at a world-class spa. That's Maui for you – a paradise for babymooners looking for relaxation and romance. Enjoy the island's serene beauty, indulge in delectable local cuisine, and don't forget to capture a few maternity photos with Maui's stunning sunsets as your backdrop!
2. Luxurious Spa Experience: Sedona, Arizona
Nestled among striking red rock monoliths, Sedona offers a unique blend of outdoor beauty and luxurious comfort. The city is known for its rejuvenating spas, making it an ideal destination for expecting parents looking for a pampering retreat. Take a leisurely stroll through the scenic trails or enjoy a gentle yoga session amidst Sedona's tranquil beauty.
3. Breathtaking Outdoor Adventure: Asheville, North Carolina
If you and your partner love exploring the great outdoors, Asheville is a perfect choice. With its charming downtown, scenic Blue Ridge Parkway, and a plethora of cozy accommodations, Asheville offers a delightful mix of adventure and relaxation. Savour the culinary delights, visit local art studios, or simply enjoy the tranquillity of your surroundings.
4. Sophisticated City Escape: San Francisco, California
Experience the diverse culture, breathtaking views, and exceptional cuisine that San Francisco has to offer. Enjoy a leisurely stroll across the iconic Golden Gate Bridge, picnic in the beautiful Golden Gate Park, or indulge in world-class dining options throughout the city. With its moderate weather, stunning landscapes, and numerous attractions, San Francisco offers a balanced blend of relaxation and exploration for your babymoon. Don't miss a scenic drive down the famous Lombard Street or a visit to the historic Ferry Building for a taste of local delicacies.
As you can see, there's no shortage of amazing babymoon destinations right here in North America. Remember, the most important thing is to choose a location that suits your style and allows you to relax and connect with your partner before your new bundle of joy arrives.
Charming Babymoon Destinations in Canada
If the majestic beauty of Canada is calling your name, you're in luck. Canada is home to some of the most breathtaking landscapes and unique cities in the world, making it a wonderful choice for a babymoon. Let's explore some of the top picks: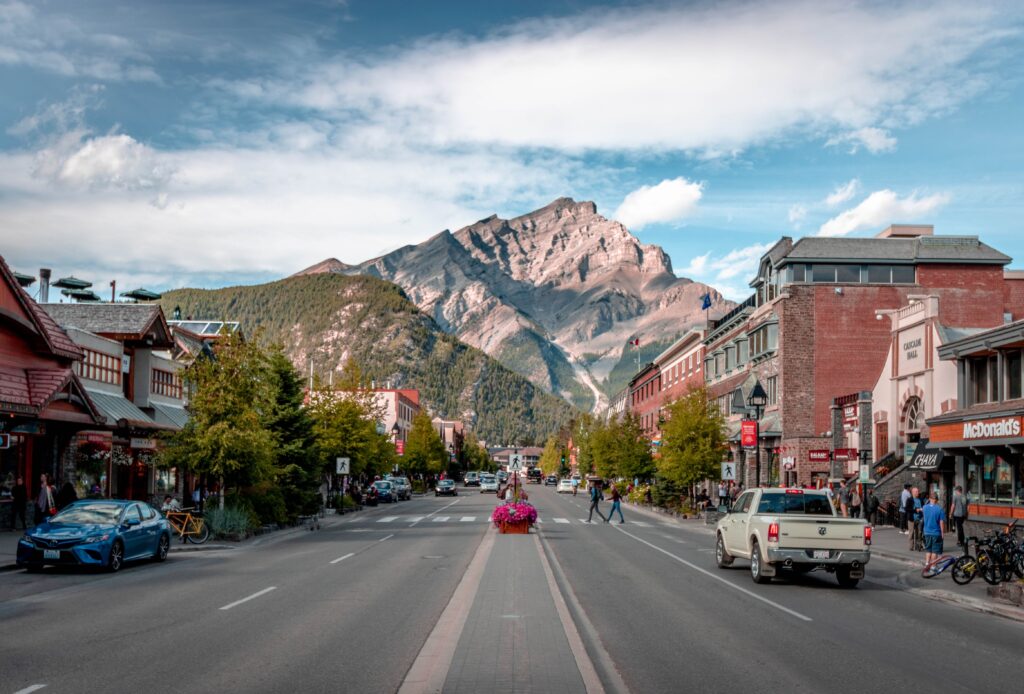 1. Majestic Mountain Getaway: Banff, Alberta
Banff is a jewel nestled in the heart of the Canadian Rockies. Offering spectacular mountain views, pristine lakes, and a cozy, small-town charm, Banff is an ideal babymoon destination for nature-loving couples. Luxuriate in one of the many spa resorts, indulge in delicious cuisine, or take a scenic drive through the awe-inspiring landscapes.
2. Coastal Charm: Vancouver, British Columbia
If you're looking for a blend of city life and natural beauty, Vancouver has it all. Stroll through Stanley Park, take a leisurely walk along the seawall, or explore the city's diverse culinary scene. Vancouver's laid-back lifestyle makes it a perfect place for rest and relaxation before your baby arrives.
3. Immersive Cultural Experience: Quebec City, Quebec
Step into a European fairy-tale in the heart of Canada. Quebec City, with its cobblestone streets, historic architecture, and French-speaking locals, offers a unique cultural experience. Enjoy the city's gastronomic delights, visit the iconic Château Frontenac, or simply soak in the romantic atmosphere of this charming city.
4. Stunning Maritime Retreat: Prince Edward Island
For an enchanting babymoon filled with maritime charm, consider Prince Edward Island. Famous for its stunning beaches, rolling green hills, and the iconic Anne of Green Gables, PEI offers a tranquil escape from the hustle and bustle. Savour fresh seafood, stroll through the quaint towns or simply relax on the beautiful beaches. With its slower pace of life, PEI is the perfect place to unwind and connect with your partner before your baby arrives.
Choosing a babymoon destination is all about finding a place that allows you to relax, connect with your partner, and celebrate this special time in your life. Whether you're drawn to the mountain vistas of Banff, the vibrant energy of Vancouver, or the old-world charm of Quebec City, Canada has plenty to offer.
Best International Babymoon Destinations
If you have your sights set on an international getaway before your baby arrives, the world is your oyster. From idyllic beach paradises to historic cities brimming with romance, there are plenty of destinations that are perfect for a babymoon. Let's embark on a journey to discover some of the best international babymoon spots.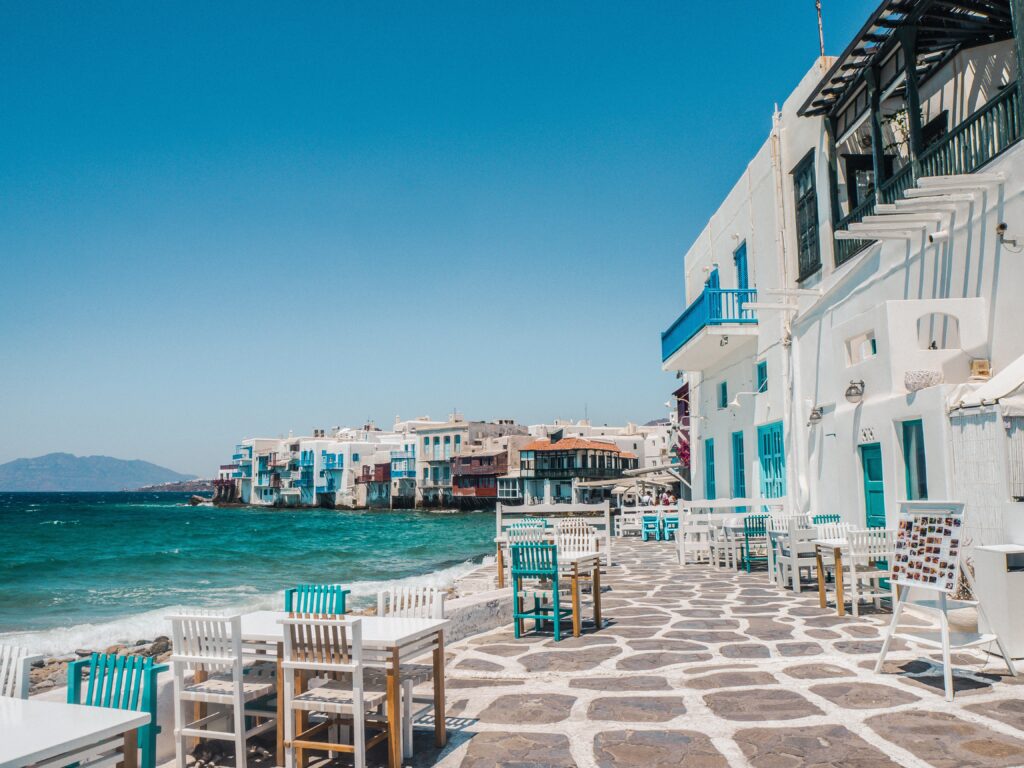 1. Relaxing Mediterranean Paradise: Santorini, Greece
With its iconic blue-domed churches, breathtaking sunsets, and crystal-clear waters, Santorini is a dream destination for many. It's also an idyllic spot for a babymoon. Enjoy a leisurely day on the beach, take a romantic walk in the charming village of Oia, and savour the mouthwatering Greek cuisine. The laid-back Mediterranean lifestyle is perfect for some pre-baby relaxation. You may even choose to stay at one of Greece's all-inclusive resorts for your babymoon.
2. Historic and Romantic Getaway: Paris, France
Known as the city of love, Paris offers an enchanting backdrop for your babymoon. Stroll hand in hand along the Seine, indulge in a heavenly croissant at a quaint café, or simply marvel at the city's timeless beauty from the top of the Eiffel Tower. With its world-class museums, romantic ambience, and delectable food, Paris is a babymoon destination par excellence.
3. Tropical Bliss: Bali, Indonesia
If you're dreaming of a tropical paradise for your babymoon, look no further than Bali. Known for its lush landscapes, serene beaches, and luxurious resorts, Bali is a haven for expecting parents looking for a relaxing retreat. Treat yourself to a prenatal massage at one of the many spas, indulge in the local cuisine, or enjoy a beautiful sunset on the beach.
4. Cultural and Beach Bliss: Barcelona, Spain
Barcelona offers a unique blend of cultural experiences and beach relaxation, making it an ideal international babymoon destination. Explore the vibrant city, filled with stunning architecture like the iconic Sagrada Familia and Park Güell. Indulge in Spanish cuisine, take a leisurely walk along the beach, or simply soak in the lively atmosphere of this beautiful city. With its warm weather and rich culture, Barcelona is a destination that will leave you with unforgettable babymoon memories.
When planning your international babymoon, remember to consider factors like travel time, medical facilities, and any travel advisories. Each of these destinations offers a unique blend of relaxation, culture, and memorable experiences, making them perfect for a pre-baby getaway.
Babymoon Activities: Making the Most of Your Getaway
No matter where you choose to have your babymoon, there are a plethora of activities you can indulge in to make your trip memorable. Here are some ideas to inspire you!
Relaxation Activities: Spa Treatments, Yoga Classes
A babymoon is all about relaxation, and what better way to unwind than with a soothing prenatal massage or spa treatment? Many resorts and destinations offer spa services specially designed for expecting mothers. Additionally, consider joining a gentle yoga class. Many locations offer prenatal yoga, which is a wonderful way to relax and stay active during your babymoon.
Adventurous Activities: Sightseeing, Light Hiking
If you're an adventurous couple, consider adding some light sightseeing or hiking to your itinerary. Exploring your destination on foot can be a wonderful way to connect with the local culture and natural beauty. Remember to consult with your healthcare provider to ensure any physical activities are safe for you and your baby.
Food and Culture: Local Cuisine Sampling, Museum Visits
One of the joys of travelling is experiencing new cuisines and cultures. Make sure to sample the local fare, whether that's fresh seafood in Hawaii, poutine in Quebec, or a croissant in Paris. Additionally, visiting local museums, art galleries, or historical sites can provide a fascinating glimpse into the culture of your chosen destination.
Rest and Unwind
Perhaps one of the most important activities on your babymoon is simply to rest. Take time to lounge by the pool, read a good book, or take peaceful walks together. This is a time to relax, recharge, and relish in anticipation of your new arrival.
Remember, a babymoon isn't about ticking off a list of attractions or activities. It's about spending quality time with your partner, celebrating your journey into parenthood, and enjoying some well-deserved relaxation. So whatever activities you choose, ensure they're ones you'll enjoy and remember fondly as you look back on your special babymoon getaway.
Wrapping Up The Babymoon Guide
A babymoon is a beautiful celebration of the journey you and your partner are embarking on as future parents. It's a time to create memories, enjoy relaxation, and anticipate the exciting changes ahead. Whether you choose to unwind on the serene beaches of Maui, immerse yourself in the cultural charm of Quebec City, experience the romantic allure of Paris, or find tranquillity in the tropical paradise of Bali, the perfect babymoon destination awaits you.
Remember, the most important aspect of a babymoon is to enjoy this precious time with your partner. It's an opportunity to connect, relax, and prepare for the wonderful adventure of parenthood that lies ahead. So, pack your bags, put your feet up, and embark on the journey of a lifetime. Your dream babymoon is waiting for you!
Happy travels and best wishes on this incredible journey into parenthood!