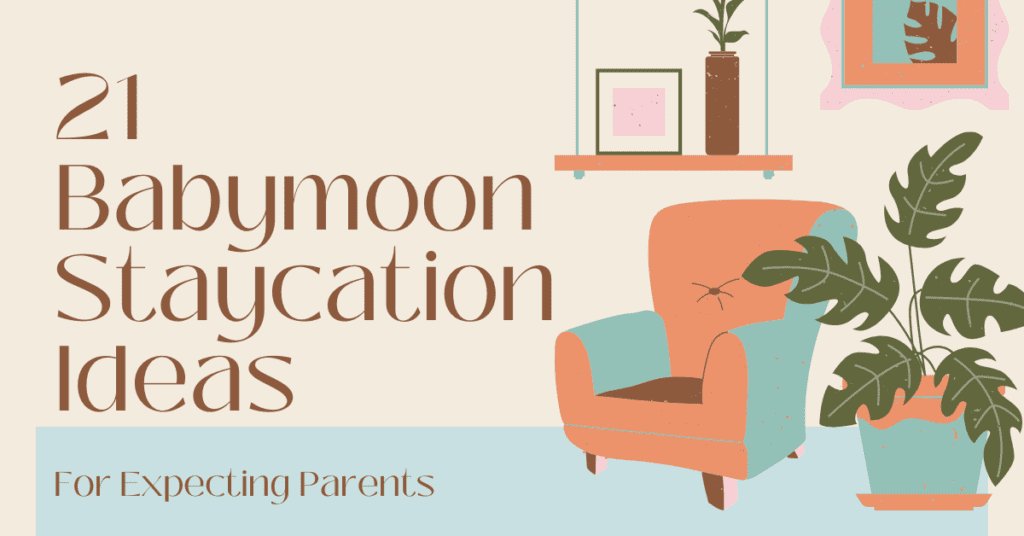 The birth of a baby is a momentous occasion that heralds a new phase of life for parents. In anticipation of this transformative event, many couples are choosing to embark on a babymoon. A babymoon is a period of time spent together by expectant parents, away from the usual routine and pressures of everyday life, in preparation for the arrival of their child. It is an opportunity for parents-to-be to strengthen their bond, relax, and focus on each other before their new bundle of joy arrives.
But a babymoon does not always mean jetting off to an exotic location or spending a fortune on a luxury resort. A "staycation," where you spend your vacation at home or nearby, can be just as enriching, less stressful, and more budget-friendly. Staycations are gaining popularity among soon-to-be-parents, offering them the comfort of home and the flexibility to personalize their experience based on their preferences and needs.
This article will present 21 imaginative babymoon staycation ideas for expecting parents. These ideas are designed to help couples celebrate their upcoming parenthood, enjoy quality time together, and create beautiful memories, all from the comfort and safety of home or their local surroundings. Each idea will focus on relaxation, fun, connection, and celebration of the upcoming addition to your family. So, let's dive into a world of potential stay-at-home adventures, perfect for your babymoon!
Understanding Babymoon Staycations
The concept of a staycation, as the name suggests, is a vacation that is spent staying at home or in your local area rather than travelling far away. While it may seem a simple idea, the art of the staycation lies in transforming the familiar into something extraordinary, turning your home or hometown into a relaxing haven or a place of discovery and adventure.
Why choose a Staycation Babymoon
There are a multitude of reasons why an expecting couple may choose a babymoon staycation over a traditional vacation:
Comfort and Familiarity: At a time when physical comfort is crucial, familiar surroundings can provide a level of ease that even the most luxurious hotel might not match. Your home is set up to your preferences, and there are no unexpected surprises that might disrupt your comfort.
Flexibility: A staycation gives you the freedom to create your own schedule, change plans without the hassle of cancellations, and tailor activities to your energy levels and mood.
Budget-Friendly: A staycation can be significantly less expensive than a traditional vacation as it eliminates costs associated with travel, accommodation, and dining out.
Health and Safety: Especially during times when travel advisories or health conditions may restrict long-distance travel, a staycation ensures you're close to your trusted healthcare provider.
Advantages of a Babymoon Staycation
The advantages of a babymoon staycation go beyond practicality:
Reduced Stress: Without the stress of travel and navigating unfamiliar locations, couples can focus on relaxation and connection.
Personalization: Staycations allow you to personalize every aspect of your break, from the food you eat to the activities you partake in.
Unique Experiences: By exploring local attractions or trying out new activities at home, you can discover and appreciate hidden gems right under your nose.
Bonding Time: The slower pace of a staycation provides an abundance of opportunities for quality time and meaningful conversations, strengthening your relationship before the arrival of the baby.
In the next section, we will delve into a variety of creative and enjoyable babymoon staycation ideas that leverage these benefits to help you plan the perfect pre-baby break.
Planning your Babymoon Staycation
A babymoon staycation, despite being at home or nearby, requires thoughtful planning to ensure a fun, relaxing, and memorable experience. Here's a roadmap to help you plan:
Key considerations in planning
Interests and Preferences: Begin by discussing with your partner what kind of activities you both enjoy. Are you fans of arts and crafts, movie buffs, food lovers, or fitness enthusiasts? Identify activities that align with your shared interests.
Relaxation and Comfort: Pregnancy can be taxing on the body, so prioritize fun activities that promote relaxation and comfort. Plan for plenty of rest time between activities.
Budget: Determine your budget. Although staycations can be more cost-effective than traditional vacations, it's important to set a budget for activities, food, or any special purchases like books, games, or spa supplies.
Ideal timing for a babymoon
The second trimester is often considered the best time for a babymoon. Morning sickness typically lessens during this period, energy levels are higher, and the baby bump is more manageable. However, each pregnancy is unique, so choose a time that feels best for you.
Safety considerations
While planning your activities, keep in mind safety precautions. Avoid strenuous activities that could cause discomfort or pose a risk. When planning outings, consider proximity to healthcare facilities, crowd levels, and weather conditions. Remember to stay hydrated and carry any necessary medications or health supplies.
With these considerations in mind, you are now ready to explore our carefully curated list of 21 babymoon staycation ideas that offer a perfect blend of relaxation, enjoyment, and celebration of your impending parenthood.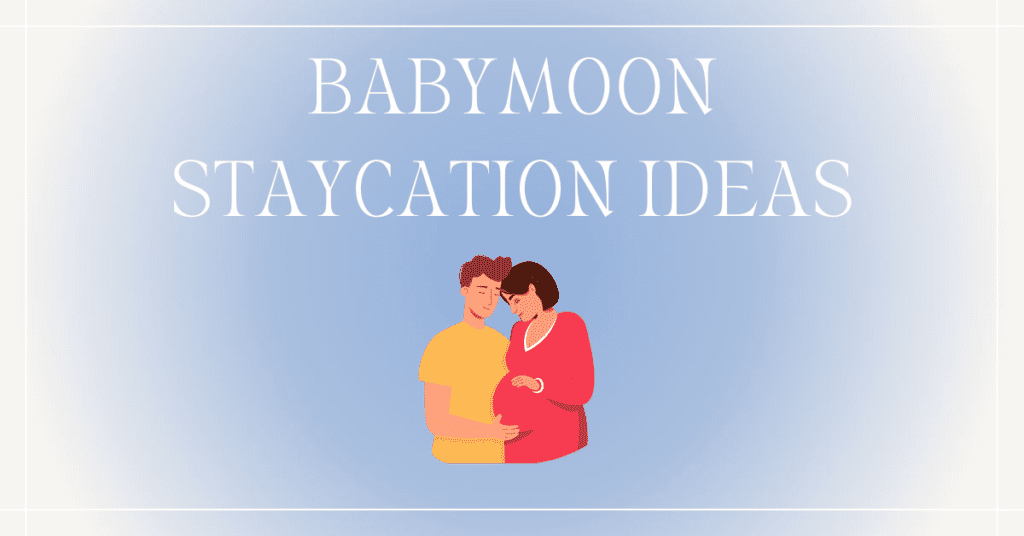 Babymoon Staycation Ideas
A staycation is all about finding joy in the familiar and creating meaningful memories. Here are 21 babymoon staycation ideas for you to choose from, each promising a unique experience.
1. Home Spa Weekend
Relax and rejuvenate with a home spa weekend. Create a serene ambience with scented candles, plush towels, and calming music. You could indulge in pregnancy-safe spa treatments like foot soaks, facials, or massages.
2. Romantic Home Dinner
Transform your dining area into a romantic restaurant for a night. Cook your favourite meal together or order from your preferred restaurant. Add soft lighting, elegant table decor, and a playlist of your favourite tunes to enhance the mood.
3. Movie Marathon
Create your own home cinema with a selection of your favourite movies or series. Don't forget the popcorn, cozy blankets, and comfy cushions for a perfect movie night in.
4. Online Cooking Class
Join an online cooking class and discover new recipes together. This can be a fun and interactive experience, and the best part is enjoying your culinary creations afterwards.
5. Backyard Camping
Turn your backyard into a camping site for a night. Set up a tent, light a fire pit for roasting marshmallows, and gaze at the stars together. It's a perfect getaway without leaving home.
6. Local Tourist Day
Spend a day exploring your local area. Visit parks, museums, or historical sites you've never been to before. Pack a picnic lunch to enjoy in a scenic spot.
7. Creative Photoshoot
Set up a DIY photoshoot at home or a nearby location. Capture your baby bump and this special time in creative ways. You could consider themed shoots or candid photos, whichever suits your style.
8. Virtual Museum Tours
Travel the world from your living room with virtual tours of museums or art galleries. Explore the Louvre in Paris, the Metropolitan Museum of Art in New York, or any other museum that catches your fancy.
9. DIY Projects for the Baby Room
Spend time together preparing the baby's room. Paint, decorate, or assemble furniture. This is not just a task but an opportunity to bond over your excitement and expectations for the baby.
10. Pregnancy Yoga at Home
Stay active and relaxed with home yoga sessions. Look for online classes or videos specifically designed for pregnancy. Remember to listen to your body and modify poses as needed.
11. Board Game Night
Reignite your competitive spirit with a board game night. Choose games that you both enjoy, and maybe add a fun wager to raise the stakes.
12. Virtual Book Club
Start a virtual book club with your partner. Choose a book, read it separately, and set aside time to discuss it. This can stimulate engaging and deep conversations.
13. Pool Day at Home
If you have a pool, dedicate a day to relaxing by it. Float, swim or just dip your feet in the water. Always ensure safety precautions are in place.
14. Gardening Day
Spend a day outdoors gardening. Plant flowers and vegetables, or start a herb garden. It's a therapeutic activity, and you'll see the fruits of your labour in time.
15. Mocktail Tasting Night
Who says you need alcohol for a fun tasting event? Experiment with different mocktail recipes to find your favourite. Pair them with delicious appetizers for a complete experience.
16. Home Dance Party
Turn your living room into a dance floor. Create a playlist of your favourite songs and let loose. It's a fun way to stay active and uplift your spirits.
17. Cooking a New Cuisine
Challenge yourselves to cook a meal from a new cuisine. It's a culinary adventure that will tantalize your taste buds with new flavours.
18. Picnic in the Park
Pack a basket with your favourite foods and head to your local park for a picnic. Enjoy the outdoors, relax, and connect.
19. Painting Night
Unleash your inner artists with a painting night. Choose a theme and see each other's interpretations come to life on canvas.
20. Online Parenting Classes
Prepare for parenthood by taking online parenting classes together. It's educational and helps build confidence as you navigate this new chapter of your life.
21. Home Fitness Challenge
Create a fitness challenge tailored to your abilities. It could be a daily walk, prenatal workout, or a dance routine. It's a fun way to stay healthy and energized.
With these ideas at your disposal, you can craft the babymoon staycation that suits you best, filling your days with enjoyment, relaxation, and precious memories.
What's Your Favourite Babymoon Staycation Idea?
A babymoon is a wonderful tradition that allows expecting parents to pause, connect, and celebrate the life-changing journey they are about to embark upon. Opting for a staycation can provide the same benefits as a traditional vacation, if not more, considering the comfort, familiarity, and flexibility it offers.
These 21 babymoon staycation ideas are designed to inspire and guide you in creating an experience that resonates with you and your partner's interests, lifestyle, and dreams for your growing family. Each idea encourages a balance of relaxation, fun, creativity, and preparation for the arrival of your baby.
Remember, the most significant aspect of a babymoon is not the activities you undertake, but the quality time spent with your partner, strengthening your bond and making special memories before your baby's arrival. So, take this opportunity to unwind, enjoy each other's company, and celebrate the future.
In the end, whether you choose to indulge in a home spa weekend, take a virtual tour of a museum, or delve into a DIY project for your baby's room, your babymoon staycation is bound to be a unique and memorable experience. Enjoy this special time and treasure each moment.