Congratulations! You're expecting a baby and now is the time to relax, unwind, and spend some quality time with your significant other before the big day arrives in the Great White North. So where is the best place to babymoon in Canada? Let's read on to find out.
Canada is a country with an abundance of natural beauty, diverse culture, and a range of babymoon destinations that are perfect for couples looking for some relaxation and rejuvenation. In this blog post, we'll take a look at the 11 best places to go for a babymoon in Canada.
Once you have your baby – be check out our best family vacation destinations in Canada.
Whistler, British Columbia
Whistler is a popular ski resort town that's located in the mountains of British Columbia. It's a perfect place for couples to enjoy a babymoon in Canada.
Whistler is one of my favourite places to go for any occasion. In the summer, Whistler is a beautiful mountain village with restaurants throughout and spas to relax in. There are endless trails and paved pathways and you can take a trip across the peak-to-peak gondola which takes you been the Whistler and Blackcomb mountain peaks with a stunning view.
The actual ski resort is one of the best in the world. Home to the 2010 Olympics, it features world-class skiing – not that you'll be doing much of that on your babymoon. That said the mountain transforms into a stunningly beautiful mountain village in the winter. The main village walkway makes for a great stroll with a coffee before a romantic dinner with one of the best views money can buy.
Private Hot Tub
Amazing View
Great location next to Whistler Village
Gas Fireplace
Heated year-round outdoor pool
---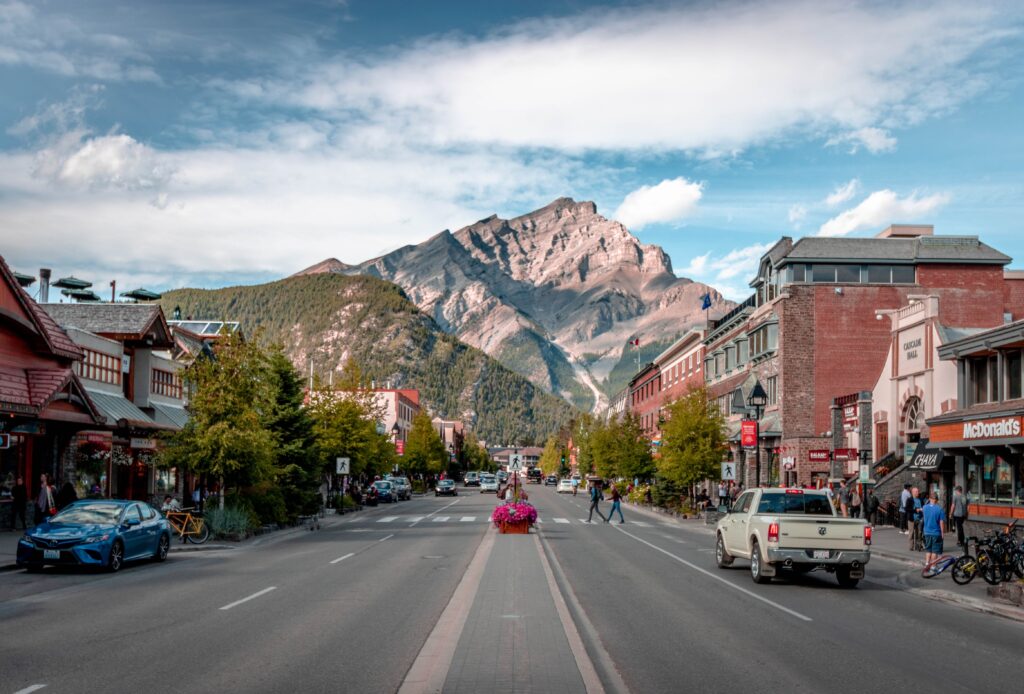 Banff, Alberta
Banff is another popular mountain town that's located in the heart of the Canadian Rockies on the border of BC and Alberta. Banff and the surrounding areas have some of the most iconic photographs in Canada. For a scenic Canadian babymoon, Banff is hard to beat.
Banff is highlighted by its beautiful mountain village and gorgeous scenery. There are of course luxury spa treatments to indulge yourself in as well which really is a must for any babymoon.
A trip up the Banff gondola is an absolute must if you're choosing to babymoon here. The views from the top are unbelievable in any season and there aren't many better ways to take in the Canadian Rockies.
Chelsea and I ate at the Grizzly House on our last trip there. I highly recommend you make reservations – it's always busy. It's a unique fondue restaurant and the food was absolutely amazing there.
There are some day trips you should absolutely take from Banff while you're there to explore more of the Rockies.
Lake Louise is a 40-minute trip west of Banff and is a short walk from the parking lot making it a great scenic trip to take without being difficult while pregnant.
20 minutes past Lake Louise down a winding road is Moraine Lake which again is a short walk from the parking lot making it easy scenery for those carrying another one with them.
3 and a half hours north of Banff through the most beautiful drive on Earth is Jasper. Jasper is another beautiful mountain town at the north end of the Icefields Parkway highway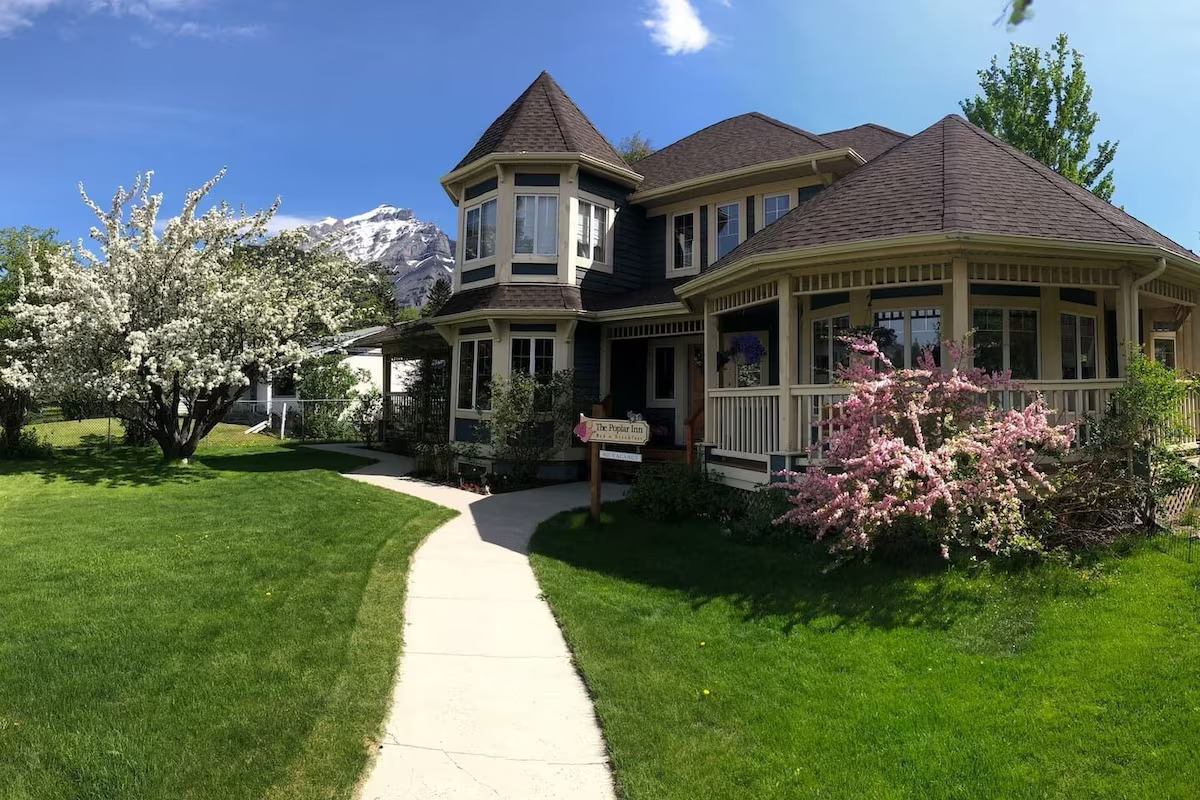 Hot Tub
Full breakfast served
Great location in downtown Banff
King size bed
---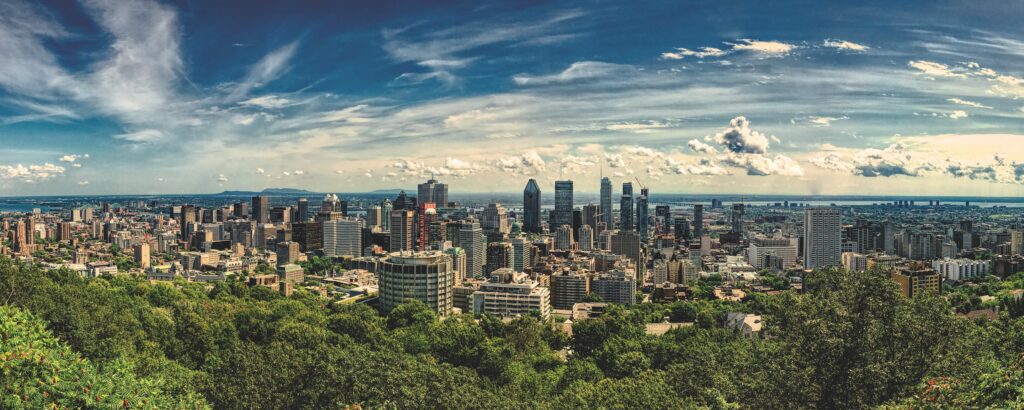 Montreal, Quebec
Montreal is a city that's perfect for babymooning couples who want to explore a city rich in history with world-class food and amazing culture.
First up on your babymoon, you'll have to try the 60-metre high Ferris wheel – Canada's largest. Thankfully the gondolas are fully enclosed and climate controlled so even if you're in the summer heat soon-to-be moms will be comfortable and cozy.
Next, you'll need to check out Old Montreal. A place unlike few others in Canada with its cobblestone streets, street performers, and the Notre Dame Basilica.
You can then rent a bike and take a leisurely stroll along the Lachine Canal which has a 14 km paved trail alongside it. You can even rent a tandem bike and make your partner do the work while you relax and take in the sights.
It's hard to find much in the way of bad food in Montreal, but you'll be spoiled for choices for a romantic dinner out. Choose between Au Pied de Cochon, L'Express, or Joe Beef and have the meal of your life. All are extremely popular though – reservations are highly recommended.
Downtown locaton, just a block from Ste-Catherine Street

Deep soaker bathtub

Air-conditioned
Great average per night price
Prince Edward Island
The beautiful east coast island province is an amazing babymoon spot. It's perfect for couples looking for a relaxing babymoon in Canada where days can be spent on the beach with and little hustle and bustle of crowds.
If you're up for it, cycling, kayaking, and hiking can all be done in beautiful scenery on PEI. But if you'd rather sit back and relax you can take in the scenic sights of lighthouses and charming villages and then dine on fresh seafood.
A travel tip for getting to Prince Edward Island if you aren't already there – flights to Moncton, New Brunswick can be cheaper than flights directly into Charlottetown, PEI. If you're planning on renting a car anyway, this could be a cost-saving option and you get a 2-hour scenic drive over the Confederation Bridge. Do keep in mind though, there is a $50 toll for the bridge in a regular car.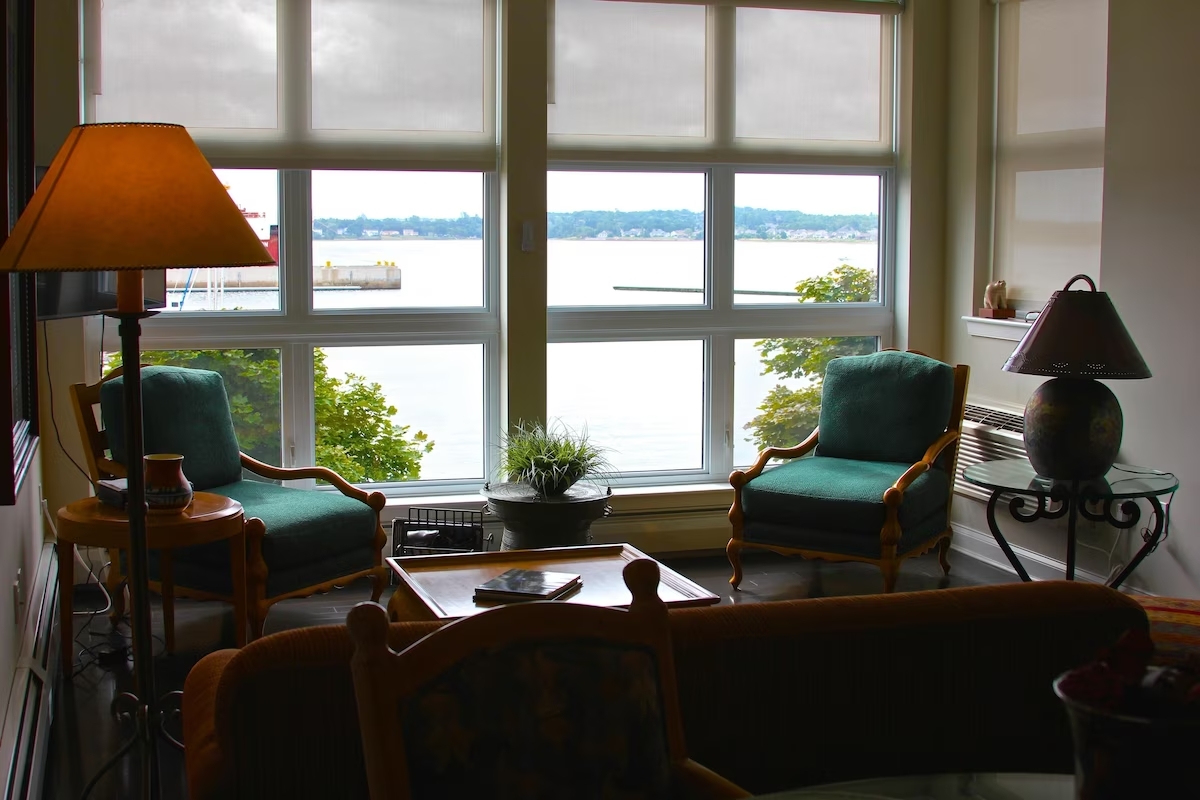 Beautiful view overlooking the water

Large 1,300 Sq Ft Condo

Short walk to historic Charlottetown Waterfront
Amazing shower!
---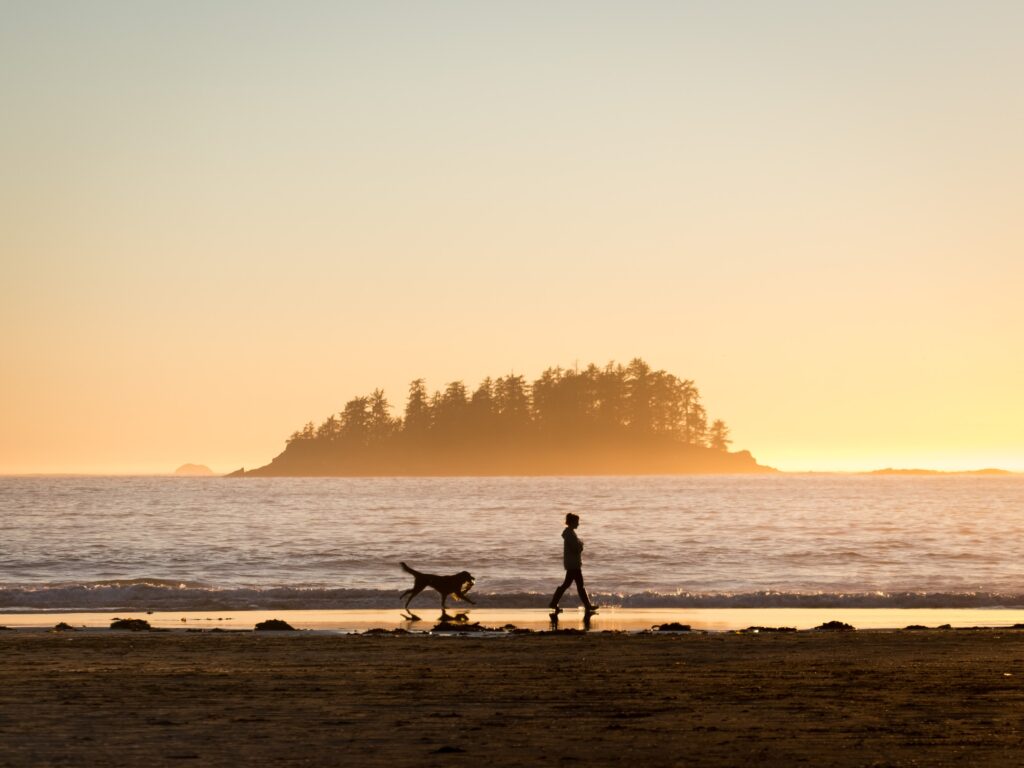 Tofino, British Columbia
If you're looking for a laid-back Canadian babymoon then another option on the opposite coast is Tofino. A 4.5-hour drive northwest of Victoria or a 5.5-hour drive and ferry from Vancouver, Tofino is one of the westernmost towns on Vancouver Island.
You'll be surrounded by nature here. Tofino is known for its beaches, art galleries, surfing, and seafood. Its remote location makes it all the more special. It's literally the end of the highway here and when you're here you feel as though you've discovered some new place.
The beaches here are truly spectacular. Endlessly sandy and without the crowds of a beach you'd see in a larger city. You can take some long leisurely walks along the beaches and take in the amazing ocean scenery.
You'll also be spoilt by fantastic art galleries in Tofino. The highlight is the Roy Henry Vickers Gallery where the gallery building itself is a sight to behold. Inside are original works and carvings by Roy – the internationally accomplished artist.
Stunning views overlooking the water

Fantastic patio overlooking the water

Close to beaches

Pool table, hot tub, and sauna
---
Free baby stuff for you to claim for your baby! Sign up to get the PDF with all the links.
---
Niagara-on-the-Lake, Ontario
A babymoon in Niagara-on-the-Lake, Ontario, is an idyllic retreat for parents-to-be seeking tranquility before welcoming their new addition. This picturesque town, nestled in Ontario's renowned wine country, boasts a charming blend of historical allure, natural beauty, and modern luxury.
Accommodation ranges from opulent hotels such as the Prince of Wales Hotel, known for its Victorian-era charm, to quaint cottages and bungalows.
As a culinary haven, Niagara-on-the-Lake tempts with delectable farm-to-table dishes at establishments like Treadwell Cuisine, while the traditional high tea at the Prince of Wales Hotel is a delightful indulgence.
Beyond gastronomic pleasures, the town offers attractions such as the Botanical Gardens and the Shaw Festival Theatre, as well as romantic horse-drawn carriage rides through the old town. While wine tours remain a popular choice, expectant mothers can still enjoy the scenic vineyards and food pairings at these world-class wineries.
Relaxation is paramount, with professional spas such as the 100 Fountain Spa at Pillar and Post offering prenatal massages, and serene lake views providing peaceful spots to unwind and cherish the impending journey of parenthood. Niagara-on-the-Lake, with its serene setting, gourmet cuisine, and cultural attractions, serves as the perfect locale for a memorable babymoon getaway.
Of course, a trip to the Niagra area isn't complete without a trip to see the magnificent Niagra Falls either.
Enjoy with friends and family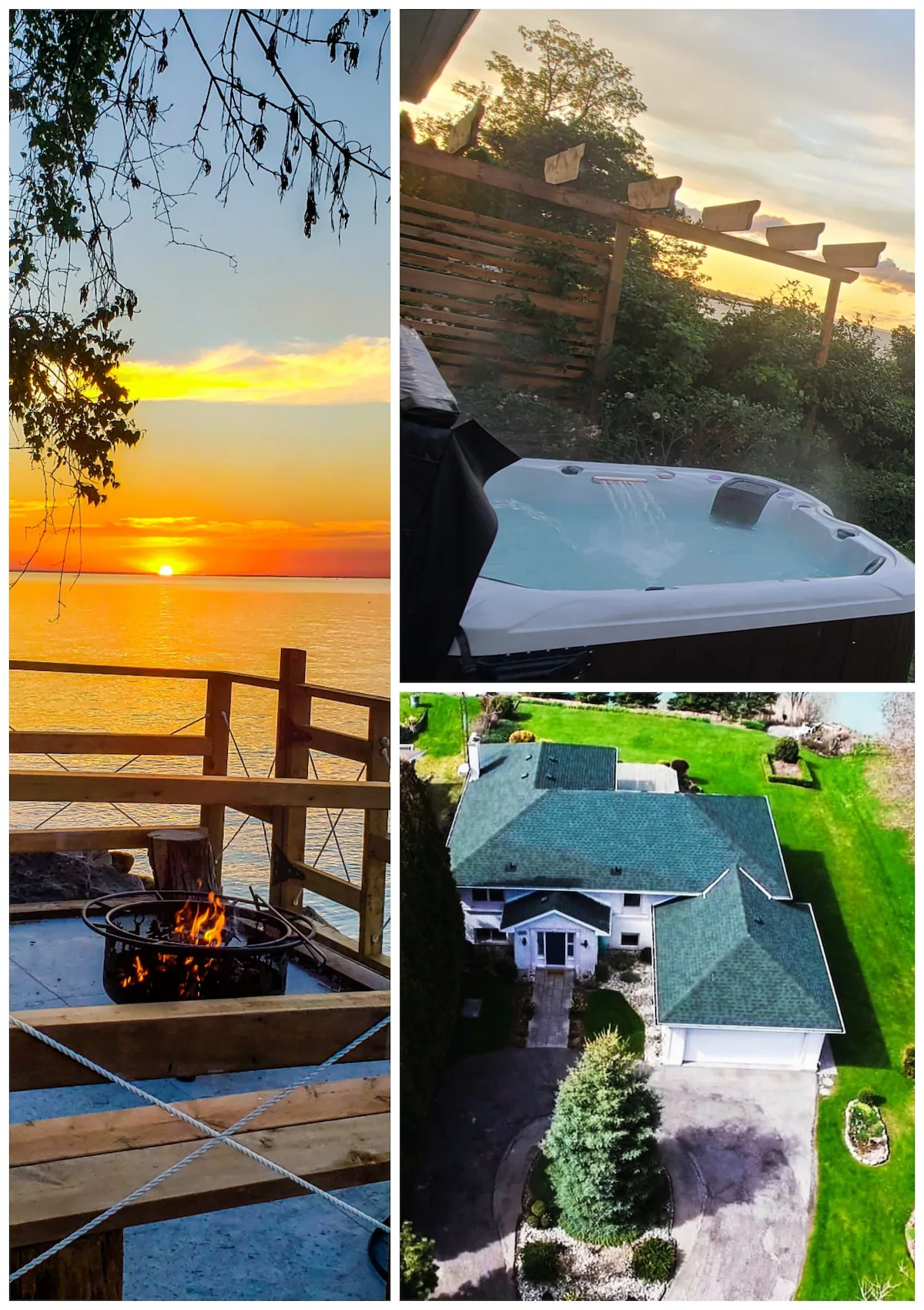 Plenty of room to bring friends and family

Amazing decks with views of the lake

Hot tub

Games room with ping pong and air hockey
Kayaks
Lake access for swims
Wineries nearby
---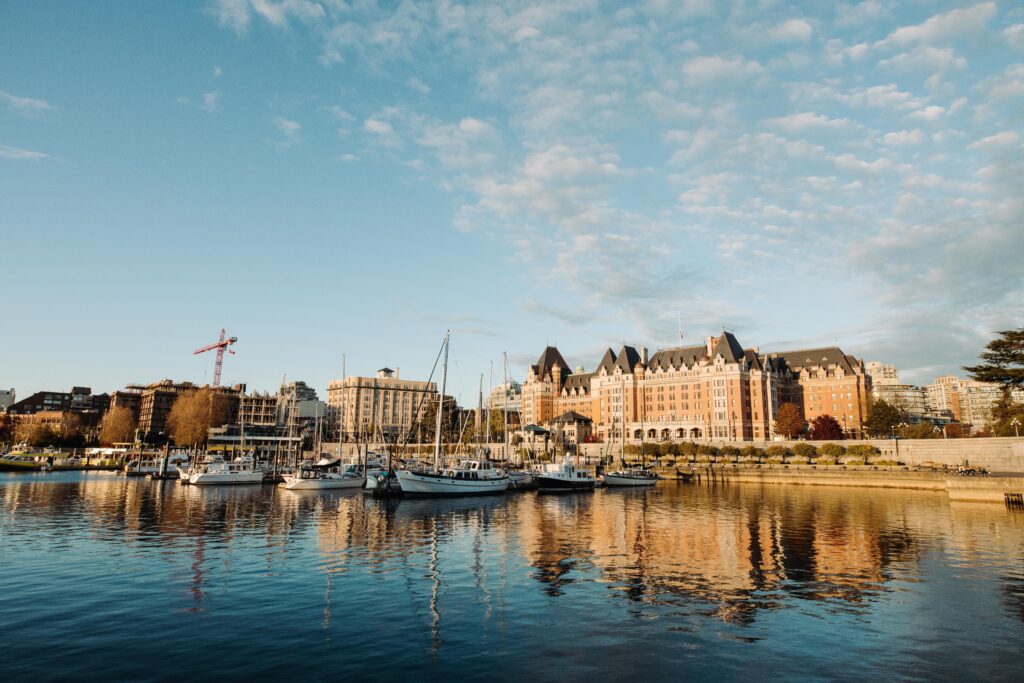 Victoria, British Columbia
Victoria is a beautiful city located on the southern tip of Vancouver Island. It's a perfect place for couples who want to enjoy a babymoon surrounded by beautiful gardens, charming architecture, and a range of outdoor activities.
Victoria is home to the awe-inspiring Butchart Gardens which are a nice easy walk – great for pregnancy. Victoria also features a beautiful inner city harbour which is bordered by the Fairmont Empress and BC Legislature Building and is great for some urban exploring.
If you're up for a bit of adventure on your babymoon, there are several whale-watching options that operate out of Victoria. There are options for larger stable boats which are going to be far more comfortable for a mother-to-be than a zodiac.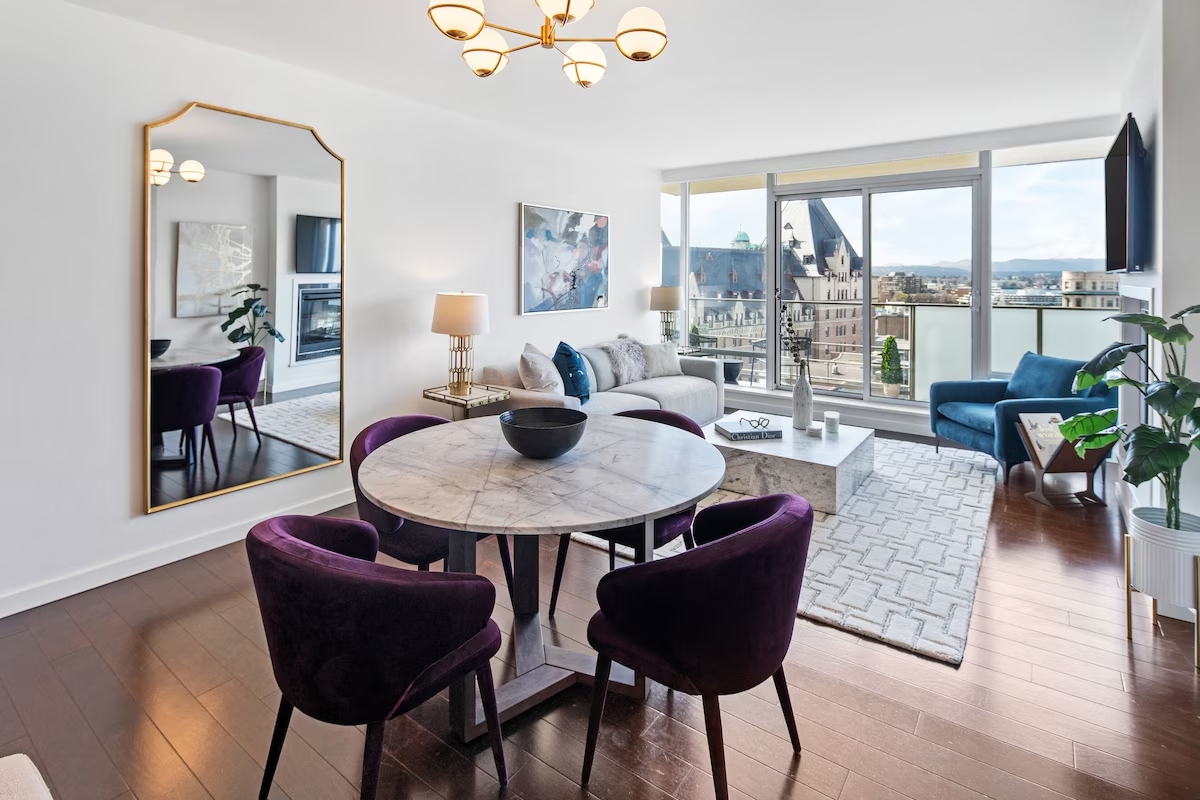 Great views of the Empress Hotel

Pool and hot tub access

Great downtown location close to everything

Beautifully decorated and furnished
---
Jasper, Alberta
Jasper is a beautiful mountain town located in the Canadian Rockies. It's a perfect place for couples who want to enjoy a babymoon surrounded by stunning mountain scenery. You can explore the town's many hiking trails, take a scenic drive through the mountains, and indulge in some luxurious spa treatments.
Jasper is Banff's northern cousin. Jasper is smaller than Banff and further from Calgary and Vancouver so it's far less touristy too. If you're looking for a relaxing Rocky Mountain getaway with more relaxation and sights and a less touristy feel then Jasper is the choice for you.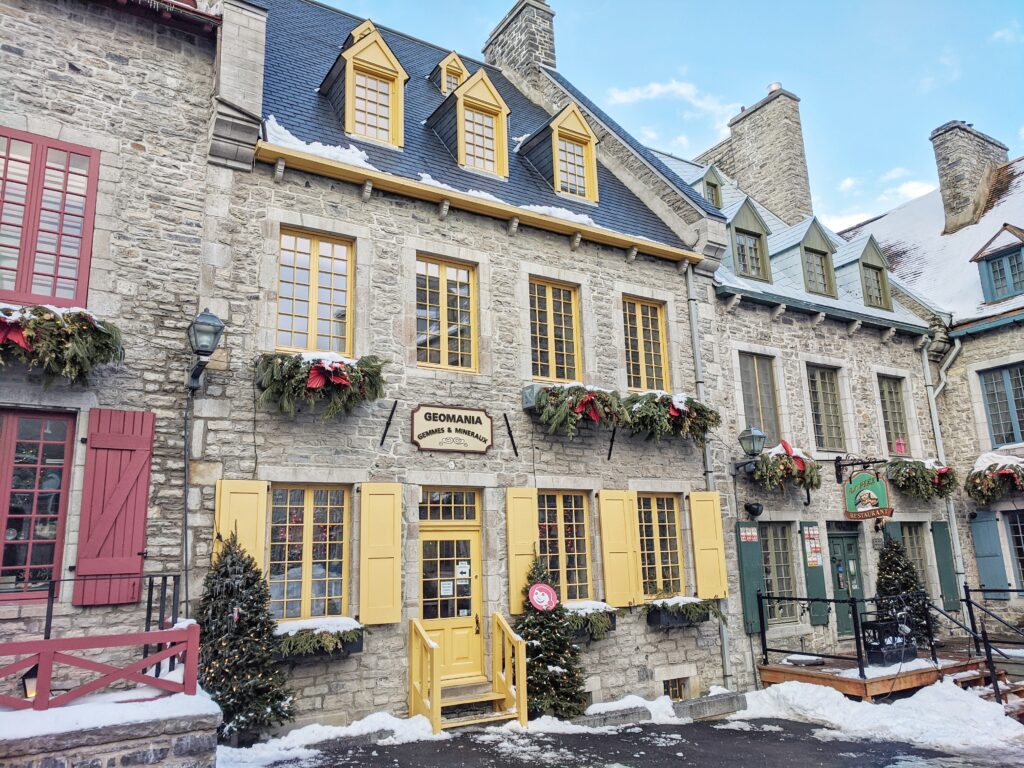 Quebec City, Quebec
Quebec City is a charming city with a rich history and culture. It's a perfect place for couples who want to enjoy a babymoon surrounded by beautiful architecture, delicious food, and a range of cultural activities. You can explore the city's many museums, take a scenic walk along the Saint Lawrence River, and indulge in some authentic Quebecois cuisine.
Quebec City offers the best old-world charm that Canada has to offer. Quebec City has a distinctly different feel than anywhere else you could choose to babymoon in Canada.
Due to its location, Quebec City will naturally be compared with Montreal. While Montreal boasts the more well-known restaurants and sights, Quebec City offers a European city feel that makes for a lovely stroll with your partner while trying out delicious French Canadian food.
Fantastic deck

Jetted soaker tub

A 20-minute drive to Old Quebec City
---
Vancouver, British Columbia
Vancouver is not only a great babymoon destination – it's also home to your favourite bloggers and their amazing kids!
Vancouver has a little bit of everything.
If you're looking for a scenic babymoon, take the gondola up Grouse Mountain and make the drive up to Whistler for a day trip.
Looking for relaxing activities in the city? Check out any number of luxurious spas and go for a romantic stroll around Stanley Park and the seawall.
Looking for some adventure? Be sure to make a visit to the Capilano Suspension Bridge and head out to one of the Great Vancouver region's lakes for various difficulties of hiking trails around beautiful lakes in lush forests.
If you're coming without a vehicle, be sure to stay in the downtown core for the easiest access to things to do.
Fantastic private balcony – rare in Vancouver

Great location in a trendy neighbourhood

2 blocks off Granville Street

and a short walk to Robson for shopping
Close to BC Place and Rogers Arena to catch a hockey, football or soccer game – or a concert in town
---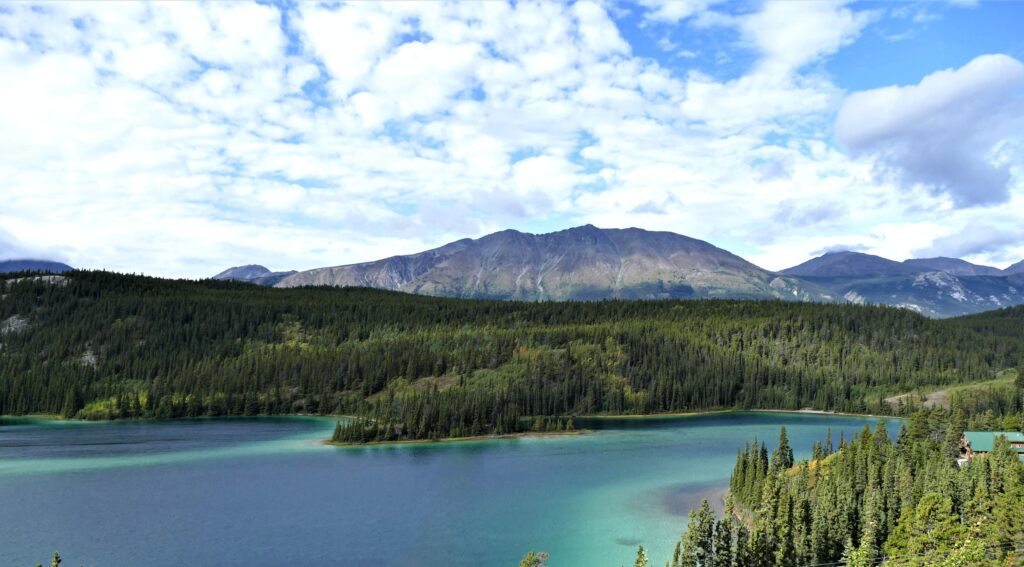 Whitehorse, Yukon
Whitehorse is a small town located in the Yukon territory, known for its beautiful natural scenery and outdoor activities. It's a perfect place for couples who want to enjoy a babymoon surrounded by rugged wilderness and northern lights. You can explore the town's many hiking trails, take a scenic drive through the mountains, and enjoy some of the best stargazing in the world.
Canada is a fantastic destination for a babymoon, with a range of beautiful locations that offer relaxation, adventure, and cultural experiences. Whether you're looking for a mountain retreat, a beach getaway, or a city break, Canada has it all. So pack your bags, grab your significant other, and get ready for an unforgettable babymoon in one of these beautiful Canadian destinations.