Mont Tremblant – renowned for its stunning ski slopes, year-round outdoor activities, and culinary scene that'll make you want to extend your vacation just to taste it all. This charming Quebecois town offers everything from exquisite fine dining to cozy family eateries. If you're coming here for the views, you'll be delighted that the dining experiences are just as breathtaking.
If you're looking for an unbeatable combination of mouth-watering cuisine and a romantic atmosphere, La Quintessence is where you need to be. Located on the edge of Lake Tremblant, this fine-dining restaurant offers incredible views and an array of French-Canadian dishes that are to die for. It's an ideal spot if you're celebrating a special occasion or just want to treat yourself to an extraordinary meal.
But wait, there's so much more! Whether you're looking for delivery options, a family-friendly spot, or trying to dine on a budget, I've got the perfect list of recommendations to satisfy all your culinary cravings while in Mont Tremblant.
Most Popular Restaurants in Mont Tremblant
Popularity can be a tricky thing to measure, especially when it comes to restaurants. Some places might be bustling due to their exceptional service and unique dishes, while others gain fame through word-of-mouth or killer social media presence. In Mont Tremblant, the popular spots often blend quality, ambiance, and a certain "je ne sais quoi" that keeps both locals and tourists coming back for more.
Cuisine Type: Savoyard
Location: 115 Chemin de Kandahar, Mont Tremblant, Quebec, J8E 1E2
Awarded with TripAdvisor's Travellers' Choice 2022 Award, La Savoie offers a traditional Alpine experience right in the heart of Quebec. The cozy interior filled with wooden accents and a warm ambiance makes it a must-visit spot for anyone looking to enjoy a raclette or fondue.
Cuisine Type: Italian
Location: 116 Kandahar Road, Mont-Tremblant, QC, J8E 1B1
This Italian gem is often packed, so you may want to book ahead. Their pasta is made in-house, and you can taste the love in each dish. Coco Pazzo offers a little slice of Italy in Mont Tremblant from their creamy risottos to flavorful antipasti.
Cuisine Type: American, Canadian
Location: 3035, chemin de la Chapelle, Mont-Tremblant, QC, J8E 1E1
Don't let the casual name fool you. Le Shack offers a cozy environment where you can enjoy hearty portions of comfort food like burgers, poutines, and some of the best chicken wings in town. The place is frequently buzzing with people enjoying the relaxed atmosphere.
Cuisine Type: French, Canadian
Location: 2681 Chemin du Village, Mont-Tremblant, QC, J8E 1H8
This establishment has been a staple of the Mont Tremblant area for more than 25 years and offers a blend of French and Canadian cuisines. From duck confit to Quebecois meat pie, La Petite Cachée hits all the right notes for those looking for a touch of elegance without the stuffiness.
Cuisine Type: American, Grill
Location: Place St-Bernard, Mont-Tremblant, J8E 1B1
Looking for a classic steakhouse experience? Look no further. The Bullseye Saloon & Grill is your go-to spot for steak, ribs, and other grill favourites. The rustic vibe and a range of craft beers make it a popular spot among those who appreciate a well-cooked piece of meat.
So, there you have it! These are some of the most popular restaurants that Mont Tremblant has to offer. Whether you're in the mood for some European flair, Canadian comfort, or a good old American steak, you will surely find something that hits the spot.
Best Delivery Restaurants in Mont Tremblant
Food delivery has become an undeniable saviour to busy families everywhere. Whether you're winding down after a thrilling day of adventure in Mont Tremblant, or planning a laid-back dinner in the comfort of your lodging, having the option to order in is just perfect. Let's explore some of the best restaurants in Mont Tremblant that offer a delicious meal, just a phone call away.
Cuisine Type: Canadian
Menu Highlights: Rotisserie Chicken, Rib Steak, St-Hubert Poutine
Famed for its succulent rotisserie chicken, St-Hubert brings the hearty flavours of Canadian cuisine right to your doorstep. Their rib steak is another crowd-pleaser, and you cannot miss their signature St-Hubert poutine, which is a delightful melange of flavours and textures.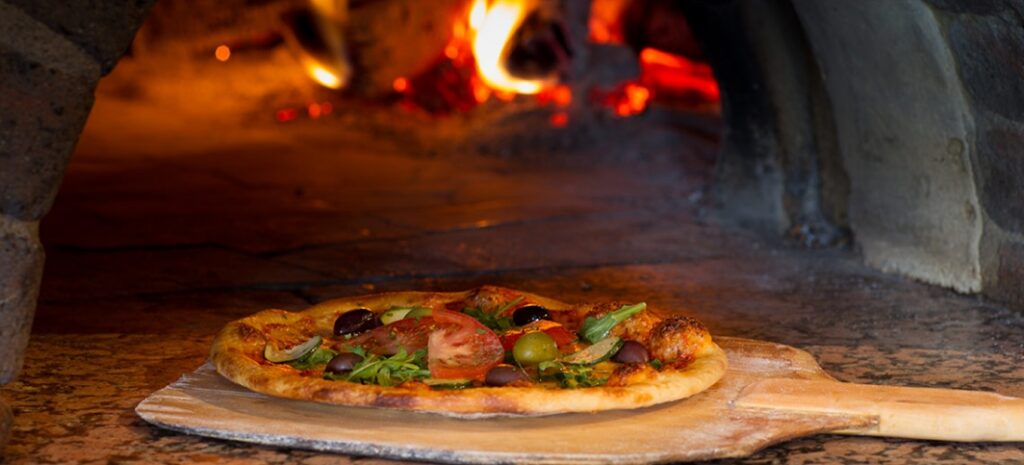 Cuisine Type: Italian
Menu Highlights: Wood-fired Pizzas, Fettuccine Alfredo, Escargot de Bourgogne
With a menu featuring a rich array of Italian delicacies, Le Vieux Four promises an authentic dining experience. Their wood-fired pizzas have a rustic charm that pairs perfectly with classics like Fettuccine Alfredo. And for the adventurous, the Escargot de Bourgogne is a French delicacy that adds a gourmet touch to your meal.
Cuisine Type: Italian, Canadian
Menu Highlights: Signature Pizzas, Mikeburger, Spaghetti Bolognese
Toujours Mikes offers a delightful mix of Italian and Canadian cuisines. Their signature pizzas are a must-try, offering a burst of flavour with every bite. They also have a wide variety of lobster-based dishes including the lobster rolls pictured above.
Cheap Restaurants in Mont Tremblant
Eating well doesn't always mean breaking the bank. In fact, some of the most delicious food can often be found in the most unassuming places. When we talk about "cheap" or budget-friendly restaurants here, we're referring to spots where you can get a good meal for around $10 to $20 per person. These places offer great value for your money without skimping on taste. So, if you're in Mont Tremblant on a budget or simply want to save some cash for other activities, here are some affordable restaurants you should definitely check out.
Cuisine Type: Pizza
Location: 123 Chemin de Kandahar, Mont-Tremblant, QC, J8E 1E2
This isn't just any pizza place; it's a pizza bar with a lively atmosphere. The pizzas are both affordable and generously topped, and you can even grab a slice if you're not up for a whole pie.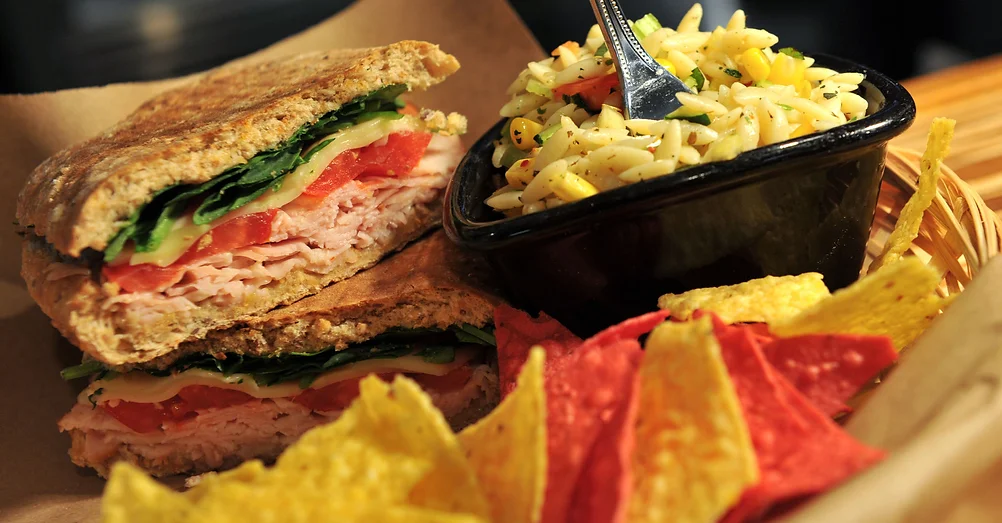 Cuisine Type: Café , Sandwiches
Location: 1918, Chemin du Village, Mont-Tremblant, QC, J8E 1K4
Nestled in the vibrant streets of Mont Tremblant, La Sandwicherie Café + Bistro is a haven for sandwich lovers. The menu boasts an assortment of freshly made sandwiches that are both wholesome and satisfying, making it an excellent choice for a quick yet nutritious meal. The friendly atmosphere and reasonable pricing make it a hit among budget-conscious travellers.
Cuisine Type: Café , Light Bites
Location: 1908 Chemin du Village, Mont-Tremblant, QC, J8E 1K4
If you are in the mood for a cozy café experience without a hefty price tag, Ocafé is your place. This quaint café offers a selection of light bites, including salads and wraps, alongside a delightful array of beverages. Its tranquil setting serves as a wonderful backdrop to enjoy a leisurely meal without breaking the bank.
Mont Tremblant Restaurants with a View
While the food is often the star of the show when dining out, let's not underestimate the power of a stunning view to elevate the entire experience. In a place as naturally beautiful as Mont Tremblant, restaurants capitalize on the scenery to offer dining experiences that engage all your senses. Whether it's a mountain vista that leaves you awe-struck or a tranquil lakeside setting that offers peace and serenity, dining with a view adds an extra layer of enjoyment to your meal.
View: Lake Tremblant
Location: 3004, chemin de la Chapelle, Mont-Tremblant , Québec, J8E 1E1
As mentioned earlier, this fine-dining spot not only excels in cuisine but also offers panoramic views of Lake Tremblant. The scenery perfectly complements their French-Canadian dishes and makes for a dreamy dining experience.
View: Ski Slopes, Mountain Peaks
Location: Top of Mont Tremblant Ski Area
Description: Located at the summit of the Tremblant peaks, the views from Le Grand Manitou are nothing short of breathtaking. The restaurant offers casual fare, making it a great spot to grab a bite while soaking in the expansive vistas.
View: Village Streetscape
Location: 117 Chem. de Kandahar, Mont-Tremblant, QC J8E 1B1
Description: While not a natural vista, the bustling Tremblant village view from Microbrasserie La Diable offers a different but equally captivating atmosphere. Enjoy their craft beers and pub fare while watching the world go by in a charming village street.
View: Fairmont Hotel Courtyard and Garden
Location: 3045 Chemin De La Chapelle, Mont-Tremblant, QC, J8E 1E6
Description: Nestled within the Fairmont Tremblant, Choux Gras offers scenic courtyard and garden views. The atmosphere perfectly suits their upscale menu, making for a lavish yet comfortable dining experience.
Best Family Restaurants in Mont Tremblant
Family vacations are all about creating memories together, and what better way to do that than over a delicious meal? But not all restaurants are created equal when it comes to accommodating the entire family. A family-friendly restaurant is one that offers a range of menu options to cater to different tastes, provides a relaxed atmosphere where kids can be kids, and sometimes even includes activities or play areas to keep the little ones entertained. With those factors in mind, here's a list of Mont Tremblant restaurants where every family member, from toddler to grandparent, can have a great time.
Cuisine Type: Italian, Pizza
Location: 118 Kandahar Road, Mont Tremblant, Quebec, J8E 1E1
Family-Friendly Factors: Kids' menu, relaxed atmosphere
Who doesn't love pizza? Pizzateria not only offers a diverse range of pizzas but also provides pasta and salad options. The atmosphere is casual, and their kids' menu is sure to please even the pickiest of eaters.
Cuisine Type: French, Crêpes
Location: 127 Chem. de Kandahar, Mont-Tremblant, QC, J8E 1E2
Family-Friendly Factors: Cozy cabin, diverse fillings
If you are looking for a taste of France in Mont Tremblant, La Maison de la Crêpe is the place to go. This cozy cabin serves handcrafted crêpes with a variety of sweet and savoury fillings, from cheese and ham to Nutella and banana. You can also enjoy traditional baked onion soup, fresh salads, wines, beers and specialty coffees, including Starbucks.

Cuisine Type: Italian, Pasta
Location: 780 rue de Saint-Jovite, Mont-Tremblant, QC, J8E3J8
Family-Friendly Factors: Customizable pasta dishes, casual setting
With the option to ask for any of the dishes in a child-sized version, Mille Pâtes is an excellent choice for families. The pasta is fantastic and with varied options that allow for everybody to enjoy their meal.
Ethnic and International Cuisine in Mont Tremblant
Mont Tremblant may be deeply rooted in French-Canadian culture, but its culinary scene is surprisingly cosmopolitan. The area's popularity as a tourist destination has brought in a wide array of international cuisines, offering a global taste tour without leaving the scenic beauty of the Laurentians. Whether you're craving Asian flavors, Italian pasta, or even some classic American comfort food, you'll find it all here. Below are some noteworthy restaurants offering ethnic and international cuisine.
Cuisine Type: Asian Fusion
Location: 111 Chemin de Kandahar Mont-Tremblant, QC, J8E 1E2
Description: O Wok blends the best of Chinese, Thai, and Vietnamese cooking. Whether you want to explore the spices of a Thai curry or enjoy some classic Chinese dim sum, this place has it all.
Resto Bar Lolita
Cuisine Type: Mexican, Street Food
Location: 804 Rue de St Jovite, Mont-Tremblant, QC, J8E 3J8
Description: This casual eatery specializes in Mexican street food like tacos and quesadillas. It's a great place to get a quick and flavorful meal, especially if you're on the go.
Fine Dining in Mont Tremblant
Mont Tremblant isn't just a haven for outdoor enthusiasts; it's also a destination for those who appreciate the finer things in life, especially when it comes to dining. Fine dining in this area is a unique experience that often incorporates locally sourced ingredients, exquisite culinary techniques, and impeccable service, all set against the backdrop of the Laurentians' natural beauty. If you're looking to celebrate a special occasion, or simply want to treat yourself to an evening of culinary excellence, here are some fine dining establishments that stand out.
Cuisine Type: French-Canadian
Location: 3004, chemin de la Chapelle, Mont-Tremblant , Québec, J8E 1E1
With a breathtaking view of Lake Tremblant, La Quintessence offers an unparalleled dining atmosphere. Their focus on French-Canadian cuisine showcases advanced techniques like sous-vide cooking and intricate plating. Coupled with an extensive wine list and top-notch service, it's the epitome of fine dining.
Cuisine Type: French
Location: 3045 Chemin De La Chapelle, Mont-Tremblant, QC, J8E 1E6
Located within the Fairmont Tremblant, Choux Gras offers an upscale dining experience that doesn't compromise on comfort. Whether it's the table-side Caesar salad preparation or the artistic dessert presentation, the attention to detail is impeccable.
Cuisine Type: Savoyard, European
Location: 115 Chemin de Kandahar, Mont Tremblant, Quebec, J8E 1E2
Specializing in Savoyard cuisine from the French Alps, La Savoie offers a unique fondue and raclette experience. The cozy, cabin-like atmosphere adds an authentic touch, and the service is always attentive yet unobtrusive.
Cuisine Type: French-Canadian
Location: 444, rue St-Georges, Mont-Tremblant, QC, J8E 3G4
With a farm-to-table approach, sEb L'artisan culinaire takes pride in using locally sourced ingredients. Their culinary techniques are cutting-edge, offering a modern take on classic French-Canadian dishes. The ambiance is intimate, making it ideal for a romantic evening.
Fine dining in Mont Tremblant offers not just food, but a complete sensory experience. From the atmosphere and service to the intricacies of each dish, these restaurants showcase what it means to dine in style and luxury. Whether you're a food connoisseur or simply looking to indulge, Mont Tremblant's fine dining scene is sure to impress.
Breakfast and Brunch Spots in Mont Tremblant
A good day on the slopes, trails, or lakes of Mont Tremblant starts with a great breakfast or brunch. It's not just about fueling up; it's also about setting the tone for your day. Whether you're an early riser looking to catch the sunrise or a laid-back vacationer seeking a leisurely brunch, Mont Tremblant has some fantastic options that will make your mornings as memorable as your afternoons and evenings. Here are some of the best spots to enjoy the first meal of your day.
Cuisine Type: Breakfast, French
Location: 127 Chem. de Kandahar, Mont-Tremblant, QC, J8E 1E2
Known for their crepes, both sweet and savory, this spot is perfect if you're in the mood for something light yet satisfying. They also serve a great cup of coffee.
Cuisine Type: Café, Sandwiches
Location: 3035 Chem. de la Chapelle, Mont-Tremblant, QC, J8E 1E1
If you're on the go, this cozy café offers quick options like breakfast sandwiches and smoothies. It's a great place for a quick bite before heading out to explore.
Cuisine Type: Breakfast, Canadian
Location: 3045 ch. de la Chapelle, Mont-Tremblant, QC J8E 1E1
Offering farm-to-table freshness and an amazing breakfast buffet, Le Comptoir provides a gourmet twist to classic breakfast items. From their brioche French toast to their avocado toast, every dish is a cut above the ordinary.
Starting your day with a fantastic breakfast or brunch can make all the difference, and in Mont Tremblant, you're spoiled for choice. Whether you're looking for something quick and casual or a more leisurely, sit-down affair, there's a spot that fits your morning mood perfectly.
Do You Tip in Mont Tremblant?
Tipping is a practice that varies from culture to culture, and it's always good to be informed about the local norms when you're traveling. In Mont Tremblant, tipping is customary and is generally considered a sign of appreciation for good service. Here's a quick rundown of tipping etiquette in the region:
Restaurants and Bars
In most dining establishments, it is customary to tip between 15% to 20% on the total bill before taxes. Some upscale restaurants might automatically add a service charge, especially for larger groups, so always check your bill.
Delivery Services
For food delivery, a tip of around 10% is considered appropriate. If the weather is particularly harsh, consider tipping a bit extra for the driver's trouble.
Cafes and Coffee Shops
In casual settings like cafes and coffee shops, tipping isn't mandatory, but it's appreciated. A dollar or two in the tip jar, or rounding up to the nearest dollar when paying your bill, is a nice gesture.
General Services
For other services like taxis or concierge, a tip of around 10% to 15% is the general rule of thumb.
What Language Is Spoken in Mont Tremblant?
The official language in Mont Tremblant and the rest of Québec is French. However, given the resort's international reputation, many people in the hospitality industry are bilingual and can communicate in both French and English. While you'll get by comfortably with English in most restaurants, knowing a few basic French phrases can go a long way in making your dining experience more enjoyable. A simple "Bonjour" (Hello) or "Merci" (Thank you) is always appreciated.
Seasonal Highlights
The culinary landscape in Mont Tremblant isn't static; it changes with the seasons, offering fresh flavors and exciting events throughout the year. Here are some seasonal highlights to look out for:
Food Festivals
Mont Tremblant hosts a variety of food festivals, particularly in the summer and fall. These festivals showcase local produce, artisanal products, and gourmet food and are a must-visit for food enthusiasts.
Seasonal Menus
Some upscale restaurants, like La Quintessence and sEb L'artisan Culinaire, offer seasonal menus that focus on locally-sourced ingredients. These menus change depending on what's fresh and available, offering you a unique taste of Mont Tremblant throughout the year.
Peak Season Popularity
During the winter ski season and the summer outdoor activities season, certain restaurants become especially popular. Make sure to book in advance if you plan to visit during these busy times.
Holiday Specials
Many restaurants offer special menus for holidays like Christmas, New Year's Eve, and Valentine's Day. These often require advance booking and are a unique way to celebrate in style.
Seasonal variations offer fresh perspectives on the local culinary scene, so no matter when you visit, Mont Tremblant has something special to serve up. Whether it's a food festival or a seasonal menu featuring local produce, each season offers a different but equally delightful culinary experience.
Final Thoughts On The Best Mont Tremblant Restaurants
Mont Tremblant isn't just a destination for outdoor enthusiasts; it's a haven for food lovers too. From budget-friendly spots and family-friendly eateries to restaurants with panoramic views and fine dining establishments, there's something for everyone. Factor in the seasonal highlights, and it's clear that Mont Tremblant offers a culinary journey as varied and exciting as its landscapes. So whether you're here for the slopes, the trails, or just the atmosphere, don't miss out on the incredible dining options this wonderful resort town has to offer.