One of the best parts of any vacation, especially in sunny Las Vegas, is lounging or splashing around a fabulous pool. And let's face it, if you're travelling with kids, a great pool isn't just a nice-to-have; it's a must-have. But with so many options, how do you find the pool that'll be a hit with both the kiddos and the adults? That's where this guide comes in handy.
We've rounded up the best Vegas pools that are perfect for families, complete with all the bells and whistles you're looking for—think slides, wave pools, and even sandy beaches. And because not every pool is equal when it comes to family fun, we'll also give you the lowdown on pools at specific hotels. Whether you're looking for the best pools with slides or the top indoor options, we've got you covered.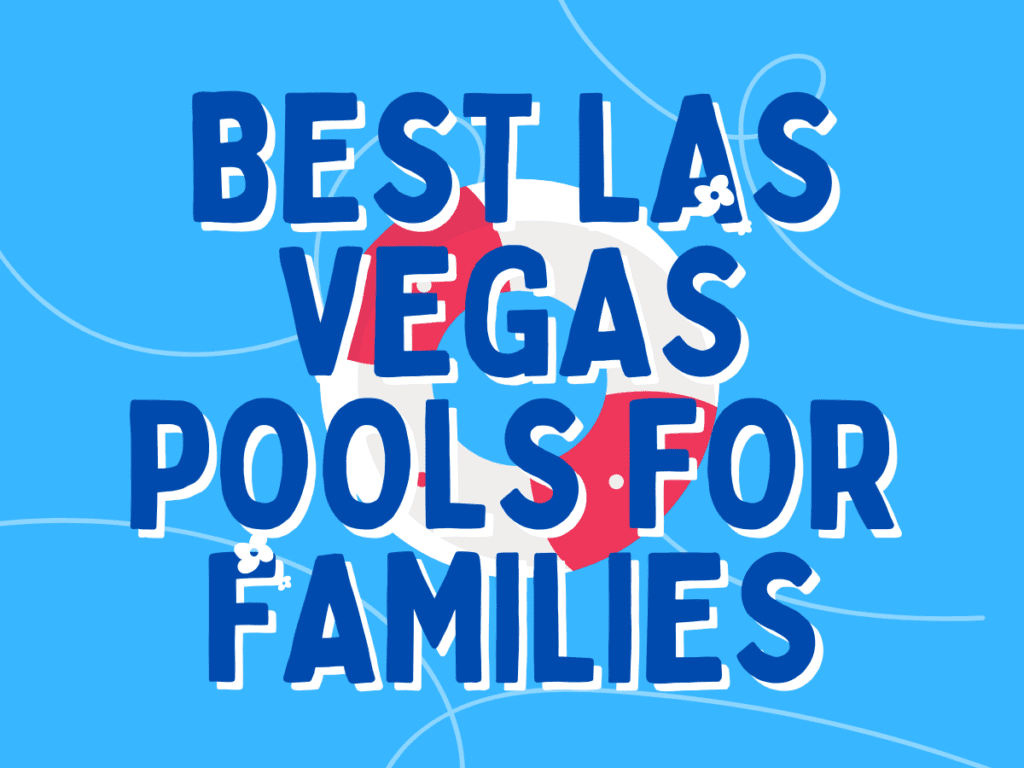 The Best Las Vegas Pools for Families
Mandalay Bay Beach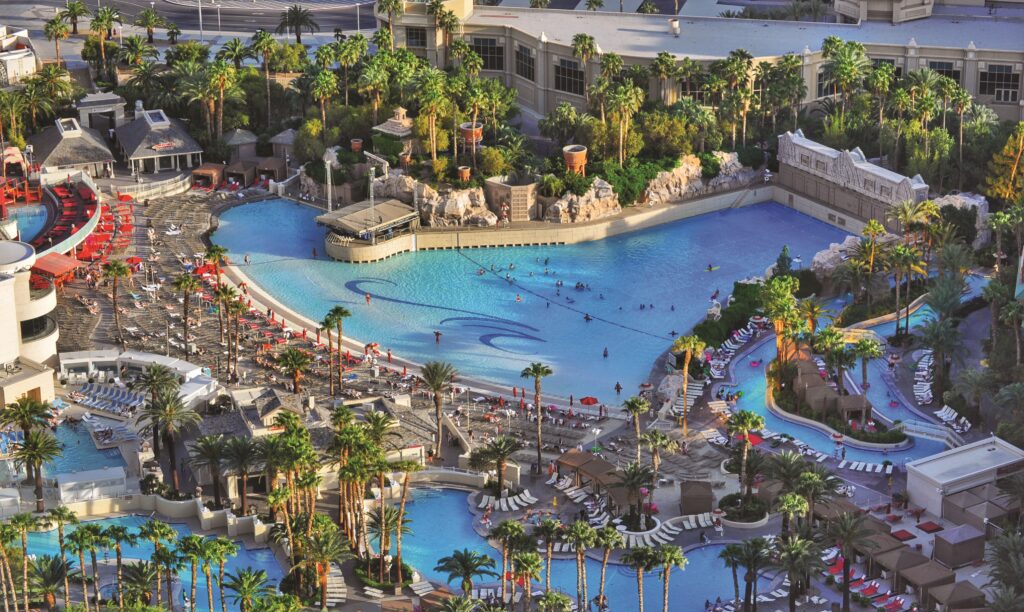 Imagine stepping into a 1.6-million-gallon wave pool framed by a genuine sandy beach—right in the heart of Las Vegas. That's exactly what you'll get at Mandalay Bay Beach, a lush tropical paradise that will transport you far away from the desert heat.
Mandalay Bay Beach goes beyond just a simple pool; it's an experience. With shallow areas designed for younger kids to safely splash and play, you won't have to constantly hover. Moreover, lifeguards are on duty, ensuring an added layer of safety. The atmosphere is relaxed, so parents can finally read that summer novel or sip on a cool drink. There's even a lazy river for those who want to mix a bit of adventure with relaxation.
The Venetian and The Palazzo Pools
The Venetian and The Palazzo offer a slice of Italian elegance right in the heart of Las Vegas. With multiple pools inspired by the romantic canals and historic architecture of Venice, you'll feel like you've been whisked away to Europe.
One of the standout features of these pools is their versatility. They offer shallow areas for kids and lounge chairs set in the water so parents can keep an eye on their little ones while staying cool. Adding to the family-friendly environment, the pools are heated, ensuring comfortable swimming temperatures for everyone. And if you're feeling a bit peckish, there's an excellent selection of family-friendly dining options poolside, making it convenient for everyone to grab a bite without leaving the area.
Excalibur Pool Area
If you're drawn to the medieval charm of Excalibur, you'll be pleased to know that its pool area is equally enchanting. With various pools to choose from and cabana options, the Excalibur Pool Area is like a castle courtyard, but with swimwear.
One of the best features at Excalibur's pool is the kid-friendly menu—think chicken fingers, fruit cups, and other snacks your children will devour. The spacious layout also means there's plenty of room for kids to play and adults to lounge. It's the kind of place where you can easily spend an entire day.
Red Rock Resort Pool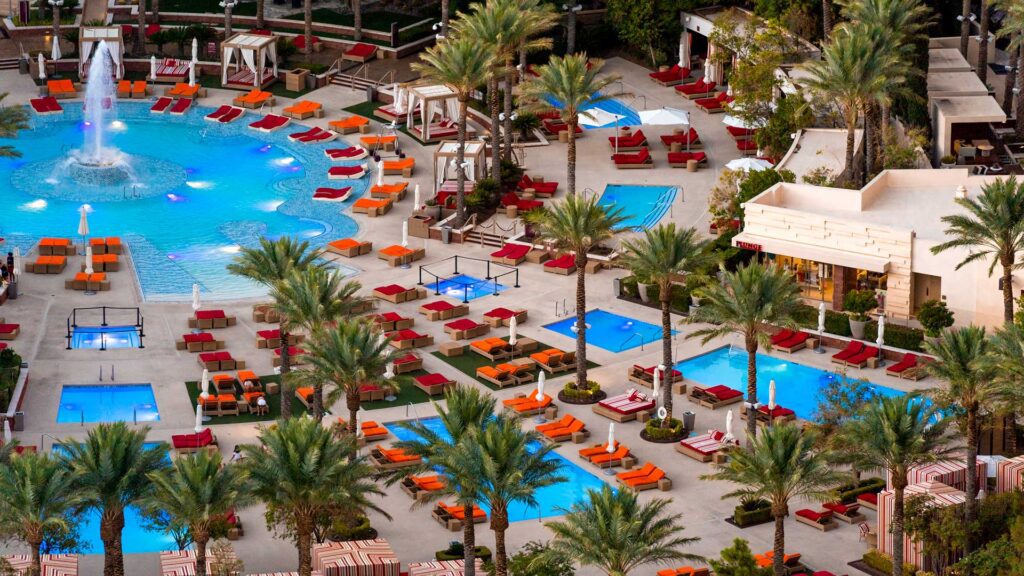 Situated a bit away from the Strip, the Red Rock Resort Pool offers a more tranquil, scenic setting. The pool area is nestled against the stunning backdrop of the Red Rock Canyon, giving your swim a unique, Instagram-worthy environment.
Families will appreciate the sandy beach area, perfect for a game of beach volleyball or for letting the kids build their dream sandcastle. There's also a kids' wading pool that's shallow and safe for the littlest family members. It's a place where you can connect with nature while enjoying all the amenities of a top-notch resort.
Las Vegas is so much more than its adult-only reputation would suggest. Whether you're a family seeking the thrill of water slides, the calm of spacious pools, or the beauty of a scenic setting, there's a pool for you in this bustling desert city.
Specific Hotels and Their Policies on Kids
Can Kids Swim at the Mirage Pool?
The Mirage Pool is a tropical oasis with waterfalls, lagoons, and plenty of lounging areas to make you feel like you've been whisked away to an island paradise
Children are welcome at the Mirage pool but must be accompanied by an adult. Life jackets for little ones are also available, adding an extra layer of safety to your pool day
Can Kids Go to the MGM Pool?
MGM Grand offers a comprehensive pool complex that includes multiple pools, a lazy river, and cabanas for that VIP experience.
Children are allowed but must be supervised by an adult at all times. The lazy river is a hit among families, but do note that height restrictions apply for some of the features.
Is Caesars Palace Pool Kid-Friendly?
Caesars Palace offers a collection of seven pools within their Garden of the Gods Pool Oasis, each offering a unique experience, from swim-up blackjack tables to waterfall features.
Children are allowed but must be accompanied by an adult. However, the Fortuna Pool is 21+ as it offers a swim-up gambling area. So, plan accordingly!
Are Kids Allowed at the Flamingo Pool?
The Flamingo offers a lush pool area complete with water slides, waterfalls, and even real flamingos wandering around the grounds.
Kids are more than welcome and will love the water slides. As always, children must be supervised by an adult.
Can Kids Go to the Luxor Pool?
The Luxor pool area offers a large, 125,000-square-foot pool deck and four pools, capturing the essence of the Egyptian theme of the hotel.
Children are allowed but, like most Vegas pools, they need to be supervised by an adult. Inflatables are also allowed, so bring along those floaties!
Can Kids Go to the Golden Nugget Pool?
The Golden Nugget pool is famous for its incredible shark tank. Yes, you read that right—a 200,000-gallon shark tank that you can actually slide through!
Kids are welcome but must meet the height requirement of 48 inches to use the shark tank slide. Also, children must be supervised by an adult.
In the bustling city of Las Vegas, it's crucial to know which hotels welcome your little ones for a splashy day out. These policies should help you make an informed choice for a family-friendly pool experience.
How to Have a Great Pool Day as a Family in Las Vegas
Having a great pool day in Las Vegas as a family isn't just about picking the right pool—although that's certainly important. It's also about planning ahead and making smart choices that cater to everyone's needs. Here's how to make your Vegas pool day a memorable experience for the whole family:
1. Pack Smart
Don't underestimate the power of a well-packed pool bag. Make sure you have enough sunscreen, hats, and sunglasses to protect from the strong Vegas sun. Add in some water toys, goggles, and floaties for extra fun and safety.
2. Arrive Early
The best poolside spots are snapped up quickly, especially in family-friendly areas. Make a point to arrive early to claim your ideal location—preferably one close to the shallow end if you have younger kids.
3. Stay Hydrated
Vegas can be incredibly hot, and nothing dehydrates faster than running around in the sun. Pack plenty of water and hydrating snacks like fruit slices to keep everyone energized and hydrated.
4. Plan for Food
Check if your chosen pool area has a kid-friendly menu or allows outside food. Some pools have strict policies, so knowing this in advance can save you a midday trip back to the room for snacks.
5. Be Aware of Pool Rules
Every pool has its own set of rules, and some are stricter than others when it comes to kids and pool toys. Make sure you're aware of them to avoid any mid-day disappointments.
6. Take Breaks
Don't try to cram a full day of swimming into a single stretch. Take breaks to reapply sunscreen, have a snack, or simply relax in the shade. This downtime is especially beneficial for younger kids who may become overwhelmed by a full day in the water.
7. Capture the Memories
Remember to take plenty of photos. Not only will they serve as wonderful memories, but you'll also want to show off your fabulous family day at one of Vegas' stunning pools!
By putting a little thought into your pool day, you can ensure that your family will have a fabulous time without any of the usual stress or last-minute mishaps.
Frequently Asked Questions
Q: Are swim diapers required for infants and toddlers?
A: Policies can vary by hotel, but most family-friendly pools require swim diapers for the little ones who aren't yet potty-trained.
Q: Can we bring our own inflatables and pool toys?
A: This depends on the pool. Some encourage it, while others offer their own selection of approved floaties and toys. Always check ahead of time.
Q: Is outside food and drink allowed?
A: In most cases, pools prefer you to buy food and beverages on-site. However, each pool has its own policy, so it's worth checking in advance.
Q: Do we have to be guests of the hotel to use the pool?
A: Some hotels allow non-guests to use the pool for a fee, while others restrict pool use to hotel guests only. Always call ahead to confirm.
Q: Are lifeguards on duty?
A: Family-friendly pools often have lifeguards, but not always. If this is a concern for you, make sure to confirm before you go.
Q: What's the general age limit for kids' pools and slides?
A: This can vary significantly from one venue to another. Some have height restrictions, while others have age limits. Always check the specific rules of the pool you're planning to visit.
By taking the time to plan and prepare, you can make your family's pool day in Vegas a resounding success. Whether you choose a pool with slides, a peaceful indoor oasis, or a scenic natural backdrop, Las Vegas offers a variety of family-friendly options to suit any preference.
Wrapping Up The Best Family Pools In Las Vegas
Las Vegas is a destination that offers something for everyone, and that certainly includes families looking for a memorable pool experience. Whether you're drawn to the thrill of towering water slides, the serenity of spacious and scenic pools, or the convenience of indoor options, the city's wide variety of family-friendly pools ensures that you'll find the perfect fit for your clan. With a bit of planning and knowledge about what each pool has to offer, you can turn a simple day by the pool into a highlight of your Las Vegas family vacation. So pack your swimsuits, grab some sunscreen, and dive into the fun!
Disclaimer
The information provided in this article is accurate as of the time of writing and is meant for informational purposes only. Pool policies, amenities, and availability can change without notice, so it's essential to check with the specific hotel or resort for the most current details before planning your visit. The author and publisher disclaim any liability for any inaccuracies or omissions.