Imagine yourself cocooned in soft blankets, warm fireplaces, and the serene beauty of snowfall outside. Winter babymoons offer a unique blend of tranquillity, warmth, and beauty that can be truly enchanting.
Babymoons have become increasingly popular over the years. This special time allows couples to enjoy some rest, relaxation, and quality time together before life changes with the arrival of a new family member. And while many people opt for beach or spa destinations, there's something incredibly magical about a winter babymoon.
So, here are some wonderful winter babymoon ideas to consider
1. Winter Mountain Retreats
There's nothing like a cozy cabin in the mountains to experience the serenity of winter. These retreats offer splendid isolation, stunning natural beauty, and various winter activities. Whether you're nestled in the Rockies, the Alps, or the Smokies, you'll find plenty of options for relaxation and adventure.
Aspen, Colorado, USA
Temperature
22°F / -6°C average high, 4°F / -16°C average low
About Aspen
Aspen, nestled in the heart of the Rocky Mountains in Colorado, is a charming winter destination known for its breathtaking natural beauty, world-class ski resorts, and luxurious accommodations. It's the perfect place for couples seeking a serene, picturesque winter babymoon retreat. The town offers a unique blend of rustic charm and sophistication, with its Victorian-era architecture, upscale boutiques, and fine dining establishments.
During your stay in Aspen, you can spend your days exploring its powdery slopes or taking gentle walks on the scenic trails around town. If you're not up for skiing, you can also try snowshoeing or take a romantic horse-drawn carriage ride through the snow-covered streets. In the evenings, cozy up by the fireplace in your luxurious cabin, or pamper yourself at one of the many high-end spas in the area.
While in Aspen, don't miss the opportunity to dine at some of its renowned restaurants, where you can savour both local and international cuisine. For a truly memorable experience, take a gondola ride up to the top of Aspen Mountain for dinner at the Sundeck Restaurant, where you'll enjoy panoramic views of the surrounding peaks.
Aspen, Colorado, for instance, is renowned for its skiing, but it also offers exquisite dining, luxury spas, and scenic trails for gentle winter walks. You can also enjoy a romantic horse-drawn carriage ride or explore the enchanting ice sculptures that adorn the town during winter.
---
Free baby stuff for you to claim for your baby! Sign up to get the PDF with all the links.
---
2. Scandinavian Hygge Experience
Denmark and other Scandinavian countries are famous for their "hygge" culture – a concept that encapsulates a feeling of cozy contentment and well-being through enjoying the simple things in life. Think about cozying up with a good book by a fire, enjoying a hot cup of cocoa, or marvelling at the beauty of the Northern Lights.
Copenhagen, Denmark, or Tromso, Norway, are perfect places for a hygge-style winter babymoon. You can spend your days visiting museums and art galleries, and your evenings indulging in delicious Nordic cuisine. And if you're lucky, you might even catch a glimpse of the ethereal Aurora Borealis, a sight you'll remember forever.
Tromsø, Norway
Temperature
30°F / -1°C average high, 21°F / -6°C average low
About Tromsø
Tromsø, located in Northern Norway, is a picturesque Arctic city known for its rich history, vibrant cultural scene, and stunning natural beauty. It is one of the best places in the world to experience the hygge lifestyle and catch a glimpse of the mesmerizing Northern Lights. The city's charming streets, lined with colorful wooden houses and cozy cafés, create an idyllic winter wonderland atmosphere that's perfect for a babymoon.
During your stay in Tromsø, take the time to explore the city's museums and art galleries, which showcase the region's history, indigenous culture, and contemporary art. Tromsø's iconic Arctic Cathedral, with its striking triangular architecture, is also a must-visit.
One of the highlights of a winter babymoon in Tromsø is the chance to witness the awe-inspiring Aurora Borealis. Embark on a guided Northern Lights tour, where experienced guides will take you to the best spots to view this celestial phenomenon. On clear nights, you may even be able to see the Northern Lights from the comfort of your accommodation.
The winter months in Tromsø also offer various outdoor activities, such as dog-sledding, snowshoeing, and whale watching. However, if you prefer a more relaxed pace, you can simply take leisurely strolls around the city, stopping at cozy cafés for a warm cup of coffee and a slice of traditional Norwegian cake.
When it comes to accommodation, Tromsø offers a range of options, from luxurious hotels with spa facilities to quaint guesthouses that exude hygge charm. For a truly unique experience, consider staying at one of the nearby wilderness lodges or even booking an igloo or a glass-roofed cabin, where you can watch the Northern Lights from the comfort of your bed.
---
3. Winter Beach Escapes
If you're more of a beach person but still want to experience the unique charm of winter, consider a winter beach escape. Destinations like the Canary Islands, with their mild winter temperatures, offer a warm refuge with the bonus of fewer crowds.
Alternatively, if you're based in the United States, places like Key West, Florida offer a warm and sunny winter escape. You can enjoy long, leisurely walks on the beach, delectable seafood, and breathtaking sunsets.
Canary Islands, Spain
Temperature
70°F / 21°C average high, 58°F / 14°C average low
About the Canary Islands, Spain
The Canary Islands, an archipelago located off the coast of northwestern Africa, are renowned for their beautiful beaches, mild climate, and diverse landscapes. This Spanish territory is an ideal winter beach escape for expecting couples seeking warmth and relaxation. Each island has its unique charm, offering a range of activities and experiences for visitors.
Tenerife, the largest and most popular island, boasts golden sandy beaches, lush forests, and the magnificent Mount Teide, Spain's highest peak. The island's vibrant towns and villages offer a range of shopping, dining, and cultural experiences, ensuring that there's always something to do and see.
During your stay in the Canary Islands, you can spend your days lounging on the beach, swimming in crystal-clear waters, or taking leisurely strolls along picturesque coastal paths. You may also choose to explore the islands' unique volcanic landscapes, visit local markets, or enjoy a romantic sunset cruise.
When it comes to accommodations, the Canary Islands offer a wide range of options, including luxury resorts, charming boutique hotels, and private villas. Many hotels and resorts cater specifically to couples, offering amenities such as spa facilities, fine dining, and adults-only pools.
---
4. European Christmas Markets
Europe during the winter months is magical. The continent transforms into a winter wonderland, and the world-renowned Christmas markets are a sight to behold. While they usually start in late November and end right before Christmas, the festive spirit lingers throughout the winter months.
Cities like Vienna, Austria, and Strasbourg, France, boast some of the most enchanting Christmas markets. You can stroll through these markets, savouring local delicacies, admiring handcrafted decorations, and soaking up the festive atmosphere. Just remember to bundle up and enjoy a hot cup of mulled wine or hot chocolate to keep warm!
Strasbourg, France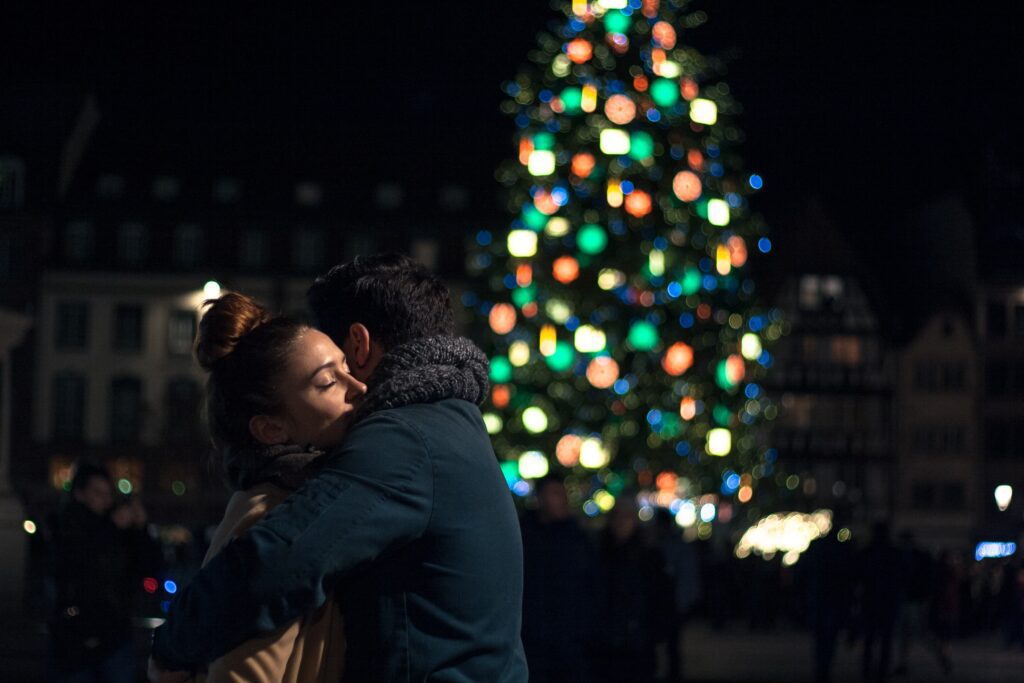 Temperature
40°F / 4°C average high, 32°F / 0°C average low
About Strasbourg, France
Strasbourg, located in the Alsace region of France near the German border, is often referred to as the "Capital of Christmas" and is known for its enchanting Christmas markets. The city's rich history, stunning architecture, and picturesque canals make it a magical winter destination for a babymoon.
During your stay in Strasbourg, be sure to visit the city's various Christmas markets, which date back to the 16th century. The largest and most famous market, Christkindelsmärik, is held in the historic city centre, where you'll find beautifully decorated wooden chalets selling traditional Alsatian crafts, decorations, and food.
As you stroll through the markets, savour local delicacies such as bredele (Alsatian Christmas cookies), vin chaud (mulled wine), and flammekeuche (a thin-crust pizza-like dish). You can also shop for unique gifts and souvenirs or simply soak up the festive atmosphere while enjoying the twinkling lights and elaborate decorations.
Strasbourg's charming Old Town, a UNESCO World Heritage site, is another must-visit during your babymoon. Wander through the cobblestone streets, admire the half-timbered houses adorned with Christmas decorations, and visit the city's iconic cathedral, one of the finest examples of Gothic architecture in Europe.
When it comes to accommodations, Strasbourg offers a range of options, from luxury hotels to cozy bed and breakfasts. Many hotels offer special Christmas packages, which may include festive treats, guided tours, and other seasonal perks.
---
5. Wellness Retreats
Wellness retreats are an excellent babymoon idea for moms-to-be. These retreats offer a range of services like prenatal massages, yoga classes, and nutritious meals to ensure you and your baby are well-nourished and relaxed.
For a winter wellness retreat, consider places like the Swiss Alps or the Berkshires in Massachusetts. These destinations offer beautiful winter landscapes along with world-class wellness facilities to help you rejuvenate and prepare for your upcoming journey into parenthood.
Gstaad, Switzerland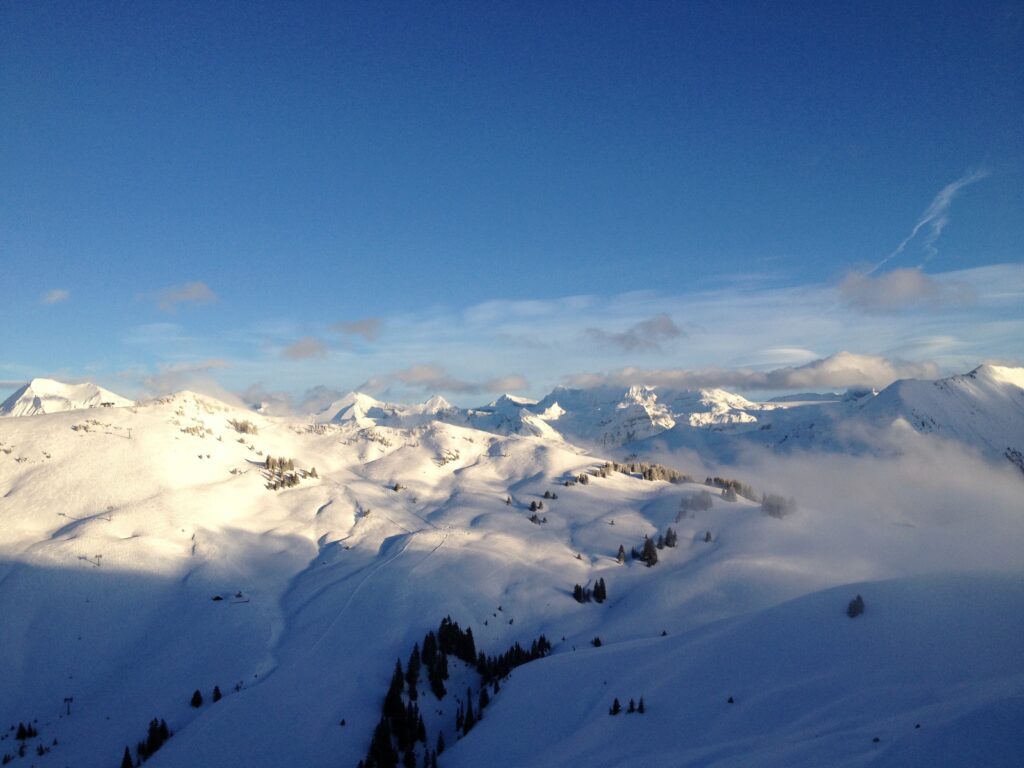 Temperature
34°F / 1°C average high, 21°F / -6°C average low
About Gstaad, Switzerland
Gstaad, a picturesque alpine village in the Swiss Alps, is an ideal destination for a winter wellness babymoon. Known for its luxurious hotels, high-end spas, and breathtaking mountain scenery, Gstaad offers an unparalleled experience of relaxation, rejuvenation, and indulgence.
During your stay in Gstaad, you can take advantage of the world-class wellness facilities available at your hotel or visit one of the many renowned spas in the region. These spas offer a variety of services specifically tailored for expecting mothers, such as prenatal massages, hydrotherapy, and personalized nutrition programs.
In addition to the wellness offerings, Gstaad provides numerous opportunities to enjoy the pristine alpine surroundings. You can take gentle walks along the scenic trails, enjoy a romantic horse-drawn sleigh ride through the snow-covered forests, or partake in a snowshoeing excursion. The village's charming streets, lined with luxury boutiques and gourmet restaurants, are perfect for leisurely strolls and window shopping.
When it comes to accommodations, Gstaad boasts some of the most luxurious hotels and chalets in the world. These properties offer unparalleled comfort, impeccable service, and a range of amenities designed to ensure a memorable and relaxing stay.
---
6. Luxury Train Journeys
Another fantastic winter babymoon idea is to embark on a luxury train journey. These trips offer a unique blend of vintage charm, modern amenities, and stunning landscapes. From the comfort of your plush cabin, you can watch the winter wonderland unfold right outside your window.
For instance, the Belmond Royal Scotsman offers an enchanting journey through the Scottish Highlands, where you'll pass by snow-capped peaks, ancient castles, and pristine lochs. Enjoy the world-class cuisine onboard, relax in the spa car, and soak up the stunning winter views.
Belmond Royal Scotsman, Scotland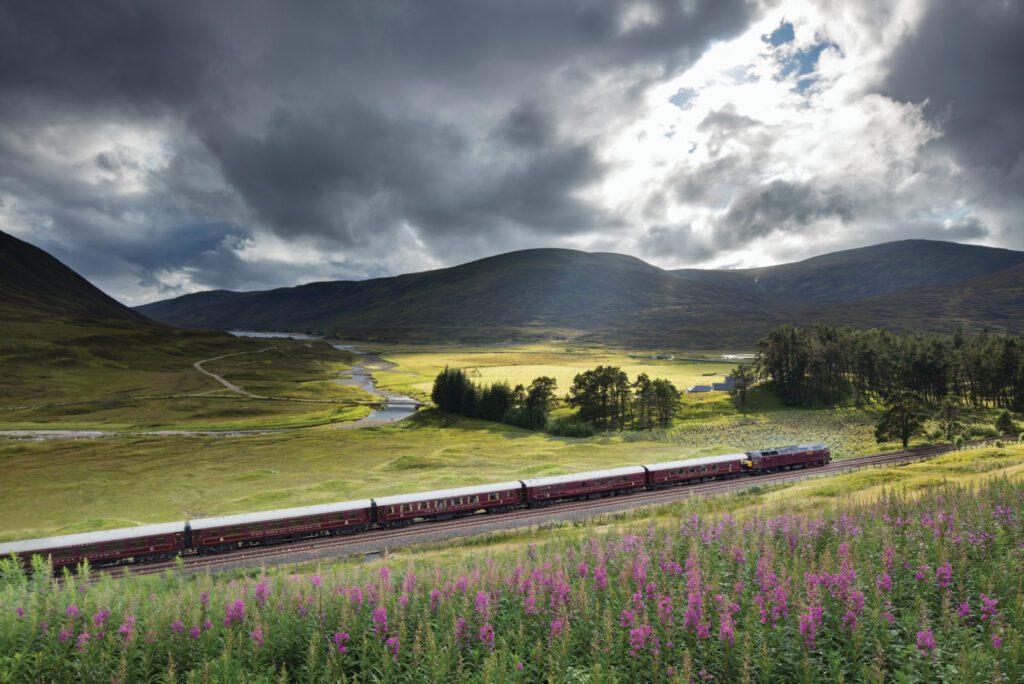 Temperature
44°F / 7°C average high, 34°F / 1°C average low (Edinburgh, Scotland)
About the Belmond Royal Scotsman, Scotland
The Belmond Royal Scotsman offers an unforgettable journey through the enchanting landscapes of the Scottish Highlands. This luxury train combines the elegance and charm of a bygone era with modern comforts, creating an exceptional travel experience perfect for a winter babymoon.
During your journey on the Belmond Royal Scotsman, you'll be treated to the finest service, accommodations, and dining. The train's plush cabins, adorned with rich mahogany and tartan details, offer a cozy sanctuary as you travel through the rugged beauty of the Highlands.
The train's dining car serves exquisite meals prepared by skilled chefs, featuring the best of Scottish cuisine and locally-sourced ingredients. From indulgent afternoon teas to sumptuous multi-course dinners, every meal is an unforgettable culinary experience.
Throughout the journey, you'll have the opportunity to disembark and explore the diverse attractions of the Scottish Highlands. Visit historic castles and stately homes, take guided walks through the breathtaking landscapes, or enjoy a traditional Scottish ceilidh with live music and dancing.
One of the highlights of the Belmond Royal Scotsman experience is the onboard spa, where you can indulge in a range of relaxing treatments, such as massages, facials, and aromatherapy. This luxurious amenity ensures that you and your partner can fully unwind and rejuvenate during your babymoon.
---
7. Cultural City Breaks
Winter is an excellent time to explore some of the world's most iconic cities. The crowds are thinner, the city is lit up with beautiful holiday decorations, and there's a distinct chill in the air that's perfect for cozying up in cafes or museums.
Consider Paris, the city of love. You can stroll along the Seine, visit the Louvre, enjoy a warm croissant in a cozy café, and marvel at the Eiffel Tower sparkling against the night sky. Or, head to New York City and enjoy Broadway shows, world-class dining, and the iconic ice rink at Rockefeller Center.
Paris, France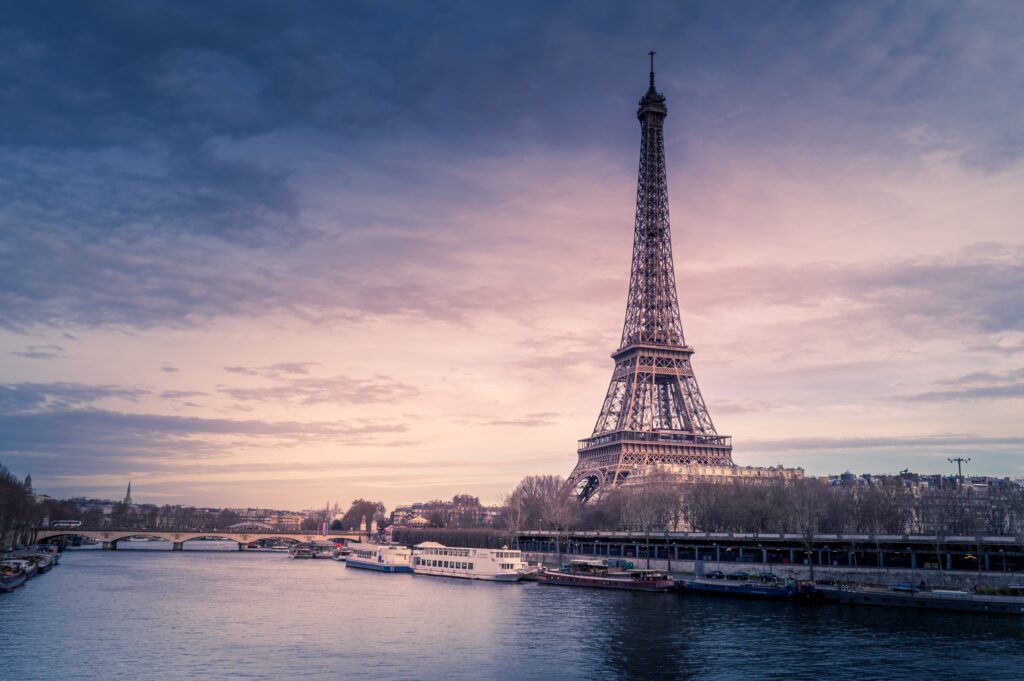 Temperature
45°F / 7°C average high, 37°F / 3°C average low
About Paris, France
Paris, the City of Love, is a captivating destination for a winter babymoon, offering a wealth of cultural experiences, iconic sights, and a romantic ambience. The city's world-famous museums, historic landmarks, and charming streets make for a magical and memorable getaway for expecting couples.
During your stay in Paris, explore the city's many renowned attractions, such as the Louvre, home to the iconic Mona Lisa, or the Musée d'Orsay, which boasts an impressive collection of Impressionist masterpieces. Stroll along the Seine, browse the charming bookstores and boutiques that line the river, and stop at a quaint café for a warm croissant and a rich hot chocolate.
A visit to Paris wouldn't be complete without admiring the Eiffel Tower, which sparkles against the night sky with thousands of twinkling lights. For a romantic evening, consider taking a Seine River dinner cruise, where you can enjoy delicious French cuisine and stunning views of the city's illuminated monuments.
When it comes to accommodations, Paris offers a wide range of options, from luxurious hotels to charming boutique properties. Many hotels offer special packages for couples on babymoons, which may include spa treatments, romantic dinners, and other unique experiences.
---
8. Snowy Spa Getaways
Imagine soaking in a hot spring or enjoying a prenatal massage while surrounded by a serene, snowy landscape. Snowy spa getaways can be incredibly rejuvenating and relaxing for expecting parents. Whether it's a remote hot spring in Iceland or a luxurious spa resort in the Swiss Alps, there are plenty of options to choose from.
In the United States, consider visiting the Amangani Resort in Jackson Hole, Wyoming. This luxurious mountain resort offers a variety of wellness services including prenatal massages, and you can enjoy stunning views of the snow-covered mountains from the heated outdoor pool.
Amangani Resort, Jackson Hole, Wyoming, USA
Temperature
28°F / -2°C average high, 6°F / -14°C average low
About Jackson Hole, Wyoming
The Amangani Resort, located in the stunning mountain setting of Jackson Hole, Wyoming, is an ideal destination for a snowy spa getaway. This luxurious mountain resort offers a serene, tranquil atmosphere where couples can indulge in world-class wellness treatments while surrounded by breathtaking views of the snow-covered Teton Range.
During your stay at Amangani Resort, you can take advantage of the on-site spa, which offers a variety of treatments tailored to the needs of expecting mothers, such as prenatal massages, facials, and body wraps. The spa also features a heated outdoor pool and a relaxation area with panoramic views of the mountains, providing the perfect space to unwind and rejuvenate.
In addition to the spa offerings, the Amangani Resort provides various activities for guests to enjoy the surrounding natural beauty. Take a scenic wildlife tour, embark on a snowshoeing adventure, or explore the nearby Grand Teton National Park. Alternatively, simply relax by the fireplace in your luxurious suite, taking in the spectacular winter landscape from your floor-to-ceiling windows.
The resort's on-site restaurant serves up exquisite cuisine, featuring locally-sourced ingredients and innovative dishes that showcase the flavours of the region. Enjoy a leisurely breakfast in bed or savour a romantic dinner while gazing out at the snow-capped peaks
---
9. Staycations
If travelling feels daunting during your pregnancy, a staycation could be the perfect winter babymoon idea for you. Transform your home into a peaceful sanctuary, plan movie nights, cook special meals, or even hire a professional masseuse for a home spa day.
If you're up for a short drive, consider booking a weekend at a local bed and breakfast. You'll be surprised at how refreshing a change of scenery can be, even if it's just a few miles from home!
---
10. Winter Cruises
Lastly, consider a winter cruise for your babymoon. Many cruise lines offer amenities like gourmet dining, spas, and entertainment, ensuring you'll have a relaxing and enjoyable trip. Choose an itinerary that suits your interests, whether it's cruising the Mediterranean, exploring the fjords of Norway, or even travelling around the Caribbean.
A Caribbean cruise is an ideal choice for couples seeking a warm and relaxing winter babymoon. The Caribbean, known for its white-sand beaches, crystal-clear waters, and diverse island cultures, offers an array of cruise options to suit every preference. From large, luxurious liners with all the amenities you could dream of to smaller, more intimate ships that provide personalized service, there's a Caribbean cruise for every couple.
During your Caribbean cruise, you'll have the opportunity to explore multiple islands, each with its unique charm and attractions. You might find yourself strolling along the vibrant streets of Old San Juan in Puerto Rico, admiring the Dutch colonial architecture in Willemstad, Curaçao, or simply lounging on a pristine beach in St. Lucia.
Many Caribbean cruises offer onboard amenities tailored to the needs of expecting couples, such as prenatal spa treatments, nutritious dining options, and comfortable accommodations. Additionally, the cruise staff can help you plan shore excursions that are suitable for pregnant travellers, ensuring that you have a safe and enjoyable experience both on and off the ship.
When choosing a Caribbean cruise, consider the duration and itinerary that best suits your preferences and schedule. There are numerous options available, ranging from short weekend getaways to longer, more leisurely voyages that explore multiple islands. No matter the duration or the route, a Caribbean cruise offers the perfect combination of relaxation, adventure, and romance for a memorable winter babymoon.
Wrapping Up Winter Babymoon Ideas
In conclusion, a winter babymoon can be a truly magical experience. From cozy mountain retreats to luxurious spa getaways, there's a winter babymoon idea for every couple. Remember, the most important thing is to relax, enjoy each other's company, and look forward to the exciting journey of parenthood ahead.