Welcoming twins into the world is a unique adventure that calls for a celebration just as special—choosing the perfect twin baby shower theme becomes part of the excitement! Whether it's the double trouble of twin boys, the double delight of twin girls, or one of each, these little cuties give us twice the reasons to celebrate. From a "Two Peas in a Pod" theme to a storybook duo soiree, there's a world of creative ideas to explore for your upcoming twin showers. In this article, we'll reveal our favourite twin baby shower ideas that will not only honour the soon-to-arrive twins but also ensure the day is memorable for all family members and friends gathered to share in the double blessing.
---
Unique Twin Baby Shower Themes
Two Peas in a Pod
For those expecting twin girls or twin boys, the 'Two Peas in a Pod' theme wraps up the idea of twins in a charming and elegant package. Picture a colour palette of soft greens and whites, with pea pod decorations dotting your space. Fresh flowers and green balloons can form a balloon arch over the dining table, creating a whimsical atmosphere. Party favours might include cute pea pod dessert treats or a twin set of baby dolls, symbolizing your little cuties soon to make their grand entrance. It's a classic theme with a fresh twist, perfect for celebrating your favourite twin baby shower ideas in a sophisticated yet adorable style.
Noah's Ark
The 'Noah's Ark' theme is a fantastic way to celebrate the arrival of twin boys or twin girls, or one of each—embracing the 'two by two' concept naturally. You can decorate with pairs of plush animals, use a cake topper featuring Noah's Ark, and perhaps set up an ice cream bar with toppings that come in every pair imaginable. This theme not only allows for cute baby shower themes but also adds a fun twist on baby shower games, such as pairing animals in a memory game. It's a great way to have a safari theme with a fun, biblically-inspired narrative.
Storybook Duo Extravaganza
This theme brings the magic of fairy tales to life, perfect for twin girls or boys who are about to write their own stories. Transform your space into a land of imagination with decorations inspired by classic children's books. Think about table centrepieces that feature favourite storybook characters or quotes. Party games could include "Name that story," where guests match quotes to the tales, offering a creative twist to the baby shower. It's a great way to celebrate the new best friends who will have countless stories to share together.
Twinkle Twinkle Little Stars
A 'Twinkle Twinkle Little Stars' theme is a perfect blend of dreaminess and wonder for a twin baby shower, inviting guests to gaze upon a sky full of twins. Decorations can shimmer with pastel colours or the classic theme of gold and silver, complemented by gentle white balloons that mimic stars adorning the venue. Party favours might include star-shaped cookies or cute favour ideas that play into the celestial theme. Baby shower games can carry on this theme, offering a playful celebration of the little stars who will soon light up the lives of their twin parent.
Each of these unique twin baby shower themes offers a special way to celebrate the soon-to-be newest members of your family. Whether through the storybook charm, the rhythm of a classic nursery rhyme, or the adventure of Noah's Ark, these cute themes promise a baby shower filled with joy, and creativity, and the perfect theme to honour the unique bond of your twins.
---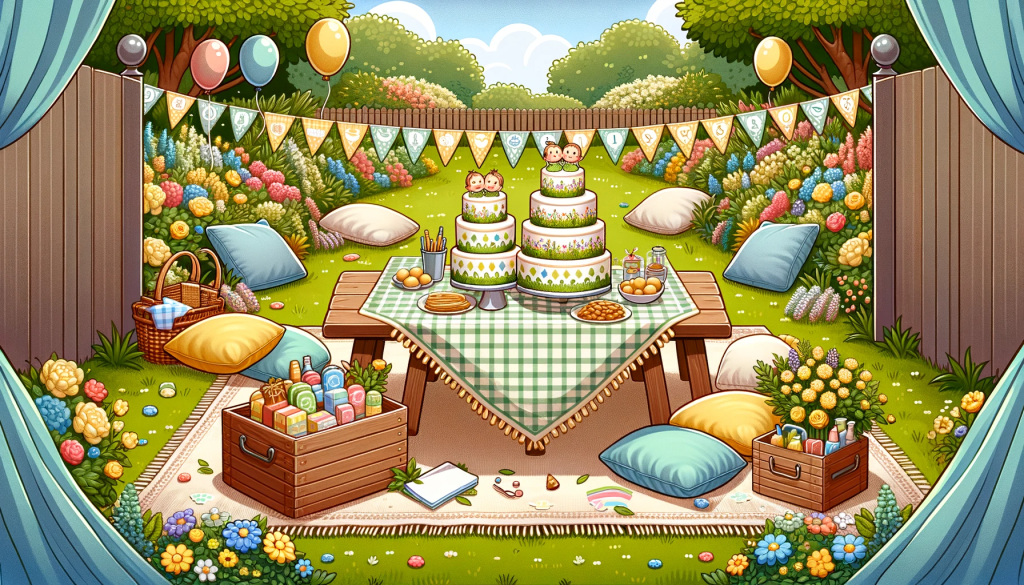 Simple Baby Shower Themes for Twins
Garden Picnic
For a serene and simple twin baby shower, a Garden Picnic theme can be perfect, especially during the summer months. Gather your family members and friends outdoors to enjoy nature's simplicity. Use picnic tables or spread out cozy blankets, and let the natural beauty of the outdoors serve as your decoration. Fresh flowers, basket centrepieces filled with seasonal fruits, and an array of food items that are easy to serve and eat outside add to the charm of this theme. It's a relaxed and joyful way to celebrate the imminent arrival of the twins, letting the sunshine and soft breezes bless the day.
Colour Block Party
For twin parents looking for a simple yet striking theme, a Color Block Party is a fabulous choice. This minimalistic approach uses bold blocks of colour to make a statement. Think blue balloons for twin boys, pink for twin girls, or a mix of both if you're keeping it a surprise. The decorations are straightforward—solid-coloured tableware, a simple cake with a modern cake topper, and coloured fabric as table runners. It's a perfect theme for parents who appreciate the beauty in simplicity and want their twin baby shower to have a stylish, modern edge.
Balloon Bonanza
A Balloon Bonanza theme is all about fun and can be a fantastic, low-stress way to celebrate your double trouble coming soon. Fill the room with balloons of all sizes and colours, and consider a dramatic balloon arch as a focal point. Balloons can be used to mimic the shape of twin baby bottles, rattles, or even spell out names. The best part? It's a great reason to have interactive party games, like balloon popping for prizes or guessing games. And when it comes to party favours, balloon-shaped cookies or a cute favour idea involving balloon keychains can be a hit!
Twin Onesies Decorating Party
Embrace the spirit of twin showers with a hands-on, creative celebration: a Twin Onesies Decorating Party. Set up a station with plain onesies and non-toxic fabric paints and let your guests unleash their creativity. This activity not only serves as a fun way to engage guests but also provides personalized keepsakes for the little ones. It's a great idea that serves double duty as both entertainment and a special gift for the twins.
---
Baby Shower Themes for Twin Girls
Princesses in Pair
Celebrating your twin girls with a 'Princesses in Pair' theme can give your baby shower the royal touch it deserves. Deck your space with regal decorations—think tiaras, wands, and a castle cake topper. Use pastel colours or traditional pink to set a royal scene, with table centrepieces featuring crowns and glass slippers. Guests could be encouraged to don their most princess-like attire, making the day a truly royal affair. It's the perfect blend of elegance and charm, creating a fairy-tale atmosphere for your little girls' arrival.
Blossom Buds
The 'Blossom Buds' theme brings a floral fantasy to life, ideal for celebrating the growth and blooming of your family with the arrival of twin girls. Adorn the venue with fresh flowers, creating bouquets that serve as both decorations and beautiful party favours. You could create a captivating environment with a floral balloon arch and perhaps include interactive elements like flower crown-making. This theme offers a natural and vibrant setting, celebrating the twin sisters as buds ready to bloom.
Fairy-Tale Dreams
Dive into a world of fantasy with a 'Fairy-Tale Dreams' theme that tells a story of 'Twice Upon a Time'. Transform the shower space into a magical kingdom with decorations inspired by beloved fairy tales. Think enchanted forests, magical carriages, and storybook quotes scattered around. This theme can make the twin girls the stars of their own fairy tale, with each table representing a different story or chapter. It's a way to celebrate their individuality and twin bond, all within a whimsical, storybook setting.
Sweet & Sassy
If you're aiming for a twin baby shower that's both adorable and has a hint of glam, the 'Sweet & Sassy' theme hits the mark. Imagine a world of pink and glitter—sparkling tablecloths, shimmering curtains, and a twinkling cake that become the focal points of the celebration. Pink glitter invitations can set the tone, while the party itself can be filled with sweet treats and sassy decor like pink boas and sunglasses for photo ops. It's a fun way to celebrate the duo with a day that's as lively and sparkling as the twin girls you're waiting to welcome.
---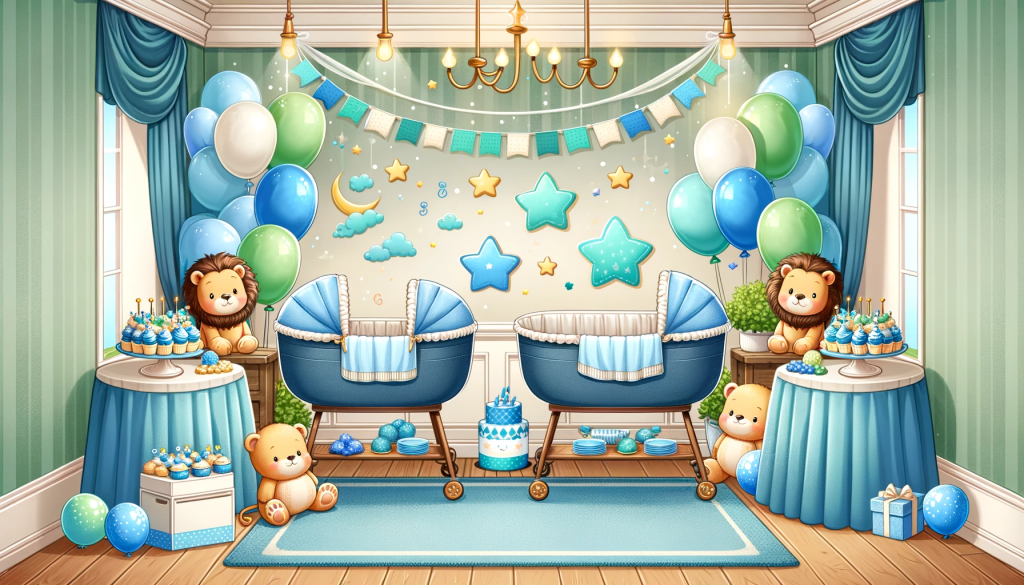 Baby Shower Themes for Twin Boys
Little Gentlemen
A "Little Gentlemen" theme brings a touch of class and tradition to your twin boys' baby shower. Picture a preppy affair with bow ties, mustaches, and newsboy caps as props. Decorate with classic theme elements such as black, white, and silver colour schemes. Table centrepieces could be mini suitcases to represent the journey these little boys will take in life. It's a timeless and endearing setup that nods to the excitement of welcoming twin boys into a world of classic gentlemanly charm.
Wild Safari Adventure
For twin boys, what could be more thrilling than a "Wild Safari Adventure" theme? Transform your space into a jungle with lush greenery, animal prints, and safari hats for guests. A fun twist can include stuffed animals like lions and elephants placed around the party area. Use safari themes in your party games, decorations like green balloons to mimic a jungle canopy, and party favours like mini binoculars to keep the adventure going.
Nautical Navigators
Set sail with a "Nautical Navigators" theme for your twin boys' baby shower. Decorate with navy blue and white stripes, anchors, and ships. You can have a backdrop that mimics the ocean and use table centrepieces such as boats or lighthouses. White balloons can float around like clouds, and you might even include a "sailor" dress code to make the theme more immersive. It's a lovely way to say "Ahoy" to the new crew members of your family.
Sports Fanatics
For the active family excited to welcome twin boys, a "Sports Fanatics" theme is a home run. Deck out the area with decor representing different sports—from footballs to baseballs and basketballs. Consider having games where guests can "score" points, and use items like mini trophies for table centrepieces. The twin boys can be celebrated as the newest members of the team, with sports-themed onesies and decorations that reflect the joy and energy of a day at the game. It's a playful and energetic theme to welcome your twin MVPs.
---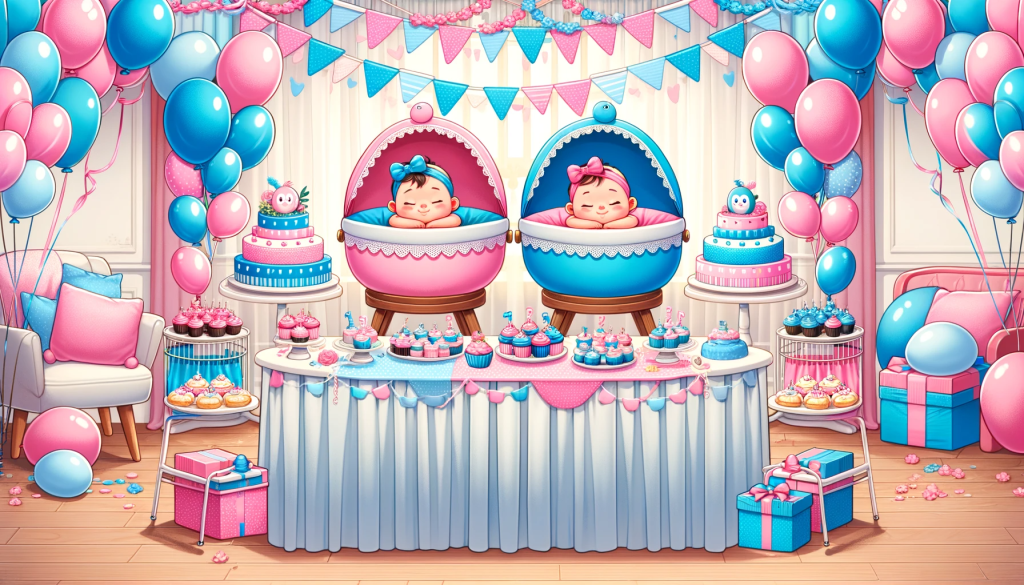 Baby Shower Themes for Twin Girl and Boy
Moon and Sun
For twins who are as different as night and day, a "Moon and Sun" theme can beautifully celebrate the duality of a girl and boy. This celestial celebration can be a symphony of contrasts with decorations featuring moons and stars paired with sunny, golden accents. A dark blue and golden yellow colour scheme can encapsulate the essence of the night sky and sunny days. From a cosmic cake topper to sun-shaped cookies and moonlit party favours, the theme promises a gathering that's out of this world.
Splash of Color
Embrace the classic with a "Splash of Color" theme that plays with the traditional pink and blue associated with girls and boys. Balloons, streamers, and tableware can alternate in these colours for a vibrant and festive atmosphere. The twin pregnancy can be celebrated with creative ideas like a dual-coloured cake, one-half pink and one-half blue, symbolizing the perfect blend of both worlds. It's a fun and visually striking theme that can be as simple or elaborate as desired.
Boots and Bows
Combining the rustic feel of cowboy boots with the delicate touch of bows can give your twin shower a "Boots and Bows" theme full of charm. Think denim and lace textures for a mix of rugged and refined. Decorations could include hay bales, bandanas, and burlap combined with lace tablecloths and delicate bow accents. This theme speaks to the heart of country style and is a cute way to celebrate the upcoming arrival of both a little girl and a boy.
Vintage Carnival
Step right up to a "Vintage Carnival" theme for a baby shower that's a guaranteed whirl of fun for a twin girl and boy. A palette of bright colors along with stripes and carnival motifs sets a playful scene. You can include classic carnival games, cotton candy, and popcorn for a nostalgic touch. With whimsical decorations like carousel horses and vintage circus posters, this theme is sure to create a memorable baby shower full of joy and laughter, celebrating the twins' special arrivals in style.
---
Planning Tips for a Twin Baby Shower
Invitations
Your invitations are the sneak peek into what's to come at your baby shower, so make sure they set the tone for your twin theme. If it's a "Two Peas in a Pod" elegance you're after, choose invitations with soft greens and pod imagery. For a "Double Trouble" party, opt for playful designs. Remember, the baby shower invitations give the first impression and build anticipation for the twin baby shower.
Decorations
When it comes to decorations, think in pairs and symmetry for a twin baby shower. Double up on everything from balloon arches to table centrepieces. If you're going with a "Moon and Sun" theme, have equal parts night and day represented. For every pink balloon or flower, consider a blue counterpart to honour both a girl and a boy. The detail is in the duality, creating a visual harmony that celebrates both twins equally.
Food & Drinks
When planning your menu, consider food and drink pairings that align with your twin theme. For "Boots and Bows," think about serving rustic bites alongside dainty scones. A "Splash of Color" theme can inspire pink lemonade and blue punch. Create a menu that doubles the delight and sticks with the theme, offering guests a cohesive and enjoyable experience.
Games & Activities
Games and activities should be tailored to double the fun. For twin showers, traditional baby shower games can be modified to fit the twin narrative. If you're doing a diaper raffle, perhaps the prize can be something that aligns with the twin theme, like tickets to a Twins baseball game or a gift card for double the treat. Set up a station for guests to write down their best advice for managing the double blessing of twins, turning it into a special gift for the twin parent. Make sure the activities you choose are inclusive and amplify the joy of expecting twins.
---
Gift Ideas for Twins
Coordinated Twin Sets
When it comes to twin-baby gifts, coordinated sets are adorable and practical. Think matching onesies with "Best Friends" or "Twin A & Twin B" slogans, or little cutie pie outfits with complementary colours or designs. For twin girls or boys, outfits with themes like "pea pod" twins or "double trouble" make for irresistible photos and sweet memories.
Dual-purpose Baby Gear
Parents of twins will appreciate gear that serves a dual purpose, saving space and streamlining care. Items like double strollers, twin carriers, or a two-seat high chair can make life much easier for new parents. Look for baby gear specifically designed for twins that can accommodate the double blessing without doubling the clutter.
Keepsakes for Each Child
It's important to celebrate each twin as an individual from the start. Personalized keepsakes like engraved picture frames, custom storybooks featuring both names or individualized baby dolls can make each child feel special. Family members and friends should consider giving keepsakes that honour the unique bond of twins while still celebrating their individuality.
Gifts for Mom and Dad
Don't forget about the twin mom and dad! Gifts that help them unwind or simplify their new hectic lifestyle are thoughtful choices. Consider a spa gift card for mom or a "Dad's survival kit" filled with humorous and practical items. Books on twin parenting or a subscription service for meal delivery can also be a great way to support them in their new adventure with twins.
---
Wrapping Up The Best Shower Theme For Twins
In the whirlwind of excitement that is preparing for twins, choosing the right baby shower theme can set the stage for a celebration that's twice as nice. Whether you're leaning towards the elegance of a "Two Peas in a Pod" theme or the playful spirit of a "Double Trouble" bash, the ideas we've discussed promise to make your twin baby shower a hit.
From the simplicity of colour-themed parties to the detailed planning of storybook extravaganzas, remember that the day is about celebrating the unique journey that is welcoming twins. And while the themes, decorations, and games are important, it's the shared laughter, the heartfelt gifts, and the support of family and friends that truly make the day memorable.
As you plan this special event, cherish every moment—from selecting the perfect invitations to picking out the best twin-baby gifts. After all, a twin baby shower isn't just a party; it's the start of a new chapter filled with double the love, double the joy, and certainly double the adventure. So here's to the twin journey ahead—may it be as wonderful and unique as the two precious lives it celebrates.