Table of Contents
Welcoming a new baby is an exciting time, and baby showers play a significant role in the celebration. A key part of a shower are the fun baby shower games, which not only entertain your guests but also create lasting memories. An essential aspect of these games is the prizes given to the winners. Selecting the right gifts for baby shower games can boost the enjoyment and add an extra layer of excitement for baby shower guests. From gift cards and lip balm to bath bombs and coffee mugs, the prizes can be as varied as the games themselves.
They serve as a great way to show appreciation to the baby shower game winners and add to the overall theme of the celebration. Whether it's a coed baby shower or a more traditional gathering, the right prizes can turn fun games into memorable experiences. In this guide, we'll explore a range of baby shower game gifts, ensuring they align perfectly with your baby shower theme and guest list, while also respecting your baby shower budget.
---
So What Are Baby Shower Game Prizes?
Definition and Purpose of Prizes in Baby Shower Games
Baby shower games are a staple of these joyous events, bringing laughter and friendly competition to the celebration. The inclusion of prizes for these games is more than just a tradition; it's a way to enhance engagement and add an extra layer of fun. These prizes, varying from small items like lip balms or nail files to more substantial gifts like gift baskets or wine glasses, serve as a token of appreciation and a memento of the special day. They encourage participation, making the baby shower more enjoyable for all guests.
Importance of Selecting Appropriate Gifts
Choosing the right prizes is crucial in ensuring that the baby shower games are a hit. Good prizes should align with the overall baby shower theme, be considerate of the baby shower budget, and cater to a diverse guest list. For co-ed showers, unisex items like coffee mugs or bath bombs are a great option, ensuring no guest feels left out. For more gender-specific showers, one might consider baby-themed gifts or items that reflect the preferences of the expected baby's gender.
What are Good Prizes for Baby Shower Games?
The best baby shower game prizes strike a balance between being desirable and practical. Gift cards are a popular choice, offering flexibility and allowing winners to choose their own gifts. For a more personal touch, handcrafted items like sugar scrubs or custom-made face masks can be delightful. These smaller prizes are not only thoughtful but also serve as a great way to commemorate the event.
What Kind of Gifts to Give for Baby Shower Games?
When selecting gifts, consider the variety of baby shower games planned and the interests of your guests. Fun baby shower games like 'baby jeopardy' or 'dirty diaper' might call for lighthearted prizes such as quirky photo frames or funny baby items. For more relaxed games, a scented candle or a small bottle of olive oil can be a perfect baby shower prize. It's also a great idea to have a mix of prizes, ranging from smaller, simple gifts like lip gloss or nail polish for quick games to grander prizes like a luxurious bubble bath set or a beautifully crafted picture frame for more involved games.
---
How To Pick Baby Shower Game Prizes?
Balancing Budget and Quality
When planning a baby shower, the budget is a crucial factor in determining the type of gifts for game winners. Affordable yet thoughtful items can make great prizes without breaking the bank. For instance, small gift cards, lip balms, or nail files are cost-effective yet appreciated choices. Coffee mugs or hand lotions also make for perfect baby shower prizes that are both useful and delightful. It's important to find a balance between affordability and quality to ensure the prizes are both appealing and within the baby shower budget.
Embracing Gender-Neutrality in Prizes
In today's diverse baby shower landscape, including co-ed and virtual baby showers, selecting gender-neutral gifts is key. This approach ensures all party guests feel included, regardless of the baby's gender. Unisex items like bath bombs, face masks, or even small home goods like olive oil or a set of blank bingo cards cater to a wide audience. For a fun twist, consider humorous yet useful gifts like a baby doll or a 'dirty diaper' game kit, which can bring laughter and enjoyment to any baby shower setting.
Uniqueness and Personalization
Adding a unique touch to baby shower game gifts can make them more memorable. This could be achieved through personalized items, such as custom-made lip gloss or picture frames. Even simple gifts can be made special with a bit of creativity, like a mason jar filled with homemade sugar scrub or a cute basket with a selection of coffee beans and hand lotion. Unique baby shower game prizes not only stand out but also show the guests that extra thought and care have been put into choosing them.
Catering to Different Guest Preferences
Considering the varied preferences of baby shower guests is important when selecting game prizes. A mix of gifts can cater to different tastes and interests. For example, wine glasses might be a hit with some guests, while others might prefer a cozy coffee bag or essential oils. For smaller prizes, items like lip gloss, nail polish, or fun socks are universally liked and can be a great way to cater to a broad range of guests.
Small Gifts for Game Winners
When it comes to smaller prizes, the key is to select items that are delightful yet practical. These can include items like lip balm, nail files, or small photo frames. Even modest prizes can be made special with a pretty ribbon or unique packaging. It's the thought and presentation that often make these small gifts stand out as great prizes for baby shower games.
In summary, when choosing gifts for baby shower game winners, it's essential to consider a blend of budget, gender-neutrality, uniqueness, and guest preferences. This thoughtful approach ensures that every prize adds value and joy to the baby shower celebration.
---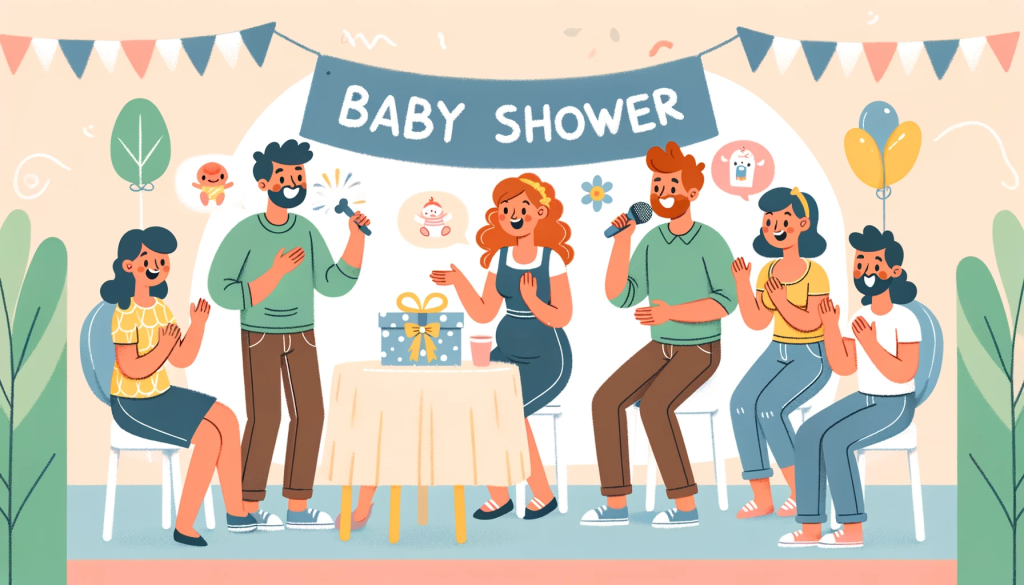 Budget-Friendly Baby Shower Game Prizes
Lip Balm and Nail Polish: Affordable and always useful, these small items are a hit. Add a personal touch with custom labels or unique colours.
Artisanal Delights: A small bag of gourmet coffee beans or a beautifully wrapped homemade cookies. Perfect for the foodies in your group.
DIY Sugar Scrubs: Homemade sugar scrubs in a mason jar not only save money but also add a personal touch. Choose unique scents to make them extra special.
Handcrafted Lip Gloss: Creating your own lip gloss allows for customization and adds a special, personal feel.
Personalized Coffee Mugs: A project that's both practical and heartwarming – literally!
The Ultimate Pamper Basket: Combine small items like face masks, mini bubble baths, or scented candles in a cute basket for a charming gift.
Reimagined Everyday Items: Transform items like patterned socks, small picture frames, or olive oil bottles with creative packaging.
Bath Bomb Bonanza: A universally loved prize, bath bombs are both inexpensive and indulgent.
Functional Fun with Kitchen Gadgets: Small kitchen tools or beautifully designed nail files make practical yet exciting prizes.
Blank Bingo Cards Set: A nod to the baby shower games themselves, these can be both thematic and fun.
In essence, these inexpensive baby shower game prizes demonstrate that you don't need a big budget to bring big joy. With a mix of DIY creativity, thoughtful presentation, and a sprinkle of personal touch, these ideas are sure to make your baby shower games a delightful experience for all your guests.
---
Creative and Unique Baby Shower Game Prize Ideas
Personalized Lip Balm: Customized lip balm labels offer a unique and personal touch. Choose flavours that match the baby shower theme for added fun. You can use these printable labels to create the personalized look.
Handcrafted Soaps: Create or source soaps shaped to fit the baby shower theme – a lovely and unique prize. These soaps on Amazon are an awesome example.
Quirky Kitchenware: Think outside the box with items like whimsical wine glasses or a set of unique coffee mugs – perfect for adding a bit of fun to the kitchen.
Experience Vouchers: Offer a touch of luxury with vouchers for a local coffee shop or a mini spa treatment – an indulgent way to pamper the winners.
Engraved Photo Frames: Personalized photo frames are both memorable and meaningful, adding sentimental value to the prize.
Monogrammed Hand Towels: For a touch of elegance, choose hand towels with custom monograms.
DIY Art Pieces: Encourage creativity with custom art pieces or DIY kits, like a baby doll or a quilt-making set.
Seasonal Gifts: For a summer baby shower, consider sun hats or sunglasses; they're both practical and theme-appropriate.
Art and Culinary Kits: A set of watercolour paints or a baking set can be a unique prize.
Versatile Board Games: A great choice for a co-ed baby shower, board games are fun and ensure ongoing entertainment.
These unique gift ideas for baby shower games blend creativity, personalization, and fun, ensuring that every prize is a highlight of the celebration. Whether it's a DIY project or a store-bought treasure, these gifts will add an extra layer of joy and excitement to your event.
---
Gender-Specific Gifts
Gifts for Girl Baby Shower Games
When hosting a baby shower celebrating a baby girl, selecting gifts that align with this theme can add a special touch. Consider gifts that are both charming and practical. For instance:
Personalized Jewelry: Small charm bracelets or necklaces with cute motifs like hearts or stars.
Customized Stationery: Notebooks or diaries with floral designs or pink accents.
Baby-Themed Items: Miniature baby dolls or plush toys in soft pinks and purples.
Beauty Products: Lip gloss sets or mini nail polish kits in pastel shades.
Decorative Home Items: Photo frames with feminine designs or small potted plants with pink ribbons.
Craft Kits: DIY bead-making sets or scrapbooking kits, ideal for creative guests.
Fashion Accessories: Scarves or hair accessories with girly details.
Sweet Treats: Boxes of artisanal chocolates or homemade cookies with pink icing.
These gifts, ideal for baby shower games celebrating a girl, not only resonate with the theme but also provide a variety of options to suit different preferences.
Gifts for Boy Baby Shower Games
For baby showers centred around the arrival of a baby boy, game prizes can be themed accordingly. Some suggestions include:
Sports-Themed Items: Mini footballs or baseball caps, perfect for sports enthusiasts.
Adventure Gear: Small compasses or multi-tool keychains for outdoor-loving guests.
Automotive Accessories: Car-themed keychains or model cars.
Tech Gadgets: Earbuds or portable phone chargers, suitable for tech-savvy guests.
DIY Kits: Model building sets or simple woodworking kits.
Gourmet Snacks: Packs of gourmet nuts or beef jerky, ideal for snack lovers.
Bookmarks or Books: Themed around adventure stories or famous male characters.
Practical Home Items: Bottle openers, BBQ tools, or small LED flashlights.
By choosing gifts that align with a boy-themed baby shower, you ensure that the prizes are relevant and add to the celebratory atmosphere of the event. These gifts for baby shower games for boys offer a range of options to cater to various interests and preferences.
---
Gender-Neutral Baby Shower Prize Ideas
In today's diverse and inclusive world, it's often preferred to choose baby shower game prizes that are unisex, catering to all guests and suitable for any baby shower theme. Gender-neutral gifts ensure that every participant, regardless of the baby's gender or the preferences of the parents-to-be, can enjoy and appreciate the prizes. Here are some universally appealing gift ideas:
Gift Cards: Always a great option, gift cards to popular stores or online platforms offer flexibility and are universally appreciated.
Gourmet Food Items: Artisanal chocolates, gourmet coffee beans, or a set of unique teas can delight any palate.
Home Decor: Small potted plants, elegant candles, or neutral-coloured picture frames can enhance any home setting.
Self-Care Products: Quality unisex items like bath bombs, essential oils, or face masks are perfect for a bit of pampering.
Books: A good book or a journal can be a thoughtful and gender-neutral gift.
Eco-Friendly Items: Reusable water bottles, bamboo utensil sets, or eco-friendly tote bags are both practical and environmentally conscious choices.
Tech Accessories: Portable chargers, earbuds, or universal phone stands are practical gifts that appeal to the tech-savvy.
DIY Kits: Craft kits or DIY food kits like a make-your-own hot sauce pack can provide a fun and unique experience.
By focusing on gender-neutral prizes for baby shower games, you not only make the selection process easier but also ensure that every guest, regardless of their gender, finds something to appreciate. These unisex gift ideas are not just safe bets but are also a reflection of the modern, inclusive approach to celebrating new life.
---
Wrapping Up The Best Gifts For Baby Shower Games
In the joyful journey of planning a baby shower, one of the key highlights is the selection of gifts for the games. As we have explored, there is a vast array of options available, catering to every theme, preference, and budget. From personalized items like photo frames and handcrafted lip balm for a more intimate gathering, to universal favourites like gift cards and gourmet food items for a diverse guest list, the possibilities are endless.
We delved into the importance of choosing gifts that resonate with the baby shower theme, whether it be gender-specific items like miniature baby dolls for girls or sports-themed accessories for boys, or gender-neutral options like eco-friendly tote bags and tech gadgets that are universally appealing. The significance of these gifts goes beyond mere tokens; they are a reflection of appreciation for the guests' participation and contribute to the overall festive atmosphere of the event.
Budget-friendly options like handmade sugar scrubs or small kitchen gadgets have shown that thoughtful gifts need not be expensive. At the same time, unique gifts like DIY kits or custom-made items add a personal touch that can make the baby shower memorable.
As you prepare for your upcoming baby shower, we encourage you to draw inspiration from these ideas. Remember, the best gifts are those that come from the heart, align with your baby shower theme, and consider the preferences of your guests. Whether you opt for small, practical items or grand, unique prizes, the right gifts will add joy and excitement to your baby shower games, making your celebration a cherished event for all who attend.