Table of Contents
Ready to celebrate the arrival of a new baby with a special occasion that's all about the mom-to-be and the little star of the show? Choosing the perfect baby shower cake is a sweet treat that deserves a lot of attention. Whether you're revealing the baby's gender with a blue colored cake or a pink pastel delight, or opting for a gender-neutral cake to keep the surprise, the top of the cake is your canvas to convey best wishes and welcome the new addition.
A baby shower theme can significantly influence your cake design, from elegant tiered cakes to simple sheet cakes adorned with teddy bears or hot air balloons. For a baby girl or boy, incorporating elements like little miracles and tiny feet into the cake can make for a beautiful cake that also serves as the centrepiece of your dessert table.
Now, let's dive into creative ideas and great cake options to help you say "Welcome Baby" in the most delicious way possible!
---
Importance Of Cake At A Baby Shower
The baby shower cake isn't just a dessert; it's a symbol of celebration and anticipation. This sweet centrepiece at a baby shower is steeped in tradition, symbolizing the sweet new life that's about to enter the world and the transformation of a woman into a mother. A baby shower isn't just a special event; it's a heartfelt gathering that showers the expectant parents with love, support, and good wishes for their new journey.
The presence of a cake goes beyond just indulgence; it acts as a communal point where stories are shared, laughter echoes, and memories are made. It's often at the dessert table that guests gather, play baby shower games, and indulge in the joy of the occasion. The cake itself, a tiered masterpiece or a simple cake, reflects the baby shower theme and the expectant parents' style, often hinting at the gender of the baby with its colour scheme or cake wordings.
The tradition of having a cake at a baby shower is a nod to the idea that a new arrival deserves a celebration as grand as the new life itself. In many cultures, the act of cutting the cake by the soon-to-be parents symbolizes the imminent arrival of their baby and the new addition to their family. The cake, often adorned with baby animals, crescent moons, or little stars, is a beacon of the sweet beginnings and the joys of parenthood that await the new parents.
---
Deciding What to Put on a Baby Shower Cake
Deciding what to inscribe on the top of a baby shower cake is a great opportunity to add a personal touch that resonates with the new parents and reflects the joy of the occasion. Whether you opt for a big cake or a more modest size, the message on it is a celebration of the new life and the special occasion.
Traditional cake wordings like "Welcome Baby [Last Name]" or "Little [Boy/Girl] on the Way" remain ever-popular, resonating with the timeless joy of welcoming a new addition. For those who know the baby's gender, phrases like "Hello, Little Man" or "Sugar and Spice for our Little Girl" add a charming specificity to the celebration.
Creative ideas can take inspiration from the baby shower theme; for example, a hot air balloon-themed party could feature a cake that reads "Up, Up and Away with Baby [Name]," or a teddy bear theme could have "Bear Hugs for Baby [Name]" frosted beautifully on the top. For gender-neutral cakes, consider whimsical sayings like "Oh Baby! What a Surprise!" or "Welcome to the World!"
The joy of personalizing the cake means there are no fast rules. If the parents-to-be have a good sense of humour, puns or playful phrases like "Booties and Diapers and Bibs, Oh My!" or "Ready to Pop!" could be a hit. For a more heartfelt approach, "Born to Be Loved" or "Dream Big, Little One" can add an emotional depth to your sweet treat.
Ultimately, the cake inscription is more than just words; it's a conveyance of best wishes, anticipation, and the promise of new adventures. It's a reflection of the happiness that a little miracle brings into the world, making it a focal point that goes beyond just a beautiful cake—it becomes a centrepiece that tells a story.
---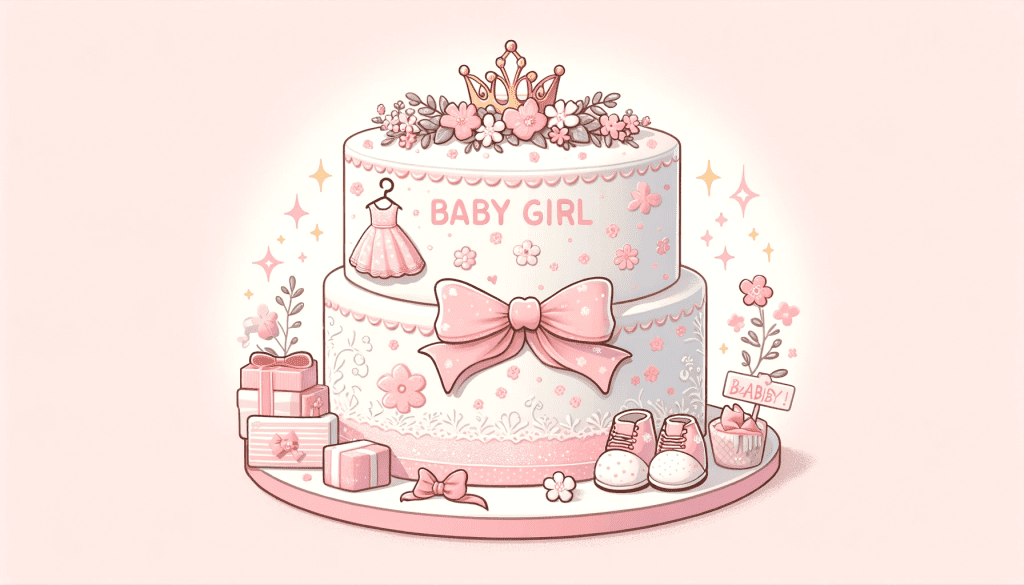 What To Put On A Baby Shower Cake For A Girl
When it comes to celebrating a little girl on the way, the baby shower cake can be a canvas for delicate and lovely ideas that charm and delight. Popular phrases such as "Pretty in Pink," "Welcome Little Princess," or "A Bundle of Bows, Little Toes, and a Girl Who Glows" are not only endearing but they also celebrate the arrival of a baby girl with warmth and excitement.
The design elements for a baby girl's shower cake often lean towards pastel pinks, soft lavenders, or elegant creams, aligning with a gentle and serene colour scheme. A sprinkle of edible glitter, fondant decorations shaped like baby booties, or a topper with a tiny tiara can add a touch of whimsy to the dessert table.
For those looking for something beyond colour, a cake featuring a fondant teddy bear holding a heart or a sleeping baby fawn can be a great idea, embodying the tenderness of the occasion. Floral patterns and accents such as roses or peonies in buttercream add a classic and sophisticated touch, echoing the theme of new life and beauty.
Incorporating creative ideas like a tiered cake adorned with a fondant hot air balloon with the phrase "Up, Up, and Away" captures the essence of adventure right from the start. For parents-to-be who prefer subtlety, a simple cake with a graceful "It's a Girl" or "She's Almost Here" can be just as impactful.
The perfect cake for a baby girl shower balances charm and elegance, with a personal touch that speaks volumes of the love awaiting the new arrival. Whether the cake boasts a big, bold design or showcases understated elegance, it's a sweet way to say "hello" to the little girl who's soon to be the star of the show.
Saying Ideas For A Girl's Baby Shower Cake
Certainly! Here's a list of sweet and heartwarming sayings that would be perfect for a baby girl's shower cake:
"Sugar, Spice, and Everything Nice"
"Little Miss Sunshine Arrives Soon"
"Twinkle, Twinkle, Little Star, Do You Know How Loved You Are?"
"Dream Big, Little One"
"Welcome to the World, Baby Girl"
"Oh Baby! A Little Sweetheart is on Her Way"
"Here Comes the Princess"
"A Touch of Pink, a Bit of Lace, and Soon We'll Meet Her Sweet Little Face"
"Booties and Bows, Ballet and Blush, We're Waiting for Our Little Girl"
"Petite Feet with a Little Pink Glow, Our Family is Growing by Two More Feet!"
These sayings can be paired with a variety of design elements like ribbons, bows, and floral motifs to create a cohesive and enchanting visual presentation for the cake. They add a personalized and loving touch to the celebration, making the cake not just a dessert but a centrepiece that conveys excitement and joy for the little girl's forthcoming arrival.
---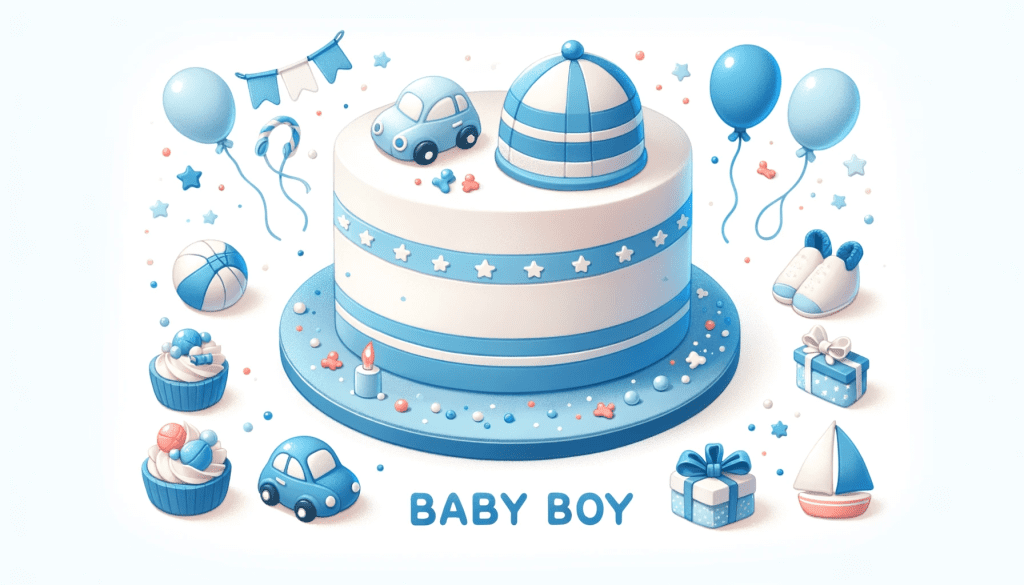 What To Put On A Baby Shower Cake For A Boy
When the baby shower is in honour of a baby boy, the cake often reflects charming and bold themes that are both adventurous and heartwarming. Phrases like "Oh Boy!", "Welcome Little Man," or "Adventure Awaits" are favourites and perfectly encapsulate the excitement of welcoming a new little boy into the world.
Designs for boy-themed cakes might include a playful baby blue palette or even navy tones for a bolder look. Ideas like a tiered cake resembling ocean waves topped with a sailboat, or a cake designed like a sports ball for the future athlete, celebrate the baby boy's potential adventures and interests.
For something classic, a baby shower cake with a teddy bear holding a blue balloon, or a fondant baby elephant with its trunk lifted high for good luck, can be great choices that offer both sweetness and a touch of masculinity. A cake with a fondant crescent moon and a sleeping baby bear underneath, accompanied by the phrase "To the Moon and Back," adds a whimsical yet serene touch to the special occasion.
If you're seeking to personalize the cake further, consider using the baby's last name with a simple "Baby [Last Name]" or play with the theme of little explorers with phrases like "Brave Little One" atop a cake shaped like a hot air balloon or with a map of the world as its base.
For the parents who have decided on a baby shower theme, the cake can match with elements like baby animals, jungle motifs, or even a superhero emblem if they're fans of comic book heroes. A cake with a simple "Welcome Baby" paired with a custom cake topper reflecting the baby's gender, such as a tiny bowtie or a pair of baby sneakers, can be both adorable and fitting for the occasion.
Whether the parents-to-be envision a big cake adorned with blue frosting stars for their little star, or a simple cake that plays with textures and shades of blue, each design offers a delightful preview of the joy and energy a baby boy brings. Every slice of the cake is a promise of the new life and the exciting times ahead with the newest member of the family.
Saying Ideas For A Boy's Baby Shower Cake
"Oh Boy! Adventure Awaits"
"Welcome Aboard, Little Sailor"
"Zooming into the World"
"Little Man, Big Love"
"To the Moon and Back, Baby Boy"
"Roarsome Baby on the Way" (perfect with a dinosaur theme)
"Choo-Choo, Baby Boy's Due!"
"A Little Gentleman is Joining Us"
"Bouncing into the World"
"Our Little Hero is Almost Here"
These phrases can be beautifully incorporated into the cake design with elements like toy blocks, tiny sports balls, stars, or little animals, depending on the overall theme of the baby shower. They resonate with the excitement and celebration of a new boy joining the family and make the cake a memorable part of the special day.
---
Baby Shower Cake Saying Ideas
When it comes to choosing the perfect phrase for a baby shower cake, think of it as the icing on top of an already sweet occasion. Here's a curated list of sayings for that special touch:
Classic Greetings:
"Welcome Baby"
"Oh Baby!"
"Baby [Last Name]"
"Sweet New Arrival"
"Here Comes Trouble!"
"New Star in the Sky"
"The Adventure Begins"
"Joyful Arrival"
"A Heart Full of Love"
Gender-Specific Phrases:
"Hello Little Princess"
"Welcome Little Prince"
"Sugar, Spice, & Everything Nice"
"Our Little Man"
"Princess in Progress"
"Mr. Handsome's Debut"
"Queen of the Crib"
"Charming New Boy"
Gender-Neutral Messages:
"Little Miracle"
"Bundle of Joy"
"Dream Come True"
"Welcome Little One"
"Newest Family Member"
"Our Tiny Miracle"
"Love Comes in Small Packages"
"Peek-a-Boo, We Welcome You"
"Our Future Is Bright"
Themed Sayings:
For a hot air balloon theme: "Up, Up and Away"
For a teddy bear theme: "Bear Hugs for Baby"
For a storybook theme: "Once Upon a Time…"
For a safari theme: "Wild About Baby"
For a nautical theme: "Ahoy, It's a Boy/Girl!"
For a garden theme: "Bloom and Grow"
For a space theme: "To the Moon and Back"
For a sports theme: "Little MVP on the Way"
For a music theme: "Our Little Maestro"
Personal Touches:
An inside joke
A line from the parents' favourite song
A meaningful quote from a future bedtime story
A favourite family saying
A meaningful bible verse or spiritual quote
A lyric from a lullaby they'll sing to the baby
A playful nickname for the baby
Tips for Cake Writing:
Brevity is Key: Keep the message short to fit the cake.
Align with the Theme: Choose words that complement the baby shower's theme.
Personalization: Use the baby's or family's last name for a special touch.
Photogenic Phrases: Pick a saying that will look good in photos.
Parental Input: When in doubt, consult with the expectant parents.
Remember, the writing on the cake is more than just decoration—it's a celebration of new life and a reflection of joy and anticipation. Let these words be a memorable part of the baby shower's sweetness.
Keep it Short and Sweet: The top of the cake has limited space, so a concise message is key.
Match the Mood: If it's a lighthearted, fun baby shower, feel free to be playful with words. For a more elegant affair, classic phrases work best.
Personalize It: Adding the baby's name or the family's last name can make the cake feel unique to the baby shower.
Think of the Photos: This cake will likely feature in many photographs, so choose words that look as good as they sound.
Consult with the Parents-to-Be: If you're not sure, it's always a good bet to ask the expectant parents what they would prefer.
The writing on the cake is the centrepiece of the dessert table, so make it count. Whether it's a simple cake with minimalist lettering or a big cake with elaborate fondant decorations, the words you choose are the icing on top of this very special celebration.
---
Decorations and Topping Ideas
Decorations and toppings on a baby shower cake are the crowning glory that can transform a simple cake into a stunning centrepiece for the special occasion. Beyond traditional writing, there's a whole world of creative ideas to explore that can reflect the baby shower theme, colour scheme, and the joyous anticipation of the new arrival.
Edible Decorations
Fondant Decorations: From adorable baby animals to tiny fondant baby shoes, these edible decorations can add a lot of detail and charm to the cake.
Fresh Fruit: Seasonal fruit not only adds a pop of color but also a fresh, natural flavour to the cake. Berries, sliced kiwi, or even a crescent moon made of thinly sliced apples can be both beautiful and tasty.
Chocolate or Candy: Custom-shaped chocolates or candies can be sprinkled on top of the cake for a playful touch that's also a sweet treat.
Cake Toppers
Custom Cake Toppers: These can range from an elegant script that spells out "Baby" or "Welcome" to figures such as a stork delivering a bundle or a sleeping baby.
Teddy Bear or Hot Air Balloon Figures: A teddy bear or a hot air balloon can serve as adorable cake toppers, perfect for a themed baby shower.
Personalized Items: Using something like a baby's last name or a miniature banner with a meaningful phrase can add a personal touch that resonates with the expectant parents.
Design Elements
Baby Shower Cake Inscription: Instead of or in addition to the top of the cake, consider having a beautiful cake inscription along the sides.
Edible Glitter or Gold Leaf: A bit of sparkle or a touch of gold can elevate the cake's appearance, making it a gorgeous cake that stands out.
Patterned Icing: Swirls, rosettes, or ombre effects with buttercream can make for a visually stunning cake without the need for additional toppers.
Gender-Specific Ideas
For a Baby Girl:
Pastel Pinks and Florals: A classic that never goes out of style, incorporating soft pinks and floral designs.
Teddy Bear Tea Party: A cute teddy bear surrounded by miniature teacups and saucers can create an adorable theme.
Hot Air Balloon Adventure: Soft hues with clouds and a delicate hot air balloon can symbolize the new adventure ahead.
Butterflies and Blossoms: A cake decorated with edible butterflies and blossoms to symbolize transformation and new beginnings.
Welcome Little Princess: Incorporate little crowns or tiaras and the phrase "Welcome Little Princess" for a regal touch.
Magic Garden: Enchanting garden creatures like ladybugs and bees with a variety of sugar flowers.
Rainbow and Unicorns: For a splash of colour, a rainbow-themed cake with a touch of unicorn magic.
For a Baby Boy:
Ocean Wonders: Waves of blue icing with marine life like friendly whales or starfish.
Little Gentleman: Bowties, mustaches, and a hat for a dapper cake design.
Sports Galore: Tiny edible balls from different sports for a future athlete.
Sky's the Limit: Planes, clouds, and a bold "Adventure Awaits" message for a little boy.
Jungle Safari: A mix of baby animals like lions, giraffes, and monkeys amidst a green jungle backdrop.
Nautical Navigator: Anchors, ships, and a lighthouse for a nautical-themed celebration.
Little Star: Night sky-themed cake with a crescent moon and the phrase "Twinkle, Twinkle, Little Star."
Gender-Neutral Options:
Sunny Yellow and Spring Green: A cake featuring sunny yellow and spring green can symbolize a fresh and bright beginning.
Rainbow Cake: Each layer a different colour, this cake is as joyful as it is vibrant, perfect for a surprise baby.
Twinkling Little Stars: A starry theme with the phrase "A Star is Born," using gold and silver accents for a touch of sparkle.
Woodland Creatures: Forest-themed with adorable foxes, owls, and hedgehogs amid greenery and autumnal colours.
Golden Safari Adventure: Subtle safari theme with golden animal silhouettes and adventure-inspired decorations.
Alphabet Blocks: A playful take with colourful fondant blocks spelling out a welcome message.
Up in the Clouds: Soft blue, white, and gray palette featuring fluffy clouds and kites or balloons.
Enchanted Garden: A mix of edible flowers and butterflies in a variety of soft colours, perfect for any baby.
Buzzy Bees and Daisies: A sweet as honey theme with bees buzzing around daisy chains.
Ocean Explorer: Celebrating the mystery of the sea with waves, sea creatures, and a message of exploration.
Practical Tips:
Always consider any potential food allergies among the guests when choosing edible decorations.
If the baby shower is during warmer months, avoid decorations that might melt or wilt in the heat.
Remember the practicality of serving; decorations should be easy to remove or eat around when it's time to enjoy the cake.
The perfect cake for a baby shower isn't just about how it looks; it's about creating a delicious cake that's also a great conversation starter and a memorable part of the celebration. Whether it's through a tiered cake with elaborate fondant decorations or a naked cake with simple, natural toppings, the goal is to craft a sweet treat that reflects the love and excitement for the new life about to begin.
---
Is There Supposed To Be Cake At A Baby Shower?
When planning a baby shower, the question often arises: Is a cake essential? The short answer is, it's up to you. Traditionally, cakes have been a centrepiece of baby showers, symbolizing sweetness and joy for the new arrival. But traditions evolve, and so do preferences.
Cake's Role in Baby Showers:
Symbolism: Cakes traditionally symbolize fertility, new life, and celebration, making them a fitting tribute at baby showers.
Visual Centerpiece: A beautifully decorated cake often serves as the focal point for the shower, around which games are played and guests gather.
Alternatives to Traditional Cake:
Cupcake Tower: Cupcakes arranged in a tower offer a similar visual effect to a traditional cake but allow for a variety of flavors and easier distribution among guests.
Dessert Buffet: Offering a buffet of assorted desserts like macarons, pastries, and fruit tarts can cater to varied tastes and dietary restrictions.
Themed Desserts: Opt for desserts that tie into the baby shower theme, such as animal-shaped cookies for a jungle theme or sea foam candy for a nautical theme.
Healthy Options: For health-conscious groups, a fruit platter or parfaits could be a refreshing alternative to cake.
Considerations for Going Cake-Free:
Guest Preferences: Be aware of any dietary restrictions or preferences that might make alternative desserts more suitable.
Event Style: The formality and setting of the baby shower might lend themselves better to different types of desserts.
Budget: Sometimes, alternative desserts can be more budget-friendly, especially if they are homemade.
Final Thoughts:
Whether you decide to have a traditional cake or break the mold with an alternative, the goal is the same: to celebrate the upcoming arrival of a new family member. The decision should ultimately reflect the expectant parents' tastes and the desired atmosphere of the baby shower. No matter what you choose, the sweet treat at the end of the day is about sharing happiness and making memories with loved ones.
---
Wrapping Up What To Put On A Baby Shower Cake
In the joyful anticipation of welcoming a new life into the world, a baby shower is a special occasion that brings together family and friends to shower the expectant parents with love and support. The cake, with its layers of meaning and tradition, often stands at the heart of this celebration. Whether it boasts the classic "It's a Girl" in pastel pinks or goes for gender-neutral chic with playful baby animals, the cake is more than just a dessert; it's a canvas for creativity, a sweet emblem of the new journey, and a delicious way to celebrate the new addition.
From the delicate and lovely ideas perfect for a little girl's welcome party to the charming and bold inspirations that celebrate a little boy's upcoming adventure, the personal touch in the cake's design and wordings speaks volumes. It reflects the excitement, the personality, and the love that surrounds the baby's arrival.
And yet, if tradition isn't your slice of cake, there's room to innovate with a range of desserts that can equally capture the spirit of the occasion. The essence of a baby shower isn't in the type of cake or dessert served but in the warmth and well wishes it represents. Whether you end up with a tiered cake or a modern twist on the classic, what matters is the gathering of friends and family to express their best wishes for the new parents.
As we wrap up, remember that the perfect baby shower cake or dessert is the one that best suits your celebration, style, and taste. It's about making the day memorable for the expectant parents and ensuring that guests leave with sweet memories. In every sprinkle, every hue of frosting, and each slice shared, the message is clear: showers of love for the baby to come, the true star of the show.