Winter is knocking at the door, and it's time to gear up for some snowy fun with the little ones. Before you hit the slopes, let's talk about the best ski helmets for toddlers.
Selecting the best helmet isn't just about finding one in bright colours that your little skier adores, it's about ensuring the utmost protection. A high-quality helmet, tailored to fit your child's head correctly, is the first defence against potential head injuries. It's indeed a good idea to invest in a helmet that offers excellent safety features, including a sturdy outer shell, perhaps with in-mold construction, and a snug fit that stays secure even during higher speeds of downhill fun.
When searching for the best ski helmet for toddlers, pay attention to certain vital aspects. A helmet with an adjustable dial can be a real game-changer, allowing you to find the perfect fit for varying head sizes, be it small heads or large heads. In addition, the chin strap should be comfortable yet secure, preventing any wiggling or shifting of the helmet. And don't overlook the importance of additional features like a goggle clip that keeps ski goggles securely in place, and removable ear pads for those warm days on the slopes.
So let's "slide" into it shall we?
---
How Do I Choose A Ski Helmet For My Child?
Understanding the Basics
Ski Helmet Structure and Design
When it comes to the structure and design of kids' ski helmets, the outer shell plays a significant role in providing the first layer of protection. Usually, you'd find helmets with reinforced ABS shell or in-mold construction which ensures both a lightweight helmet structure and substantial shock absorption. Inside, a soft inner lining coupled with an EPS foam interior contributes to both comfort and additional safety.
Different Types of Ski Helmets
There's a wonderful variety in the market, from helmets with integrated goggle clips to those with extra protection features such as MIPS technology, a low-friction layer designed to reduce rotational forces on the brain during an impact. When choosing, consider options like the Retrospec Traverse H or Wildhorn Drift snowboard helmets that bring together modern safety features and stylish designs suitable for young skiers.
Fit and Comfort
Measuring the Child's Head
First thing first, to find the best helmet, you need to measure your child's head accurately. Use a tape measure or a soft measuring tape to gauge the circumference of the kid's head to get the right size. Remember, the correct head size will lead to the right fit, which is essential for maximum safety.
Trying Different Sizes and Styles
Don't hesitate to try different sizes and styles. Helmets come in various shapes to suit every head shape, be it large heads or small heads. It might be a good idea to visit a store where the young skier can try a variety of helmets to find the one that fits snugly and comfortably.
Importance of a Snug Fit
A snug fit means the helmet sits evenly on the child's head, with no pressure points. The back of the helmet should sit low, covering the back of the young skier's head properly for optimum protection.
Features to Consider
Ventilation
Ventilation is vital to keep the little skier comfortable. Look for helmets with adjustable vents or adjustable ventilation systems that allow a flow of fresh air, keeping goggles fog-free and preventing overheating even on warm days.
Visor/Face Shield Options
Considering helmets with visor or face shield options might be an excellent choice. They not only provide added protection but also integrate well with ski goggles, offering a comprehensive safety solution for young children.
Adjustability and Ease of Use
Adjustability is a key feature in kids' helmets. Features like an adjustable dial and BOA fit system ensure easy size adjustment and a perfect fit, making it simpler for young kids to handle their gear.
Certifications and Standards
Existing Safety Standards
When considering safety features, it's paramount to understand the existing safety standards that govern the quality of snow helmets. These standards ensure that the helmet can provide the maximum level of protection against head injuries.
How to Find Certification Information
Usually, certification information can be found on the product label or the manufacturer's website. Ensuring the helmet meets these safety certifications will guarantee you are investing in a quality helmet that doesn't compromise on safety.
---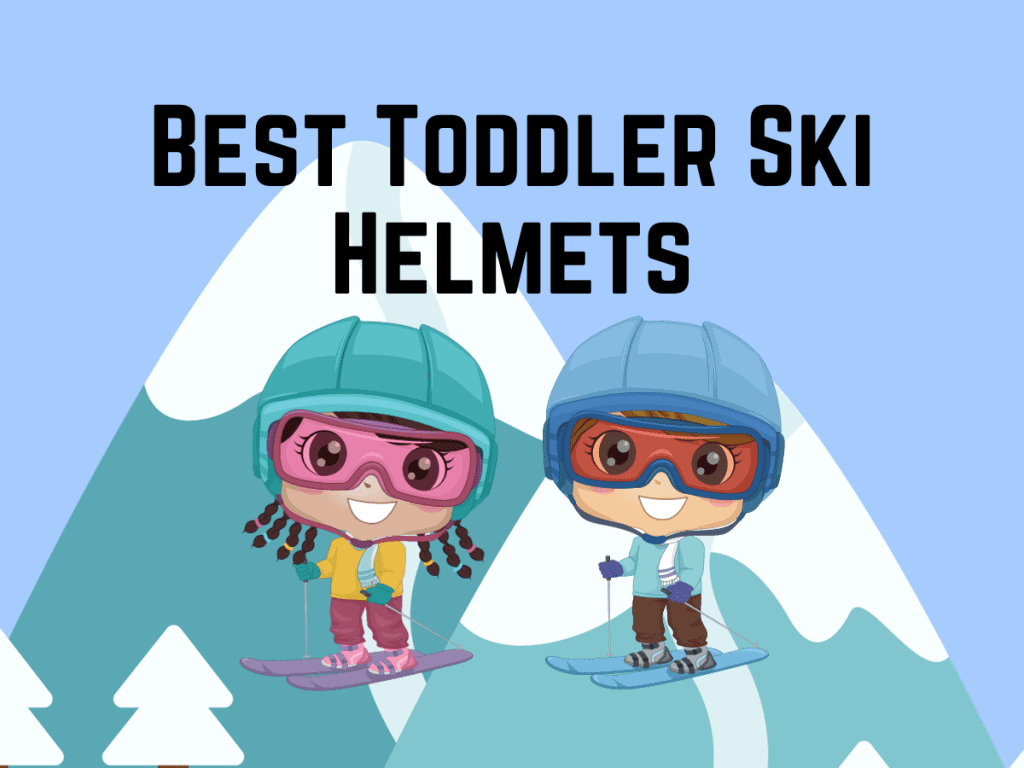 Best Toddler Ski Helmets
Finding the best ski helmets for toddlers involves considering several aspects including safety features, construction material, and adjustable dials that can offer a snug fit. The comfort of the child's helmet is determined by factors like ventilation, inner lining, and the availability of features like removable ear pads which can adapt to changing weather conditions. Moreover, bright colours and designs can make these helmets more attractive to your little ones.
Criteria for a Good Toddler Ski Helmet
When shopping for the best kids' ski helmet, ensure it meets the established safety standards. The outer shell should be robust, preferably having in-mold construction that offers lightweight helmet properties without compromising on safety. Adjustable vents can be a nice touch for adapting to both warm days and cold weather, keeping your little skier comfortable. The goggle clip is another handy feature, keeping their ski goggles secure during their snowy adventures.
Best Toddler Ski Helmet for Toddlers
When it comes to recommending helmets with fantastic features and benefits, the Giro Spur Toddler Ski Helmet tops the list. This helmet not only comes in bright colours that are quite attractive but also boasts excellent safety features and a design that accommodates young kids with smaller heads. The adjustable dial ensures the helmet fits snugly on your child's head, offering an extra layer of safety and comfort.
Best Toddler Ski Helmet for 2 and 3-Year-Olds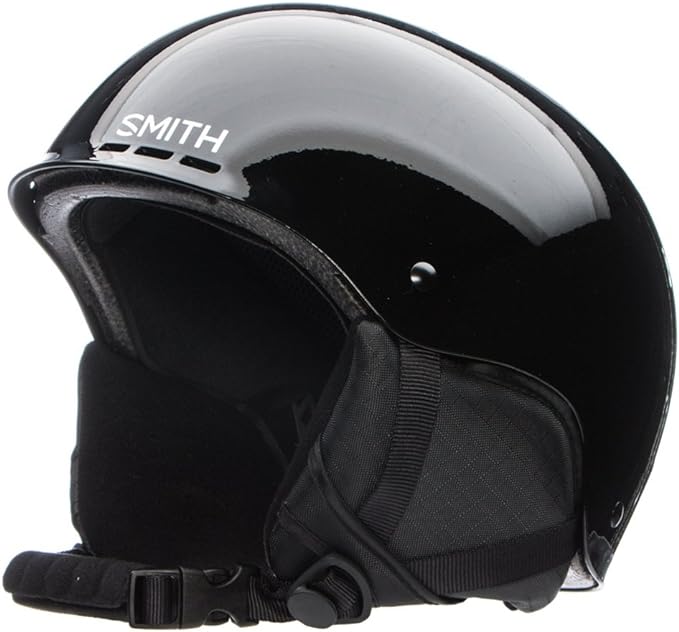 For the tiny tots venturing into the snow, the Smith Optics Helmet makes an excellent choice. This helmet offers a versatile fit, adapting well to the shape of small heads and ensuring a good fit. Coupled with safety features such as a reinforced ABS shell and adjustable ventilation, it promises a safe and enjoyable skiing experience for your toddler.
Why We Love It
Design:
Aesthetics: Presents a sleek design, with a variety of colours for both boys and girls.
Fit: Designed with a universal fit to cater to a variety of head shapes.
Safety:
Outer Shell: Sturdy build, tailored to endure impacts from various snow sports activities.
Inner Lining: Provides adequate cushioning and shock absorption to protect against potential head injuries.
Customization:
Adjustable Dial: Ensures a snug fit by allowing for easy size adjustments.
Strap: Robust chin strap to ensure the helmet remains securely in place during activities.
Additional Features:
Ventilation: Multiple vents are strategically placed for optimal airflow, making it adaptable to varying weather conditions.
Goggle Compatibility: Designed to fit seamlessly with a variety of ski goggles, ensuring clarity of vision during skiing.
Smith has been a leading brand in the ski and snowboard helmet space and was the first to mass-produce skiing goggles back in the 60s. They produce quality gear that is going to last and keep your toddler safe on the ski hill.
You can check out more about the Smith Optics Helmet on Amazon.
Tips for skiing with 2 and 3-year-olds: When skiing with 2-year-olds, ensure they are always supervised. Equip them with the right protective gear and teach them basic safety rules to foster a love for winter sports early on. At 3-years-old, kids start developing a better balance. Encourage them to learn skiing at a comfortable pace and always keep an eye out for signs of cold or discomfort.
Best Toddler Ski Helmet and Goggle Combo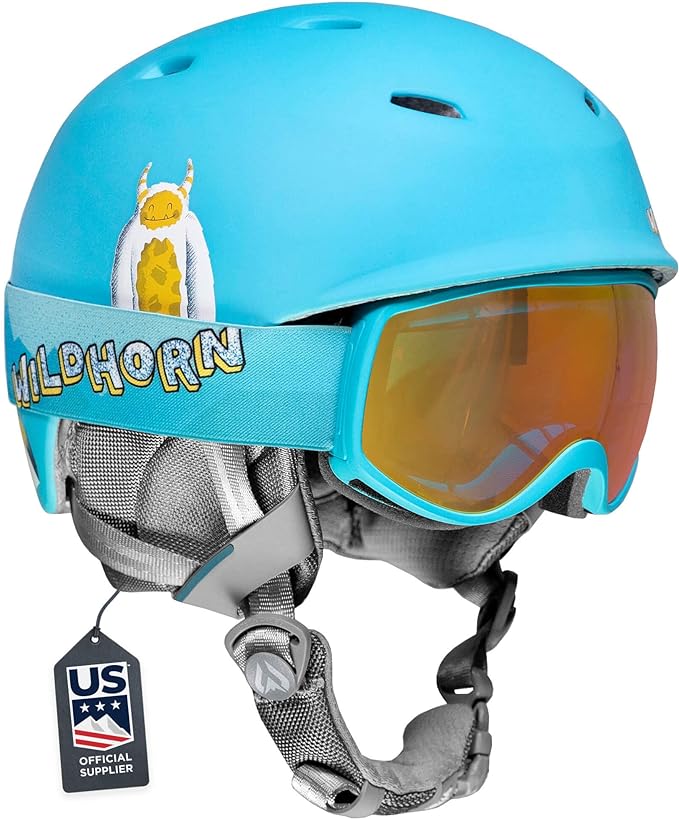 For your adventurous toddlers, who are ready to experience the joys of skiing, the Wildhorn Spire Snow & Ski Helmet with Goggles stands as the best helmet and goggle combo in the market. It offers a snug fit, easy size adjustment dial, and integrated goggles that remain fog-free, offering a clear view of the snowy landscape. This combo promises not only safety but also a high-quality, enjoyable skiing experience for your little one.
Why We Love It
Design:
Aesthetics: Features a modern and streamlined look, appealing to young skiers and comes in a wide variety of colours and designs.
Included Goggles: The helmet is designed to offer a seamless fit with the included goggles, ensuring no gaps or discomfort.
Safety:
Outer Shell: Built with durable materials designed for optimal protection during skiing or snowboarding.
Inner Lining: Features cushioned lining to absorb shock effectively, reducing the risk of injuries during falls.
Customization:
Adjustable Dial: Offers a precise fit, ensuring that the helmet sits snugly on the skier's head.
Chin Strap: Comes with an easily adjustable chin strap, further ensuring stability and safety.
Additional Features:
Ventilation: Equipped with adjustable vents that can be opened or closed, making it ideal for both cold and warm days.
Goggle Features: The accompanying goggles are designed to stay fog-free, offering clear vision during various skiing conditions. The goggles also offer UV protection to shield the skier's eyes from harmful rays.
If you're looking for some great colour options and your helmet and goggles in a matching and easy purchase – the Wildhorn Spire Combo is a great purchase. These also might be the best-looking ski helmets on the market for your toddlers as well.
You can check out more about the Wildhorn Spire Combo on Amazon.
---
Runner-Up Best Toddler Ski Helmets from Amazon
While we've listed our top recommendations for the best toddler ski helmets, we understand that parents might want a few more options to consider. These runner-up selections are still exceptional in terms of safety features, design, and comfort. Let's dive into some more noteworthy helmets available on Amazon that could be a great fit for your young skier.
Retrospec Traverse H3 Youth Ski & Snowboard Helmet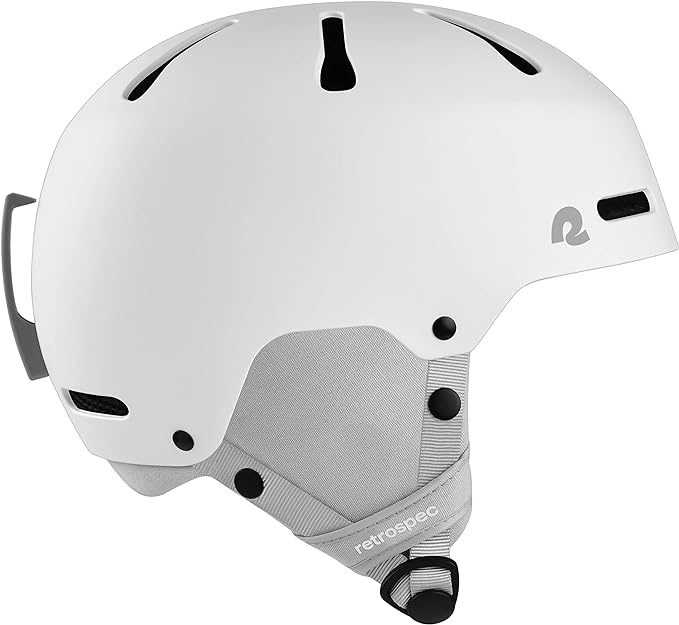 Features:
Design: Its ergonomic design makes it a favourite among parents and kids alike.
Safety: Prioritizes safety with in-mold construction, which offers a lightweight helmet experience without compromising protection.
Customization: Features an adjustable dial to achieve the perfect fit, ensuring the helmet stays in place even during the most adventurous ski sessions.
Additional Features: The helmet is equipped with a goggle clip and adjustable vents, making it adaptable to varying skiing conditions.
OutdoorMaster KELVIN Ski Helmet
Features:
Design: Sports a clean, minimalist design that's attractive yet functional.
Safety: Built with a durable ABS shell and EPS core, it's designed to offer maximum safety against impacts.
Customization: Equipped with an adjustable dial for a snug fit, catering to children of various age groups.
Additional Features: The helmet comes with a convenient goggle clip and removable ear pads, making it adaptable to diverse skiing conditions.
In conclusion, while the primary contenders are tried and true, these runner-up options also ensure robust safety standards, durable design, and stylish looks that would make any young skier eager to hit the slopes. As always, remember to go through customer reviews, compare features, and ensure the chosen helmet meets all the necessary safety certifications before making a purchase. Safety first, fun always!
---
What is the Safest Kids Ski Helmet?
As the excitement for winter sports builds up, ensuring the safety of your little ones becomes a priority. Selecting the safest kids ski helmet is perhaps the most important thing to consider. Let's guide you through some critical safety features and top picks that have garnered positive customer reviews and expert opinions.
Safety Features
When it comes to safety features, several components make a ski helmet the safest choice. The adjustable dial should offer a snug fit, securing the helmet firmly on the child's head. Also, pay attention to the chin strap, ensuring it is robust and easy to fasten for additional safety. Moreover, it is a good idea to choose a helmet with a goggle clip to keep the ski goggles securely in place.
Material and Construction
A great deal of the helmet's safety comes from its material and construction. Helmets with in-mold construction have a sturdy outer shell that offers substantial impact protection, with a reinforced ABS shell providing added strength. The inner lining should ideally be made with a shock-absorbing EPS core for cushioning blows, adding an extra layer of protection.
Safety Certifications
To guarantee that you are purchasing a high-quality helmet, check the safety certifications. These indicate that the helmet has met stringent safety standards, assuring you of its reliability. Helmets with certifications have undergone rigorous testing to ensure they can provide optimum protection against head injuries, which is crucial for snow sports.
Additional Protective Features
Adding to the safety certifications, some helmets offer additional protective features. MIPS technology, or Multi-Directional Impact Protection System, is a revolutionary feature found in some of the best kids' ski helmets. This system offers extra protection by reducing rotational forces that might affect the brain during impacts at higher speeds.
Customer Reviews and Expert Opinions
In addition to considering the above features, it's vital to read through customer reviews and expert opinions to get an honest perspective on the helmet's performance. Many have found that helmets equipped with a low-friction layer and those with a snug fit from an adjustable dial offer enhanced safety and comfort for younger skiers.
Tips for Enhancing Safety
Supervision and Guidance
No matter how safe the helmet is, nothing beats the safety guaranteed through proper supervision and guidance. Teach the young skiers the importance of wearing a helmet correctly, adjusting the chin strap securely, and ensuring the back of the helmet covers the head adequately.
Complementary Safety Gear
To enhance safety, complement the helmet with other safety gear like good quality ski goggles to keep their eyes protected and gloves to keep their hands warm during cold days. Remember, the goal is to ensure an enjoyable and safe skiing experience for your little one.
In conclusion, while hunting for great deals, never compromise on the safety features. Selecting the safest kids' ski helmet is the best way to ensure a happy and safe skiing experience for your child.
---
When To Replace a Kids' Snow Helmet?
Snow sports are a blast for kids, but it's crucial to ensure they are always wearing a high-quality helmet that is up to the task. So, when should you consider replacing your child's snowsports helmet? Let's explore the general guidelines regarding the lifespan of a ski helmet, the evident signs of wear and tear, and the responsible ways to dispose of old helmets.
Lifespan of a Ski Helmet
General Guidelines
Typically, even the best kids ski helmets have a finite lifespan, ensuring optimum protection and safety features. A good rule of thumb is to replace the ski helmet every 3-5 years, considering the regular wear and tear and the evolving size of your child's head. However, the exact timing can depend on several factors, including the frequency of use and the specific manufacturer's guidelines which might suggest replacing it even sooner for maintaining maximum safety.
Signs of Wear and Tear
Regular inspections can help identify the signs of wear and tear that indicate it's time to replace the helmet. Look out for noticeable damages in the outer shell, or compromises to the inner lining, usually an EPS foam interior, which might have degraded over time. The chin strap might show signs of fraying, or the adjustable dial may no longer provide a snug fit, which is a clear indication that the helmet has seen better days.
Reasons for Replacement
After an Impact or Accident
One of the most critical reasons to replace a child's helmet is after an impact or accident. Even if the damage isn't visibly evident, the helmet's protective features, like the shock-absorbing eps core, might have been compromised, reducing its effectiveness in protecting against head injuries during future uses.
Outgrowing the Helmet
Children grow fast, and soon they might outgrow their current helmet. Ensuring a good fit is essential, so when the helmet starts to feel too tight or too loose, it's time to measure the kid's head anew with a soft measuring tape or a tape measure to find the right size for a replacement.
How to Properly Dispose of Old Helmets
Recycling Options
Once a helmet has reached the end of its lifespan, recycling it is a responsible disposal method. You might find facilities that accept helmets for recycling, where they break down the components like the outer shell and inner lining for reuse, contributing to a sustainable approach to snow sports gear.
Donation Possibilities
In cases where the helmet is still in good condition but simply outgrown, considering donation is a great idea. Many organizations accept slightly used helmets to support communities in introducing young children to winter sports without a hefty price point. Just ensure that the helmet still meets the safety standards before opting for donation.
---
Can Kids Wear Hockey Helmets for Skiing?
As parents, we always want to ensure the highest safety standards for our little adventurers during their winter sports escapades. You might wonder if it's a good idea to use a hockey helmet for skiing, especially when trying to be budget-friendly. In this section, we will compare the design and safety features of hockey helmets and ski helmets to provide a comprehensive view on this matter.
Hockey Vs Ski Helmets
Design Differences
At first glance, hockey helmets and ski helmets might seem similar, but they have different designs catering to the unique demands of their respective sports. The outer shell of a ski helmet often incorporates in-mold construction, ensuring a lightweight helmet that can absorb shocks effectively, crucial when zipping down the slopes at higher speeds. Hockey helmets, on the other hand, are designed to withstand impacts from pucks and sticks, featuring a more robust construction, but not necessarily optimized for the kinds of falls and collisions one might experience during skiing.
The inner lining in ski helmets often consists of an EPS foam interior that cushions the head against falls on hard snow surfaces, whereas hockey helmets might have a different kind of padding, focused more on protection against frontal impacts.
Ski helmets usually come equipped with adjustable vents for temperature regulation during both cold days and warm days, goggle clips to secure ski goggles, and sometimes even a visor or face shield options for enhanced protection, features that are not commonly found in hockey helmets.
Safety Features Comparison
When we compare the safety features, it becomes clear that each type of helmet is meticulously designed to offer maximum safety for their respective sports. Ski helmets often offer specific safety features like an adjustable dial to achieve the right fit snugly around a child's head, ensuring the helmet stays in place even during falls. The chin strap in ski helmets is designed to prevent the helmet from coming off during a fall, a feature that is equally important in hockey helmets, but might be designed differently.
Furthermore, ski helmets sometimes incorporate advanced safety technologies like MIPS (Multi-directional Impact Protection System), offering additional protection from rotational forces during a fall, a feature not commonly found in hockey helmets.
Moreover, ski helmets are subjected to stringent safety standards and certifications that focus on snow sports-specific accidents, ensuring the best protection during skiing. While hockey helmets also adhere to strict safety certifications, these are tailored to the risks associated with hockey, which can be quite different from skiing.
In conclusion, while at a pinch, a hockey helmet might offer some level of protection, it's always the best idea to choose a helmet designed specifically for skiing when hitting the slopes. This way, you can ensure that your young skier is equipped with the best helmet that incorporates all the necessary safety features optimized for the unique challenges of skiing.
---
Wrapping Up The Best Ski Helmets For Toddlers
As we wrap up this insightful guide, we emphasize once more the undeniable importance of equipping your little ones with the best toddler ski helmet for their snowy adventures. The harmony of superior safety features, snug fit, and the right size cannot be understated in ensuring both safety and enjoyment as they embark on their snow-filled explorations.
Remember, while the idea of using a hockey helmet might seem convenient, it's not the optimal choice when it comes to providing the best protection on the ski slopes. Ski helmets are designed with specific features that align with the demands and safety standards of winter sports, making them the ultimate choice for your young skiers.
Furthermore, keeping an eye on the lifespan of your child's helmet is pivotal. Regular inspections for signs of wear and making necessary replacements guarantees a consistent level of safety, letting you and your young ones enjoy the cold weather without worries.
Lastly, let's not overlook the role of complementary safety gear and supervision in enhancing safety during skiing. Guiding young children and teaching them the best practices can instill a sense of responsibility and awareness, contributing to a safer and more enjoyable skiing experience.
Thank you for joining us on this informative adventure, and here's to many joyful and safe skiing experiences ahead with your little champs! Remember, investing in the right protective gear is the first step towards fostering a lifetime love for winter sports. Happy skiing!