You're wondering what do I do with my kids in Vancouver and you haven't got the first clue what to do? Need a new idea instead of the school playground?
No worries, I've got you covered below with Vancouver's best things to do with kids of all ages written by a family who has lived here for over 30 years.
Read on below and if you have any questions or suggestions please let me know, I'd love to hear from you!
If you're looking for affordable vacations in Canada – check out the list of budget-friendly places we've put together.
Things to do with kids in Vancouver, B.C. for all ages
Vancouver Aquarium
Description
The Vancouver Aquarium is located in the heart of Stanley Park. Dare I say Stanley Park is even more impressive than New York's Central Park, but we'll discuss that further down the list. The aquarium makes for an excellent family outing. It is on the more expensive side for a large family. Unfortunately, they don't have a family rate for those like us with three kids.
That said, once you're inside you can spend nearly the whole day here. They have great events you can watch and even take part in. Last time we were there our kids were up close with a sea lion getting a cleaning and a feeding while questions were answered from the crowd.
A particularly favourite exhibit is the world-famous sea otters who went viral 15 years ago for holding hands. Be sure to also visit the penguins (pictured above) and the amazing jellyfish tanks.
Local's tip
I would plan to spend the entire day in Stanley Park. See Stanley Park below for more information on it but there is a lot to do here. Also, the aquarium is already expensive enough as it is, and the food is as pricey as an airport. I would bring lunch and eat at the picnic tables outside the aquarium with amazing scenery.
If you're here for an extended time with your kids in Vancouver – or if you are in the process of moving here – the Vancouver Aquarium has a seasons pass that pays for itself on the second visit.
Stanley Park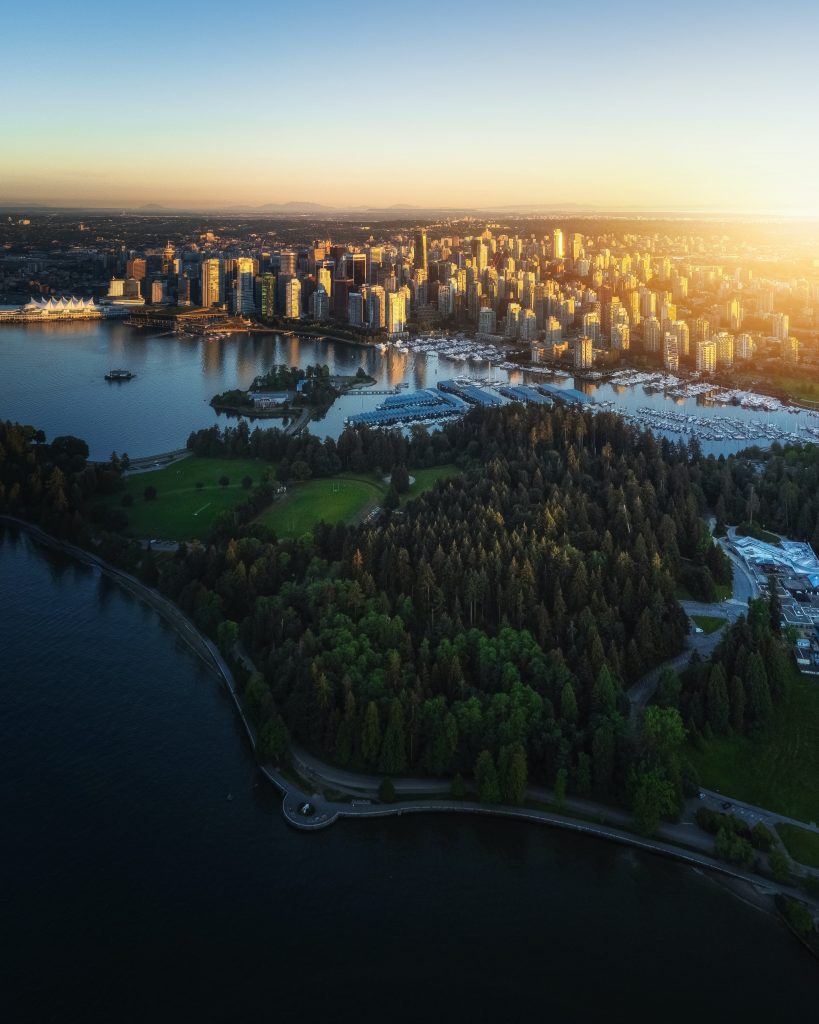 Description
Stanley Park is one of the most beautiful parks in the world. The view in the other direction is out to the ocean and North Vancouver the mountains as a backdrop. Located just off the downtown core, Stanley Park makes for an excellent day trip for the family.
Around the perimeter of Stanley Park is the seawall, a multi-use path where you can walk, run, cycle and rollerblade. I'd argue there aren't many more beautiful walks in a major city anywhere in the world. It does get busy during the summer but that doesn't take away from the magic of it.
Contained within Stanley Park is the Vancouver Aquarium (right side of the foreground in the photo above), a miniature train, playgrounds, picnic areas, totem poles, an outdoor pool, a water park, and sandy beaches… If you're ever in doubt about what to do with your kids in Vancouver, heading to Stanley park for the day will always be an excellent choice.
Local's Tip
Before you exit the downtown core and head into Stanley Park there are several bike rental shops. It's a popular thing to do but for good reason. You can rent bikes and take them around the seawall and through the many paths of Stanley Park. The seawall is a 10km long loop around Stanley Park, I'd plan for a bike trip to take about an hour or two.
The small boat-like thing in the middle of the water on the left side of the image is a marine gas station. There used to be multiple gas stations out there but the Chevron is the last one remaining.
---
Keep track of your savings goal with our free printable PDF savings chart
---
Pacific National Exhibition / Playland
Description
The Pacific National Exhibition (PNE) is an annual tradition in Vancouver since 1910. The PNE takes place in the last couple of weeks of August and runs until labour day. The PNE is an annual favourite of families and kids in Vancouver. There are great events for the whole family. My family and I have been to the PNE many times and still enjoy it each time.
If you aren't able to make it to the PNE – Playland operates from June to September and hosts the rides section of the PNE. The wooden rollercoaster (pictured above) is a local landmark and recently underwent a major renovation.
For the younger kids out there, the Superdogs at the PNE is an absolute must-see and a lot of fun. Our 5-year-old loves the Superdogs and the performers do an excellent job of keeping the crowd entertained.
There are also petting zoos, rides for all ages, events and performances. 2022 performances include Nelly, Barenaked Ladies, and The Beach Boys.
Local's Tip
The official lots around the PNE can fill up quickly and can be expensive. Locals in the area all open up their yards and driveways for parking for the fair which are usually cheaper. But an even better option is to take the bus to the fair which stops in front of the PNE entrances. You won't have to worry about parking and you'll save $20-40.
Take a Dip at the Beach or Lake
Description
Vancouver is part of a region in British Columbia called the lower mainland. Vancouver itself has several beaches including Kitsilano, English Bay, Jericho Beach and the beaches in Stanley Park. If you'd like to head outside Vancouver there is White Rock and Crescent Beach. White Rock has great options for fish and chips (my personal favourite is Coney Island).
The lower mainland is host to several beautiful lakes an easy drive from Vancouver. Buntzen Lake, Alouette Lake (pictured above) and Cultus Lake all make for fantastic day trips from Vancouver.
Cultus Lake is the farthest of these lakes from Vancouver. Cultus Lake is near Chilliwack, B.C. in the Fraser Valley. This is about an hour and a half drive from Vancouver but when you get there Cultus Lake is a mini-community itself. Around the lake, our kids have enjoyed the excellent waterslide park, mini golf and theme park. Bumper boats in particular were a big hit with our oldest.
Local's Tip
The lakes listed in the last paragraph are in order of distance from Vancouver and you'll need a car to get to all of them. At least in the summer since COVID, you'll need to register for a day pass online to access Alouette Lake. This may be a good thing, however, as every family with kids in Vancouver visits these lakes in the summer and the parking lots normally fill up very early in the morning on summer weekends.
Both Buntzen and Alouette Lakes have extensive trail networks around them so if you're with an older group you can spend a lot of time here exploring some great British Columbia trails. Alouette Lake is within Golden Ears Park in Maple Ridge, B.C. which is a provincially maintained park. The trails have varying lengths which makes them great for all ages.
We live very close to Alouette Lake and so we go for short walks through here often and the kids love it. The kids can explore through the dense forest or you can stick to the trails for an easy and scenic walk. Even our 2-year-old has an easy time walking through here. We did take a stroller through here a couple of times but I wouldn't suggest it. You can get stuck on a lot of fallen trees and uneven trails. Our son was bouncing around pretty good, but it did make for a good laugh looking back at us struggling through the trail.
If you do choose Alouette Lake – also consider Wild Play. Wild Play is on the road to Alouette Lake and Golden Ears Park and is the ultimate adventure playground. With a classic, extreme and kid's course – there is something for the whole family as long as your kids are 5 and up. I have not worked up the courage but if you're feeling especially daring there is the 40 ft vertical jump as well. Just step off the platform and enjoy the ride they say…
If you have a younger age group Cultus Lake is quite a drive with the smallest beach of the three lakes. The trip out could include the theme park, waterslides and mini-golf which would make the trek worth it.
Head to a water park
Description
The video above is for a very new city-owned waterpark in Aldergrove. Completed in 2019, the park has a 25m pool, hot tub, waterslides, tidal pool and a river channel. There is also an area designated for younger kids making it a great place to visit with kids of all ages.
The waterpark has become a favourite of kids in Vancouver and the lower mainland. We would have liked to make it here a few more times but missed making a reservation when we wanted to go a couple of times. The popularity of the waterpark made it difficult to get reservations.
The community center still requires reservations for entry which you can find here. The entry fees are reasonable at $10 for an adult, $5 for children and free for infants and toddlers.
Local's tip
The park is located about a 5 or 10-minute drive from the Greater Vancouver Zoo listed below. A visit to the zoo on a summer morning with a nice walk around the path at the zoo followed up by a day at the waterpark would make for a great summer day out.
The park is about a 5 or 10-minute drive from the Greater Vancouver Zoo listed below. A visit to the zoo for a nice walk followed up by a day at the waterpark would make for a great summer day out.
For more extreme waterslides with older kids, Cultus Lake Waterslides has huge waterslides. Their slides include the Valley of Fear which towers above the trees when you drive by it. Cultus Lake is not near the zoo though so the last point wouldn't apply here.
Best things to do with toddlers in Vancouver, B.C.
Jump Around a Play Center
Description
A personal favourite of our family and friends is Jungle Jacs in Port Coquitlam, B.C. They've got an awesome trampoline area with two basketball hoops at the end. Kids can run from one end to the other and jump on the angled wall. We've had our two, three and five-year-olds in here all having a great time bouncing around.
Besides the trampoline level, there is a multi-level play structure. There are slides, tunnels, and all kinds of obstacles to climb through. They are all well-padded and safe even with our two-year-old. It can be tight in some spaces but my wife and I have climbed through here numerous times chasing our two and three-year-olds through.
On top of that, there are areas for basketball and soccer, bumper cars and an arcade. Opposite the large play structure is a foam ball battle station with toy cannons to shoot back and forth at each other. Our kids have had a great time in here, laughing as they hit Mom and Dad on the opposite side.
There are other options for play centres as well, including Crash Crawley's in Coquitlam, B.C. and The Adventure Zone on Granville Island.
Local's Tip
A must if you're going somewhere with a trampoline, bring socks for the kids that have sticky grips on the bottom. If you don't you'll have to buy trampoline socks for your kids for $4 pair. There is food available for purchase here and party rooms upstairs where we've been a few times for presents, pizza and cake. If not there for a party there are plenty of tables available for parents with free wifi if your kids are old enough to go play on their own.
Hop on a Train
Description
The lower mainland region has 3 miniature trains and a Skytrain (a subway in the sky). There is also a commuter train called the West Coast Express but that's not a family outing as it is getting people from the suburbs to the downtown core and back for work.
There are miniature trains in Stanley Park, Bear Creek Park, and the Greater Vancouver Zoo. If you're in the area of one of these trains I'd recommend a ride with the kids. The scenery of each train is different making them all a worthwhile experience.
The Skytrain (pictured above) runs on three lines, Expo, Millennium Line and Canada Line. The Expo line is the original, built for the 1986 World Expo. The Millennium Line is a newer line which completes a loop with the Expo line. And the Canada Line connects the airport in Richmond, B.C. to the downtown core.
Local's Tip
I loved riding the Skytrain as a kid. When we are out with our kids in Vancouver the Skytrain is a highlight for them. The train is especially cool if you can get the seat right in the front window. There are some amazing views on the Skytrain lines as well. I've never felt in danger on the Skytrain at any age. But if you are heading for a trip down the line I would recommend it during the day.
The miniature trains are all great experiences for kids. If you're in Stanley Park with young kids anyway I would recommend it. The zoo train is also a lot of fun and was a big highlight in my childhood as well.
Run around the park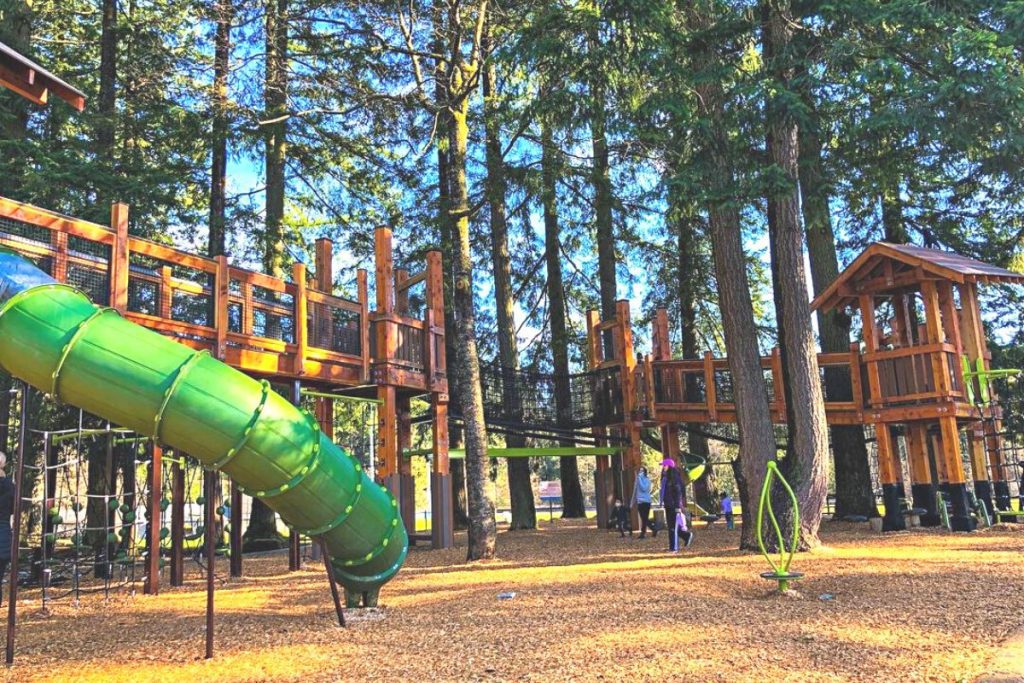 Description
Mundy Park is our standout pick for a park to take your kids to in Vancouver. The picture of Mundy Park above is from @playgroundsofvancouver on Instagram. Mundy Park has walking trails, ponds, baseball parks, a disc golf course and a playground. The playground is in Coquitlam, B.C., a short drive from Vancouver.
The playground has washrooms beside the park. There is the large playground featured in the image above and to the right of this picture are a spinning apparatus, a roller slide and a playhouse for younger kids. Our 2, 3 and 6-year-olds all have a great time here.
Local's tip
Our kids had an amazing time at this park. Right beside the park is a covered picnic table area. If you have a birthday party while you're here this would make a great party location. The baseball fields, playground and covered picnic area are all beside each other. You do need reservations for this though. Reservation information is here.
Watch the planes!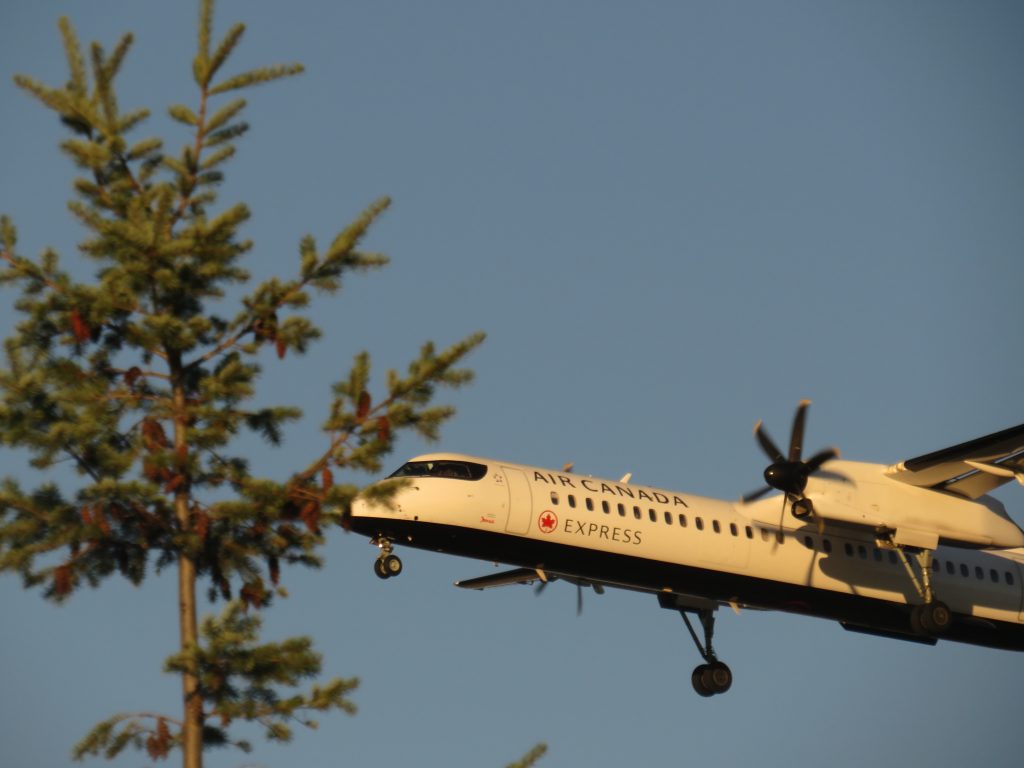 Description
Vancouver's airport (YVR), is in Richmond, B.C. south of Vancouver. The airport has great walking paths around it. It's worth the trip if your toddlers love planes as our 2-year-old does. On the south side of the airport, there is a road leading to the charter plane terminals. Here you'll find a viewing platform (maps link) that has spectacular views of the runways. Be careful with the noise here though.
YVR makes for a great activity if you're out with the kids in Vancouver. But if you're out towards Abbotsford, there is an international airport there as well. Abbotsford International has parks nearby you can see planes landing. Keep in mind though that Abbotsford is a much smaller airport than YVR.
The walking trails are on the north side of the airport along Ferguson Road. There are a couple of beach areas located off Ferguson Road on the north side. The beaches are close to the airport and could provide a nice activity after watching planes.
Local's Tip
Along the south side of the airport on the way to the viewing platform is a small pub called the Flying Beaver. The Flying Beaver has a family section to the pub and has a great breakfast menu on weekends and holidays. The pub is right along the Fraser River which makes for some great views, especially from the patio.
Best things to do with school-age kids in Vancouver, B.C.
Check out the police museum
Description
The Vancouver Police Museum is an interesting trip with varied exhibits and lots to see. As a bonus, 2 adults and 2 children are only $30.00 CAD. The museum features exhibits detailing the history of law enforcement in Vancouver. There are true stories with original evidence, notorious crimes, a history of guns, mugshots and a 1970s autopsy suite.
I've been a history fanatic from a young age and so coming here as a kid was awesome. The museum has put great effort into showing the history of policing in Vancouver and they've done an excellent job with it.
Local's Tip
I debated placing this under the school-age or teen group. But as I mentioned above I've been here as a school-age kid and loved it. They do host school tours and have teacher resources so I put it here. Please know there are guns, an autopsy suite, and real evidence on display.
Visit Science World
Description
Science World is a great school-age kid activity in Vancouver. Built in 1986 for Expo '86 it's quite an architectural sight to see right on the waterfront.
For kids, there are interactive exhibits inside including a virtual reality experience to fly like a bird (closed at the time of writing for COVID), models of the human body to take apart, and a feature exhibit which right now is on the t-rex.
The activities here I would say wouldn't be all that entertaining for a toddler. But for your school-age kids, this is a great activity for your kids in Vancouver.
Local's Tip
For an interesting way of getting to Science World, you can take the Aquabus from False Creek, Granville Island or Kitsilano. The Aquabus is a small people ferry that also takes dogs, wheelchairs and bikes around False Creek. One of the stops for the Aquabus is a short walk from Science World.
Greater Vancouver Zoo
Description
Local's Tip
My family with three kids in Vancouver has had a seasons pass to the zoo for a couple of years. The pass pays for itself quickly so if you're here with kids in Vancouver – the zoo makes for a great regular family outing.
Visit the B.C. Sports Hall of Fame
Description
The BC Sports Hall of Fame is in BC Place in downtown Vancouver and makes a great visit with your kids in Vancouver. The hall is home to interesting exhibits including Rick Hansen, Terry Fox, Greg Moore and the 2010 Olympics.
Billed by the museum as "the only museum you can break a sweat in", there is a participation center where kids can take on a rotating climbing wall, bubble hockey and a timed running track. My sister and I had a lot of fun seeing who could run faster on this track and Greg Moore's indy car inside the museum is a great exhibit.
Local's Tip
A note for those reading who may not be from Canada or a reminder for those who are:
Terry Fox and Rick Hansen are Canadian heroes. Both have contributed millions of dollars in funds for research and made lasting impacts on Canadians.
Terry Fox started his journey in St. John's Newfoundland on April 12, 1980, at 21 years of age. His goal was to run a marathon a day, every day across the entire country. The journey started with little fanfare but quickly picked up national attention and he became a massive celebrity. His journey sadly came to an end on September 1, 1980, in Thunder Bay, Ontario when cancer returned. He had run 3,339 miles over 143 days.
Terry Fox runs take place every September since 1981 across Canada and some internationally. All school-age children take part in these runs as well. To date, the Terry Fox foundation has raised over $850 million in the name of cancer research. You can read about his foundation here at The Terry Fox Foundation.
Rick Hansen became a paraplegic after a car accident at the age of 15. He would go on to become an influential disability activist, gold medal Olympian, and complete the Man in Motion World Tour. The Man in Motion World Tour started from Oakridge Mall in Vancouver, B.C. on March 21, 1985. The tour took him 26 months and covered 34 countries on 4 continents over 40,075 km. He returned to Vancouver's BC Place on May 22, 1987, after raising $26 million for spinal cord research. You can see his wheelchair in the BC Sports Hall of Fame.
Best things to do with teens in Vancouver, B.C. in 2022
Spot some whales
Description
Whale watching is a thrilling adventure when you get to see things like the Orca pictured above. You can head out from Vancouver or head over to Victoria on Vancouver Island and go from there. There are a variety of options in boats offered. Depending on your family's tolerance for sea sicknesses and boats there are small zodiacs and large covered deck boats to choose from.
I recommend this for teenage kids because at times the zodiacs can get intense. I was once on a whale-watching trip with my parents and we got into fairly large waves at one point and that would be a lot easier to handle with older kids.
With that said the views and sights you take in are second to none and the views alone from the zodiac are worth it. Once you see the whales, it makes for an activity you'll never forget. Whale watching from a zodiac isn't a view you can get of the whales in the wild any other way.
Local's Tip
April to October is the prime whale watching season. I highly recommend bringing along some binoculars and a water-protected camera. On the small zodiacs in particular you can get into some choppy waves at times. There can be a lot of sprays so make sure all the electronics you've brought with you are well protected from the salt water. You will want a better view or to capture images of whales you do see and they can come from nowhere – so be ready for pictures.
Head to a year-round playground, Whistler!
Description
If you're with your teenage kids in Vancouver, Whistler is an amazing place to go. There are endless outdoor adventures available year-round. The mountain village is fantastic and the landscape is second to none.
Whistler is about a 2-hour drive from Vancouver, there are also bus options for the trip. If you are coming in the winter, you're treated to one of the best mountain resorts in the world. Whistler and Blackcomb mountains combine to make an amazing ski and snowboard experience. The mountains have beautiful long runs, varied terrain and terrain parks. You can even head up to the glacier at the top.
What makes Whistler stand out for us is how long the runs are. We loved taking off the wide runs for some runs through the forest trails and across varied terrain.
If you come in the summer, Whistler Mountain converts to a mountain bike park. There are trails like ski runs with different difficulty ratings. Mountain bike rentals are available throughout the village. There are also zip line tours, ATV tours, endless bike trails off the mountain and much more.
The village has a walking street throughout. There are restaurants, ski-in and ski-out accommodations and shopping. Whistler is a fantastic place to visit year-round but shines in the winter.
Local's Tip
Whistler is among my favourite places in the world. I'll never get tired of vacationing here. You will get the most out of Whistler with older kids but there is something to do here for everybody.
I highly recommend looking into Airbnb or VRBO options for your stay. They are very expensive in the winter but if you can split a townhouse with your travelling group it can become more affordable and the ski-in / ski-out that many of them feature is an amazing amenity.
Winter tires are required for the highway during the winter. I recommend bringing chains with you as well as the sea to sky highway can be dangerous. If you are bringing a rental car make sure you prepare for your trip and check the rental car has winter tires.
Play some board games…with pizza!
Description
Pizzeria Ludica is a board game and pizzeria with 2 locations, Vancouver and New Westminster. They have a collection of hundreds of board games to choose from. They will help you out with a suggestion on an appropriate game for your table.
Board games have had a major resurgence in recent years. Modern board games are now made in every theme imaginable. They have more interesting mechanics and strategies than typical board games. But if you prefer the classics they have those too.
Local's Tip
My wife and I are avid board game fans ourselves so I feel it's appropriate for a couple of recommendations. King of Tokyo is a lot of fun with kids. You have monsters, robots, and aliens all battling to be the sole king remaining in Tokyo. Pandemic is a relevant game to today's times. You each play as a scientist trying to stop a pandemic outbreak. Pandemic is a different game. Instead of competing with your table, you're working to stop the virus together.
Whack some golf balls
Description
Cultus Lake Golf Club has a driving range with Toptracer technology. You can book a lounge stall which features a seating lounge with food and drink service. The Toptracer tech allows you to play in different game modes including longest drive and virtual golf. The driving range is covered and heated making this a year-round activity in a great setting.
The driving range makes a great family activity but my wife and I have also headed out here on a nice date night as well. So if you're reading this and need an idea for a little time away from your kids, this also makes a great idea for that as well.
Local's Tip
If you're a golfing family or have kids who enjoy it a lot, there is a mini-golf course next door called Tap-Ins. I've played the course numerous times with my cousins who live in the area and it's always a great time.
Tap-Ins is a unique mini-golf course that is laid out like a real course complete with fairways, rough, sand traps, and water hazards. Both the driving range and mini golf are friendly for golfers of all skill levels so they make for a great family outing with kids in Vancouver.
Summary
There you have it. 17 places for things to do with kids in Vancouver, B.C. This is but a small sampling of the options you have here but I hope you've enjoyed the list.
Please leave me a comment below to tell me what you're looking forward to doing or let me know what I missed!
If you're planning to visit from out of town, be sure to say hi – and welcome to our beautiful city!
Check out the infographic below as well and if you like it please share it with your friends on social media or feel free to use it on your site! Just please link back to the source here if you do! I've even provided an easy copy and paste code to use on your site.
As seen in:
What to do with kids in Vancouver BC Infographic
Share this Image On Your Site