Table of Contents
The anticipation of the arrival of a little one can bring a flurry of emotions, and one of the ways to channel this energy is by preparing for the baby's arrival.
Many parents will wonder, "What are the first things to buy when expecting a baby?" There is so much you can buy, but what should you prioritize?
In the following sections, we will dive into the essential items to buy when expecting a baby, explaining not only what to purchase but also why these items should be at the top of your shopping list.
Understanding Your Needs
Before diving into the shopping spree, it's crucial to understand your specific needs. Every family is unique, and what works for one might not work for another. Factors such as your budget, available space, lifestyle, and personal preferences will significantly influence your shopping list.
Factors to Consider
Budget: Having a baby can be expensive, but it doesn't have to break the bank. Determine what you can afford to spend on baby items and stick to it. Remember, the most expensive item isn't always the best or most necessary.
Space: The size of your living space will influence the items you buy. If you're living in a small apartment, for instance, you'll need to consider space-saving items or those that serve multiple functions.
Lifestyle: Your lifestyle also plays a significant role. If you travel frequently, you'll need portable baby items. If you're an active family, a durable jogging stroller might be a priority.
Personal Preferences: Some items, like a baby carrier or a stroller, depend on personal preferences. You might prefer one over the other based on your comfort and the baby's.
Importance of Planning Ahead
Planning ahead is vital when expecting a baby. It's not just about having everything ready for the baby's arrival; it's also about ensuring that the transition to parenthood is as smooth as possible. By identifying and purchasing the essential items in advance, you can avoid last-minute shopping stress and focus more on caring for your baby when they arrive.
In the next section, we'll explore the essential items to buy when expecting a baby, focusing on why these items should be your first purchases.
What To Buy First For A New Baby
When preparing for your baby's arrival, certain items are considered essential due to their role in ensuring the baby's safety, comfort, and well-being. Here, we'll delve into these items and explain why they should be at the top of your shopping list.
Baby Clothing
Pro-tip, don't stock up on too many newborn-size items. We received so many from the shower, our sons only wore each thing once before they outgrew newborn clothes and were into 3-month clothes. There are a few basics that you should prioritize:
Onesies: These are a staple in any baby's wardrobe. They're comfortable, easy to put on and take off, and perfect for layering. Onesies are essential because they keep the baby's core warm while allowing for easy diaper changes.
Sleepers: Also known as footies or pajamas, sleepers are important for keeping your baby warm and cozy during sleep, which can contribute to better sleep quality.
Socks and Hats: Babies lose heat quickly, especially from their extremities. Socks and hats help regulate their body temperature, keeping them comfortable in varying weather conditions.
Why Buy Baby Clothes Early?
Baby clothes are going to be required. Buying them slowly over time as you see sales or find great stuff in second-hand shops is a much better way to spread the purchases out over a long time-period instead of all at once.

Don't stock up on too many of any one size, but having a few things in newborn, 3-month, and 3-6-month sizes as you find great sales can help stretch the budget much further. As the saying goes, never shop when you're hungry. It's much better to buy on sale before you need it than at full price when it's required.
Diapers and Wipes
Diapers are one of the baby basics. Here are the essentials:
Diapers: Whether you choose cloth or disposable, diapers are a must-have. They keep your baby dry and comfortable, preventing diaper rash and discomfort.
Wipes: Baby wipes are essential for cleaning your baby during diaper changes. They're designed to be gentle on the baby's skin, reducing the risk of irritation.
Diaper Rash Cream: This helps prevent and treat diaper rash, keeping your baby comfortable.
Diaper Pail: A diaper pail is designed to lock in the odor of dirty diapers, keeping your home smelling fresh and clean.
Why Buy Diapers First?
Diapers, like the clothes above, can be stocked up on while they are on sale. You can use our diaper cost article to gauge typical prices, but generally finding diapers under $0.15 each is a good deal. Again though, don't stock up on newborn diapers. You may not use tons of them if you have a bigger baby, it's better to stock up on size-1 diapers that they are in much longer and use far more of.
Baby Feeding Supplies
Whether you're breastfeeding or formula feeding, you'll need some supplies:
Bottles: Even if you're breastfeeding, having bottles is important. They allow others to feed the baby, giving you some much-needed rest. We liked Dr Browns Bottles the best.
Breast Pump (if breastfeeding): A breast pump allows you to express milk when you're away from your baby or when you need to increase your milk supply. The Medela Breast Pump worked well for us but don't forget breastmilk bags for freezing it if you're not going to be using it right away.
Formula (if not breastfeeding): If you choose to formula feed, having a supply of formula is essential. It provides your baby with the necessary nutrients for growth and development.
Burp Cloths: Burping cloths are essential for cleaning up after feedings. They protect your clothes and help keep your baby clean and comfortable.
Why Buy Bottles and a Pump First?
Even if you're able to breastfeed, bottles and a pump are going to be required at some point unless you don't plan on never being away from your baby. We traded on and off at night with our second and third and found it much easier to manage sleep schedules that way. We were only able to do that thanks to a stock of breast milk in the freezer and bottles to warm the milk in.
Sleeping Items
Creating a safe sleeping environment is crucial for your baby's safety and your peace of mind:
Crib or Bassinet: A safe place for your baby to sleep is a must. Whether you choose a crib or a bassinet depends on your space and personal preference. Initially, for night feedings, we found the Halo Bassinet a lifesaver.
Baby Monitor: The baby monitor allows you to keep an eye (and ear) on your baby while they're sleeping, even when you're not in the same room.
Why Buy A Crib and Monitor First?
These are two of the more expensive items you'll need to buy for a new baby. Buying them first or when the time is right financially or they are on sale can be a nice saving for the baby's budget.
Transportation
The items that are going to get your baby around:
Car Seat: This is non-negotiable. A car seat is essential for transporting your baby safely. In many places, hospitals won't let you leave without one.
Stroller: A stroller makes it easier to take your baby places, whether it's a walk in the park or a trip to the mall. We bought our stroller and infant car seat in one bundle that we absolutely loved. The Graco Jogging Stroller and Click Connect car seat. You don't have to take your baby out of the seat to transfer them from the car to the stroller to in the house.
Baby Carrier: A baby carrier allows you to keep your baby close while having your hands free. It's especially useful for soothing fussy babies or for times when a stroller isn't practical. At under $40, the Infantino carrier on Amazon is a great buy.
Why Buy A Crib and Monitor First?
These are the most expensive items you'll need to buy and there aren't many ways around these ones. We did love our Graco jogging stroller though even though we aren't runners ourselves. The jogging strollers come with larger rubber wheels that made it quite maneuvrable and able to get through fields and hard-pack walking trails easily.
Waiting for a good sale, finding a stroller on Facebook marketplace, or waiting for the right time for your financial situation makes buying these items first, a great idea to ease the financial burden a bit.
Optional Items That Can Be Helpful
While the items listed in the previous section are considered essential, there are other items that, while not strictly necessary, can make life with a newborn significantly easier. These items are often dependent on personal preference, lifestyle, and budget.
A. Swing or Bouncer
A baby swing or bouncer can be a real lifesaver for parents. These devices can soothe a fussy baby with their gentle motion, giving parents a bit of a break. They also provide a safe place to set the baby down when you need to use both hands. However, they can take up a fair amount of space and can be on the pricier side, so it's important to consider your specific needs and circumstances.
We had the Graco Swing for our boys. It was a nice place to put them down while we jumped in the shower or were making dinner and they were very calm in it. Not a necessity, but certainly a nice to have.
B. Play Mat
A play mat, also known as an activity gym, provides a safe and engaging place for your baby to play. They often come with attached toys and mirrors that can help with your baby's development. While not a necessity, a play mat can be a great tool for tummy time and sensory exploration.
There are tons of options for these. They don't make the one we had anymore but something like the Baby Einstein activity mat is great for them. Your baby won't use this right away, but will eventually so it's not essential immediately but will be nice to have eventually.
C. High Chair
A high chair is not immediately necessary, as your baby won't be eating solid food until around six months of age. However, it can be useful to have one on hand for when that time comes. High chairs provide a safe and secure place for your baby to explore new foods.
We actually found a great deal on one for grandma's house on Facebook Marketplace which made it much easier to feed our little guys there. If you're looking to buy one new, the Cosco Simple High Chair goes on sale for an extremely reasonable price sometimes, you don't need to go crazy on a high char..
D. Baby Bathtub
While it's entirely possible to bathe a baby in a regular bathtub or even a sink, a baby bathtub can make the process easier and safer. These tubs are designed to support a baby in the water, freeing up your hands to do the actual bathing.
We actually found this one borderline required. It helps free up hands to make the whole bathing process a lot easier. We had the Fisher-Price convertible bathtub, it was great because as they got bigger, the bathtub converts to hold them in the water safely and adapts to their size.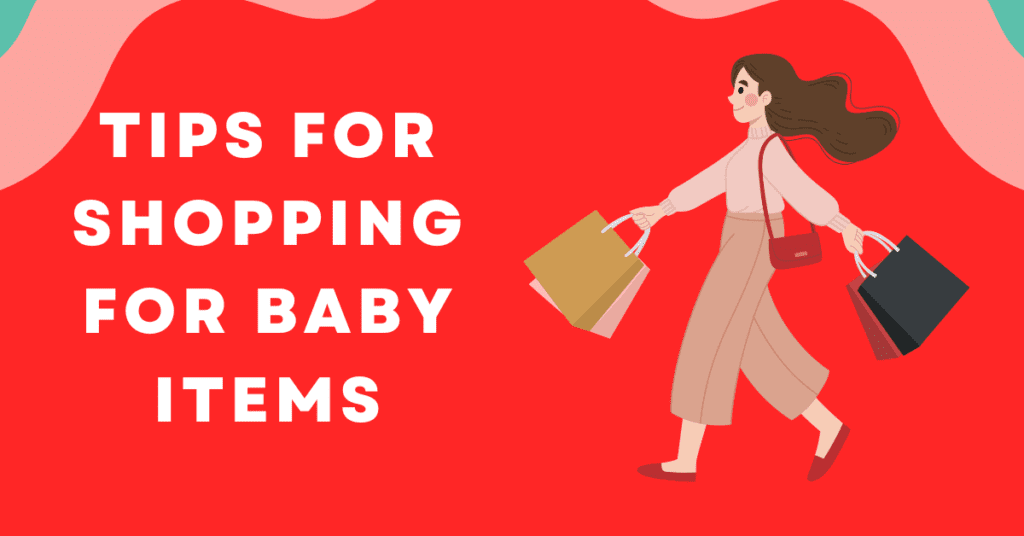 Tips for Shopping for Baby Items
Now that we've covered what to buy, let's discuss how to go about it. Shopping for a baby can be overwhelming, but with a few tips, you can make the process smoother and more efficient.
Considering Second-Hand Items
Babies grow quickly, and as a result, many baby items are used for a relatively short period of time. This means that there are often plenty of second-hand baby items in excellent condition. Buying second-hand can save you a significant amount of money and is also a more sustainable choice. However, always ensure that safety standards are met, especially for items like car seats and cribs.
Planning for the Future
While it's important to focus on the items you'll need immediately after your baby's arrival, it can also be helpful to think a bit further ahead. Some items, like a convertible car seat or a crib that turns into a toddler bed, can grow with your baby, potentially saving you money in the long run.
Prioritizing Needs Over Wants
There are countless baby products on the market, and it can be easy to get swept up in the excitement and buy more than you need. Try to focus on the essentials and items that will truly make your life easier. Remember, a lot of the joy of having a new baby comes from the experiences you share, not the things you buy.
Wrapping Up The First Things To Buy When Expecting A Baby
Preparing for the arrival of a baby is a journey filled with anticipation and joy, but it can also bring a sense of overwhelm with the multitude of items marketed towards new parents. This article aimed to guide you through the essential first purchases when expecting a baby, focusing on why these items are important and should be prioritized.
Remember, while shopping for your baby, consider your specific needs, plan ahead, and prioritize needs over wants. Consider the possibility of second-hand items for sustainability and cost-effectiveness, and always keep safety standards in mind.
Remember that the most important thing your baby needs is your love and care. All the items in the world can't compare to the comfort and security that your arms and your presence will provide. Congratulations on your new baby!